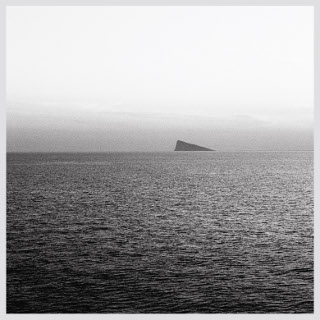 DOUBLE NEGATIVE | Robert Schwarz
Gruen 176 | Vinyl > [order]

Double Negative follows the path that Robert Schwarz has pursued with The Scale of Things. Field recordings render the core and compositional starting points around which modular synthesizers are built to complex structures that resemble nature's contingency as their inner logic. Nature and electronics merge to compositions that reveal uncanniness and strangeness in the heart of the world as well as in ourselves. However, where The Scale of Things provoked existential threats and feelings of being exposed to an inhuman, though not hostile world, Double Negative tames the darkness and perilousness of its predecessor.
On Double Negative, Schwarz is more focused on details and subtle sound sculptures than on the frightening wide angle that let him explore the scale of things. Field recordings forge even more the center of gravity for the pieces that have an exhibitional feel to it. Like in his installations, Schwarz invites us to thoroughly contemplate on his sound sculptures. He shows us around offering constantly new sights and insights into his sound textures without judging the world nor pushing the listener into a state of excessive demands. Field recordings of birds, wind and the sea present nature in a familiar frame and allow for recognition on a record that, in general, is more abstract than its predecessor. Double Negative invites you to deeply and slowly explore little treasuries of sound that are profoundly abstract, yet shine and flicker like the fantastic animals and images that crawl over the pages of one of Prosperos books. (Stefan Militzer)
---
A
WVW 04:32
YSX 03:00
MP3
YSY 04:42
FSK 08:12
MP3
B
PLW 06:57
MP3
PLP 05:27
TGR 06:51
7 Tracks (38′21″)
Vinyl (300 copies)
---
recorded, composed and produced by Robert Schwarz
field recordings from Wonder Valley, Yangshuo, Fiskars, Palawan, Sandouping, Overton
produced in Vienna 2017
r-schwarz.net
soundcloud.com/schwarz
Sound Art Series by Gruenrekorder
Germany / 2018 / Gruen 176 / LC 09488 / AKM / EAN 4050486119037
release date: January 15 / 2018
℗ & ® Robert Schwarz