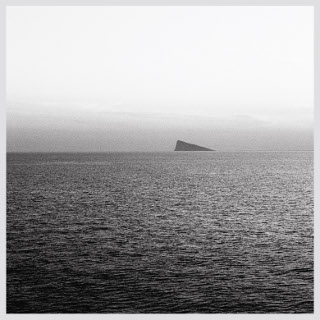 DOUBLE NEGATIVE | Robert Schwarz
Gruen 176 | Vinyl > [order]
Reviews

Double Negative follows the path that Robert Schwarz has pursued with The Scale of Things. Field recordings render the core and compositional starting points around which modular synthesizers are built to complex structures that resemble nature's contingency as their inner logic. Nature and electronics merge to compositions that reveal uncanniness and strangeness in the heart of the world as well as in ourselves. However, where The Scale of Things provoked existential threats and feelings of being exposed to an inhuman, though not hostile world, Double Negative tames the darkness and perilousness of its predecessor.
On Double Negative, Schwarz is more focused on details and subtle sound sculptures than on the frightening wide angle that let him explore the scale of things. Field recordings forge even more the center of gravity for the pieces that have an exhibitional feel to it. Like in his installations, Schwarz invites us to thoroughly contemplate on his sound sculptures. He shows us around offering constantly new sights and insights into his sound textures without judging the world nor pushing the listener into a state of excessive demands. Field recordings of birds, wind and the sea present nature in a familiar frame and allow for recognition on a record that, in general, is more abstract than its predecessor. Double Negative invites you to deeply and slowly explore little treasuries of sound that are profoundly abstract, yet shine and flicker like the fantastic animals and images that crawl over the pages of one of Prosperos books. (Stefan Militzer)
---
A
WVW 04:32
YSX 03:00
MP3
YSY 04:42
FSK 08:12
MP3
B
PLW 06:57
MP3
PLP 05:27
TGR 06:51
7 Tracks (38′21″)
Vinyl (300 copies)
---
recorded, composed and produced by Robert Schwarz
field recordings from Wonder Valley, Yangshuo, Fiskars, Palawan, Sandouping, Overton
produced in Vienna 2017
r-schwarz.net
soundcloud.com/schwarz
Sound Art Series by Gruenrekorder
Germany / 2018 / Gruen 176 / LC 09488 / AKM / EAN 4050486119037
release date: January 15 / 2018
℗ & ® Robert Schwarz
---
MASSIMO RICCI | TOUCHING EXTREMES
The shame born from the inability to prioritize deserving artists and organizations is overwhelming. Case in point, Gruenrekorder: the imprint run by Lasse-Marc Riek and Roland Etzin has been delivering consistently attractive records for many years now, but – strangely enough – these efforts seem to receive a mere fraction of the kudos they should be entitled to. This is the often lamented (and apparently unsolvable) problem of a congested music world where an acquainted ordinariness can overcome authentic transcendence at any given moment, and the poor reviewer's time is wasted by junky outings submerging the genuinely collectible ones.
Additional ignominy must be thrown as I confess that this is my very first contact with Robert Schwarz, a Viennese architect and composer gifted with an admirable CV. Double Negative – his second release on this label – incorporates seven tracks rotating around the field recordings/synthesis axis. It's a typical instance of album capable of rapidly striking a powerful chord within a finely tuned individual.
This is a beautiful amalgamation of divergent acoustic universes, deeply human even in its more unemotional characteristics, totally appealing in terms of aural anatomy, full of sibylline reverberations, confusing lights, subterranean activities, melted geometries. It leaves the mind free to digress through the sonic spectra while keeping a firm grip on the systemic prototypes demarcating each composition. One can identify a source and follow its route, its physics invariably subjected to a series of metamorphic processes. Alternatively, the entirety of a soundscape appears as a biotic continuity of primordial realities and studio-engendered fantasy. At times it just works wonders on an inner self pushed back to near-infancy stages: the aerials are up, the eyes wide open.
Most important, there is quietness inside the listener.
Schwarz managed to let us recognize his technical needlework as wholly natural, in spite of the occasional hallucination. He emerges as a wise inventor, altering our sensorial parameters without "special effects". Peculiar proposals become unintended teachings from benevolent creatures; the channelling of crucial signals occurs across a cosmos whose laws are "known" only by an arrogant nescience.
link
Frans de Waard | VITAL WEEKLY
Twice before I have reviewed music by Robert Schwarz (Vital Weekly 982 and 1048) and twice I more or less wondered what it is that he does. I am pretty sure that this, the third time, doesn't make much sense to me, or that I have some more knowledge, even when Gruenrekorder that "Field recordings render the core and compositional starting points around which modular synthesizers are built to complex structures that resemble nature's contingency as their inner logic", which is something that I could probably also gather from listening to this record. The field recordings were taped in "Wonder Valley, Yangshuo, Fiskars, Palawan, Sandouping and Overton", which probably could lead to a fun hour on Google maps to see where these are located. So there is a bunch of field recordings on one side and a stack of modular electronics on the other side and then Schwarz sets himself to work with these. Seven compositions are to be found on 'Double Negative' and like before he creates some fine music with these elements. Sometimes it all blurs and one has no idea what is what here anymore. I guess one could easily call this musique concrete, but Schwarz' pieces are shorter and more based on the idea of telling a short story within a limited time frame. These stories aren't necessarily very positive ones, as somehow the record sounds all a bit spooky and dark, despite some chirping bird here and there. Sometimes one has no idea what is going on, sound wise, and it seems that field recordings are pretty much obscured. It sounded like the window scraper at times, or animals and I was reminded of the music of G*Park even when Schwarz uses more electronics in his work (at least that's what I think). Through this is a very refined album, not necessarily ambient or noisy, but never too quiet, never too loud or alien. Spooky, sure it is that very much, but there is quite some beauty in these haunting pieces.
link
Beach Sloth
Robert Schwarz shows love for his surroundings on the spacious field recordings of "Double Negative". Throughout the album Robert Schwarz embarks on an increasingly disjointed journey. Within the field recording framing device Robert Schwarz incorporates industrial and even dollops of noise into the proceedings. By keeping everything loose Robert Schwarz gives his compositions room to roam. Over the course of the album a narrative of sorts emerges one that feels so visceral and beguiling.
Easily the gentlest composition on the entire album, "01_WVW" introduces the album with a pastoral hue. From the metallic hit in the distance to the birds, the whole thing radiates with life. Slowly but surely Robert Schwartz begins to upend this calm. This leads to the hyperactivity of "02_YSX" where all seems about ready to burst at the seams. With the cavernous "03_YSY" Robert Schwarz lets sounds drift off into the sonic ether. By far the strangest piece in the mix is the constant in flux elastic sounds of "04_FSK" where nothing can quite keep focus, instead drifting off into the sky. Tension filled to the extreme "05_PLW" chooses a bizarre uncertain path, allowing for even elements of the real world to filter into the mix. Cartoonish in its temperament "06_PLP" darts by. Perfectly ending the album, the regal industrial drones of "07_TGR" feels oddly welcoming, almost angelic in hue.
"Double Negative" shows off Robert Schwartz's deft touch in presenting a world that feels so unreal yet is a mere tweak of what so often permeates such open shared spaces.
link