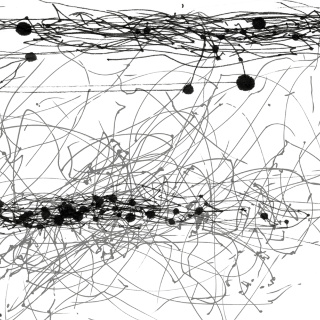 De Rerum Natura / Dance of the Elements  | Merzouga
Sound composition by Merzouga – inspired by Lucretius' philosophical poem.
Gruen 185 | Audio CD + Digital > [order]
Reviews

On the Nature of Things
In his poem De Rerum Natura (On the Nature of Things) the Roman poet/philosopher Lucretius (c. 99 – c. 55 BCE) explores Epicurean physics and philosophy through richly poetic language and metaphors, as he presents an entire cosmology: based on the principles of atomism, Lucretius tries to explain the nature of the mind and soul, and the development of the world. While some of his ideas have been proven scientifically wrong, some of his thoughts seem strikingly reasonable even for the contemporary reader.
Lucretius believes that, while everything in the universe is finite, the smallest elements ("The First Beginnings of Things") themselves are eternal – moving through the void they collide, create forms and dissolve, just to collide again in order to create new forms.
For Lucretius life is a beautiful chance-driven Dance of the Elements. His ideas, popular and highly controversial in Roman intellectual circles, were soon to be banned and eventually forgotten during the rise of Christianity.
The poem was by chance rediscovered in the 15th century by the famous humanist Poggio Bracciolini (1380-1459), most likely in the scriptorium of a monastery in Fulda, Germany. During the renaissance it eventually became a foundation stone of modern western philosophy and natural sciences.
Translating the Book into Sound
When Soila Valkama, the ars acustica-editor of Finnish broadcaster YLEISRADIO commissioned us to produce a sound-composition, we suggested to her a playful attempt of a sonic translation of Lucretius' ideas.
The listener embarks on a journey in which a universe of sound unfolds.
Smallest sonic elements float through space, dark and chaotic, merge to create concrete forms, transform into different consistencies, from water to wind, from stone to dust, steadily in motion in a constant process of becoming and dissolving.
Late in the piece the sounds of mammals and humans arrive, blurring again into a palimpsest-like structure when the circle is closing.
We used field-recordings of nature, as an analogue for the "concrete forms" that are created by the colliding elements, but also concrete musical structures: fragments of melodies, tonalities, and rhythmic patterns in contrast to the more abstract material.
Intertwined with the sound-composition we encounter fragments of Lucretius' text in English and in Latin, carefully adapted and translated by Janko, and spoken by his brother, the actor Stefko Hanushevsky.
The radio-piece consists of six chapters, transposing the structure of Lucretius' six books into the compositional structure.
There is no delay, no rest to interrupt the flow, we can constantly feel it, and we can see things, smell them, and perceive their sound. –
Lucretius, De Rerum Natura, Book VI: 932+933
---
Excerpts:
1 Track (38′22″)
CD (500 copies)
---
Credits
Merzouga is:
Janko Hanushevsky (prepared electric bass) and Eva Poepplein (electronics)
Speaker: Stefko Hanushevsky
Translations: Janko Hanushevsky
Editor: Soila Valkama
Commissioned and produced by YLEISRADIO/Finland.
Artwork: U9 – visuelle Allianz
The artwork was created by setting up paper in the garden and applying pens and
brushes to the branches of a tree. All the traces of ink on the paper were created
by the wind moving the tree, thus providing all the scource-material for the album's
entire artwork.
Merzouga would like to thank
Soila Valkama & YLE, Stefko Hanushevsky, Lasse-Marc Riek & Roland Etzin,
Leopold Lenzgeiger, Sabine Kuechler, Markus Jarchow, Bohdan & Ewa Hanushevsky,
and Felix & Waltraud Poepplein for their continuous support.
This release was made possible by the generous support of SKE-Fonds.

Dedicated to Mira & Nicolai.
© 2015 by Janko Hanushevsky (akm/austro mechana) and Eva Poepplein (GEMA)
Soundscape Series by Gruenrekorder
Germany / 2018 / Gruen 185 / LC 09488 / GEMA / EAN 192562609217
---
Uwe Bräutigam | nrwjazz
Dance of the Elements ist elektronische Musik mit tiefsinnigem Hintergrund vom Duo Merzouga. Das antike philosophische Großgedicht De Rerum Natura (Über die Dinge der Natur) des römischen Dichters Lukrez (95-55 v. Chr.) ist die Inspirationsquelle von Merzouga. Das Duo besteht aus der in Köln lebenden Elektronikmusikerin und Tonmeisterin Eva Pöpplein und dem Jazzbassisten und Komponisten Janko Hanushevsky. Die beiden sind durch ihre mit vielen Preisen ausgezeichneten Hörspiele und Soundcollagen bekannt. Sie arbeiten in unterschiedlichen Bands und Projekten mit Jens Düppe, Annette Maye, Udo Moll, Lucas Niggli und anderen Musikern zusammen.
De Rerum Natura ist einer der wichtigsten Texte aus der Schule des griechischen Philosophen Epikur. Ein früher Aufklärer und Querdenker der Antike, für den die Atome die Bausteine der Natur sind, aus denen sich alles zusammensetzt. Aber es geht nicht allein um eine Kosmologie, die Götter und Aberglauben verbannt, sondern Epikur will den Menschen von der Angst vor übermächtigen Wesen und dem Tod befreien. Der Mensch soll im Diesseits ein selbstbestimmtes Leben in Freude genießen können. Diese humanistischen Grundgedanken der epikureischen Philosophie werden in De Rerum Natura in poetischer Sprache dargelegt.
Die Komposition ist eine Auftragsarbeit für den finnischen Rundfunk. Der Titel Dance of the Elements charakterisiert die Musik sehr genau. Die Musik beginnt mit ruhigen Tönen, die eine Assoziation mit einzelnen Atomen, die durch den Weltraum fliegen, möglich macht. Nach Lukrez Vorstellung verdichten sich die Atome und bilden die Elemente des Universums, von den Gestirnen bis zu den Lebewesen. Während dies alles der Vergänglichkeit unterworfen ist, bleiben doch die Atome erhalten, die wieder neue Formen hervorbringen. So entwickelt sich auch die Musik, von einem ruhigen gefälligen Beginn im Ambiente Stil, verdichten sich die Klänge zu immer neuen Formen.
Kleine Textstellen aus De Rerum Natura werden in englischer Sprache von dem Schauspieler Stefko Hanushevsky in die Klänge hinein gesprochen.
"There must be a constant flow of atoms from everything we see. Odors flow continually from certain things, just as cool air arises from the rivers, while the sun radiates heat. The spray of breaking waves erodes walls beside the sea shore."
Inspiriert von solchen Textstellen erklingen Naturgeräusche von Wind und Wasser in den Klangbildern. Die Hörer*innen können sich dabei mit den philosophischen Gedanken von Lukrez verbinden und diese in Klang umgesetzt erleben. Merzouga lässt den kosmischen Tanz der Elemente hörbar werden. Ganz im Geiste des Aufklärers Lukrez wird dabei jeglicher New Age Kitsch außen vor gelassen.
Die Soundcollage Dance of the Elements funktioniert aber auch ohne das Wissen um den Text De Rerum Natura. Die Klanglandschaften, der Tanz der Atome, sind auch ohne Hintergrundwissen ein inspirierendes Erlebnis in das sich die Hörenden hineinfallen lassen können. Eine Klangcollage die von leisen Tönen, bis zu aufgewühltem Klangstürmen, die Vielfältigkeit der Bewegungen der Elemente erlebbar macht. Mit Dance of the Elements schafft Merzouga eine großartige Klangcollage mit philosophischem Hintersinn.
link
Frans de Waard | VITAL WEEKLY
This is already the fourth release by Merzouga (Vital Weekly 812, 912 and 922), the duo of Eva Pöpplein (computer) and Janko Hanushevsky (prepared bass guitar) and the third one for Gruenrekorder. They are a duo of improvising with electronics and so far I wasn't blown away by their music, even when the last one seemed to be the best of the lot. Here they take a poem by Roman poet and philosopher Lucretius as their starting point. In this poem, he presents "an entire cosmology: based on the principles of atomism {…} explains the nature of the mind and sound and the development of the world. While everything in the universe is finite, the atoms themselves are eternal – they collide again in order to create new forms. Life is a beautiful chance-driven Dance of the Elements". The poem is recited (perhaps partly?), and set to the music of sounds, instruments and processes. This is done in an intelligent and serious manner, civilized is probably a term covering it. They neatly explore everything that is at their disposal, not just what is in front of them, but also they keep in mind all the various ways using these sounds and technologies when working out how to use this in the thirty-eight-minute piece. Sometimes it goes all the way down and becomes very quiet, which sits fine with the occasional louder bits in which field recordings, hiss, bass plucking and perhaps just downright noise becomes a much louder counter setting. It moves back and forth, just like it would do with the changing of seasons, even if I don't know if that is a source of interest here at all. Acoustic sounds are bent and shaped with computer technology, while at the same time the bass is playing in all sorts of irregular manners; it can as easily move into something that is just a straightforward bass sound or a seemingly a mere synth sound. Throughout we hear the bits and pieces of the poem, but it never stands in the way of the
music; it is never too much about the recited the text, but rather fitting the music quite nicely. Throughout I thought all of this was most enjoyable; perhaps another one up, one better as before. That's the way to go!
link