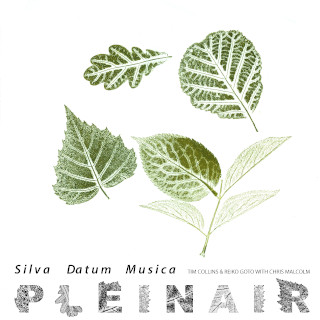 PLEIN AIR | Silva Datum Musica
TIM COLLINS & REIKO GOTO WITH CHRIS MALCOLM
English | Deutsch
Gruen 187 | Vinyl > [order]
100 numbered & autographed [order here]
Reviews

Plein Air the album presents recordings from a plant-driven synthesizer. A custom built instrument that uses scientific sensors and software programming to generate real-time tree leaf data. Light, photosynthesis and transpiration modifies sound: the rhythm, melody, texture, tempo and harmony shift with atmospheric conditions and tree response – electronically.
The sounds of each leaf of regional deciduous trees by scientifically sensored data-sonification are much more musical than one could imagine. Their timbre and volume always depend on light and temperature, number of audience. It varies from site to site and from country to country. We can hear loops of rhythmic sequences, groups of tiny computer generated signals, long drones which change constantly and are hard to describe.
Side 1 includes four short recordings, in total twenty-six minutes, of one leaf from Scottish Elder, Oak, Elderberry and Birch, recorded in one of Glasgow's historical green houses, June 2017. Due to dramatic light and temperature changes that occur as sunshine and cloud formation changes in proximity to the north Atlantic; the computer generated music is highly dynamic, an intense hearing experience at times as I would imagine a tornado.
Side 2, is one recording, in total twenty-five minutes, of a regional heritage pear tree leaf that sounds more like Minimal Music. During the Cologne Tree Sound Study, we made the recording in a small office room in 2015, we had less dramatic weather changes. A warm summer, smooth light changes, generating a more gentle soundscape to deeply plunge into music. (Georg Dietzler)
Plein Air the album is based on a ten-year artist-led project. In simplest terms our intention is to provide a 'mind/body experience' of trees by attending to the sound of physiological reaction (photosynthesis and transpiration) as one leaf adjusts to the day to day changes (rush hour traffic, crowds of people) in ground level atmospheric chemistry in venues and cities. Physiological data is transposed into sound through computer software. We have chosen sound for its aesthetic purity with the goal to hear the trees more clearly as they react to changes in CO2, temperature and humidity. This system is called 'Plein Air', a stable single platform system that embraces the portable easel, as a metaphor for the historic practice of open air painting. Where Millet extended the idea of landscape to peasants working in the fields and the impressionists examined the phenomenological exchange between light and material. At the same time, recent work with the system raises questions about what we expect to 'hear' when we listen to nature, as it reacts to intense inputs of carbon dioxide?
(Tim Collins)
---
Excerpts:
Side 1 – PLEIN AIR Live in Glasgow, Scotland, 2017
1 ALDER 5:32
2 OAK 8:04
MP3
3 ELDERBERRY 3:36
4 BIRCH 8:48
MP3
Side 2 – PLEIN AIR Live in Cologne, Germany, 2015
1 PEAR 24:42
5 Tracks (50′42″)
Vinyl (300 copies)
---
PDF:
Plein-Air-LP-Insert
Plein-Air-Ethics-and-Art
Plein-Air-Book
---
Tim Collins, Reiko Goto, Chris Malcolm
Plein Air | Silva Datum Musica
Format: 12 " Vinyl
Style: Experimental, Electronic, Data-Sonification, Computermusic
Recordings by Chris Malcom, Tim Collins & Georg Dietzler
Software Programming: Chris Malcom
Mastering by Dirk Specht, Cologne
Produced by Georg Dietzler, Cologne
Artwork: Reiko Goto with mono prints by Nicola Chambury
Edition of 300 copies | 100 numbered & autographed
PLEIN AIR | Southern Appalachian Forest
Sound Art Series by Gruenrekorder
Germany / 2019 / Gruen 187 / LC 09488 / GEMA / EAN 193483354477
---
TJ Norris | Toneshift
With each names for trees, this latest collaboration between Tim Collins, Reiko Goto, Chris Malcolm (here as Silva Datum Musica) is a unique journey into the great outdoors via a custom-built plant-driven synthesizer – you heard that right. An instrument that "uses scientific sensors and software programming to generate real-time tree leaf data. Light, photosynthesis and transpiration modifies sound: the rhythm, melody, texture, tempo and harmony shift with atmospheric conditions and tree response – electronically."
The trio act like performative sound painters on Plein Air. The outcome has a droopy quality on Alder, that seems like a retro flashback, like the accompaniment to a silent movie. This continues with gaseous exhaust and flourishes of organ and mysterious tones right into Oak and through the manipulated forest. Having taken a decade to orchestrate this, there were obviously a lot of technical aspects to overcome in the process – but this blend of scientific photosynthesis, etc. has a great impact on the pleasant awkwardness of the chords. This has the presence of something circus-like, or perhaps an organ grinder in the streets of Paris circa the 1950's – it's impossible to peg, and exciting to contemplate. Having been recorded in Scotland there lays the essence of the place in the tonal shadows.
The contraptions they've built (have a closer look here) seem more akin to those used by old school land camera photographers, and those who engage in the camera obscura than your typical musician – but they have successfully fused sound and vision with natural science to deliver an awesome ear-opener as well. The computer generated sounds are within their own world of improv, and the artists here definitely had to rely on chance for all of their inventiveness, in part. As light and temperature effect the sounds that come alive, this is one of those projects that would rightly deserve a fine museum exhibition, if you could bring the outdoors in (I'm thinking of the Isabella Stewart Gardner Museum with its open air courtyard that already has plant life). But the idea of seeing a sight such as this trio upon a hillside or in a public park would be a head-turner for sure.
Side two is fully dedicated to the solitary Pear as it runs just about twenty-five minutes: " (the) regional heritage pear tree leaf that sounds more like Minimal Music. During the Cologne Tree Sound Study, we made the recording in a small office room in 2015, we had less dramatic weather changes. A warm summer, smooth light changes, generating a more gentle soundscape to deeply plunge into music (Georg Dietzler)." This track stands out from the rest, and it's great to be reserved as such. The effect is a tad psychedelic, almost like music within Eastern traditions (like a snake charmer), and a bit removed. Though this also has plenty in common with German electronic music of the 1970's, in all its futuristic, minimalistic glory. Plants are earthly beings, here given voice in a most unique way.
link
Frans de Waard | VITAL WEEKLY
A subject about I surely have very little knowledge of is that of bioacoustics; you know, where biological events turn into sound. I know John Cage experimented with plants, Michael Prime also, and I'm sure there is much more out there, but I have not much idea about that. Silva Datum Musica is a duo of Tim Collins and Reiko Goto and together they created a 'plant-driven synthesizer'. It uses sensors and software "to generate real-time tree leaf data. Light, photosynthesis and transpiration modify sound: the rhythm, melody, texture, tempo and harmony shift with atmospheric conditions and tree response – electronically", which is a pretty cool idea. Ideally, every plant sounds different, one would think. Here we have two different recordings, both live. One side has four pieces, recorded in 2017 in Scotland and one long piece from Cologne in 2015. The four pieces are 'Alder', 'Oak', 'Elderberry' and 'Birch' and 'Pear' is on the other side. The interesting thing is, but perhaps also sad to note, is that those four pieces sound kinda similar. I have no idea if that is the trees, leaves or perhaps the software; basically, because I have very little knowledge of how this software is supposed to work. Are there elements of sound in there that are activated by the plants and as such maybe that's why some of this sounds the same. It makes it, perhaps, more the result of a scientific experiment, rather than some music that works as a standalone thing, which is, I think, what this should boil down to. No matter how interesting it is to translate the sound of leaves into music, one should also consider the fact that it is now 'out there', on an LP, to enjoy. One doesn't see or smell the plants, nor the machine to translate them, and therefore it is a bit difficult to understand why these pieces sound relatively the same. The long piece on the other side, curiously enough, sounds a bit different, although one can link both sides together. The sheer minimalism of all of the pieces is, however, something I enjoyed very much about this. It is slowly evolving and that is always a great thing!
link