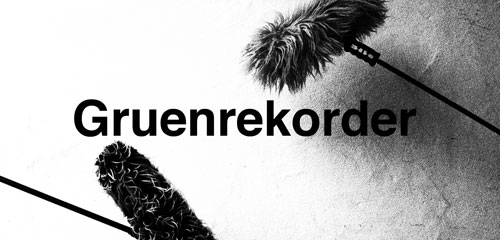 Gruenrekorder
understands itself as an organisation with the aim of promoting soundworks and phonography. Phonography considers nature / the environment as an acoustic experience, loaden with musical sounds. It is as a form of art and culture, that Gruenrekorder promotes phonography. We therefore organise events, lectures, publications and exhibitions as well as artistic projects in the fields of phonography and soundwork. Please visit Field Notes our bi-lingual magazine and Tonangel our workshop or take some time to read or listen to Gruenrekorder.
---
We are always happy to hear from you and have many ways for you to get in touch.
By telephone or email
+49 (0)1511-5738-966
info@gruenrekorder.de or contact form
Stay in touch
Facebook
Twitter
Soundcloud
Bandcamp
Discogs
RSS feed
Useful links
Newsletter:

Demo policy
Submissions for release: in 2018 closed.
We accept only unprocessed field recording works.
Special interest in high quality wildlife sound recording and location recording projects, audio portraits etc.. Before sending your demo, please make sure your work is matching the Gruenrekorder requirements. After this you can send us a ZIP-file with MP3 (320 kbps), info text, biography/press kit via wetransfer or dropbox.
---
Gruenrekorder | Darmstädter Str. 29 | 63456 Hanau/M. | Germany
Gruenrekorder | Weißkirchener Weg 7 A | 60439 Frankfurt/M. | Germany
Manufacturing and distribution of records | LC 09488
GbR | Tax number 012 315 61546 | Finance office Frankfurt/M. IV