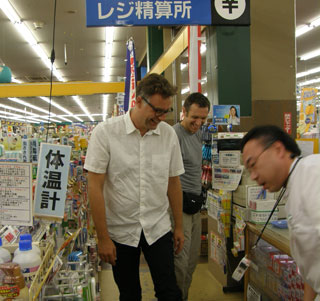 Angus Carlyle
is curious about how we make sense of the environments we inhabit. Sound is an important part of that curiosity but Angus also works through text and image.
He edited the book 'Autumn Leaves' for publishing house Double Entendre (2007) and co-curated the accompanying compilation, which won the Qwartz Prize for Electronic Music. He made the sound work '51° 32 ' 6.954" N / 0° 00 ' 47.0808" W' for the 'Sound Proof' group show (2008), a work that responded to the redevelopment of London's Lower Lea Valley in advance of the Olympics. This was an important juncture for him personally, in part because it confirmed his interest in working within the confines of relatively small areas of land, in part because it was his first substantial commission. As the culmination of a long-term multi-disciplinary research project, he co-curated the exhibition 'Sound Escapes' at Space Gallery in London (2009). Later that year, he produced the CD 'Some Memories of Bamboo' for Gruenrekorder in 2009. For the last 18 months he has primarily been working on 'Air Pressure' with anthropologist Rupert Cox and scientist Kozo Hiramatsu. In 2011, he produced 'Noli Me Tangere', a soundwalk for Brighton Museum and Art Gallery that tried to bring the objects in the museum into acoustic life. At the turn of this year, he composed 'Now Near Enough' designed as an unobtrusive atmosphere to surround Edgar Martins' photographic series 'This Is Not A House'.
Angus is a researcher and teacher at the University of the Arts, London, working with other sound artists in the CRiSAP Research Centre, which last year won the Sir Misha Black Award.
Gruenrekorder:
V.A.: "Autumn Leaves" (GrDl 088/07)
V.A.: "SONIC VIGIL 4" (GrD 13/09)
V.A.: "Autumn Leaves | Sound and Environment in Artistic Practice" (GrD 12/09)
Angus Carlyle: "Some Memories of Bamboo" (Gruen 053/09)
Angus Carlyle & Rupert Cox: "AIR PRESSURE"  (Gruen 094/12)
Angus Carlyle: "In The Shadow Of The Silent Mountain"  (Gruen 162/16)