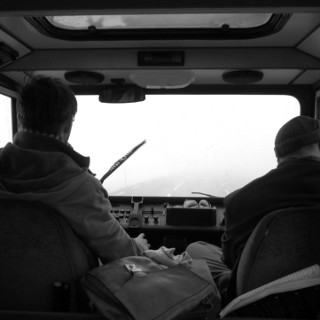 Komplex | Roger Döring & Konrad Korabiewski
Gruen 126 | Vinyl > [order]
Reviews

The project was created over two years in Seyðisfjörður, Iceland and in Berlin, Germany, and is an evolving conversation between Döring's improvisation on acoustic instruments such as clarinet and saxophones, and Korabiewski's electronic live treatment and composition with Döring's sounds. A third compositional element is contributed by the particular ambiences of the spaces in which the recordings took place, as Korabiewski and Döring came together to record at sites with personal and acoustic resonance, from Döring's apartment in Berlin to an abandoned herring factory by the sea in east Iceland.
Musically Komplex moves seamlessly between ethereal ambient re- frains, to a somber, churning low end, to a hypnotic looping rev- erie that slowly disintegrates as if under the burr and scratch of a gramophone needle. Melodic elements occasionally distort and peak into noise, lending the simplicity of solo instrumental im- provisation an atmospheric density, and revealing the material and spiritual limits of the fragile musical moments around which the album circles. The track titles, made of German expressions and short sentences, refer to the restless transience of creative life, much like that of a journeyman craftsperson centuries ago. The result is a highly expressive, dark, and deeply felt, honest album, reflective of shifting emotional states and uneasy sagas from the north.
Side A
06:02 kremmenerstraße [baritonsaxofon ]
MP3
03:07 seelischer konflikt [baritonsaxofon ]
06:24 flucht [baritonsaxofon ]
04:03 hof [tenorsaxofon ]
Side B
MP3
04:44 wenn es gehen will laß es gehen [klarinette ]
02:09 aber langsam gehe ich meinen weg – langsam [klarinette,diktaphon ]
05:34 wohin des weges, wandersmann? [klarinette ]
04:24 zeit heilt alle wunden [tenorsaxofon ]
8 Tracks (36′29″)
Vinyl (300 copies)
---
Icelandic fimartist Kristján Loðmfjörð created a video work for the album track Flucht. A signature meditation on the grain of the far northern landscape as counterpart to the grain of Döring's horn.
---
Artists: Roger Döring | Konrad Korabiewski
Title: Komplex
Format: 33 1/3 rpm / 180g vinyl LP
Limited edition 300 copies
Label: Gruenrekorder [Frankfurt am Main] with
Skálar | Sound Art | Experimental Music, Seyðisfjörður, East Iceland
Recorded and composed by Konrad Korabiewski with Roger Döring in
Berlin and Seyðisfjörður, November 2011 – December 2013
Mixed by Dirk Dresselhaus (Schneider TM) at ZONE, Berlin, 2014
Mastered by Christoph Grote-Beverborg at Dubplates
Cover photo by Laurent Ambroggiani taken in East Iceland
Artwork by Martina Knittel
Supported by Danish Arts Foundation, Danish Composers Society's Production Pool, KODA's Fund for. Social and Cultural Purposes.
Sound Art Series by Gruenrekorder
Germany / Gruen 126 / Iceland / Skálar 001 / 2015 / LC 09488 / EAN 4050486903940
---
Duncan Simpson | Musique Machine
Another release from the sound-art side of Germany's Gruenrekorder, Komplex is a collaboration between saxophonist Roger Döring and electronic improviser Konrad Korabiewski. Recorded over two years in a variety of locations and different acoustic spaces, Döring, who also improvises on c clarinet, provides the material which Korabiewski manipulates into unfamiliar shapes or adds to with mostly subtle electronics and field recordings.
The first piece Kremmenerstraße opens with quiet street noise (perhaps recorded from the Berlin street which gives the piece its title) before Döring's baritone sax appears playing extended low notes which are overdubbed and lightly processed by Korabiewski. The combination of distant street noise and closely mic'd acoustic instrumentation is initially a little uncomfortable but as each layer of acoustic sound is added the tonal colour of the whole resolves into something quite darkly harmonious. The melodic element is amplified on the second piece Seelischer konflikt (Psychological conflict) which sees Döring interspersing searching melancholic passages with interestingly constructed, near percussive effects and drawn out droning tones. This is further refined on Flucht(Flight) with a doom jazz pace and atmosphere that would no doubt appeal to those inclined towards Bohren & der Club of Gore. Korabiewski ramps up the distortion as the piece progresses never allowing the listener to fall into complacency and on the last piece on side A, Hof (Court) processes Döring's tenor sax into a wild mélange of lugubrious tones and half formed melodies.
The second side continues in this vein on Wenn es gehen will laß es gehen (If it wants to go let it go) building up from short clarinet phrases which hover tentatively before giving way to others. The production here utilises the natural acoustics of the space and with light use of reverb creates the impression of a complex interplay between distance and nearness, as if a quartet of players were secreted around what might be an ancient sacred space. This delicately balanced acoustic environment is rudely shattered on what is for me the least successful piece here Aber langsam gehe ich meinen weg – langsam (But slowly I go my way – slowly). Döring's clarinet is filtered through a dictaphone, generating that characteristic distortion and overdrive which while just about holding on to the melodic content is painful to the ear after the previous tracks, which had lulled us into the manner of close listening. It's thankfully the shortest piece here.
The final two pieces return to the layering and acoustic manipulations of before. Wohin des weges, wandersmann? (Where is the path, wanderer?) reflects the searching quality of its title with Döring's clarinet leading us on a meandering series of short minor melodies which dip in and out of the acoustic space. The recording also making interesting use of amplified fingering on the instrument, heard through little clicks and rubs. Appropriately this is the only track that ends in a fade-out with the players still searching for the path. Zeit heilt alle wunden (Time heals all wounds) completes the set on the most melancholy note yet. Returning to the tenor saxophone Döring's playing exudes a reflective, almost plaintive melody over layered drones emanating out of the space. It's a dark note to complete what is an almost overwhelmingly shady record capturing in a vaguely classical/Jazz idiom something of the darkness of the northern lands.
link
illustrated amateur
For as much as my aesthetics may define me, there are some bits that are still pretty mysterious. I can't always explain what attracts me, even if something exerts a strong pull. The odd pairing of saxophone with electronics seems inexhaustibly interesting to me. My previous attempts at explaining the attraction fail to fully answer for its appeal. Thus, I ended up buying a copy of Roger Döring and Konrad Karabiewski's Komplex, after listening to only to a scant few samples.
Korabiewski is credited in the duo with "live processing"—essentially adding effects and treatments to Döring's reeds as they are played. This sort of configuration usually leads to a heavy hand on the effects, since only the saxophonist is contributing original sonic content. Quite surprisingly, Korabiewski has a soft touch, letting the saxophone breath—using his role more to provide an atmospheric contextualization. I haven't heard such subtle manipulation since Brian Eno and Harold Budd's collaborations.
link
The Wire Magazine | Issue 389
It would be a cliche to recourse to the idea that Iceland's treeless environment impacts on any music made by artists living there. But the plaintive baritone saxophone on "Kremmerstrasse" vividly suggests it does, as it plays out over voices that alternate between agitated talk and half-singing. There's also the sound of traffic and a whining dog, albeit buried in the deep drone of the saxophone. These tracks coulbe be brief extracts from films, their mood and tempo changing as the flicker from one to the next. The clarinet melody closing "Zeit Heilt Alle Wunden" is an almost direct reference to the vocal melody ending "Warszawa" on Bowie's Low. But the resemblance stops there.
link
Ed Pinsent | The Sound Projector
Konrad Korabiewski and Roger Döring took about two years to complete Komplex (GRUENREKORDER Gruen 126 / SKÁLAR 001), a sound-art work that involved travels in Berlin and Iceland, much recording and playing, and contemplation…it might be more helpful to think of the work as a dialogue between the two men that gradually picks up steam, although "steam" is the last word on one's mind as one endures these freezing-cold and deathly slow explorations in sound. Döring plays his clarinets and saxophones at a lugubrious speed, while Korabiewski processes the results in some way using "electronic live treatments". Location recordings play a part in the finished product too, and quite often the performed sounds are embedded directly in very specific – and very audible – places in Germany and Iceland.
In this regard at least, I'm reminded of the English players Noteherder and McCloud who have often taken their instruments out en plein air, except they seem to do it much more prolifically, producing juicy and resonant sax-electronic yawps in echoing halls and on busy Brighton roadways, and without encumbering the listener with much in the way of conceptual baggage. Komplex, on the other hand, is intent on providing us with a solemn statement about "shifting emotional states and uneasy sagas from the North". It's hard to feel much of a connection to the actual places where the recordings took place, and mostly what comes across instead is the duo projecting their own inner desolation onto the world, using the four walls of a house or a factory as screens.
I'm prepared to believe the sites had "personal" meaning for them, but perhaps they could have tried harder to communicate this, instead of falling back on a sense of all-purpose melancholy. The general air of grimness is reflected in the grey-monochrome sleeve art and photographs by Martina Knittel, and for those seeking further visual analogues, one track 'Flucht' has a promo video created by Kristján Loðmfjörð. In its favour, I'll say that the recordings here are exceptionally clear and vivid, and I'll admit the overall sound of the record does have a certain weight and authority, which may be partially due to the mixing skills of Schneider TM.
link
DM | VITAL WEEKLY
This collaboration by multimedia artist Korabiewski and saxophonist Döring was realized over a period of two years in Iceland and Berlin. Korabiewski is a sound-artist, composer and media artist, plus director of a centre for experimental music in Iceland. Berlin-born Döring is a musician but also working as an actor in film and theatre. Since 1999 he is one half of the German duo Dictaphone. On this album Döring plays baritone sax, tenorsax, clarinet and dictaphone. In each track only one of these instruments is played. Korabiewski adds a live electronic treatment, with a special attention for the acoustics of the recording sites. But also dubbing Dörings playing. His treatments are of a minimal and sober kind, but also unmistakably present, giving the sound its definite shape. Döring plays long notes, musical lines that meander slowly forward. So their musical dialogues are overall of a meditative and reflective nature. It like their improvisations most all because of the physicality and concreteness of the sounds produced. Very pure and with an emotional content. Very impressive is also the picture on the cover of this album. Two people in the front seats of an automobile, photographed from the back. Just seeing the silhouettes of both persons. Intriguing.
link
Guillermo Escudero | Loop
From the Gruenrekorder's Sound Art series of the German Gruenrekorder label is released 'Komplex' of German Multi Instrumentalist, actor in theatre and film and one half of Dictaphone, who meet Polish/Danish/Islandic multimedia artist, composer, sound artist, Konrad Korabiewski.
'Komplex' was a project created over two years in Seyðisfjörður, Iceland and Berlin, Germany. This work includes improvisations with tenor and baritone saxophones and clarinet performed by Döring and electronic manipulations by Korabiewski, plus field recordings recorded in Berlin and the east of Iceland.
'Komplex' was released on vinyl in a limited run of 300 copies which lasts in 36 minutes.
The melodic baritone sax tones appear in a desolate and lonely cold place denoting certain melancholy that sometimes is interrupted by noises. However, the characteristic is that the saxophone is spread on a placid ambient where faint electronic treatments come to the surface just as the drone on 'Zeit heilt alle wunden'.
In this minimalist work some voices are perceived on 'Kremmenerstraße' while continues his languorous baritone sax trip.
'Flucht' is a track and a video that displays images made in black and white of the sea in the east of Iceland, sometimes a little blurred and at times turn into black. This aesthetic reflects very well the cold environment of floating ice.
This is a work in which is appreciated a subtle blend of melody and melancholy.
link
Denis Boyer | FEARDROP
Il est rare que, même dans sa série Sound Art, la plus « musicale », le label allemand Gruenrekorder n'invite pas d'artistes mettant en œuvre divers field recordings, mêlés à d'autres sons venant d'instruments. Le LP vinyle Komplex, par le duo Konrad Korabiewski & Roger Döring, déroge presque à cette règle, en utilisant principalement le saxophone baryton et la clarinette. On ne peut toutefois imaginer que sur ce label dédié aux sons captés, il ne figure rien d'environnemental. C'est la dernière composante, qui prend naissance avec un dictaphone. Döring joue, improvise, Korabiewski traite en live, et le tout est recouvert, cuisiné, levé grâce au ferment environnemental capté dans différents lieux, lesquels peuvent relever de l'intime (appartements) ou avoir été choisis pour leur qualité de résonance (une usine abandonnée).
Les phrases des instruments à vent défient le temps et son déroulement, elles s'annoncent parfois en notes isolées, ou le plus souvent en séquence mélancolique et sombre, toujours rehaussées dans leur mystère par le traitement que nous avons évoqué, puis oxydées par les témoignages du dictaphone. Les crépitements ponctuent ainsi, ou veinent sobrement, un fredonnement plongeant dans la gravité. Une musique ambiante, véritablement ambiante et habitée s'illustre alors en réminiscence d'un expressionnisme primitif, dans quoi les formes les plus simples exacerbent le rythme intime pour refaçonner la respiration et la cadence cardiaque sur le modèle du chantonnement crépusculaire. Alors, hantés par le miroitement du cuivre et le vrombissement infra, les souffles maîtrisés de l'instrument, dans leur circulaire obscurité romantique finissent par rappeler la grâce d'une œuvre aussi essentielle que The Radio de Steve Roden.
link
felix | freiStil – Magazin für Musik und Umgebung / #61
Roger Döring (ts, bars, cl, diktafon), Konrad Korabiewski (e)
Der deutsche Multiholzbläser Roger Döring ist auf dieser brillanten Platte – eine weitere Großtat des Gruenrekorder-Labels – für die akustischen Improvisationen zuständig, Konrad Korabiewski, ein Mann mit vielen Herkünften (Polen, Dänemark, Island, Deutschland) behandelt Dörings Gebläse live-elektronisch, spitzt sie zu, flacht sie ab, bringt sie auf den Punkt, je nach Bedarf und Bedürfnis. Nicht unwesentlich bei der Entstehung der vorliegenden Soundscapes ist die Berücksichtigung verschiedener Aufnahmesituationen. Die reichen von einer Wohnung in Berlin bis hinaus zu einer aufgelassenen Fabrikshalle auf Island. Entsprechend unterschiedlich ausdifferenziert findet dieser Komplex klanglich statt. Von smart bis hart reicht die Ausdruckspalette. Manchmal herrscht mildes Klima vor, dann wieder wilde Verzerrung. So kommt diese ambitionierte Ambientmusik daher: roh und ausgekocht zugleich. Ta-del-los.
link
textura
Best known as one-half of German outfit Dictaphone, Roger Döring joins forces with sound artist and current director of Skálar—Centre for Sound Art and Experimental Music Konrad Korabiewski for a twelve-inch vinyl set (300 copies available) of moody, woodwinds-based ruminations. The eight settings on Komplex document improvised interactions between Döring's clarinet and saxophones (tenor, baritone) and Korabiewski's electronic treatments and sound manipulations. Also figuring into the album's character are the locales themselves where the material came into being, as the duo recorded Komplex at sites possessing personal meaning, such as Döring's Berlin apartment and an abandoned herring factory in east Iceland.
The thirty-six-minute recording is elevated considerably by Döring's fine-tuned melodic sensibility, which is complemented effectively by Korabiewski's ethereal atmospheric treatments. Stated otherwise, the woodwind playing alone, especially when presented in multi-layered form, commands the listener's attention; with field recordings and other textural details added in, Komplex becomes all the more satisfying a proposition. Pieces range from sombre funereal meditations ("kremmenerstraße") to brooding nightscapes redolent of mysterious European cityscapes ("flucht"), with many of the duo's plaintive reveries unfolding at a slow and measured pace. There's a graininess to some of it (see "aber langsam gehe ich meinen weg – langsam") that makes it resemble a corroded tape of soundtrack material created for a '60s black-and-white film from Germany or Poland. Döring's clarinet playing is particularly haunting in "wenn es gehen will laß es gehen," but much the same could be said about the recording as a whole. Though Komplex would be short by CD standards, its eight evocative settings fit the vinyl format perfectly. There's enough included to provide a full meal, yet not so much that the album overstays its welcome.
link
Brian Olewnick | Just outside
Döring plays clarinets, tenor and baritone saxophones and Korabiewski supplies electronics, the pieces also ceding space to the environments in which they were recorded. The reed playing is generally somber and smooth, stating simple melodies with a dirge or folk character (reminded me of the slower portions of that old Skidmore/Osbourne/Surman recording on Ogun), only once delving into distortion when he runs the sound through a dictaphone. The electronics are very subtle, sometimes hardly there, although there's also either overdubbing of the reeds or real-time sampling. The music is moodily bleak, melancholic with a tendency toward sentiment. But at times, a certain balance is reached and the music floats wonderfully. "flucht", where Döring is on baritone, is my favorite track, one that recalls Roscoe Mitchell/AEC with deep, mournful flutters mixed with gradually strengthening scratchy interference-excellent. Most of the rest, while entirely pleasant, dwells in one area a bit overmuch; I'd like to have heard more chances taken.
link
Łukasz Komła | Nowamuzyka.pl
Dobrze sprawdzone patenty, czyli połączenie instrumentów akustycznych i elektroniki, ale efekt niecodzienny.
Roger Döring (ur. w 1961 r.) to muzyk i aktor, który intensywnie tworzy od początku lat 80. Członek niemieckiego duetu Dictaphone. Wraz z Rudu Moserem (Einstürzende Neubauten) utworzyli projekt Orchestra Obscure. Współpracował też z japońskim gitarzystą i kompozytorem Takeshi Nishimoto. Obecnie swoją uwagę Döring skierował w stronę wspólnych działań z polsko-duńsko-islandzkim artystą multimedialnym Konradem Korabiewskim (ur. w 1978 r.) szukającym w swoich pracach nowych możliwości wykrywania, wyrażania i przenoszenia poglądów filozoficznych do świata sztuki. Korabiewski jest założycielem, a obecnie dyrektorem Skálar – Centrum Sztuki Dźwięku i Muzyki Eksperymentalnej w Islandii.
Album "Komplex" powstawał na przestrzeni ostatnich dwóch lat w Seyðisfjörður (Islandia) i Berlinie. Döring (saksofon barytonowy, tenorowy i klarnet) i Korabiewski (elektronika) wyszukiwali odpowiednich miejsc pod względem akustyki, w których mogliby zarejestrować swój materiał. Jak się okazało, mieszkanie Döringa w Berlinie i opuszczona fabryka przetwórstwa rybnego we wschodniej Islandii rezonują w wyjątkowy sposób, gdzie też dokonano nagrań.
Czarną płytę wypełniło osiem kompozycji, których niespieszne tempo pozwala odkryć istotę przekazu obu artystów (tytuły utworów również to podkreślają), czyli aspekt przemijalności twórczego życia. Muzycy zderzają ze sobą warstwę akustyczną i elektroniczną. Niby nic nowego, a jednak magnetyzm i hipnotyczny trans, jaki mamy na "Komplex", nie pozwala przejść obojętnie obok tego wydawnictwa. "Kremmenerstraße" i "Seelischer konflikt" to znakomity wstęp zbudowany na partiach barytonowego saksofonu, a fantastyczny "Flucht" (niemal ambientowy) zachwyci fanów Colina Stetsona, choć chciałoby się, aby Kanadyjczyk nagrał coś tak minimalistycznego, jak to nagranie duetu. W "Hof" nakładane na siebie dźwięki saksofonu tenorowego oraz sonorystyczna, delikatna elektronika Korabiewskiego prowadzą nas do pięknego klarnetowego fragmentu "Wenn es gehen will laß es gehenn". Z kolei "Aber langsam gehe ich meinen weg – langsam" zaskakuje swoją zadziornością uzyskaną przez brzmienie dyktafonu. Medytacyjna końcówka w postaci "Wohin des weges, wandersmann?" i "Zeit heilt alle wunden" utwierdza mnie w przekonaniu, że obcuję z niezwykle ciekawym albumem i liczę na więcej w przyszłości.
Płyta "Komplex" mogłaby być ścieżką dźwiękową do jakiegoś dokumentu Wernera Herzoga, lecz póki co istnieje jako autonomiczne dzieło pełne osobistego uroku. Ciężko jest się oderwać od tego winyla, mam nadzieję, że i was on zachwyci.
link
Pierre Cécile | Le son du grisli
Diantre, une nouvelle affaire & déjà le premier indice (couverture du LP). Me voilà embarqué en véhicule motorisé derrière Sir (Roger) Döring et Lord (Konrad) Korabiewski. J'imagine qu'ils ne m'imaginaient certainement pas si fin limier… Et ce que de ma place à l'arrière j'aperçois de la route (ce type de bande rugueuse et cette forme de gros nuage) me fait dire qu'on est en Islande. Et en Islande de l'est, qui plus est.
Bingo, mecs ! L'Islande de l'est, rien que ça… Je m'attends maintenant à ce que vous me fassiez écouter vos plus belles prises de roucoulements de gobemouches et de respiration de flétans des glaces chopés lors de la saison propice à l'agrandissement de la famille. Alors ? Non ? Mais alors, quoi ? Est-ce que l'étiquette fieldrecs naturalistes de la firme Gruenrekorder m'aurait mystifié ?
J'ai failli vous avoir avec mon histoire de gobemouches… Bien sûr que je m'attendais un peu à ces solos ou solos à deux (je préfère cette façon de dire) de saxophones ténor et baryton et de clarinettes. Et de dictaphone, toc / un flétan derrière la clarinette ? comme si de rien n'était. Non ? Bref. Les instruments de Döring & Korabiewski sont d'un naturel époustouflant et leur jeu est pétri de mélancolie (pas de cette mélancolie fastoche post-ECM (parfois, quand même un peu), mais d'un vrai truc qui vous prend là). Et les huit petites pièces qu'ils lâchent sur ce vinyle sont autant de bouteilles à la mer lancées contre un glacier.
C'est loin, l'Islande, et tu m'étonnes que tu pleures. Mais ne pleure plus, Konrad, et toi non plus, Roger, ne pleure plus : j'arrive… Je suis derrière vous, face à l'Islande du Sud. Le retour c'est pour maintenant !
link
Anna Ullman | Dagbladet Information
"Den polsk-danske multimediekunstner Konrad Korabiewski og den tyske musiker Roger Döring arbejder på pladen Komplex med skrøbelige stemningsnedfældninger. »Kremmenerstrasse« er en dronende lydkulisse, hvor rumstøj og stemmefragmenter kommunikerer med Dörings elektronisk modificerede klarinet og saxofon. Der er en vemodig berlinermodernisme over de melankolske og blødt beboelige klangrum, som duoen fremmaner. Döring bruger blæserne uselvisk og eftertænksomt – som om det hele tiden veksler mellem at sige noget og vente på at modparten skal komme med et udsagn. På stykket »Aber langsom gehe ich meinen Weg – langsam« hører vi de susende ulyde fra båndoptageren. Korabiewskis lydmanipulationer krøller instrumentet sammen til en kassabel metalterning af skrot, for så at pakke det ud igen til dets oprindelige form og nænsomt udglatte alle folderne og ridserne. Her foregår mødet mellem mennesket og maskinen for en gangs skyld glat og uproblematisk, ja nærmest smukt"
link
Rasmus Cleve Christensen | Seismograf / DMT
Et digitalorganisk klangstudium
Anmeldelse af Roger Döring & Konrad Korabiewski: Komplex
Vinyludgivelsen Komplex er et behersket, urovækkende og dragende bekendtskab, der fremstår simpelt i sit udtryk men gemmer på et umage samspil mellem forskellige klanguniverser.
Den polsk-danske multimediekunster Konrad Korabiewski har sammen med den tyske multiinstrumentalist Roger Döring skabt albummet Komplex, der udkommer på vinyl i 300 eksemplarer i dag. Det sker gennem det tyske pladeselskab Gruenrekorder, der specialiserer sig i field recordings og diverse lydeksperimenter og bl.a. har udgivelser med Chris Watson, Jez riley French, Derek Holzer og Ben Owen bag sig. Den aktuelle udgivelse sker desuden i samarbejde med Skálar – Centre For Sound Art & Experimental Music, der har til huse i det østlige Island og drives af bl.a. Korabiewski, der til dagligt er bosat her.
Korabiewskis praksis kredser normalt om forskellige eksperimenter på tværs af medier og kulminerer i enten lyd- og videobaserede performances, koncerter eller – som det var tilfældet med værket Påvirket som kun et menneske kan være (2010) – i et interaktivt kunstobjekt i udvidet bogform. Sidstnævnte indeholdt en lydside, der bl.a. bestod af bidrag fra Döring. Indspilningerne til Komplex er foregået over en toårig periode i tiden efter bogsamarbejdet på forskellige lokationer i Island og Berlin; de to parters respektive hjemmebaner. Döring gør sig desuden i forskellige andre musikalske konstellationer og samarbejder bl.a. med Rudolf Moser fra Einstürzende Neubauten, ligesom han laver musik til film, teater og dans.
En umage symbiose
Det er langt hen ad vejen Dörings input, der bærer pladen. Helt konkret består hans bidrag af en række improvisationer på forskellige træblæsere. Disse bearbejdes real time af Korabiewski, der med sin computer svøber de velkendte lyde af klarinet og saxofon i digitale klangflader og resonansfiltre, der får tonen til at selvoscillere og forekomme nærmest helt elektronisk, inden den igen indtager sin oprindelige form. Herved kontrasteres den varme og organiske kerne med en kølig og spøgelsesagtig overflade, der skiftevis slører og afslører tonens oprindelse. Og det er denne flydende vekselvirkning mellem de to klanguniverser, der gør udgivelsen til både uhyggelig og interessant lytning.
Selvom Döring leverer størstedelen af det musikalske indhold, er det ikke desto mindre Korabiewskis behandling, der omslutter melodifragmenterne i det ustabile lydbillede, der er med til at give udgivelsen sit særlige feel. I mødet skabes der en verden, et rum, hvor skellet mellem den naturlige tone og en syntetisk spejling af denne opløses, hvorpå de konstant bytter plads i en organisk/maskinel-dikotomi og væves sammen i en underspillet bastardæstetik.
Den rumlige dimension
Samtidig bidrager de skiftende indspilningssteder med endnu en lydlig ingrediens til smeltedigelen. Fx ligger barytonsaxens klagesang på pladens åbner, "Kremmenerstraße", oveni en udendørs lydkulisse af billyde, stemmer, puslen og klirren, som højst sandsynligt stammer fra den gade i Berlin, som nummeret låner sin titel fra og som altså muligvis direkte har fungeret som indspilningsramme. På andre numre fornemmer man den hårde betonakustik fra den nedlagte, islandske fiskefabrik, der også har lagt ramme til nogle af indspilningerne. Men på pladens mest dragende nummer, der bærer titlen "Flucht", dyrkes et lyddødt og klaustrofobisk rum. Saxofonen er optaget uhyggeligt nært og gentager den samme lille melodistump igen og igen; og det så sagte, at små skrat fra mikrofontilslutningen høres tydeligt i lydbilledet. Disse små fejllyde indoptages langsomt i den mere og mere forvrængede gengivelse, der sitrer frem og overtager lydbilledet, inden nummeret genfinder sin startposition og ebber ud lige omkring seks minutter henne.
Herefter skiftes melodierne i det dybe barytonregister ud med mere dissonante og ufærdige fragmenter på tenorsax og klarinet, hvilket bidrager med mere skingre overtoner, når de overtages af det digitale klangbillede, der til stadighed fryser lydbilledet, tør det op igen og fortsætter dette mønster.
Pointen slås fast
På den sjette skæring, "Aber langsam gehe ich meinen Weg – langsam", bygges der ovenpå den hidtil anvendte opskrift: Den omformede klarinettone høres nu ydermere gennem en diktafonoptagelse, der forvrænger tonen til det ubærlige. Samtidig startes og stoppes optagelsen, og man hører den umiskendelige skratten, der lyder, når en gammeldags diktafon bliver fumlet lidt for meget med. Man bliver herefter opmærksom på den karakteristiske susen og uldenhed, som selve kassettebåndet har tilført gengivelsen.
Med dette greb udpensles pladens mål, den klanglige nysgerrighed, den lydlige undersøgelse. Diktafonen peger direkte på lydens mediering og på det uundgåelige tab og omdannelsen af tonens karakteristika fra optagelse til gengivelse: Vi hører en dårlig kopi af en allerede syntetisk kopi af noget, der oprindeligt blev spillet af et menneske. Vi kan så vælge at væmmes ved den, dyrke den, opleve en nostalgi ved den eller måske en forkærlighed for den – eller alle på én gang.
Efter kulminationen skruer Korabiewski ned for sin bearbejdning, og Dörings spil fremstår på de to sidste numre mere umiddelbart og umanipuleret. Vi hører først en variation over samme tema, som blev spillet gennem diktafonen, hvor optagelsen er foretaget således, at lyden fra instrumentets forskellige klapper, der åbner og lukker er tydelige i lydbilledet. Det er som om vi igen bliver mindet om tonens ophav i et akustisk instrument. Og på pladens afsluttende nummer, præsenteres vi for et tema på tenorsax, der dels fremstår mindre fragmenteret end de tidligere melodistumper, men som også er spillet en anelse mere følt og med mere vibrato. Og i stedet for at trække sit materiale fra Dörings tone, stemmer Korabiewski nu i med en underliggende, dyb, supplerende flade, og de to klanguniverser eksisterer slutteligt side om side.
Beherskelsens kunst
Skønt der er masser af finesse hos begge musikere, er det det subtile sammenspil, der imponerer mest. Og man glædes især over den minimalistiske tilgang til den digitale manipulation af akustiske instrumenter, som ellers så nemt kan tage overhånd. I stedet dyrkes der nogle få, simple, æstetiske formgreb og en befriende less-is-more-tilgang. Numrene tør være korte (2-6 minutters varighed) og alle sammen indeholder de tilstrækkelige musikalske idéer til at holde pusten oppe. Trods kortheden af de enkelte motiver bidrager Dörings fyldige tone og impressionistiske spillestil til en lige dele iørefaldende og hypnotisk musik, der lader vente på sig, men som man også gerne venter på. Det er en uhyre stemningsfuld plade, som konstant leger med opfattelsen af akustiske rum, og hvilke følelser det ene fremkalder frem for det andet. Det er interessant lytning såvel som et spændende studium i grænselandet mellem akustisk og syntetisk tonedannelse, der nemt kan besøges igen og igen.
Optaget og komponeret af Konrad Korabiewski med Roger Döring i Berlin og Seyðisfjörður, november 2011 – december 2013,
Mix: Dirk Dresselhaus i ZONE, Berlin, 2014.
Udgivet af Gruenrekorder i samarbejde med Skálar – Centre For Sound Art & Experimental Music
Udgivelsen er en del af Gruenrekorders Sound Art Series
Katalog nr.: Gruen 126 / Skálar001/ LC 09488
link