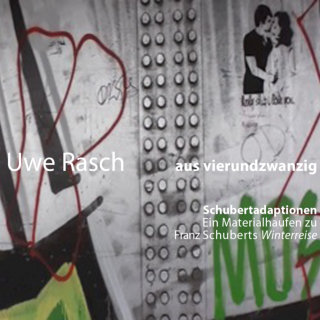 aus vierundzwanzig | Uwe Rasch
Schubertadaptionen – Ein Materialhaufen zu Franz Schuberts Winterreise
English | Deutsch
Gruen 161 | DVD > [Bestellung]
Reviews

aus vierundzwanzig
Seit 2009 arbeitet der Komponist Uwe Rasch an einem Werkkomplex, der unter dem Titel aus vierundzwanzig eine zeitgenössische Adaption von Franz Schuberts 1827 entstandenen Liederzyklus "Die Winterreise" darstellt. Es handelt sich bei diesem Werkprojekt um eine moderne, kreative und zugleich poetologische Retrospektive und Interpretation, die mal auf strukturelle, satztechnische und konzeptionelle Merkmale der Originalvorlage, mal auf den Assoziationsreichtum der Texte Wilhelm Müllers in Schuberts Vertonungen zugreift. Formal handelt es sich um ein modulares System, das assoziativ und materialisch zusammenhängt, aber keiner strengen Linearität folgt. Dabei entstand über die Zeit ein Sammelsurium – ein Materialhaufen (Uwe Rasch) – an Videos, Animationen, Fotos, Collagen, Choreografien, Texten, Audiozuspielen und Instrumentalkompositionen. In Bewegung, Szenerie, Gehalt, Körperhaftigkeit, Medialität und künstlerischer Ausdrucksweise recht unterschiedliche Elemente also, die in einer multimedialen Kollektion korrespondieren und einander kommentieren.
Marginalisierung und gesellschaftliche Isolation des Einzelnen ist einer der zentralen Gedanken, um den die Module immer wieder kreisen. Für Uwe Rasch ist das nicht romantische Topik, nicht romantische Melancholie, sondern nüchterne Realität unserer Zeit: Ich gehe von einem gezielten Missverständnis des romantischen Ansatzes aus: Die enttäuschte romantische Liebe bietet für diese Arbeit keinen Anlass und die Texte Wilhelm Müllers bilden nur mehr einen Assoziationsrahmen, Ausgangspunkte oder auch Widerstände in der Suche nach Musik. Übernommen wird die Aktivität: zielloses Umherschweifen eines erschütterten Menschen in einer Stadt. Das trifft die Realität von Streunern, Obdachlosen, Pennern, Straßenkindern und wie die Bezeichnungen alle heißen; kaltes Unterwegssein (Uwe Rasch). Ausdruck findet dies in unterschiedlichen medialen Produkten, etwa in den drei Tanzfiguren, die in armes Material (Pappe, Styropor, Plastik) gehüllt am Boden rotieren, suchend, orientierungslos und hilflos ausgesetzt. Die Figuren sind undefiniert, Gesicht und Geschlecht bleiben unbestimmt. Wie in früheren Arbeiten interessiert sich Uwe Rasch für die Kausalitäten zwischen Bewegung/Körper und Musik/Kunst sowie für das Ausloten der Grenzen physischer Belastbarkeit und entwickelt daraus seine musik(theatr)alischen Module. Komplexe und vielschichtige Versuchsanordnungen stehen neben schlichten Szenerien: beispielsweise ein Pfandflaschenautomat, der Glasflaschen schluckt – ein zynischer Kommentar zu Schuberts Lied "Wirtshaus". Motive wie die wiederkehrende Blaue Blume, die Materialien, die Klangobjekte und die audiovisuellen Installationen eröffnen Assoziationsräume, durch die freie Kombination und Verschränkung verschiedener Module werden individuelle Lesarten möglich.
Irrationale Größenrelationen, beschnittene Raumdimensionen und surreal wirkende Perspektiven schaffen Distanz und Fremdartigkeit, obwohl die konkreten Materialien jedem vertraut sind. Uwe Raschs Arbeiten haftet eine wohltuende persönliche Note und ein Charme an, er bevorzugt einen unbekümmerten, fantasievollen Zugriff auf das Material, der künstlerische Arbeitsprozess gleicht einem "Spielen" mit Komponenten aus Unterhaltungs- und Hochkultur, mit grotesken und surrealen Setzungen und mit simplen oder diffizilen Produktionstechniken. Die politische Sprengkraft in Schuberts "Winterreise" äußert sich auch in aus vierundzwanzig subtil, tiefschürfend, leise und sinnlich. Eine Art Bilanz, die das eigene Arbeiten, gesellschaftliches Ethos und Moral sowie die Misere derjenigen verhandelt, die von der Gesellschaft marginalisiert und unter den Zeichen der Moderne an den Rand gedrängt werden. (Julian Kämper)
---
Version für Holzbläser, Tänzerinnen, Audio- und Videozuspiele.
1_0:00_Nr. 20 Pappe
2_6'20_Nr. 20 Glissandoflöten
3_10'58_Nr. 22 boomwhacker
MP3
4_13'07_Nr. 21 Automat
5_15'14_Nr. 3 Sopransaxophone
6_6 16'50_Nr. 13 Styropor
7_19'49_Nr. 4/10 Hundechor
8_21'54_Nr. 20/16/13 Pappe/Folie/Styropor
9_25'07_Nr. 16 Folie
10_28'46_Nr. 2 Barytonsaxophon
11_32'49_Nr. 20/16/13 Pappe/Folie/Styropor
MP3
12_35'50_Nr. 7 Wasser
13_40'13_Nr. 24 Sopransaxophonduo
MP3
13 Tracks (46′20″)
DVD (500 copies)
---
---
Uwe Rasch www.stock11.de
Mark Lorenz Kysela www.stock11.de
Nikola Lutz www.nikolalutz.de
Erik Drescher www.erikdrescher.de
Kiri Haardt www.bfh.academia.edu/KiriHaardt
Magali Sander-Fett www.tanzkollektivbremen.de/magali-sander-fett
Claudia Senoner www.tanztendenz.de
Monika B. Beyer www.netzgeflecht.de
Fotografen: Uwe Rasch, Robert van de Laar
Übersetzung: Daniel Foster
Sound Art Series by Gruenrekorder
Germany / 2015 / Gruen 161 / LC 09488 / GEMA / EAN 4050486946312
---
---
Julian Kämper | MusikTexte (150)
Review PDF
Materialhaufen | Deutschlandradio Kultur
Uwe Raschs multimediale Adaption der "Winterreise" | Von Julian Kämper
Exzerpt:
MP3
Uwe Rasch entwirft einen multimedialen Raum zur Reflexion über das kalte Unterwegssein – mit Hundechor, Spielzeug und Fleischwolf.
Julian Cowley | The Wire Magazine – Issue 384
Five cardboard boxes, arranged to resemble a human torso and limbs, twitch and shuffle on a worn, grubby floor. The image resembles some animation dredged from the collective unconscious by Czech surerealist Jan Svankmajer. But dancer Kiri Haardt is encased within the brown taped packaging, a living being, clearly depleted and struggling in vain to defy gravity. On the soundtrack breathy, introspective voices become more and more wrapped up in their own obscure deliberations, while a sonic scrawl that initially suggests writing grows increasingly raucous and illegible.
As the title Aus Vierundzwanzig (which translates as Out of 24) is intended to indicate, this sequence is part of a 2012 adaptation by Uwe Rasch of Franz Schubert´s 24 song cycle Die Winterreise (The Winter Journey). Bremen based composer and multimedia artist Rasch, a member – like Jennifer Walshe – of the stock 11 collective, offers a starting and radical take on that Romantic tour de force. Schubert´s 1827 settings of texts by poet Wilhelm Müller open with the words: "I arrived here a stranger; a stranger I depart." A standard narrative of rejected love is distilled into a singular evocation of existential desolation. Rasch, who has been working on this project since 2009, revisits that state of fractured subjectivity and shifts its focus away from self-absorption, towards an engaged response to a standardised, impersonal, unjust and bureaucratised world.
Although the boxed-in figure may recall Hugo Ball´s dadaist purge of Romantic pretensions, clad in cardbaord at the Carbaret Voltaire, a more pressing association is the plight of rough sleepers, the marginalised and dispossessed whose reality here elbows out Müller and Schubert´s desparing individual. Rasch opens this work with a black screen at the foot of which a small, hypersensitive blue flower appears to be undergoing a series of emotional spasms. It´s a cartoon version of Die Blaue Blume, durable symbol of German aesthetic and philosphical idealism. Walter Benjamin remarked in 1923 that anyone who still dreamt of it had overslept; yet in 1968 rebellious students in Berlin clamoured for the blue flower to be painted red.
Another dancer wears fabric in the flower´s symbolic colours, yet remains flattened, limply flapping like an exhausted butterfly. The noise generated by recurrent struggling figures encased in cardboard or polystyrene is as integral to the conposition as the sounding of a flute or Saxophone. Rasch´s impoverished, often harsh and discomforting music reflects a dimished sphere of human agency, a regimented and oppressively dissonant social order.
Each section of Aus Vierundzwanzig corresponds to Die Winterreise, but in ways that are mostly oblique and always ironic. Footage of an automated bottling plant provides a clinking allusion to Schubert´s inhospitable tavern; an introspective riverside scene is transformed into the distorted sound of water spalshing over the writhing of a naked, seemingly limbless, torso; and Schubert´s melody from the cycle´s final song, about a cold and neglected hurdy-gurdy man, surfaces in scrambled form through penetrating blasts of soprano saxophone. A signpost on the winter journey is here replaced by panles of riveted steel, inscribed with graffiti. The words below a stencilled image of a kissing couple read "holy shit I love you". Who is the stranger now?
link
DM | VITAL WEEKLY
Two very experimental and ambitious works by Gruenrekorder. 'Aus Vierundzwanzig' is a multimedia-work. A thick booklet is included. There is some work to do here. Rasch studied composition with Rolf Riehm in Bremen. His works feature above all audio-visual projects and installations, with in interest for the relation between body (movement) and sound. 'Aus Vierundzwanzig' is no exception to it. We are talking here of a project Rasch started in 2009 and is about adapting Schuberts 'Winterreise', composed in 1827. A very conceptual work, that is very far from any reprise of the Winterreise in whatever romantic sense. The music is performed by Mark Lorenz (sax), Nikola Lutz (sax), who also works as a duo Invading Pleasures (see below). Plus Erik Drescher (glissando flute). The performance is done by three dancers. The music is treated and sometime recognizable as originating from sax, sometimes not. They correspond with the images that are mostly built from the human body 'dressed' in boxes, making simple movements. One sees the movements come from the human body, without seeing the body itself. Despite all explaining texts that are included I could not relate to this one. This surely has something to do with me, as I find multimedia projects often not appealing.
link
Łukasz Komła | Nowamuzyka.pl
Nowości z Gruenrekorder. Tym razem coś dla miłośników eksperymentów rozpisanych na saksofony i modułowe instalacje nawiązujące do dzieł Franza Schuberta.
[…] Niemiecki kompozytor Uwe Rasch pracuje już od 2009 roku nad materiałem "aus vierundzwanzig" ("Out of Twenty-Four"). A jest to współczesna adaptacja cyklu pieśni "Die Winterreise" Franza Schuberta pochodzących z 1827 roku. Próżno szukać u Rascha romantycznych zawodzeń, nawet melancholijnych mrugnięć oka w stronę tamtej epoki. Jego prace, jakie znalazły się na płycie DVD "aus vierundzwanzig", to raczej złożony i eksperymentalny projekt składający się z modułów, które to konsekwentnie odnoszą się do takich pojęć jak marginalizacja i społeczna izolacja. Rasch woli sobie podrwić z romantyzmu, niż go gloryfikować. A robi to często na przykładzie prostych scen. Lubi też tworzyć cyniczne komentarze, np. do utworu Schuberta – "The Inn". Istotnymi cechami twórczością Rascha są groteska, irracjonalność, surrealizm i przytomne spojrzenie na problemy współczesnego świata, które potrafi przefiltrować przez pryzmat minionych stuleci.
link