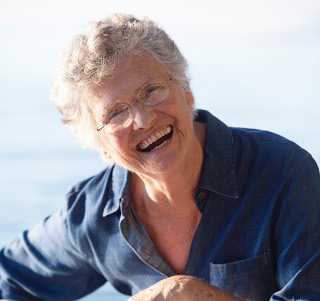 Annea Lockwood
Born in New Zealand in 1939, Annea Lockwood moved to England in 1961, studying composition at the Royal College of Music, London, attending summer courses at Darmstadt and completing her studies in Cologne and the Netherlands, taking a course in electronic music with Gottfried Michael Koenig. In 1973, feeling a strong connection to such American composers as Pauline Oliveros, John Cage, the Sonic Arts Union (Ashley, Behrman, Mumma, Lucier), and invited by composer Ruth Anderson to teach at Hunter College, CUNY, she moved again to the US and settled in Crompond, NY. She is an Emerita Professor at Vassar College.
During the 1960s she collaborated with sound poets, choreographers and visual artists, and also created a number of works such as the Glass Concerts (1967-73) which initiated her lifelong fascination with timbre and new sound sources. In synchronous homage to Christian Barnard's pioneering heart transplants, Lockwood began a series of Piano Transplants (1968-82) in which defunct pianos were burned, drowned, beached, and planted in an English garden.
During the 1970s and '80s she turned her attention to performance works focused on environmental sound and life-narratives, often using low-tech devices such as her Sound Ball, containing six small speakers and a receiver, designed by Robert Bielecki for Three Short Stories and an Apotheosis (1985) in which the ball is rolled, swung on a long cord and passed around the audience. World Rhythms (1975), Delta Run (1983), built around a conversation she recorded with the sculptor, Walter Wincha, who was close to death, and other works were widely presented in the US, Europe and in New Zealand.
Since the early 1990s, she has written for a number of ensembles and solo performers, often incorporating electronics and visual elements. Thousand Year Dreaming (1990) is scored for four didgeridus, conch shell trumpets and other instruments and incorporates slides of the cave paintings at Lascaux. Poems by three prisoners in Guantanamo Bay are the focus of In Our Name (2009), for baritone voice, cello and fixed sound.
Her interest in field recording and environmental sound has continued throughout her career. Jitterbug (2007), commissioned by the Merce Cunningham Dance Company for the dance eyeSpace, incorporates Lockwood's recordings of aquatic insects, and improvising musicians working from photographs of rock surfaces. Two further sound maps of rivers, presented as installations, have followed A Sound Map of the Hudson River (1982): A Sound Map of the Danube (2005) and A Sound Map of the Housatonic River (2010). Wild Energy (2014), is both an installation and an electroacoustic composition. It is a collaboration with Robert Bielecki, a multi-channel site-specific installation focused on geophysical, atmospheric and mammalian infra sound and ultra sound sources, and was commissioned by the Caramoor Festival of the Arts, Katonah.
Much of her music has been recorded, on the Lovely, XI, Mutable, Pogus, EM Records (Japan), Rattle Records, Soundz Fine (NZ), Harmonia Mundi and Ambitus labels. She is a recipient of the 2007 Henry Cowell Award.
Gruenrekorder:
Christina Kubisch & Annea Lockwood: "The secret life of the inaudible" (Gruen 180/18)