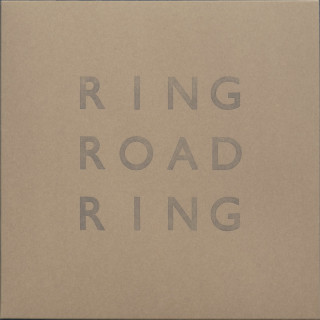 Ring Road Ring | Michael Lightborne
Gruen 195 | Vinyl (+ Digital) | Digital > [order]
Reviews

This album features sound recordings of the low-level vibrations pulsing through the megastructure that is the Coventry Ring Road. Built between the 1950s and 70s, it was a key part of the plan to rebuild Coventry after the devastation of World war II. The Ring Road was intended to keep traffic out of the city centre and form the basis for a radical vision of a modern pedestrian-focussed city. However, politics, economics and the contingencies of history combined to produce a situation in which the plan was compromised in a number of ways. Nowadays, the Ring Road has come to be seen as a misguided Modernist project that ended up deterring pedestrians and killing the city centre. The process of disassembling, mitigating, and repurposing the structure is already under way.
To capture these sounds I used contact microphones attached to the concrete pylons that support the road, at various points around its circumference. I was immediately surprised by how melancholy the ring-road sounds. The first track is a collage of field recordings from around the Ring Road. Most of the subsequent tracks take these recordings as raw material from which to build a series of poetic interpretations of the lifeworld of the Ring Road. The final track adds induction coil recordings of the electromagnetic fields that surround and emanate from the structure, including the flittering fragments of the EM fields dragged around by traffic passing above.
1. Ring Road Ring
MP3
2. Fortran
MP3
3. Ring Road Reprise
4. Moebius Loop
MP3
5. Gordian Knot
6. Shepherd Tone
7. Ring Cycles
MP3
7 Tracks (32′47″)
Vinyl (300 copies)
---
This album was produced as part of Sensing the City, an Arts and Humanities Research Council funded project that investigates the urban space of Coventry City (warwick.ac.uk/sensingthecity).
Thanks to: Nicolas Whybrow, Natalie Garrett Brown, Emma Meehan, Carolyn Deby, Nese Tosun, Sarah Shalgosky, Fiona Venables, Rachel Moseley, Pete Ashton, Roland and Lasse at Gruenrekorder, Denise Pigott, and Ezra Gene.
All recordings made by Michael Lightborne in the city of Coventry.
Artwork and photography by Michael Lightborne.
Field Recording Series by Gruenrekorder
Germany / 2020 / Gruen 195 / LC 09488
---
Guillermo Escudero | Loop
This LP belongs to the field recordings and soundscapes series of German Gruenrekorder imprint. Michael Lightborne is a sound artist from Coventry, England and academic based in Birmingham, UK, and Cork, Ireland. Ring Road in Coventry, England is a ring road which forms a complete dual carriageway circuit around the city center. It was intended to be an urban solution to privilege pedestrians, but it ended up hindering traffic in the city center and harmed pedestrians. Lightborne put contact microphones on the piles at various points on the ring road and to the artist's surprise, these sounds sounded melancholic. "Fortran" that opens this album displays penetrating and hypnotic rhythmic pulsations. On "Gordian Knot" you can hear sounds like the blowing of a tube whose end is infinite and "Moebius Loop" adds electrifying clicks that on "Ring Cycles" are relieved as a layer of drones. "Ring Road Ring" displays underground noises with industrial sound characteristics. "Shepherd Tone" that closes this album continues with noises that form spirals of loops that show the movement in this ring road, whose incessant vehicle traffic is a sign of the urban damage that this ring road is causing to the city and that Michael Lightborne shows us with his sound evidence.
link
Frans de Waard | VITAL WEEKLY
And on vinyl, we find Michael Lightborne, with a follow-up to his LP 'Sounds Of The Projection Box' (see Vital Weekly 1146) in which he used recordings made in a cinema projection box. This time we find him outside, alongside the megastructure of the Coventry Ring Road. When they started to rebuild the heavily bombed city after World War II, they decided to keep the traffic outside the city centre and keep it pedestrian-friendly. But the plan didn't work and Lightborne writes, "Nowadays, the Ring Road has come to be seen as a misguided Modernist project that ended up deterring pedestrians and killing the city centre. The process of disassembling, mitigating, and repurposing the structure is already underway". He attached contact microphones to the structure and captures the vibrating of the structure. The record opens up with some field recordings from around the Ring Road and ends with "induction coil" recordings, meaning he captured some of the electromagnetic fields from around the structure. In the five other pieces, the recordings are mixed and the result is some great record. One might think cars and concrete structures equals a fair bit of noise but that is not the case here; in fact, it is all rather subdued and sounding distant. It is hard to say what it sounds like; I was thinking of a recording of wind chimes slowed down a lot. Or, maybe it sounds akin to hitting with branches on a frozen lake? That's the sort of impressions I had. As a child, I played along the canal in my neighbourhood and below the bridge, you'd hear these cars passing overhead; the whole structure of the concrete had a dampening effect on it. On busy days you'd hear the steady cadence of the cars, something that Lighborne uses in the lock grooves at either side of the record. This is some fascinating music; dark and elegant, quiet and peaceful. And yes, that is perhaps a strange thing for recordings of a Ring Road.
link