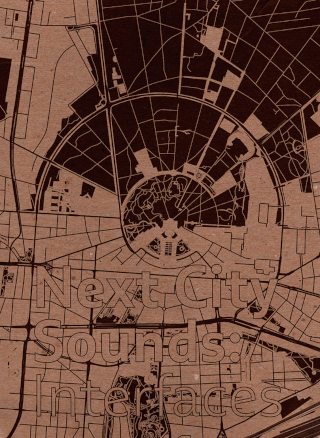 Next City Sounds: Interfaces | Various Artists
Gruen 192 | Audio CD [order]
Reviews

As part of the 20th KAMUNA (Karlsruhe Museum Night), so-called ›in-situ perfor- mances‹ took place at three locations in Karlsruhe on August 4, 2018:
The project room ßpace, the artist-run space Halo ARS and the pedestrian zone Kaiserstraße were connected to the ZKM via an outgoing audio data stream.
At ßpace, sound artist Lasse-Marc Riek condensed naturalistic field recordings, noise and soundscape recordings into a sonic live collage.
The live electronic duo Lintu + Røyk per- formed with modular synthesizers and broadcasted live electronica from Halo ARS in Karlsruhe's Oststadt.
The members of KITeratur presented their participative performance ›SYNONiMUS‹ in the pedestrian zone in the Kaiserstraße, while the No Input Ensemble performed in the subspace under ZKM's blue Cube. At ZKM, all incoming signals were fanned out in a kaleidoscopic manner and pro- cessed artistically in a multi-room sound installation by Yannick Hofmann, Marco Kempf, Benjamin Miller, Barbara Nerness, Sebastian Schottke and Dan Wilcox in the Cube, in the Cube vestibule and in the underground car park at ZKM.
This audio recording was made in the ZKM Cube, where the KAMUNA visitors could determine the sound mixing of the audio data streams via an interactive interface specially developed for this project and experiment with the sound material using a battery of interconnected sound aliena- tors and effect pedals.
Riek's naturalistic soundscape recordings and field recordings, Lintus + Røyk's syn- thesized electronic sounds, the voices of the participative speech performance of the university group KITeratur as well as the ethereal sound and feedback noises choreographed by the No Input Ensemble condense proportionally into this 60-minute experimental audio piece, whose tonal quality ultimately oscillates between Ambient, Drone and Musique concrète.
›Next City Sounds: Interfaces‹ took place as part of the EU project ›Interfaces‹ (EU funding programme ›Creative Europe‹) on the occasion of the Karlsruhe Museum Night 2018.
Excerpt:
01 Track (62′12″)
CD (500 copies)
---
Credit:
Production: ZKM | Hertz-Lab
Concept & artistic direction: Yannick Hofmann
Mix & Mastering: Sebastian Schottke
Software development: Dan Wilcox
Multi-room sound installation at the ZKM: Marco Kempf (Cube balcony), Benjamin Miller & Barbara Nerness (underground car park at ZKM), Sebastian Schottke & Dan Wilcox (ZKM Cube)
In-situ performances in Karlsruhe: KITeratur (Kaiserstraße, Musikhaus Schlaile), Lasse-Marc Riek (ßpace), Lintu + Røyk (Halo ARS), No Input Ensemble (subspace ZKM)
Sound engineering: Christian Berkes, Daniel Höpfner, David Luchow, Marcel Mendel
Graphic design: Eric Jentzsch | dkm-graphik.de



Sound Art Series by Gruenrekorder
Germany / 2020 / Gruen 192 / LC 09488 / GEMA / EAN 194491017170
---
textura
All three of these recent Gruenrekorder releases are quintessential label products: adventurous, thought-provoking, and unusual. Michael Lightborne's and Enrico Coniglio's are grounded in field recordings, Coventry Ring Road and the Venetian Lagoon the sites used for their respective projects; an entirely different animal, un|sounding the self — a portrait combines an hour-long video and booklet for its in-depth portrait of American artists Christopher Shultis and Craig Shepard. […]
Both components of un|sounding the self — a portrait are required for a proper appreciation of this ambitious creation. Reading the booklet, a 116-page 'Field Manual' featuring texts by the artists, the director Christoph Collenberg, and the collection's editor Bernd Herzogenrath, without the film makes for an incomplete experience; watching the hour-long DVD without the clarifying details provided by the booklet is just as incomplete. (In Collenberg's words, un|sounding the self — a portrait is an "experimental, audiovisual double portrait that borrows from a documentary approach.")
However different Christopher Shultis, percussionist and Professor Emeritus of the University of New Mexico, and Craig Shepard, trombonist and Wandelweiser collective member, are in their artistic expression, their interests converge in two key areas: their lives, philosophies, and creative approach have been profoundly influenced by Henry David Thoreau, specifically his thoughts about walking and natural sound, and the art and writings of John Cage. Triggered by keywords provided by the filmmaker, Shultis and Shepard ruminate during the film on a broad range of topics, among them dreams, silence, sacred places, compositional practice, stage fright, and Cage's 4'33" (described by Shultis as a "a good example of communal silence").
Memorable statements emerge during the hour-long presentation, which alternates between images of nature and the city, the artists pontificating, and performance footage filmed in Olomouc, a city in the Czech Republic the artists visited for a week at Herzogenrath's invitation on the occasion of his annual course 'Theory into Practice.' Shultis says at one point, "Practicing is a dangerous word for a musician because it too often is about habit and not enough about exploration," words that will resonate with any musician learning an instrument. His remembering of a line by Cage that "the problem with 4'33" is that it has a beginning, middle, and end" likewise resonates meaningfully.
One way in which the two differ is in their position on silent walks, Shultis preferring to be alone on his and Shepard a proponent of both solitary and communal walks; while the one he led in Olomouc, his eighteenth silent walk, involved thirty-four participants, others have been undertaken alone, including a 250-mile trek across Switzerland completed in thirty-one days in 2005. Both artists promote the salutary effects of multi-hour walks, less for the physical benefits and more the heightening of the senses and boosts to creativity.
A particularly gripping part of the film is the one showing Shultis doing a solo performance at the Kaple Božího Tela, the footage mesmerizing in showing him coaxing sounds from wind chimes, rattles, tree branches, lettuce, and a small cactus, with most of the objects laid out on a small table. The combination of deep engagement by Shultis, the chapel setting, and the attentive audience makes for a particularly engrossing sequence (the pieces performed are Cage's 1975 work Child of Tree and Shultis's own 1989 homage to it, 64 Statements re and not re Child of Tree). A work by Shepard also appears within the film, his trumpet performance of Dornach, den 2. August 2005 surfacing intermittently.
In his foreword, David Rothenberg astutely notes, "This film intertwines their ideas and walks with unparalleled elegance," and suggests that after the film ends one should "get up and listen around [to] see if the world sounds any different." Chances are it will and, further, will continue to long after one's initial exposure to the project.
link
Łukasz Komła | Nowamuzyka.pl
Eksperymentalna Noc Muzeów w Karlsruhe.
Przenosimy się do południowo-zachodnich Niemiec, do miasta Karlsruhe. Jest 4 sierpnia 2018 r. i przed nami Noc Muzeów. Tego dnia w trzech różnych częściach miasta – ale w jednym czasie – został zrealizowany spektakl dźwiękowy przez Lasse-Marca Rieka (artysta dźwiękowy, jeden z założycieli Gruenrekorder), elektroniczny duet Lintu + Røyk, KITeratur i No Input Ensemble.
Riek operował nagraniami terenowymi będąc w sali ßpace, Lintu + Røyk znajdując się w Halo ARS wypuścili elektroniczny strumień posługując się syntezatorami modularnymi, członkowie KITeratur zaprezentowali partycypacyjny performans SYNONiMUS w strefie dla pieszych przy Kaiserstraße, podczas gdy zespół No Input Ensemble wystąpił w przestrzeni tuż obok ZKM | Hertz-Lab. To miejsce jest bardzo ciekawym ośrodkiem, które można określić jako transdyscyplinarna platforma badawczo-społeczno-rozwojowa na styku sztuki mediów i nauki.
Mniej więcej w tamtym czasie powstał Hertz-Lab, który połączył Instytut Mediów Wizualnych oraz Instytut Muzyki i Akustyki. Artyści, badacze korzystają tam z nowoczesnych technik i urządzeń, sięgając na przykład po rozszerzoną rzeczywistość, sztuczną inteligencję czy immersyjność. Sama nazwa placówki jest dedykowana naukowcowi Heinrichowi Hertzowi, który udowodnił istnienie fal elektromagnetycznych w swoich słynnych eksperymentach z iskrami na Uniwersytecie w Karlsruhe w 1886 roku. Uważany jest także za twórcę technologii radiowej oraz bezprzewodowej transmisji danych.
Wracając do materiału z Next City Sounds: Interfaces należy wiedzieć, że wszystkie sygnały dźwiękowe spotkały się właśnie w Hertz-Labie, a następnie zostały rozesłane w kalejdoskopie i przetworzone w wielopokojowej instalacji dźwiękowej przez Yannicka Hofmanna, Marco Kempfa, Benjamina Millera, Barbarę Nerness, Sebastiana Schottke i Dana Wilcoxa. W ostatecznym miksie wykorzystano również interaktywny interfejs specjalnie opracowany dla tego projektu.
Next City Sounds: Interfaces to wciągający 60-minutowy eksperyment dźwiękowy z narracją krążącą wokół ambientu, dronów, musique concrète, szumów, sprzężeń zwrotnych i ludzkiej mowy.
link
Frans de Waard | VITAL WEEKLY
The last one, for now, is a release that is a compilation but it is also one track. From what I understand this a recording of an event that took place on August 4, 2018, on three different locations in Karlsruhe; The project room ßpace, the artist-run space Halo ARS and the pedestrian zone Kaiserstraße. They were all connected to the ZKM, the big media art place in the same place. At ßpace, label boss Lasse-Marc Riek played field recordings, noises and soundscapes, at Halo ARS was the duoLintu + Røyk with modular synthesizers and on the street were members of KITeratur to which people participate (adding random spoken words) and the No Input Ensemble performed in the subspace under ZKM's blue Cube (doesn't make four locations? I copied it all from the press text. All of this mixed and processed as an installation by Yannick Hofmann, Marco Kempf, Benjamin Miller, Barbara Nerness, Sebastian Schottke and Dan Wilcox in the Cube and the underground car park at ZKM. I assume all in walking distance so you could move between the various performances and hear them individually or combined but invisible. The music is a sixty-two-minute endless stream of sounds and spoken word. The latter we don't hear continuously, but now and then. Sometimes the music is quite 'there', a bit noisy, which I guess is the thing with modular synthesizers, but who knows whatever noises were added by Riek? It is not bad but I am also not overly enthusiastic about it. It is, perhaps, that there isn't much happening in terms of composition that I found missing here. It was a bit too much of a random fading in and out of the mix of sounds, the unconscious stream factor, I guess. It comes in a very fine package with quite some information, which is a nice extra feature.
link