Imogen Stidworthy
works with the social landscape of the voice. She is interested in how voices become audible or disappear, meaningful or less and according to what terms. In her work she uses the voice as a sculptural, spatial material to question how language and voice locate the subject socially, politically and culturally.
Stidworthy has exhibited widely, recent exhibitions include Niet Normaal: Difference on Display, Beurs van Beurlage Amsterdam, 2010; See this Sound, Lentos Museum, Linz, 2009-10; Zacherlfabrik, Vienna, 2009; The Northern Art Prize, Leeds Art Gallery, 2008; Shrinking Cities, Cube, Manchester, 2008; Documenta 12, Kassel, Germany, 2007. Forthcoming solo shows at Galerie Akinci, Amsterdam (January) and Arolfini, Bristol (February). She is an Advising Researcher at the Jan van Eyck Academy, Maastricht (NL) and is based in Liverpool.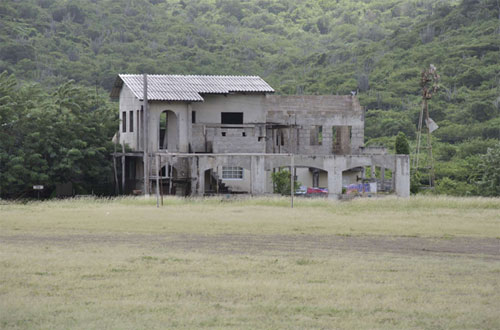 Three Jokes
MP3
These jokes in the Curacaon language of Papiementu were recorded in Plaza Brion, the biggest public square in Willemstad, the capital of Curacao in the Dutch Antilles.
Papiementu is extraordinarily hybrid having absorbed many linguistic elements of its trading and colonial past: African slave languages, Spanish, English, French and Dutch, the language of its most recent coloniser.
The joke charts borders – conflict or competition between races, genders, sexualities, geographies and cultures – that divide and cement social space.
The social landscape these jokes envoke is specific to Curacao, but its rifts and borders are widely familiar. The content of this speech may be innaccessible, but the form and structure of the joke is quickly recognised and the protocols of listening and laughing hard to resist. The listener engages in a logic of inclusion and exclusion played out on many levels, of who is in and who is out.
TRANSLATIONS
Blancu
Un persona, dus tabatin un famia; un mama, un tata, un yu. Anto e yu tabatin hopi problema ku su kolo; ku e tabata skur. Pero e ke tabata ta blanku paso p'e e ta mas mihó.
Anto a yega un momentu ku nan a haña un adrès ku nan a bisa ku nan por hasi nan hende blanku. Ke men kue hende pretu hasié hende blanku. Nan ta bai, nan ta duna nan un tratamentu i nan ta bira hende blanku. Pero ora ku nan a spreek af nan a bai nan tres; un yu hòmber… Un mama, un tata, un yu hòmber.
Ora… e yu hòmber tabata interesá pa bira un hende blanku, anto el a bai promé. Ora el a sali e di ku e mama: "Mama, abo tan a bùrt awor". Okay, e mama di: "Tja, eigenlijk mi no ta interesá pero pa komplasé 'bo mi ta bai tòg". E mama a bai, e mama a sali blanku. Nan dos ta blanku. E or'ei e di: "Tata, abo tan a bùrt awó". Tata di: "Ya, bo sa… mi n' ta interesá nò, mi ke keda manera mi ta. Ja, mi no ta interesá nò". El a bisa e or'ei, e yu di kuné: "Bo ta mira 'ki? Apénas mi tin 10 minüt ku mi ta hende blanku, mi ta haña problema ku hende pretu".
There was a family, mother, father and son, and the boy had a problem with his skin colour – he wanted to be white. One day he found a place where you could get this done and the family made an appointment for the three of them. The son went first and when it was done he said to his mother, "It's your turn now, OK?". "I'm not really interested, but I'll do it for you", she says. When she's finished the boy says to his father, "It's your turn now", but his father says, "I'm not really interested, I want to stay as I am", and the son says, "You see what I mean? I've only been white ten minutes and already I've got a problem with a black person!
Safari
Bon, ta'tin un yu di Kòrsou, un Boneriano, un makamba, un ingles. Nan ta den mondi Afrika, den safari. Bo mes sa, hopi bestia ta kore bai bin: "se konènchi, nan tin na Kòrsou." Zebra, eh eh… nos no tin esaki!" Nan ta enjoy papia ku otro "Ja, dit is mooi" kiko kiko "Yes, beautiful".
Anto despues nan a topa shon leon. Ya… Boneriano semper ta prufiá. Nan a yega serka dje leon, nan di kuné: "Tende aki boneriano, no yega serka paso leon ta peligroso!" E di: "Ya, leon ta peligroso, nos ta wak kiko e ta hasi." Bon, nan a keda eibanda den besindario. Diripiente un pieda a sali, dal e leon den kabes. Leon a brul, habri boka asina hanchu. Promé ku e leon a brul, e ingles e makamba ku e yu di Kòrsou a Sali na kareda, kuminsá kore. Kore mes! Awó nan ta wak patras, boneriano ta para mes kaminda. Boneriano no ke sigui nan.
Nan di "Bon, ta kiko anto? Boneriano, yega no! Kore! Leon ta matabu!" Paso leon a kuminsá kore bin riba dje. Boneriano a keda para. "Bo no tin… bo no tin bo bida na serio anto? Kore! E leon ta yega serka bo!". E boneriano di: "T'ami a dal e ku pieda anto?".
Four men – a Curacaon, a Bonairian, a Dutchman and an Englishman – went on a safari. There were a lot of animals. "Oooh! How beautiful it is here!", they said. Then they met a Lion and the Bonaire man walked straight up to it. The others said, "Listen man, don't go close, it's dangerous!". But the Bonairian said, "Well if he's dangerous, let's see what he does!". Suddenly a stone hit the lion on its head, it opened its mouth and began to roar. The Englishmen, the Curacaon and the Dutchman ran away really fast, but the Bonairian stayed where he was. "Bonaireman, Bonaireman! Run! The lion will kill you! Come!", they shouted, but the Bonairian didn't move. "You really don't take your life seriously? Run, run! Or the lion will catch you!", but the Bonairian stood where he was, "Hey, I'm not the one who threw that stone!!".
[Bar owner]
Handgranaat
Tabatin un pilot, e pilot aki tabata kore su avion. Diripiente un pasahero a bin dilanti i a bisa e pilot: "Pilot, pilot! Para e avion, para e avion, para e avion!" E pilot a puntr'é: "Kiko a pasa?" El a bira kontest'é: "Mi pen a kai, mi pen a kai!" E di: "P'e kos ei nos tin ku para? Ai nò, bai sinta patras, bai sinta patras!" Nan a sigui kore.
A bin un otro pasahero: "Pilot, pilot, pilot, pilot, pilot! Par'é avion, para e avion, para e avion!" E ta bis'é e or'ei: "Kiko a pasa bo tambe?" E ta bisé le: "Mi buki a kai". E di: "Ai p'e ko'i kèns ei atrobe? Bai sinta patras!"
Un otro pasahero ta bolbe bin dilanti, e ta bis'é le: "Pilot, pilot, pilot, pilot! Par'é avion, par'é avion. Mi handgranaat a kai! Mi handgranaat a kai!". E pilot a bis'é: "Hesusei! Ban, ban, ban, ban, ban!… Ban ba e avion!"
Nan a ba i nan a haña un mucha ta yora; yora, yora, yora, yora. El a bis'é le: "Kiko a pasabu?" E pilot… e mucha ta kontest'é: "Si, paso ma Sali fo'i kas. Un buki a bira dal mi den mi kabes". Nan a sigui kana ta buska handgranaat sigui kana, sigui kana, sigui kana… Nan a haña un otro mucha bo'i yoramentu ta yora, yora, yora, yora, yora… Nan a bis'é le: "Ki a pasa abo?". E di: "Si, ma Sali fo'i kas, un pèn a bula dal mi den mi kabes". E di: "Ai no" sigui kana. Sigui kana, kana, kana, kana. Nan a haña un mucha bo'i harimentu – di Ha! Ha! Ha! keda hari. Nan a puntr'é: "Ki a pasa abo?". El a kontest'é: "Mi ta'tin un zundramentu ku mi mama, ma pidi un deseo pa kas bula, ora ma sali fo'i kas, ranka un puya asin'aki kas a hasi BIDIM! Bula".
A pilot is flying his plane when a passenger comes up and tells him to land because his book has fallen out. Pilot says, "My God! You want me to stop the plane for that? Go and sit down!". Another passenger comes up, "You have to stop the plane! My pen's fallen out!", and the pilot says, "You want me to stop the plane for that?! Go sit down!" Then a third passenger comes up, "Pilot, stop the plane! I let my hand grenade fall out!". Pilot says, "Oh my God!", and he lands the plane and they go searching for the hand grenade. They find a child crying; "What happened to you?" they ask, and he says "I came out of the house and a book fell on my head'". They keep on walking and find another child, crying, "What happened to you?", they ask, and he says, "I came out of the house and a pen fell on my head". They keep on walking and they find a child laughing and laughing. "What happened to you?", they ask, and the child says, "Well, I had an argument with my mum and I wished the house would explode, and then I came out of my house and BAM! The house blew up!"
[Schoolboy]