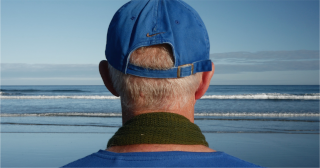 JOHN COUSINS & THE UNIVERSITY OF THE WAVES | 76 Min | 2018
A Film by Manfred Waffender
GrD 32 | Bluray > [order]

Portrait of a sound artist: John Cousins, born in 1944 in Wellington, New Zealand.
His credo he takes from a poem by Pablo Neruda: "I need the sea, because it teaches me. I don't know if I learn music or awareness…The fact is that until I fall asleep, in some magnetic way I move in the university of the waves."
John Cousins presents his multi channel works exclusively in his own studio in Christchurch – to a single listener at a time. As source material for his compositions he uses field recordings, interviews and his own voice. The film was shot in different locations in New Zealand, chiefly around the Paturau River Mouth on the Northwest coast of the South Island. It is presented on BluRay with two audio options: 5.1 surround sound and stereo.
Gruenrekorder / Germany / 2020 / GrD 32 / LC 09488