Lina Lapelyte
Works as a sound artist and composer, performs live using violin and electronics. Her work encompasses sound installations, concert works, scores for dance, theater and film.
Lina is academically trained classical violinist and since 2005 has been making experimental electronic/electroacoustic music.
In the last couple of years she has been actively involved into London improvised music scene – using her prepared, electronically manipulated or just pure violin.
She has collaborated with artists Douglas Benford, David Ryan, Arturas Bumsteinas, Leafcutter John, Edie Prevost, Anton Lukoszevietze, Peter Cusack, Enrico Glerean, Angharad Davies and others.
She is a composer and performer in the laptop quartet Twentytwentyone – the ensemble devoted to the performances of graphical notation scores.
Recently she has been performing solo violin sets which would include live manipulation of her violin leading to the drone pieces where subtle violin sounds merge into noise.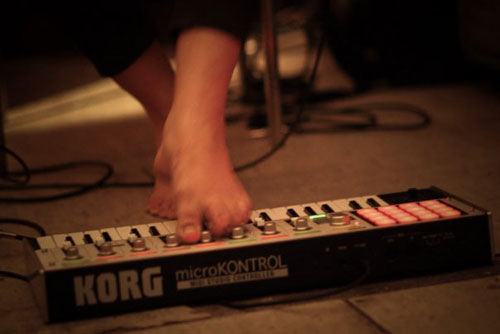 12+2
MP3
Lina Lapelyte (remix of recordings from the live peformances @ cafe oto, London;
Kanal 103 radio, Skopje; iFem festival, Ivalo, 2009 )
12+2 is a soundscape composition piece for live performance, created using real and digitaly processed environmental sounds, cut up voice recordings and violin. Language and voices are used to create certain mood rather than to represent a verbal meaning. Sounds and real time effects for the violin are triggered by the feet of the performer using midi keyboard controller – this technique allows to play violin and to process the sounds simultaneously, so neither playing nor processing interrupts the other.
12+2 is the frame for improvisation rather than the finished composition – depending on the space and the place – it turns into something new every time it is performed.