Pamela Z
is a composer/performer and media artist who makes solo works combining voice, digital processing, found objects, text, and gesture-activated MIDI controllers. She has composed and recorded scores for dance, film, and new music chamber ensembles. Pamela Z has toured extensively throughout the US, Europe, and Japan and has performed in numerous festivals including Bang on a Can at Lincoln Center (New York), Interlink (Japan), Other Minds (San Francisco), Pina Bausch Tanztheater Festival (Wuppertal, Germany), and La Biennale di Venezia ( Italy). Her installation 'Parts of Speech' was presented at the University Art Gallery (Chico,CA) in 2009 and her new work 'Baggage Allowance' is scheduled for a 2010 solo exhibition at Krannert Museum in Illinois. Her awards include the Guggenheim, Creative Capital, the CalArts Alpert Award, the ASCAP Music Award, and the NEA and Japan/US Friendship Commission Fellowship. She holds a music degree from the University of Colorado at Boulder.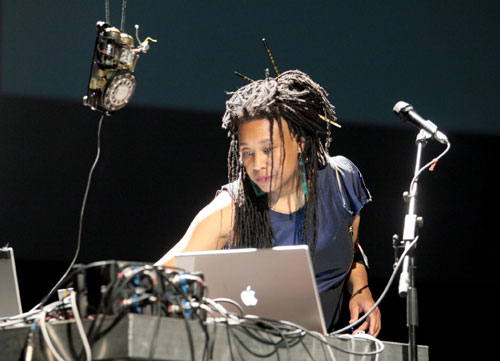 …and on your left…
MP3
…and on your left… was commissioned by the Erzbischöfliches Diözesanmuseum in Cologne, Germany for a sound exhibition called "Walkmen" that ran from April to October in 2000. The exhibition explored and deconstructed the concept of walkman-guided museum tours, and the piece was designed to be experienced through headphones.
When the voice describes an imaginary "very large work of art" it is actually referring to the white paint covering the walls of the entire gallery. The visitor is asked to examine the work closely for residual markings of exhibitions gone by, for irregularities in die lots and the depth of coverage of repeatedly repainted areas.
Voices: Pamela Z (with Kota Ezawa as the security guard). …and on your left… was composed, constructed, and edited by Pamela Z in her San Francisco ProTools studio.