Sianed Jones
An International artist that has toured Europe, America, Russia and Mongolia. She is a composer / performer specialising in extended vocal techniques. Her research into vocal performance has taken her to Egypt, Kenya, Tanzania, Madagascar, (1987) Mongolia (1994) Kazakhstan, and Kyrgistan (1999). She has collaborated with choreographers, writers, film makers and performance artists in cross art / site specific performances.
"Sianed's work consistently pushes at boundaries in ideas, technique and in her own performance practise"(Welsh Arts Council 2007).
Sianed works as composer and performer for The Royal Shakespeare Company, including the Olivier Award winning History Season 2007/8. She is currently touring her Welsh Performance / Video Installation 'Taliesin' (funded by Creative Wales Award from The Welsh Arts Council) in collaboration with video maker Henrietta Hale.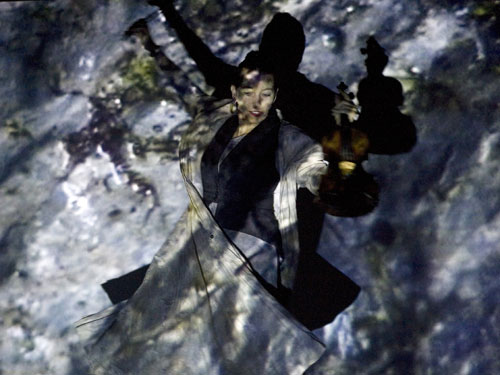 Taliesin
MP3
Inspired by the epic singers of Kazakhstan, this is a vocal and violin improvisation based around the poetry of Taliesin, a Welsh poet of the 6th century but also a mythical shamanistic figure. Many of the images in the Taliesin poems are elemental,- fire, light, darkness, water, wind, and the forces of nature. A shaman seeks illumination by going to a dark place, a faery mound, a cave, a well a lake, a place within or beneath the earth. After a period of time comes forth into a brightly lit place either by fire or sunlight. Taliesin uttered his first song after being released from the darkness of the crane bag (where he had floated for 40 years) into the light. His name means Radiant Brow. The rhythms, the abstract vocal sounds, the melodies, the harmonies are driven and shaped by the language.