Sten Hanson
Born in Klövsjö, Sweden in 1936, Sten Hanson first came to prominence in the early '60s as an experimental poet and composer. He pioneered the use of tape-recording techniques in the renewal and development of poetry, and as a means to expand the limitations of language. One of the forerunners in the field of multi-media art, Hanson's combined his theories of 'Text-sound-visual image' with intensely personal live performances. From his earliest pieces consisting of rough cut-and-paste tape collages, through to the later use of computer to apply effects, Hanson 's voice remains the focus throughout.
An influential figure in the Swedish art scene his varied productions includes instrumental and electronic music, and work for dance, theatre, radio and television.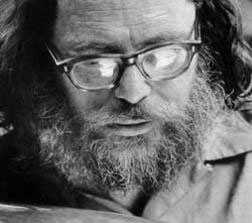 Variations on a Theme by Laaban
This piece was made for and first performed at a memorial evening in April 2001 for the newly deceased sound poet Ilmar Laaban.
The text is taken from a sound poem by him, 'Tre brev frΌn den dove' ('Three letters from the deep-mouthed one'), performed at the second festival of Text-sound compositions in April 1969. "Don Juans gylf" means "Don Juan's fly". Turned around to "Gylf-Juans don" it means "Fly-Juan's dick". The word "don" can signify (with slightly changed pronunciation) tool, mechanical gadget, dick or thunder. All the sounds in this composition are made by digital transformations and extensions of these three words.
The piece by Laaban was made at a time when the fly was still closed by buttons. It was supposed to be very shameful to walk around with the fly open, and many people were seen doing a now forgotten compulsory gesture with the right hand towards the fly to verify that it was properly buttoned.