Thomas Gardner (composer, cello)
I am a composer and performer. I make work for instruments with live electronics, and perform with an improvisation group. In both of these I use specially made interfaces, as well as natural acoustic instruments.
I have been a member of several contemporary music groups, and gave first performances of works by Feldman and the UK premier of the complete works of Walter Zimmerman. I studied composition with Jonathan Harvey, Denis Smalley, Simon Emmerson and Laurie Radford.
I am currently a member of the Automatic Writing Circle, a group which mixes acoustic improvisation with sounds from a group electronic instrument which I designed, the Ouija board.
I am employed as Senior Lecturer at LCC University of the Arts.
Further information about the piece 'Lipsync' can be found at the website
web.me.com/thomasgardner
www.automaticwritingcircle.co.uk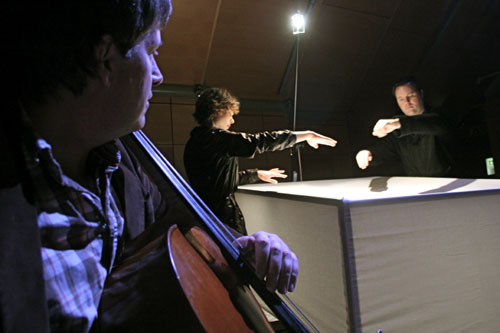 Lipsync (cellist, lips, and 6 channel live electronics)
The text of the Heine poem 'Der Tod, das ist die kühle Nacht' is spoken by the cellist while they play. The divided body of the performer – one part speaking the other part playing – is taken as a starting image. Various levels of synchronisation are explored, between action and speech, poetic idea and sonic image, acousmatic sound and live processing. These separate elements are fused by the guiding romantic conceit that death is a heightened and transcendent state.
The composition, performance and computer programming for this piece involves many novel features: From a compositional point of view it contains a reinterpretation of Romantic musical techniques (both structural and instrumental) in the light of contemporary acousmatic and spatial compositional practice.
From a performance point of view, it offers the seamless integration of cellistic technique with speech and lip control. (Plosives act to control some of the electroacoustic processes, and the diffusion of cellistic material)
From a technological point of view the piece makes use of new programming concepts (balancing between a message based name space and a signal processing network) for centering the timing of the 6 channel sound processing around the performer.