Tomomi Adachi
is a performer/composer, sound poet, performance and installation artist living in Japan. Known for his versatile style, he has performed improvised music and contemporary music (works by John Cage, Cornelius Cardew, Dieter Schnebel, etc.) in Japan, Europe, United States, Australia, Canada, Korea and China. As the only Japanese performer of sound poetry, he performed Kurt Schwitters's 'Ursonate' as a Japan premiere in 1996. He also directed Japanese premiere of John Cage's 'Europera5' in 2007. CDs include the solo album sparkling materialism (naya records), and Adachi Tomomi Royal Chorus yo (Tzadik). His video works and kinetic installations have been shown in Europe and Japan. Recently, he has been focusing his activities on solo performance (with voice, sensors, computer, self-made instruments), sound poetry (especially to the unknown Japanese sound poetry tradition), video installation and workshop style big ensemble with non-professional voice and instruments.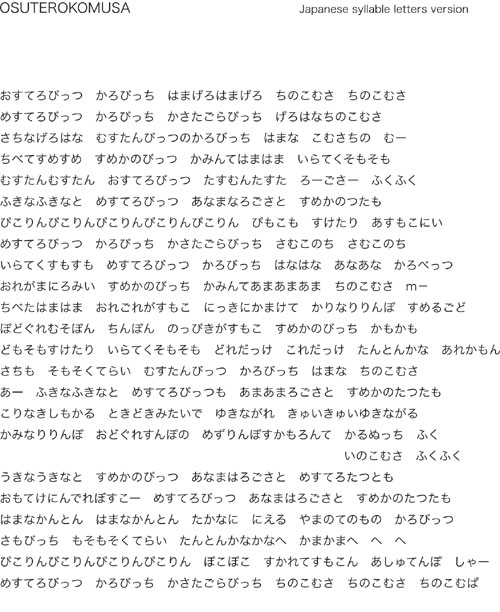 Osuterokomusa
This sound poem is an attempt to make a monophonic text composition using polyphonic/polylingual methods. It is composed with a puzzle-like structure consisting of some motifs and retrogrades of them, perfectly nonsensical Japanese text. The retrogradation was made in an alphabetical way (for example, 'osuterokomusa'- 'asumokoretuso') or based on Japanese syllabic letters (every Japanese syllabic letter is a combination of a consonant and a vowel, or only a vowel. In the case of 'osuterokomusa' the retrogradation is 'samukorotesuo'). This recording is of one possible way of performing the piece with some digital processing which emphasizes detailed sounds of reading.
Performed by composer. Recorded in 2007 at composer's home.