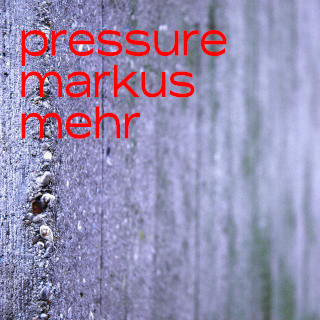 Pressure | Markus Mehr
English | Deutsch
GrDl 206 | Gruen Digital > [Bestellung]
Limitierte Auflage "Beton Schatulle" > [Sold Out]
MP3 & WAV (Stereo und Binaurale Version)
Rezensionen

PRESSURE ist ein aural begehbares Klanggebäude. Das Album beschäftigt sich in acht Stücken mit der Erstellung von Räumen und Gebäuden. Im Focus stehen jedoch nicht nur die planvollen, ästhetisch-konstruktiven Elemente von Architektur, reflektiert werden viel mehr die Aspekte menschlicher Destruktion und Naturzerstörung für die sie stehen kann.
Im Zentrum steht die weltweite Zementproduktion, die mit jährlich geschätzt 4,2 Milliarden Tonnen ein inzwischen kaum fassbares Volumen erreicht hat. Sand wird knapp, enormer Wasser- und Energieverbrauch verschlimmert die Bilanz des "grauen Goldes". Und schon vor seiner Formwerdung verursacht der Baustoff durch die vorausgehenden Erdbewegungen Landfraß und/ oder Bodenversiegelung, also Schäden an der Natur von bedrohlichem Ausmaß.
PRESSURE ist diesem Dilemma auf der Spur und verarbeitet es mittels Phonographien von akustischen Phänomenen wie Betonkuppeln, harschem Lärm von Baustellen und Erdbewegungen, mikroklanglichen Aufnahmen von erhärtendem Beton und seismographischen Aufzeichnungen einstürzender Gebäude im künstlerischen Umgang. Die gesammelten Field Recordings werden editiert, verfremdet, zerlegt, neu montiert. Die Wiedererkennbarkeit des Originalmaterials spielt dabei eine untergeordnete Rolle. Klangliche Artefakte, Fragmente, unhörbare, den Aufnahmen innewohnende Elemente, werden hörbar gemacht und erzeugen assoziative Klangerzählungen, die die Widersprüche und Zerwürfnisse menschlichen Handelns gegenüber seiner Fähigkeit zu Kreativreichtum und höchster Feingeistigkeit thematisieren.
---
Tacklist:
1. Agnes (6:40 min)
MP3
2. Dome (6:51 min)
3. A Slight Change Of Plans (3:41 min)
MP3
4. Pressure (8:23 min)
MP3
5. You Make The Best Of What's Still Around (2:50 min)
6. 12 Seconds (4:34 min)
7. Shake (6:01 min)
8. Fragile And Urgent (7:59 min)
MP3
8 Tracks (46'59'')
---
PRESSURE Beton-Schatulle (9 x 7 x 6 cm / ca. 350 gr.) mit USB Stick (limitierte auf 50 Stück).
Design: Florian Jung
Inhalt: binaurale & stereo Version (24/48 Hz und 16/44.1 Hz), 5.1 und 7.1 Version, Installations-Stems (24/48 Hz), Infomaterial und Fotos.
Master: Giuseppe Ielasi
Cover Art: Keep it, Love Ii, Call it George
3-D-Audio/Dolby Atmos zusätzliche Bearbeitung: Mathias Maydl
PRESSURE ist auch als Soundinstallation verfügbar (einzigartiges Audio-Monitor System von Florian Jung).
Sound Art Series by Gruenrekorder
Germany / 2022 / GrDl 206 / LC 09488 / GEMA
---
Interview: David Leutkart | Synthesizer Magazin / Ausgabe 98
Der Sound von Beton
Sound-Künstler Markus Mehr im Interview
Markus Mehr ist ein deutscher Sound-Künstler. Er veröffentlicht experimentelle Ambient-, Noise- und Drone- Kompositionen und arbeitet an Soundinstallationen. Er begann seine musikalische Karriere 2001 unter dem Namen Aroma mit elektronischer Disco-Pop Musik. Auf den folgenden Seiten spreche ich mit ihm über musikalische Konzepte, die politische Intention hinter seinen Werken, Kompositionsverfahren sowie sein neustes Album PRESSURE, das sich mit der Herstellung von Beton auseinandersetzt. […]
Download the interview PDF here
Guillermo Escudero | Loop
The German composer and musician Markus Mehr released several rock albums between the 90s and 2000s. But it was in 2006 when he made a turn and focused his work on experimental music that began with his album "Lava" (Hidden Shoal Recordings, 2010).
"Pressure" is a warning about the lack of respect for the environment in concrete construction, where sand, as an inherent material in concrete, is running out. Its character, naturally or artificially reduced to very small particles of metal or mineral, is similar to the work carried out by Mehr, who uses field recordings of concrete domes, construction noises and earth movements, to microrecordings of hardened concrete and seismographs recordings of collapsing buildings. All these recordings are the base material that Mehr manipulates, deconstructs and twists with his electronic devices. "Agnes" oscillates between silence and clanging noise, whereas microscopic noises in "Dome" are accompanied by a highly variable synth line. The dark atmospheres take over "Pressure" that gives the album its title, with the noise of the gears of a big machinery. "YouMakeTheBestOfWhatsIsStillAround" unlike the rest of the tracks, although abstract noises are involved, a somewhat cozy atmosphere is outlined. In "Shake" the sound is pulverized and takes on a granular form, while metallic noises alternate with each other. Rounding off album with "FragilAndUrgent", an ambience is outlined that is both tense and calm and in this case Markus Mehr invites us to reflect on how we are exacerbating the scarcity of natural resources.
link
Colin Lang | Musique Machine
Markus Mehr's newest release, Pressure, is exactly that: a sonic force pushed to extremes, both in tonality and arrangement. Dealing largely with the environmentally unfriendly phenomenon of concrete construction, Mehr's electronic minimalism grinds each sound source and field recording down to a granular level, as acoustic metaphor for the sand that makes up a large percentage of concrete materials. Pressure perambulates through different existing architectural structures, and reflects the brutalism of their style and acts, as they stand-in for the rapidly dwindling availability of sand in the world today.
In tracks like "Dome," we are plunged deep into the forging and mixing processes themselves, rather than walking through at our own bipedal pace. The formal correspondences between the granular and frigid alienation of concrete and the source material move in accordance with the given title of each composition. "Dome" is round and circular, like a spinning disc, or the wind swept through the interior of a giant bell. The effect is jarring (rightly so, I guess), where each layer or sonic material is subject to banging and hammering, in unpredictable staccatos written across each track. On "YouMakeTheBestOfWhatIsAround," each strand is amplified from the microtones and acoustic phenomena that we are otherwise incapable of hearing. By the time we arrive at the penultimate "Shake," rhythm begins to hold court, with an industrial intelligence that beats its listeners into submission. Finally, "FragilAndUrgent" closes the album in a droney, organ-like procession, beseeching us to get up from the pews and do something, for heaven's sake.
Mehr has been busy with installations, film, and other projects in recent years, and it is clear that his brand of finely-tuned electronics has benefited from this wide range of venues. Space, that is the space around and within the music, opens and closes with the timing of a well-oiled machine. It is the work of an incredible sonic labourer, who divorces electronics from the burden of representation, as was the wish of Musique concrète and its founder, Pierre Schaeffer. And like a good building, it's more of a place than any arbitrary space: specific, and that means, of course, concrete.
link

Richard Allen | a closer listen
It's been five years since we've seen an album in a concrete box, the last being MYMK's The Memory Fog. But while that one had to be broken to access the tape within, this one can be opened to find the USB stick. Pressure also joins the ranks of famous recordings using that name, the most notorious being Queen & David Bowie's "Under Pressure," Billy Joel's "Pressure" and Jessica Darrow's "Surface Pressure." Yet while those recordings deal with the effects of pressure on the human brain, Markus Mehr has something more literal in mind: the pressure on natural resources used to create cement, including the over-mining of sand. The process uses an inordinate amount of water and energy, while the material takes a toll on the soil and can produce cracks and fissures.
While the specific sources are disguised in the mix like sand in cement, the description includes "concrete domes, construction sites and earth movements, micro-sound recordings of hardening concrete and seismographic recordings of collapsing buildings." Humans break and build, create and destroy, all at once. "Agnes" launches into rhythmic machinery and construction noises that morph into music. A saw becomes a violin; a hammer becomes a drumstick. Despite the purpose of the recording, this process sounds alluring, even elegant. This same nod to beauty was found in the original sound installation, eighteen concrete boxes mounted on walls, immersing the viewer-listener in visceral walls of sound.
What to make of the spectral, theremin-esque choir that surfaces in the middle of "Dome"? Their timbre is momentarily masked by digging and clanking, harsh noise and insistent electronics, only to return in the end when the workers have gone home. Is this the spirit of the building, the group memory of sand? Mehr implies that the soul is more likely to be found in the original than in the composite. And while the sound of sand is here, it is obscured as well, lost in a well of abrasion.
The DNA of Mehr's work in drone and electronics can be found in the title track, which approaches each of these genres in turn before returning to the metallic-minded field recordings. The turning of textures creates a constant fascination; will he tumble into pop? The answer is no, but the artist does reference a song by The Police in the title "You Make The Best Of What's Still Around." Those familiar with the song are already reciting the preceding line: When the world is running down … The statement begs the question, "does the world have to run down?" We may love our concrete, but its production causes six percent of global CO2 emissions. In the closing track, Mehr calls the issue "fragile and urgent." The world beneath our feet may not be as stable as we believe it to be. (Richard Allen)
link
framework radio | #801
phonography / field recording; contextual and decontextualized sound activity
presented by patrick mcginley
Pressure | Markus Mehr