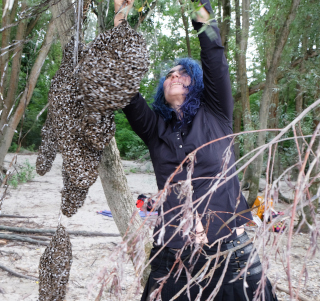 Angélica Castelló
Composer, Sound Artist
Using field recordings, radio and cassette devices together with the extravagant sounds of the paetzold recorder, composer and sound artist Angelica Castelló journeys through the enigmatic land of lost memories, death and traumatic encounters, fragility, dreamworld and the subconscious. Born in Mexico City, Castelló studied classical recorder and composition in Mexico, Canada, Holland and Austria where she currently lives and works.
She Performs continuously solo or in cooperations everywhere between Mexico City and Vienna. Numerous compositions for orchestra, ensembles, fixed media, radio works as well as installations that operate at the interface of music, performance and visual arts. Several releases on labels like Gruenrekorder, Interstellar records, Mikroton recordings, Monotype records, Mosz a.o.
Gruenrekorder:
Angélica Castelló: "Catorce reflexiones sobre el fin" (Gruen 193/23)