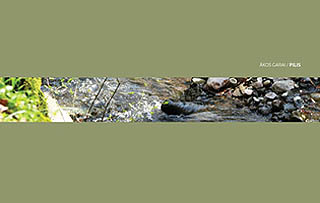 PILIS | Ákos Garai
GrD 16 | CD-R > [Sold Out]
Pilis is a sacred place. Bound north we leave the big city Budapest behind and we find ourselves surrounded by wonderous mountains and natural habitat. The Pilis mountain is located on the right bank of the Danube between Budapest and Esztergom. Its highest peak is only 756 meters, however, the scenery is picturesque. The beauties of nature, the fresh forest air, and the presence of positive energies this area are sought by many visitors. A big portion of the area is protected as a National Park, with numerous bicycle and hiking trails. In April 2009 I began my hike from the highest point of Pilis, and descended slowly.
I was accompanied by a charming stream of clear water all the way. As we walk through the forest and listen to the sound of the small stream, with each step, we arrive into different worlds and see, hear, and perceive the surrounding nature accordingly. I could not describe why "there and then": when I felt like, I stopped, sat down and recorded the sounds of the stream and the environment. Later, when I listened and selected these field recording tracks at home, I decided that I'll compose various computer generated layers in addition.
In time, these layers transformed into sonic thoughts in brackets inspired by the original field recording tracks and the wonderful memories of the hike. This was the birth process of a flowing, self re-creating and re-analyzing, yet coherent composition. A relentlessly meandering and laughtering auditory flow: a second hike to the Pilis.
Ákos Garai
Excerpt:
1 Track (50′17″)
3LEAVES / 150 copies / CD-R / 3L001 /2009
Gruenrekorder / Germany / 2010 / GrD 16 / LC 09488
---
CRACKED | 26/12/2009 | review by GEORG GARTLGRUBER
"Artistic impressions of places are many in the world of music, from the kitsch nostalgia of the "Donauwalzer" by Johann Strauss to endless expand of the universe in "The planets suite" by Gustav Holst (and not to forget its postmodern reworking by Greg Headly in "The operations of the heavens". Field recordings on the other hand do not only transport a sense of place in artistic hyperbole but focus the vision of a place onto a single, very special moment in space and time, with more or less manipulation. The grey areas are endless. Now mix the two approaches to putting places into auditive visions and you end up with what? Either an bricollage of found sounds or an exercise in cutting and arranging.
Ákos Garai went up on pilis mountain, close to Budapest, in April 2009 and while walking down opened his perception to nature, as well as his recording equipment, and came away with a new found belief in the beauty of nature and the sacred radiance of a small patch of unbridled nature. The single track on this CD takes us along a little stream downwards of the small mountain in single steps of staying still an listening. There is birdsong, manipulated noise of probably far away traffic noise, some unrecognisable sounds and noises, some glitches, the wind in the trees and again and again the sound of the water flowing downwards. It is fascinating how many different sounds a little stream of water can make.
The structure is at one hand quite simple, more or less manipulated sounds are split next to each other in chronological order but in random length. Some of them longer and moving like electroacoustic improvisation, others just static like a long deep breath or look around. On the other hand it is not at all so simple, because there is movement and evolution involved, and as much as anybody wants to discuss the fact, that the brain will always try to find some connection between two pieces of whatever put next to each other, hiking is by itself centered around the idea of movement and the vision to find a new point of view. The field recordings presented here as well as their manipulations and layers put on and into them afterwards, are still connected to that single walk on that special day.
Taking all of this together, I think that "Pilis" is not so much a musical project but a call to anybody to go out into the nature and to experience themselves, what it is that this planet is constantly doing for us. (Maybe send one copy to Barrack Obama and the rest of the ministers that spoiled the Copenhagen treaty.) Or maybe this resolution comes from the fact, that it is a beautiful day outside today and I feel the longing to get out in the green and get some fresh, cold winter air.'

TOKAFI | 10/12/2009 | review by TOBIAS FISCHER
"Games of the mountain: One of the more mysterious albums of this year."
"As aesthetically pleasing and thought-provoking as field recordings may be, their public perception is prone to a popular fallacy: Even by minutely documenting your hikes into the countryside and backing them up with a truckload of photographs, sketches and journal-entries, you can never fully recreate the sensory experience. More disturbingly, many of the great musical moments mother nature has in store for us are only rarely susceptible to the minute preparations of a field recorder and have a rare talent of occurring at the very moment the microphone is pointed into the opposite direction – or in none at all. Perhaps it is rightly because his previous output has characterised him as a careful drone-builder with a knack for emotional and precise tone-placement rather than a field-purist, Akos Garai may have an inbuilt sensitivity for putting things right. Over a decade after switching from his former position as an axeman with various Grindcore-bands to his new calling as a Sound Artist, he has arrived at a surprisingly convincing solution to this dilemma – and managed to bridge the regularly quoted divide between field recordings and music while at it.
Indeed, everything about "Pilis" breathes an air of discovery, spontaneity and immediacy. For an artist who has published a mere three solo-full-lengths in seven years' time (this one included), even its production cycle is infused with an unusual sense of urgency, as though the album not only needed to be made, but also wanted to be published as closely to its compositional genesis as possible. And thus, Garai embarked on his trip in April of this year, finished processing, editing, arranging and post-producing the material as early as July and published it only two months later. It is a technique which one could confuse for a maniacal obsession or a carefree urge to take risks without looking back, but which, in reality, turns out to be the utter confidence of not vaguely believing or guessing but knowing that a particular work has turned out just the way you wanted it to. It should be fitting in this context that Garai chose to take care of every aspect of the release himself, providing images and contributing design as well as founding his own label, 3LEAVES, to remain in full control of every single aspect of the music.
What's more, you don't even have to listen to a single second of the album to realise it has turned out his most personal effort to date. When Garai talks of Pilis being a sacred place and of its wondrous mountains and natural habitat" in the liner notes, he may merely be referring to facts. But when he dotes on the scenery's "beauties of nature, the fresh forest air, and the presence of positive energies", it is becoming increasingly clear that he has no intention whatsoever of hiding his uncompromising affection and unabashed sentiments for this place. More precisely, "Pilis" has turned out a confession of love for an environment which looks, feels and sounds as remote from the lights of the big city as could possibly be. The 50-minute work follows the composer, as he gradually descends from the mountain's highest peak down to its foot. As he's walking down, he is passing through various scenes, small spaces filled with colourful variations of the same elements: Rocks, brushwood, grass, trees, stretches of forest, birds and insects. Most importantly, however, there is the ongoing presence of a clear-watered stream, which accompanies the wanderer all the way, like a good friend.
The image of the river is essential to "Pilis" in several ways. For one, it is the lifeline of the mountains, replenishing its energies and rejuvenating its century-old face, withered and battered by the elements and the gradual force of erosion. Then again, it is a metaphor for the philosophical idea that nothing can ever really repeat itself: As Garai moves forward, he is, in a way, never walking along the shore of the same stream, but observing its continuous metamorphosis. And finally, it is a musical Leitmotif for the album as a whole, reassuringly underpinning these minimalist sonic scenarios. It is the sound of the stream that holds the loose events of the album together, provides them with context and texture, structures their flow and awards them meaning. Some might claim that this essentially simply means that there is an awful lot of water to be heard on this disc. But paying attention to its constantly changing surface, its minute variations and inner dynamics does pay off for anyone with an open ear.
If Garai had decided to simply present his trip without any kind of additions, he might have earned some applause in the scene and that would have been the end of it. Instead, he afterwards decided to complement his recordings with additional layers of electronic processing. These are never of the typical romantic Folk-type or ethereal Ambient-elements. Rather, they act as a conscious contrast with the organic sweetness of the environment: Rumbling, subsonic waves and glitchy micro-ticks, high-pitched, disturbing alarm-bell-like squeals, deep, hollow reverberations like a ghostly combination of chilling wind and the distant drone of airplanes. On the overall scale of the piece, these episodes are few and far between and never particularly long. Occasionally, one doesn't even notice their presence until Garai has taken them all the way to the foreground and exposed their alien nature. And yet, their presence is of seminal importance. One feels like observing bewildering little spectacles, like stumbling upon whims of nature and the spirit of the mountain playing little games to entertain its visitors and itself alike.
One could of course ask what the purpose of these games might be. That, however, would be completely against the intention of the album. Even Garai himself, when looking back to his trip, could not say for sure, "why there and then, when I felt like it, I stopped, sat down and recorded the sounds of the stream and the environment" – he just did. This is exactly what one experiences as a listener, too: An epic, encharming, quiet and yet sweeping journey through a magical landscape which takes on great plasticity. You never quite know what it all means, but once you've sat down to listen, it is next to impossible to press "stop" before the music has gently ended on its own accord. It's not just that "Pilis" is aesthetically pleasing and occasionally thought-provoking. Its multiple layers of perception offer the rare chance of replacing the actual experience with a different, yet equally fresh, one. By refusing to ask questions and by following nothing but his instincts, Ákos Garai has resolved the inherent dilemma of field recordings – and created one of the more mysterious albums of this year."

SOUNDSCAPING | 28/11/2009 | review by ANDRÁS SZOLNOKI
"Ákos Garai's work "Pilis" takes us to the mountainous region not far from Budapest by the same name. It received its name from the old Hungarian word for tonsure, that is to say the practice of cutting the hair from the scalp, as Christian monks used to do. Reason for this name was that the mountains were used for growing grapes, and therefore looked like a bald head. Those days are now long gone, and the Pilis is nowadays a lush forest, with streams, hiking trails and wildlife.
One day Ákos was hiking in this beautiful place, and on the descent from the highest peak in Pilis he recorded the sounds that surrounded him. The material recorded during this hike was used as the starting point of this composition. Computer-generated layers were added and in time these layers changed into sonic thoughts, that were inspired by the original field recording and memories from the hike.
The recording itself starts off presenting the sounds of the natural inhabitat of Pilis. We soon come to hear the sound of the stream that Ákos followed down on his path from the mountain top. The theme of water is encapsulating this composition, with Ákos returning to this sound repeatedly throughout his work. The progression from the natural sounds of the Pilis to the computer generated sounds has clearly defined points at the start of the recording. The pace of change from one world to the next slows somewhat down the further we move from the top of the mountain, and the sound of what is man-made and recorded grows in sonic strength.
The power of water is shown both through the way Ákos lets the intensity of the field recording play out towards the end by itself, and through the addition of a deep generated sound. The combination of sounds marks the crescendo of "Pilis".
The journey we undertake is finely structured and themed. The continuous flow of the stream works well with the context of the composition. All in all "Pilis" is a fine piece of work, one where neither the field nor the layers of manufactured sound dominates.
Adding to the sound is the physical presence of Ákos Garai's first release on his own label 3LEAVES . "Pilis" comes as an exquisite CD-R. As written on the label's homepage: "Label releases will be consistent in appearance: 300gr art paper printed digitally in 4+4 colour with inserted CD-R on the sleeve, packaged in tracing-paper or crystal clear sealable PP bag. Writable media is the Japanese Taiyo Yuden brand that is known for highest quality and reliability. Three Leaves releases are hand-numbered and comes out in 150 copies." Yours truly is the proud owner of number 026. In the age of quick fixes, it is highly appreciated that artists and record companies go an extra step when it comes to presentation.
Soundscaping warmly recommends you to take part the aquatic-laden aural trip that is "Pilis".
THE SOUND PROJECTOR | 25/11/2009 | review by ED PINSENT
"Hungarian Ákos Garai sent us a copy of Til Ødslig Horisont in 2005, one of the most extreme examples of baffling minimalism I'd heard up to that point at least. Nice to see him make a return with Pilis, (3L001) the debut release on the 3LEAVES label and in an edition of 150 CDR copies. While his previous release was all-electronic (as I recall it), Pilis is a collection of field recordings of water streams around the 'sacred place' he has discovered outside the city of Budapest. The intention here is to share his contemplative thoughts and feelings as he made his personal odyssey around the idyllic area, never straying far from the stream of clear water. The resulting tapes were modified with computer treatments as he composed the piece, an experience which allowed him to relive the enjoyable hiking experience. His highly personal and spiritual observations about the environment have been layered into the work, resulting in a very open-ended piece of inquisitory art."
LOOP | 08/11/2009 | review by GUILLERMO ESCUDERO
"Ákos Garai es un grabador sonoro que reside en Budapest y comenzó como batero en varios grupos de grindcore. En 1995 cambia su estilo musical hacia el avant-garde y la música electro acústica.
En 201 comenzó a componer editando dos CD-R ["Fjern Hjem" (Private, 2002) y "Til Ødslig Horisont" (Trente Oiseaux, 2005)] y colaboró con un tema para el compilado "Essays on Radio: Can I Have Two Minutes of Your Time? (Cronica Electronica, 2005).
"Pilis" es una edición limitada artesanal de 150 copias en formato CD-R que publica 3LEAVES, sello de Garai.
El disco está basado en registros de campo realizados en el bosque Pilis, al norte de Budapest en donde Ákos Garai grabó corrientes de agua y la vida silvestre de este lugar natural y que fue declarado Parque Nacional. También le agregó capas de sonidos generados por computador, produciendo sutiles armonías y ritmos."
LOOP | 08/11/2009 | review by GUILLERMO ESCUDERO
"Ákos Garai is a sound recordist based in Budapest who started in 1993 as a drummer in various grindcore bands. In 1995 he's musical approach changed to the avant-garde and electroacoustic music.
In 2001 he began experimental composition releasing two CD-R's ["Fjern Hjem" (Private, 2002) and "Til Ødslig Horisont" (Trente Oiseaux, 2005)], and an appearance in the "Essays on Radio: Can I Have Two Minutes of Your Time? (Crónica Electronica, 2005) label compilation.
"Pilis" comes out as a limited run of 150 copies released on CD-R on 3LEAVES Garai's label, all hand-made.
The album is based in field recordings taken in Pilis, a forest at the north of Budapest where Ákos Garai recorded streams of water and the wild life of this natural place which is declared as a National Park. Also he adds computer generated layers into the recordings, producing subtle microscopic harmonies and rhythm."

BAD ALCHEMY | Nr.64 | review by RIGOBERT DITTMANN
"Garai führt die Imagination hier ins Pilis (sprich: Pilisch), das höhlenreiche, pittoreske Mittelgebirge im Donaubogen zwischen Esztergom und Budapest. Man folgt, von Vögeln beschallt und in Waldatmosphäre getaucht, vom Hauptgipfel mit seinen 756 m talwärts einem kräftig rauschenden Bach. Nur wenige, wohl nachbearbeitete Passagen bewegen sich abseits des Klangstrudels, zirpend, drahtig flickernd, vor einer fern raunenden Folie, dann tröpfelig tuckernd, verrauscht, mit einem Alarmton. Das unbändige Bachgesprudel könnte der Urtyp aller molekularen, granularen Bruitistik sein. Als vitale, proteische, liquide, übersprudelnde, brodelnde Lebenskraft. Hier hört man, kurz auch noch von einem Regenguss überschauert, die Urform, das Original. Alle Noisealchemie der Musique concrète- und Elektromönche, all ihre Retortenhomunkuli, sind daneben Simulakren, Imitate, Fälschungen. Der Berg Pilis (wörtlich: Tonsur, weil einst weinstockbekränzt, aber kahl) ist an sich Mönch genug. So einfach ist das. Ich denk mir das oft beim Spazierengehn mit Mikrophonohren: Will die Noise Culture die Noise Nature ersetzen, überbieten, bewahren? Für kommende Futurum 2- oder Soylent Green-Tage? Garai liefert, schön verpackt in eine 13 x 21 cm-Hülle, ein Paradox, das Original als Schizophonie, als Phonografie."