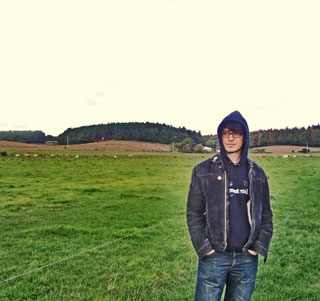 Marcus Obst
Since 1997, I release experimental music under the moniker Dronæment.
Concrete Sounds and Field Recordings have always been a central concern of my music. They work as snapshots, sonic photographs of places and time, blurred and harmonized through filters.
The moment when you listen to music at home and get irritated by sounds that come from outside the window or something happening in your flat, is one of the most interesting.
So in 2001, I founded a small label – field muzick – to release artists that work in a similar way. It is my vision of field recording and music.
My own first record released on field muzick is under my real name, because it sounds more academic. "Trafic Tonalite" is a conceptual work. It pretends to be, at least. It is a hommage to France and French experimental music, and came up as a study about street noise and how we can receive it as relaxing music.
But I am not a scientist, I am a dreamer. So one morning, I awoke and got a field recording from a trip to darfs capital on tape.
Gruenrekorder:
Marcus Obst: "day in dwarfs capital" (Gr 072/10)