End of Vision | PETROLIO
Gr 076 | Gruen CD-R | Silver > [Sold Out]
MP3 & FLAC > [order]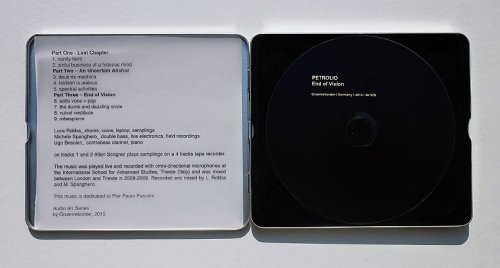 Part One – Lost Chapter
1. vanity faint
MP3
2. sinful business of a hideous mind
Part Two – An Uncertain Anchor
3. deus ex machina
MP3
4. fashion is jealous
5. spectral activities
Part Three – End of Vision
6. sotto voce > ppp
7. the dumb and dazzling smile
MP3
8. vulval vestibule
MP3
9. robespierre
9 Tracks (56′22″)
CD-R (50 copies)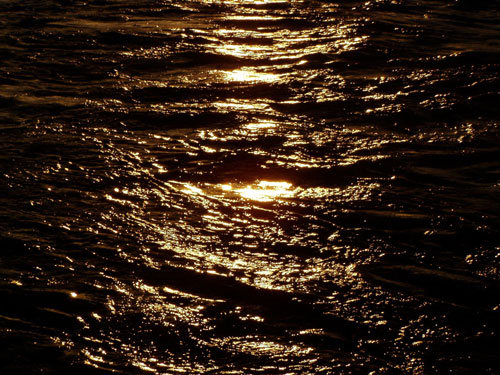 All music performed by
Luca Robba_ drums, voice, laptop, samplings
Michele Spanghero_ double bass, live electronics, field recordings
Ugo Boscain_ contrabass clarinet, piano
on tracks 1 and 2 Allen Scrigner plays samplings on a 4 tracks tape recorder.
The music was played live and recorded with omni-directional microphones at the International School for Advanced Studies, Trieste (Italy) and was mixed between London and Trieste in 2008-2009. Recorded and mixed by L. Robba and M. Spanghero.
This music is dedicated to Pier Paolo Pasolini.
Sound Art Series by Gruenrekorder
Gruenrekorder / Germany / 2010 / Gr 076 / LC 09488
---
Massimiliano Busti | BLOW UP.
[…] Tutt'altra atmosfera si respira invece nel disco d'esordio dei Petrolio, nato dall'incontro fra il batterista Luca Robba col duo Mimesys formato da Michele Spanghero al contrabbasso/live electronics e Ugo Boscain al clarinetto e al piano. Proprio facendo leva sulle diverse provenienze dei membri del gruppo (il punk rock, la sperimentazione elettronica, l'improvvisazione), il trio dà vita ad una musica personale ed ispirata, ben bilanciata fra drones ambientali assai suggestivi (Sinful Business of a Hideous Mind) e un pulviscolo elettroacustico che esalta la spazialità del suono (Fashion Is Jealous), sempre in grado di sprigionare una sottile forza magnetica che attrae con forza inattesa. (voto: 7) Massimiliano Busti
[…] We breathe a completely different atmosphere in the debut album of the band Petrolio, born from the encounter between the drummer Luca Robba with the duo Mimesys formed by Michele Spanghero on doublebass / live electronics and Ugo Boscain on clarinet and piano. Just relying on the different backgrounds of the members of the group (punk rock, electronic experimentation, improvisation), the trio creates a personal and inspired music, well balanced between very suggestive environmental drones (Sinful Business of a Hideous Mind) and an electroacoustic dust that enhances the spatial attribute of sound (Fashion Is Jealous), always able to emit a subtle magnetic force that attracts with unexpected force. (Vote: 7) Massimiliano Busti
Ed Pinsent | The Sound Projector
Petrolio also seem intent on telling fractured stories on their End Of Vision (GRUENREKORDER Gr 076), which is structured in three parts with chapter headings and titles; these are used to describe the dissonant avant-garde scrapes of the percussionist Luca Roba, the bass player Michele Spanghero, and the pianist Ugo Boscain. Their minimal non-jazz playing is supplemented with electronics, sampling, laptop work, the spasmodic grunts of a contrabass clarinet and some field recordings too. With titles like 'An Uncertain Anchor' and 'Spectral Activities', you can be sure of entering a grey and ghostly house of mirrors where nothing is quite as it seems, and even the servants mean to do you harm as you sleep. The trio used omni-directional mics to record their work in Trieste, and dedicate their stern music to Pier Paolo Pasolini.
Richard Pinnell | The Wire
The German Gruenrekorder label explores phonography in many forms, extending their activities beyond their substantial catalogue of CDs into publications, events and lectures held on the subject of field recording, natural acoustic phenomena and the links with experimental music. These two recent releases, while both involving field recordings to some degree, illustrate the wide range of activity undertaken by the label. […] Conversely, the Italian trio Petrolio bury any trace of field recordings deep in their electroacoustic soundworld. Partly improvised, but arranged into a predetermined three part structure, the trio worked with electronics, samplers and field recordings alongside drums, bass, clarinet and piano. After the slow drift of the opening track, the group change gears to present a curious blend of highly agitated and dramatic acoustic playing underpinned by frequent sharp electronic interventions. The music was recorded carefully using omni-directional microphones to capture the full width of the live experience, and this element brings a cinematic feel to the fractious, feisty music. Far more than just an everyday meeting of improvisors, End Of Reason is a carefully thought-through and well executed work.
link
Brian Olewnick | Just outside
Petrolio is Luca Robba (drums, voice, laptop, samplings), Michele Spanghero (double bass, live electronics, field recordings) and Ugo Boscain (contrabass clarinet, piano), with Allen Scrigner appearing on the first two tracks, wielding "samplings". The music might be described as isolationist free improv in that a similar chill, bleak feel is in effect as was heard in more rockish contexts in the mid 90s (remember Scorn? Godflesh? God?). A subdued, slightly haunted mood is maintained pretty much throughout, the trio evincing and admirable restraint, but at the same time I found a certain dull sameness to much of the work and felt it lacked a spark or two and perhaps a few obstacles to surmount. Still, I'd be curious to hear more from them.
Bob Baker Fish | Cyclic Defrost
Petrolio is a trio of Italians who craft dark ambient improvisational soundscapes, an electro acoustic music, brimming with not only field recordings, drones and live electronics, but also voice, double bass, piano, contrabass and piano. It's not overtly musical, and structurally it borrows heavily from the improv world. It's about developing textures, creating moods and atmospheres, and these moods tend to inevitably be dark and brooding, so it will come as no surprise that this album is dedicated to Italian director and playwright Pier Paolo Pasolini. In fact the trio's name Petrolio comes from the title of Pasolini's last unfinished novel.
It was apparently recorded as a live performance utilising a number of omni directional microphones. There's a real articulation of many of the frequencies, giving the feeling that a number of mics were placed around the room and these compositions are mixes between them. The electronics sound incredible, particularly when combined with the wind instruments, there's a real depth and presence to the sounds, yet also a kind of fusion where you're often not even sure what instruments you are hearing. As a live performance it's incredibly accomplished, particularly when you consider its improvisatory nature.
Yet there's also a coldness and bleakness to the music, that whilst being occasionally punctuated by isolated sweeter tones, only highlights the darkness and distance. It's very unsettling music.
The packaging however is amazing, coming in an incredibly elegant tin cd box that has to be seen to be believed. It's sleek and minimal and really adds to the feeling that this is strange and treasured artifact.
Ron Schepper | textura
Luca Robba, Michele Spanghero, and Ugo Boscain bring radically different backgrounds to their PETROLIO project: Robba is a former punk rock drummer presently concentrating on electronic music and playing with David Toop's Unknown Devices Orchestra, double bass player Spanghero is currently focused on improvised and electronic music and works for three international contemporary art galleries, and multi-instrumentalist Boscain is an improviser who has become a specialist on the contrabass clarinet instrument. The group itself came together when Robba encountered the duo Mimesys featuring Spanghero on double bass and electronics and Boscain on clarinets at an experimental music festival in Italy.
As heard on the group's debut album for Gruenrekorder, End of Vision (a concept record dedicated to the unfinished novel by Italian film director Pier Paolo Pasolini titled Petrolio), the improvised electro-acoustic music they produce under the PETROLIO name (coal oil) is suitably thick, dark, and viscous (the disc's opening setting, "vanity faint," in particular, which virally spreads like a cancerous growth through dark ambient corridors). Though the group often shares music files over the internet to shape raw material collected during live performances and recording sessions and then uses the reprocessed results for new improvisations, End of Vision documents live sessions recorded with omni-directional microphones at the International School for Advanced Studies in Trieste, Italy with overdubbing and post-production used minimally. On the fifty-six minute recording, nine improvised settings ('spontaneous compositions,' if you prefer) are spread across three parts, Lost Chapter, An Uncertain Anchor, and End of Vision, and the trio's drums-double bass-contrabass clarinet sound is fleshed out with live electronics, field recordings, samples, and piano.
During certain passages, splashes of piano collide with bowed double bass and percussive flourishes ("sinful business of a hideous mind"), while in others the group burrows deeply through dense fields of insectoid textures and nightmarish gloom ("spectral activities," "vulval vestibule"). In addition, "sotto voce > ppp" pairs the groan of the double bass with the honk of the contrabass clarinet, and "the dumb and dazzling smile" wraps the clarinet's guttural murmur in a blanket of willowy electronics. What it all amounts to is purposeful interactions between three adventurous improvisers who use their instruments less for melodic purposes than for sculpting dynamic textural slabs of distended shape. Issued as a CD-R as part of Gruenrekorder's Audio Art Series, End of Vision is available in a limited run of fifty copies so act fast if you're interested.
Frans de Waard | VITAL WEEKLY
As we know by know the main portion of releases on Gruenrekorder consist of field recordings and music made using them. However, more and more we also hear releases from say the world of improvisation. Here's an Italian trio: Luca Robba (drums, voice, laptop, samplings), Michele Spanghero (double bass, live electronics, field recordings) and Ugo Boscain (contrabass clarinet and piano). 'The music was played live and recorded with omni-directional microphones' it says on the cover, but they could have fooled me. First of all, the recording quality is great and secondly, it doesn't sound like the product of pure improvisation. The pieces are more stretched out atmospheric impressions, in which occasionally an instrument pops up. There are pieces which hint more towards improvisation, but here too it seems to me that things are well under control. More composed than improvisation, and no doubt due to some extensive mixing process, which allows them to bring necessary balance, and quietness in these proceedings, a careful constructing of silence and tension, atmosphere and cinematographic qualities. Maybe its the extensive use laptop, sampling and field recordings? I am not entirely sure, but throughout a great release, I thought. An excellent example where improvisation also works out of the context of direct playing and making a great listening session later on (which in the world of improvisation is not always the case).