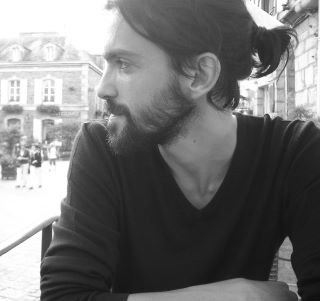 Thomas André
lives in France, he works as a translator. He is also rim, an ambient guitar-only, beat-unfriendly project, with a release on Heldernacht Records, contributions to short films by Canadian director Pascal Payant, and collaborations with ambient artists draff krimmy and Sirens of Atlantis. Currently working on a soundtrack for the next film by Pascal Payant.
He gathers field recordings and assembles shreds of texts written during his trips with silence and gaps, hoping to leave more room/freedom for the listener/reader to take over.
The first collection And The Loudest Thing Of All Is Our Own Silence was published in Seattle-based Louis Liard Magazine.
Releases & Collaborations:
. Music for Pascal Payant's short film Hotel Room – 2008
. Music for Pascal Payant's short film Something in the Way – 2008
. Collaboration on Poetry of vår with draff krimmy – 2008
. Contribution on field recording project Soundtransit – 2008
. Friends in Astoria ep. released on Heldernacht Records – 2007
. Collaboration on Phoenix with Sirens of Atlantis – 2007
Gruenrekorder:
Thomas André: "Recorded in China" (Gr 069/09)