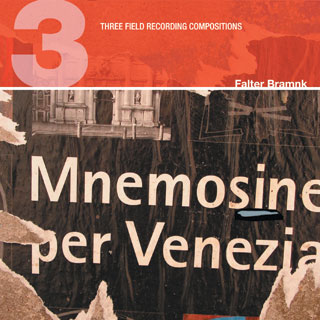 Three field recording compositions | Falter Bramnk
Gr 059 | Gruen CD-R > [Sold Out]
---
1. "Even the birds left us #0" | Krakow/Auschwitz/Birkenau, Poland, 2005
"Even the birds left us #0" is the main part of a trilogy. The two other versions include spoken words from texts by Primo Levi and Jean-Claude Pressac.
The first part is recorded in the Jewish area (Kazimierz) of Krakow where I could take in the same time the sound of the street and klezmer music from an outdoor loudspeaker. Most of the sounds were recorded in Birkenau (inside and around the concentration camp). Trains were recorded in Oswieczim, the knee deep in snow. Drops were recorded near the Auschwitz camp in a disused factory. The two polish workers' voices heard while they were changing a bulb were recorded in the Block 11 known as "the death block". The title is taken from words by a Polish woman prisoner in Auschwitz.
---
2. "The city of the doges" | Venice, Italy, 2006
"The city of the doges" is a specific phonography about Venice which depicts the passing of a day, from the twice-daily agitation to the intimate song of the water in the night…
---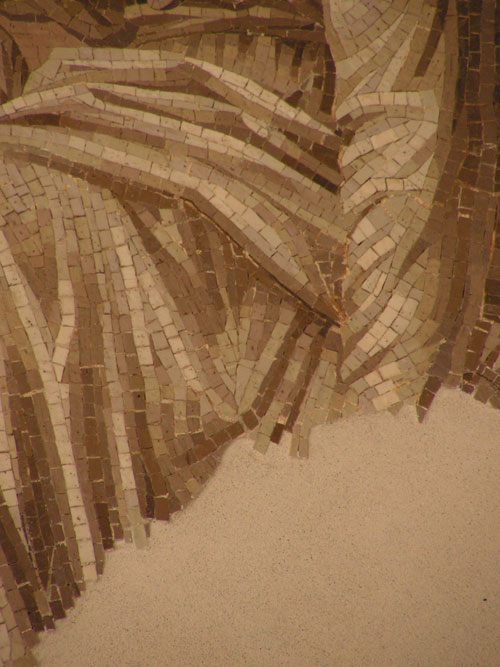 3. "Buona notte" | Sicily, Italy, 2004
"Buona notte" is a sound diary through different places in Sicily (Palermo, Siracusa, Piazza Amerina…). The title is taken from "Vecchio frack", a song we can hear at the end in a karaoke night and wich is sung by Domenico Modugno, famous Italian singer.
---
3 Tracks (57′03″)
Recorded and edited by F.B.
falter.bramnk.free.fr
falterbramnk.blogspot.com
Artwork: Tim Schwartz
Field Recording Series by Gruenrekorder
Gruenrekorder / Germany / 2009 / Gr 059 / LC 09488
---
Frans de Waard | VITAL WEEKLY
The name Falter Bramnk sounds quite unusual it seems to me. I never heard of him, but on the Gruenrekorder website, we read: 'Falter Bramnk is a french composer and an improvising musician, and occasionally a photographer. He works for dance and animated short films. He has released various multi-instrumental cd projects, both on solo and compilations. He is also involved in sound portraits (artists, friends…) and fieldrecording compositions. Influenced by the cinematographic art, he plots his soundscapes like narrative sequences rather than single long takes.' The latter remark is of course of interest for us, since we are dealing here with 'Three Field Recording' compositions. I usually start playing a CD without noting what is on the cover, press text and such like, to start from scratch. In the first piece I heard a train passing but throughout it seems to be rural life. Churchbells. Doves. Italian voices. That's all later on. Bramnk likes 'quiet, rural' life it seems, but then I started investigating what he was doing, and it seems that he recorded two pieces in Italy – Venice (the church bells, doves) and Sicily (rural life) and on the first piece he uses sounds recorded in Krakow, Auschwitz and Birkenau, which gives the train sound an entirely different dimension. I am not sure what the narrative sequenced plot is here, in these three pieces, but I must admit it all sounds wonderfully recorded, and especially the longer 'Buona Notte', recorded in Sicily is a nice piece, depicting quiet life and ancient history. For the 'Auschwitz' piece 'Even The Birds Left Us #0', I hear there will also be a version with texts by Primo Levi and Jean-Claude Pressac – which seems to me a good thing.
Dan Warburton | Paris Transatlantic Magazine
The second track on Frank Lambert's disc, entitled "The City of the Doges", is a delightful montage of soundscapes ancient (the extraordinary acoustic of the Venetian lagoon) and modern – it makes for an interesting comparison with Philip Samartzis's Unheard Spaces, sourced in the same city. But despite the album title not everything on Mnemosine Per Venezia comes from Venice. "Buona Notte" heads further south to Sicily, and features some hilariously cheesy and presumably drunken karaoke that could have come straight out of a Fellini movie, while "Even The Birds Left Us" was recorded in Kazimierz, the old Jewish quarter in Cracow, Poland – and, just a few miles east of the city, Auschwitz. Knowing that the discussion between two Polish workers changing a light bulb (honest) was recorded in Block 11, the so-called death block, certainly changes your perception of the sounds. I wonder if I should be telling you this (I certainly didn't know it when I first listened to the disc a couple of weeks ago, having left the booklet at home), but Frank Lambert seems to want you to know, so I guess it's kosher. You decide.