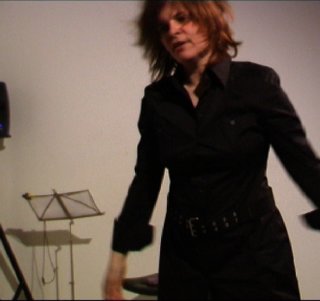 Bettina Wenzel
vocal artist / composer / improviser
Since 2000 Bettina Wenzel develops intermedia-performances (voice/video/objects) and vocal compositions. Recent examples include "inside out" performances (dance/voice/inflatable objects/video) presented in Kochi/Trivandrum (India)," aufblasbarer Gesang IV" performance (voice/inflatable object/live-video), at the 10th Anniversary of mex, Dortmund during the Festival open systems.
Examples of vocal compositions are: "Kolophon" (voice /4 CD-players) at Sprachmusik Musiksprache, Kunstwerk Deutz, Cologne, "Illusion insoluble" (voice/tape) KGNM Musikfest, Cologne, "Ä & U" (voice/tape) at BrückenMusik, Deutzer Brücke, Cologne.
As improviser and performer she worked in Vienna, Prag, Paris, Trondheim, New York, San Antonio, Los Angeles, Bern, London, Mumbai, Delhi, Trivandrum, Kochi a.o.
From 1992 to 2000 she attended voice-training (Alfred Wolfsohn-technique) at the Centre Artistique Roy Hart (Malérargues/France) with D. Rossignol, Jonathan Hart-Makwaia, Ian Magilton, Noah Pikes a.o.
Currently she works as vocal artist / composer in Cologne, Germany.
In 2009, she lived and worked during six month in Mumbai as artist in residence of Kunststiftung NRW and Goetheinstitut Mumbai. She presented her performances at NCPA Mumbai in August 2009. She worked together with the singer Aparna Panshikar and the filmmaker Shrikant Agawane.
In 2010, she presented her performance program "walls&waves" at Goetheinstitut Kolkata, India.
More informations:
Gruenrekorder:
Bettina Wenzel: "Mumbai Diary" (Gruen 086/10)