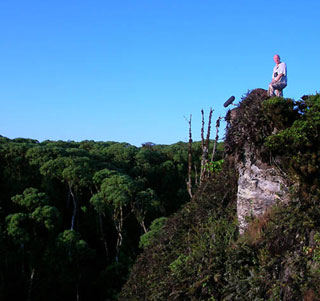 Chris Watson
Biography & Productions
Cabaret Voltaire and The Hafler Trio; Chris Watson is a sound recordist with a particular and passionate interest in recording the sounds of animals, habitats and atmospheres from around the world. As a freelance recordist for film, tv & radio Watson specialises in natural history and documentary location sound together with track assembly and sound design in post production. He has released 3 solo CDs for Touch:
'Stepping into The Dark' [1996 TO:27]
'Outside The Circle of Fire' [1998 TO:37]
'Weather Report' [ 2003 TO:47]
'Number One' [2005 Touch # Tone:41] a collaboration with Z'ev & K.K. Null
'Stepping into The Dark' won an Award of Distinction at the 2000 Prix ARS Electronica Festival in Linz, Austria
Television
'The Life of Birds' for BBC TV – BAFTA Award for Best Factual Sound
'The Life of Mammals' for BBC TV
'Life in the Undergrowth' for BBC TV
'Big Cat Diary' for BBC TV
'Great Railway Journeys – Mexico' for BBC TV
Radio
'A Swallow's Journey' BBC Radio 4 – Sony Radio Award Nominee 2002
'A Small Slice of Tranquillity' BBC Radio 4 TX Dec. 2002
'A Robin's Tale' BBC Radio 4 TX Dec. 2003
'The House' BBC Radio 4 TX Feb. 2004
'White tailed Eagle' BBC Radio 4 TX Feb. 2005
'North by North West' BBC Radio 4 TX Aug. 2005
'Sound Stories' RTE Radio 1 Dublin Sept. 2005
Residencies, Installations, Performances & Lectures
Kitakyushu Centre for Contemporary Art, Japan Dec. 2003
Hibiki Festival, Osaka, Japan Jan. 2004
COMA summer school for Sonic Arts July 2004
Sonic Acts X Paradiso Club, Amsterdam Sept. 2004
'Brief Encounters' – Bristol Film Festival Nov. 2004
'A Winter's Tale' FACT Liverpool Feb. 2005
'Tracks' Accademia Britannica, Rome March 2005
'No Man's Land' Sutton High Sports College, St Helens April 2005
Venice La Biennale, Sept. 2005
Transart05, Bolzano Sept. 2005
Ultima Contemporary Music Festival, Oslo 2005
Artefact Festival, Leuven, Belgium Feb. 2006
Forbury Garden Sound Trail, Reading May 2006
Brief history profile
1972 to 1981: Cabaret Voltaire
1981 to 1984: Tyne Tees Television; Sound Recordist and founder member of The Hafler Trio
1985 to 1987: Royal Society for the Protection of Birds; Sound Recordist and Hafler Trio projects
1987 to 1993: Freelance Sound Recordist
1994 to present: Director at Hoi Polloi Film & Video Ltd.
Institutes & Societies
Member of the Institute of Broadcast Sound [MIBS]
Member of the International Association of Wildlife Film-makers [IAWF]
www.chriswatson.net
Chris Watson is exclusively published by Touch Music [MCPS]
Gruenrekorder:
V.A.: "Recorded in the Field By…" (Gruen 033/06)
V.A.: "in drawing" (GrD 03/05)
Alec Finlay & Chris Watson: "siren" (GrD 01/06)