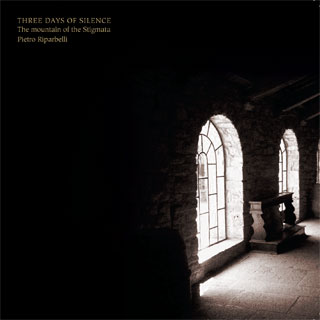 Three days of silence – The mountain of the Stigmata | Pietro Riparbelli
Gruen 102 | Audio CD > [order]
MP3 & FLAC > [order]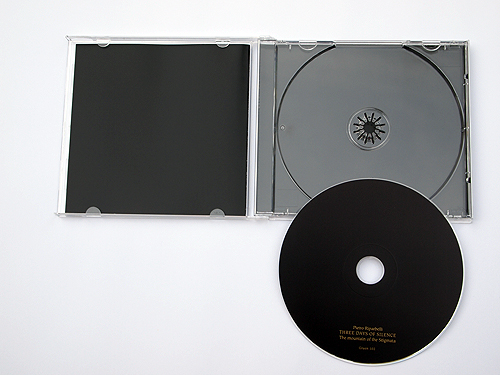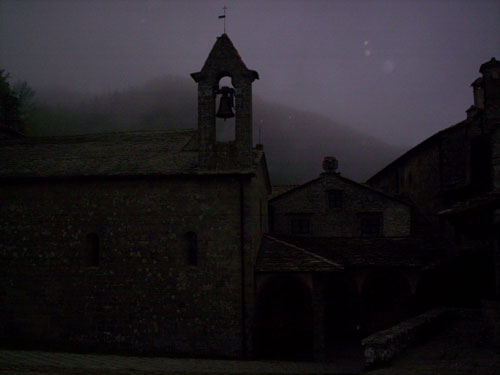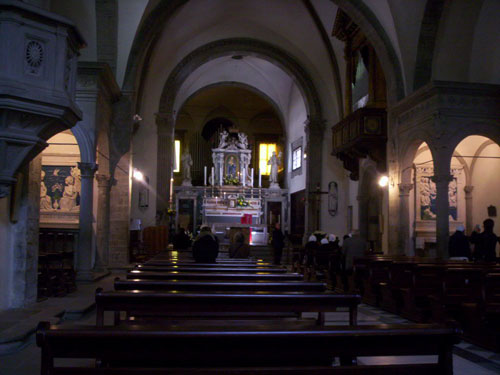 Excerpts:
1
2
3
6 Tracks (47′13″)
CD (500 copies)
"Three days of silence" is conceived as complete phenomenological experience of listening. I have been three days within the Sanctuary of La Verna on the top of a mountain called "the mountain of the Stigmata" in Tuscany. I've lived together with the monks recording and attending the ceremonies and the sounds of the place trying to penetrate in a dimension of pure contemplation.
La Verna, in Latin Alvernia and geographically known as Monte Penna, is a locality on Mount Penna, an isolated mountain of 1,283 m situated in the centre of the Tuscan Apennines. The place is known especially for its association with Saint Francis of Assisi (he is said to have received the stigmata here) and for the Sanctuary of La Verna, which grew up in his honour.
Count Orlando of Chiusi gave La Verna to Francis on May 8, 1213 as a retreat specially favourable for contemplation, and in 1218 built him the chapel Santa Maria degli Angeli. In August, 1224, frustrated by the changes in the Order of Friars Minor, Francis withdrew to La Verna to keep a forty days fast in preparation for Michaelmas and while praying on the mountain- side he received (on or about 17 September) the stigmata.
After seeing a vision of a seraphim he began to develop nails of hardened flesh which protruded from his hands and feet. He also began to form a wound in his side like that of Christ. Thus La Verna came to be seen as sacred ground. Pope Alexander IV took it under his protection.
In 1260 a church was consecrated there in presence of St. Bonaventure and several bishops. A few years later the Chapel of the Stigmata was erected, paid for by Count Simone of Battifole, near the spot where the miracle took place. The Chiesa Maggiore was begun in 1348, although not finished until 1459.
Extra content:
Three days collection of field recordings each one accompanied by a photo of the relative place.
03_05_2011.zip / 70 MB
04_05_2011.zip / 75 MB
05_05_2011.zip / 13 MB
Soundscape Series by Gruenrekorder
Germany / 2012 / Gruen 102 / LC 09488 / EAN: 4050486063934
---
Ed Pinsent | The Sound Projector
La Verna is a lovely place in Tuscany where I have visited some years ago as part of a tour to see the paintings of Piero della Francesca. It's famous as the area where St Francis received the stigmata and there's a shrine built where the incident took place. Sound artist Pietro Riparbelli has surpassed my one-day tourist trip with a three-day sojourn at the Sanctuary in La Verna. It looks like he really got "into" the place and its sounds in a big way and turned the experience into the art statement that is Three Days of Silence (GRUENREKORDER GRUEN 102). He collected field recordings from around the mountain area and also recorded the ceremonies of the monks, assembling the results into this carefully-structured work; he intends it to be a document of the complete experience, and through his compression he presents an authentic rendition of the three days in the space of less than one hour. He succeeds admirably in conveying the stillness and peace of the place, and provides another chapter in his ongoing mission to present the aural truth about certain sacred locales around the globe which he has selected. Given that previous instalments in the Riparbelli scheme have been quite alarming, psychologically disturbing, or even supernatural in nature, this beautiful release is welcome for its abiding sense of spiritual warmth and inner stillness, and it has a clarity and lightness that is refreshing. For those who seek more information about his time in the mountain, Pietro has made available online all his original source materials, and relevant pages from his diary. Arrived 5th April 2012.
Martin P | Musique Machine
Pietro Riparbelli spent three days recording in the remote Sanctuary of La Verna, a monastery on a mountaintop in Tuscany. With a simple mic and field recorder set-up, he documented the sounds of the Sanctuary, inside and out; as well as the life that goes on within its boundaries. He took these sounds and constructed the six tracks found on this album – whilst also making the original recordings available from the label website.
These original recordings are often beautiful, which does lead to the obvious question: why not leave them to stand as they are? But Riparbelli has used them on "Three Days Of Silence" to construct a sense of "place", and the sense of listening to that place; so its really along these lines that his project has to be viewed. The album's six tracks are neatly divided into "First Day", "Second Day" and "Third Day"; three long pieces which are each followed by a shorter construction. Whilst some level of processing is sometimes heard in the longer tracks, these shorter pieces are more overt examples of electroacoustic practice. (Though, if I was to be told that actually the "Day" tracks were in fact only EQ-ed, it wouldn't surprise me…) The first of these "interludes", "Stillness" is built on a swirling drone, like filtered wind; over this there are electronic whizzs and squeals, which reverberate and spiral. "Duration" starts with the sound of a squeaky door, accompanied by glitching noises and tones – its a nicely agitated section, which somewhat stands in contrast to the remainder of the album. This agitation is pared back to reveal waves of ambient washes, which are battered by thudding percussive clicks before slowly fading out. The third "interlude", and last track on the album, is "Aletheia" – a word meaning "unconcealedness"; this pits a grainy, open drone against echoing choir-song and the scuffing and banging sounds of someone performing a physical task.
The longer "Day" tracks range from eleven minutes to fifteen minutes long; and are constructed out of very recognisable sounds for the whole. Thus "First Day" begins with quiet footsteps, a door closing, bird song, the rustle of clothing and the sound of bees; before a thick low drone rises up. In the crassest terms, this is how all three "Day" tracks are essentially constructed: layered field recordings, accompanied by drones – presumably made by EQ-ing some of the other recordings. Here, the reverbs of the Sanctuary, as well as obvious sources like recordings of the organ, are tailor made for their construction. These drones dominate the pieces, often commanding incredible bass tones; indeed on "First Day" and "Third Day", tones and frequencies are pushed to the point of distortion – with the latter track even displaying HNW-esque crackle. Elsewhere, the drones are more gentle; though often discordant (the end of "Second Day", for example) or even tremoloing (the second half of "Third Day", which builds to a noisy crescendo). The most noticeable element, beyond the drones and the recognition of the sounds recorded by Riparbelli, is the exploration of reverb to be heard. A closing door, a cough, the crackling of a fire – these are all affected sonically by the environment they are heard in. For those of us who spend our times tweaking reverb effects, a visit to a church (for example) is an ear-opening experience – and this is documented supremely by Riparbelli.
"Three Days Of Silence" is a good album, but I must admit that the predominance of drones left me a little cold. Whilst they perfectly represent the oppressive/beautiful (delete as applicable) stillness of a monastery and the sense of continuity and stasis, I would have liked to have heard, on a less conceptual level, the other sounds interacting with each other. Interestingly, although the drones suggest a notion of "purity" and concentration, Riparbelli's use of his source material is sometimes anything but – there are a few clicks, bangs and rustles to be heard, which sound like unintentional "noises" that have escaped editing. Though this is much less a concern, than the fact that the slow fade-out of "duration" is crudely cut off; as well as the appearance of clumsy mixing at the very close of "Third Day". (Since I'm being rude, I'll also mention that the bulk of the inlay spiel on La Verna seems to have been lifted wholesale from Wikipedia.) Having said all that, its a release of great charm and invocation. Riparbelli has avoided, for the most part, obvious "gothic" or mystical tones in presenting his material; though parts of "Second Day" – with a call and response between ambient organ tones and echoing choir voices – steer dangerously close to these, whilst also providing the most overtly "musical" sections of "Three Days Of Silence". He has certainly used drones and natural reverb to convincingly evoke time and place, but whether he has also evoked "Aletheia" is up to the individual listener…
Leandro Pisano | Blow Up
Il lavoro condotto da qualche anno dal filosofo e sound artist Pietro Riparbelli, rivela una serie di elementi particolarmente significativi nell'indagine dei fenomeni della percezione spaziale e della dicotomia tra visibile ed invisibile all'interno del paesaggio sonoro.
E' una ricerca che, passata attraverso una serie di lavori concettualmente molto forti – come l'indagine condotta con una videocamera attraverso dei segnali ad onde corte di un manicomio e dell'opera di un suo paziente – si arricchisce di ulteriori elementi nell'album in oggetto.
"Three Days of Silence" è basato su una serie di registrazioni ambientali effettuate nel Maggio 2011 presso il santuario della Verna, in Toscana, durante un periodo di residenza di tre giorni trascorso dall'autore in osmosi con i luoghi ed i rituali religiosi del monastero.
Attraverso un analisi entomologica e disadorna condotta con l'uso di registrazioni ambientali ( echi di passi, il canto degli uccelli, il suono di un organo e delle campane, il riverbero di un coro), Riparbelli traccia ancora una volta una via limitare, metafisica ai luoghi esplorati, contribuendo a quella che lui stesso definisce come la "creazione di una dimensione 'altra' oltre quella sonora: una dimensione che porta l'ascoltatore ad un passo ulteriore oltre l'ascolto, o ad un ascolto 'diverso'".
Partendo dalla lezione di Carl Michael von Hausswolff e Leif Elggren, Riparbelli si spinge lungo il crinale isolazionista per portare alla luce (significativo a tal riguardo è lo studio del fenomeno delle "onde residue" condotto dall'autore negli ultimi anni) una realtà fatta di elementi celati all'esperienza sensoriale. Un processo che, come nel caso di "Three Days of Silence", parte dalla ricostruzione filologica per giungere, attraverso una rappresentazione percettivamente potente dei luoghi analizzati, ad un'esperienza di particolare suggestione.
link
Emiliano Grigis | Sodapop
I lavori di Pietro Riparbelli/K11 mi hanno sempre colpito anche per le forti capacità evocative degli ambienti in cui vengono registrati i suoni poi elaborati nei dischi: dopo avere ascoltato registrazioni della cattedrale di Assisi, dell'abbazia di Telema e del parco dei mostri di Bomarzo, in questo Three Days Of Silence il luogo prescelto è stato il santuario della Verna, tra le colline della toscana. La vera e propria sintesi sonora dei tre giorni passati nel santuario tra rumori e silenzi coglie davvero l'atmosfera sacra e meditativa del posto e le foto delle grafiche rendono l'idea di questo affascinante eremo fuori dal mondo. L'ennesimo viaggio di Riparbelli in luoghi dove l'uomo prova ad avvicinarsi al mistero è ancora una volta riuscito, mantenendo forte la sua caratteristica immediatezza e semplicità tutta toscana e mai scivolando nella banalità: ogni disco in effetti si differenzia dagli altri, giocando con la stessa formula ma non ripetendosi mai. Questa volta ci sono brani di puro field recordings tra porte che si chiudono, passi ed echi davvero molto suggestivi, ma anche brani parzialmente suonati e molto ambientali a formare una dark ambient affascinante, contemplativa e misurata: il quadro che ne esce fuori è particolare e intrigante e come sempre mi ispira il desiderio di visitare quel luogo, di ricercare quei suoni e quelle emozioni in prima persona.
Tina Manske | CULTurMAG
Klosterleben, weltlich erfahrbar
(TM) Im Mai 2011 verbrachte der Soundkünstler Pietro Riparbelli drei Tage im Kloster von La Verna in der Toskana, gelegen auf einem Hügel, der sich 'Berg der Stigmata' nennt (der heilige Franz von Assisi soll hier seine Stigmata erhalten haben). Mit seinem Mikrofon machte Riparbelli Feldaufnahmen des Klosterlebens und der es umgebenden Natur. "Three Days Of Silence" ist, wie Riparbelli selbst sagt, eine "phänomenologische Hörerfahrung". Vor dem Hören hatte ich eine bestimmte Erwartungshaltung, die – surprise, surprise – viel mit Stille zu tun hatte. Diese wurde jedoch komplett unterlaufen: "Three Days Of Silence" ist alles andere als still. Riparbelli nimmt die Feldaufnahmen als Rohmaterial für seine an Industrial und Drone anknüpfenden Kompositionen. Das ergibt einen erhellenden Effekt. Nicht Meditation ist das Ziel, jedenfalls nicht in der allgemein an den Begriff 'Kloster' anknüpfenden Weise. In Riparbellis Stück werden die Töne des religiösen Lebens eingebettet und oftmals überlagert von den Kunststücken, die das technische Equipment daraus machen: Der Klang der Orgel, der fern wie durch Nebel durch eine dräuende Wall of Sound hörbar wird, der Gesang der Mönche, zu dem man sich kämpfen muss. Riparbelli macht das Klosterleben sehr weltlich erfahrbar, und auch sein Vorgehen nachvollziehbar. Denn die CD ist nur eines von drei Teilen, die das Gesamtwerk bilden; Teil zwei sind die Fotos aus La Verna, die Riparbelli jeweils mit einer originalen Feldaufnahme des jeweiligen Ortes verbindet, Teil drei ist das Tagebuch, das er über den Besuch führte. Um sich also das gesamte Bild zu machen, sollte man nach dem Hören auch mal auf die entprechende Webseite surfen (s. u.).
Pietro Riparbelli: Three Days Of Silence. The Mountain of the Stigmata. Gruenrekorder.
www.three-days-of-silence.gruenrekorder.de
Héctor Cabrero | Le son du grisli
J'ai eu la chance de passer quelques heures au sanctuaire de la Verna, en Toscane. Les nuages étaient noirs et semblaient contenus par la forêt et la roche qui donnent son caractère au lieu. Pietro Riparbelli y a passé trois jours, lui, partageant la vie des moines, enregistrant les respirations de cette bâtisse fondée par Saint-François d'Assise pour en faire ce CD, Three Days of Silence.
Le titre est trompeur. On n'entend pas de silence ici mais l'air qui tourne autour des lourdes pierres, des pas et des portes qui se referment sur les cellules, un chœur ou un orgue qui chante dans l'ombre… Avec tout cela, Riparbelli a composé une ode à la retraite en tressant des drones et en taillant dans les sons. C'est noir et c'est profond. C'est pourquoi ce n'est pas La simplicité du cœur que l'on conseillera de lire en écoutant Three Days of Silence, mais Une saison en Enfer. Rimbaud n'y a-t-il pas écrit : « Si j'ai du goût, ce n'est guère que pour la terre et les pierres » ?
Richard Allen | a closer listen
The monastic life remains inscrutable to those outside the conclaves.  No matter how many films or books cover the subject, the internal, contemplative path can only be experienced through participation.  In an effort to understand the isolated, yet strangely communal lifestyle of La Verna's monks, Pietro Riparbelli spent three days at Tuscany's "mountain of the Stigmata" listening and recording.  As readers of this site know, the art of listening includes not only listening to apparent sounds, but suggested sounds, and not only to sound but to the profound nature of silence.  And where better to encounter silence than a monastery?
The "pure" recordings, unadorned and accompanied by photographs and text, can be accessed and downloaded for free from Gruenrekorder's release page.  But Three Days of Silence is more importantly a soundscape: a project in which the sources are mixed and recombined in an effort to access greater truths.  At times, the sounds of nature decorate the exterior of the sound field.  The chanting of monks fades in and out like the passing of the hours.  Organ tones bloom and recede.  These collages yearn for alchemy like supplicant hands reaching toward the heavens; and whether by intention or divine intervention, they succeed.  When listening to the sources by themselves, one thinks, "oh, that's a nice sound" or "this track is better than the one before it", keenly aware of Riparbelli's presence behind the equipment.  But when one plays the album, one rests in the arms of mystery.  While the divine presence has made itself known in part, it continues to rest beyond human comprehension, and Three Days of Silence is the sonic equivalent of a dark glass or dim mirror.  To listen is to seek hidden truths, but to receive only impressions.  This falling-short is the center of the contemplative life, which seeks comprehension, but offers praise for mere glimpses.  "If I could but touch the edge of his cloak", a woman said once about Jesus; a monk allowed to draw that close would consider his life a blessing.
Riparbelli creates the conditions in which blessings may occur by adding musical accompaniment to his field recordings: mostly light drones that connect the sound sources, unifying their nature like a neutral wall color unifying a series of paintings.  The fact that one is invited to listen to the album in two different ways is evidence of the reverence the artist shows to his material and his hosts.  In the same way as a translator attempts to preserve the intention of the material while altering its form, Riparbelli takes the ancient and makes it seem contemporary.  One can only hope that the monks of La Verna can appreciate the new context.  For those below the mountain, the effect is divine.
Idwal Fisher | IDWAL FISHER
Three Days of Silence is described by its composer as being 'a phenomenological experience'. 'Phenomenological' meaning: 'the detailed description of conscious experience, without recourse to explanation, metaphysical assumptions, and traditional philosophical questions'.
Pietro Ripabelli recorded his phenomenological experiences at the Sanctuary of La Verna, a remote church in Tuscany built on the site where St Francis of Assisi was reputed to have received the stigmata. As you would imagine Ripabelli's field recordings are exquisitely austere and relay the contemplative nature of the building and its surroundings with a deft touch. But as well as the vespers and the church organ we get more natural sounds such as bird song, bees, the scrubbing of floors [at least thats what it sounded like to me], heavy doors being opened and closed, the turning of ancient keys, a steel bucket being dropped to the floor, hand bells being rung, the recordings are so melancholic in parts that it took me a while to get through it in one go without nodding off, a problem [of the good kind] I've had with previous Gruenrekorder releases.
Ripabelli divides the work up into three days with each day having an interlude; 'Stillness', Duration' and 'Aletheia' [the spirit of truth]. The main triptych range from pure field recordings to compositions made from sound sources and I suspect a mixture of the two [the sleevenotes describe the third day as a 'short diary of the experience'].  Whatever Ripabelli has done with these sound sources the results are pretty stunning but it was only after I'd downloaded the original sound sources [via Gruenrekorder] that I got a better understanding of what the final work encapsulates. I was mistaking those throbbing drones for Pirabelli's work when these are in fact of the Basilica itself – on first listens a major stumbling block when I was of the mind that I would have much preferred these recordings to be have been left bare, me being in the less is more camp. But after much contemplation of my own I found myself warming to this release. The interludes are finely crafted short pieces with 'Aletheia' sounding like a lo-fi TNB gig played in a wind tunnel, all scraping floors, shuffling and desolation. 'Duration' is a small drone, squeaky doors met with low end farts, flutters and glitches found only at electro-acoustic gigs. 'Stillness' is sonar bleeps, sweeps and arctic bleakness. The main parts of the composition provide even further fulfillment: 'First Day' where the friar's vespers are accompanied by that stunning low Basilica hertz hum as it frazzles along besides an increasingly powerful organ run. 'Second Day' begins with a drone this time accompanied with dripping water, birds, bells, the drone fades into the background leaving ghostly vespers and eerie floating organ keys. 'Third Day' sounds like the most processed of the three and is perhaps the weakest with its pulsing and rapidly vibrating electronic drone masking much of what goes on beneath it.
It goes without saying that you don't have to be religious to enjoy music of a religious bent, not that is in any way a religious release. The Estonian composer Arvo Pärt is probably the only composer alive whose sacred music is enough to move me emotionally whilst Richard Dawkins, now the most famous atheist in England, chose Bach's 'St Matthew's Passion' as one of his choice cuts on Desert Island Discs. I myself have sat in Barcelona Cathedral whilst Mass has been performed and enjoyed the purity of the ceremony whilst more recently I found myself listening to an organist run through his repertoire as I sat outside his North Yorkshire church making the most of the weak spring sunshine. Ripabelli's compositions might not be potent enough to get me join forces with the Franciscan's of La Verna but whilst listening to 'Three Days of Silence' I felt that I had at least, been with them in spirit.
JULIAN (Lord Yatesbury) | Head Heritage
THREE DAYS OF SILENCE by Italy's Piero Riparbelli is another highly successful Gnostic journey through real time interfaces with cranky technology. And am I talking cranky or what, brothers'n'sisters. However, like the late '50s Tokyo school of musique concrète, Riparbelli deploys his field recordings in such an exquisite manner that his new album makes for endless repeated listenings. Adventuresome, avant-garde but horribly more-ish. Recorded in La Verna monastery high up in Tuscany's Apennines, Riparbelli lived long enough with the monks to catch their many vocal performances, along with stairwell comings and goings, mealtimes, performances upon the huge church organ, muttering, even utter silence. Putting all of this together with considerable flair and passion, Piero Riparbelli has brung forth a right old magickal concoction, and sprung the beast via Germany's Gruenrekorder label. Imagine Rolf-Ulrich Kaiser had released field recordings of the preparations at Stiftskirche Baumburg made for Popol Vuh's enormous 'Vuh' extragavanza, and I believe yooz close to Riparbelli's pleasure centre. File this Supersucker under 'Ambulant'… Hell yeah!
RaF | kulturterrorismus
Auf den Pfaden von Franz von Assisi (1181/1182 – 1226) "wandelt" Pietro Riparbelli, dessen Projekt "Cathedrals" ausschließlich in Kirchen getätigte Feldaufnahmen bereithält, nicht erst seit "Three Days Of Silence" (The mountain of the Stigmata), wofür der Italiener sämtliche Feldaufnahmen innerhalb eines dreitägigen Aufenthaltes auf dem Alverna (auch: La Verna), ein Berg (auch Monte Penna genannt) des zentralen Apennins in der Toskana, welcher der bevorzugte Ort des Heilige Franziskus zum Beten war, der ihm (zudem) seine Stigmatisation (bezeichnet das Auftreten der Wundmale Christi am Körper eines lebenden Menschen) "schenkte".
"Three Days Of Silence" (CD, 500 Exemplare) publizierte Pietro Riparbelli über den Deutschen Verlag Gruenrekorder, der vornehmlich Veröffentlichungen mit Schwerpunkt Feldaufnahmen herausbringt, wo aber seltsamerweise die portugiesische Übermacht in diesem Metier nicht zum Tragen kommt. PS: Wer den Ausgangsaufzeichnungen für "Three Days Of Silence" von Pietro Riparbelli lauschen möchte, kann diese kostenlos über Gruenrekorder herunterladen!
Unsere Welt dreht sich jeden Tag ein bisschen schneller, weshalb immer mehr Menschen nach Ruhe/ Entspannung suchen, die sie zum Teil im Gebet finden, vielleicht auch Pietro Riparbelli, der oftmals Tonspuren, aufgenommen in Gotteshäusern (Wo NIEMAND andauernd "hinrennt" (und mit lebt), wenn er keinen Bezug zu diesem "Verein" hätte, oder?) verwendet, deren Ausstrahlung innerhalb seiner Tondokumente, nicht nur auf "Three Days Of Silence", in tiefe Trance fallen lassen, wodurch sich beim Konsum das Gefühl von Freiheit, innerem Frieden & eben Entspannung einstellt – Wahnsinn!
Sämtliche in "Three Days Of Silence" integrierten Ton- bzw. Sprachsamples versetzen nicht in die Kirche, auch Vogelgezwitscher, Regen/ Wasser, Gespräche, Bewegungsgeräusche usw. fügen sich nahtlos in den emotional berührenden Soundtrack ein, den der Ausnahmeprotagonist auf fließendem Ambient aufbaute, der Bedrohlichkeit und Himmlischkeit gleichermaßen offeriert, das die "kurze" Spielzeit von knapp über 50 Minuten verschmerzen lässt. Insgesamt ein mitnehmender Kopfkinostreifen, welcher aufgrund seiner Variabilität und den daraus resultierenden Spannungskurven vollends überzeugt bzw. fasziniert. Individuen, die sich nach einem anstrengenden Tag nach anspruchsvoller Seelenmassage sehnen, müssen "Three Days Of Silence" von Pietro Riparbelli hören und aufsaugen, wonach die Welt in einem anderen Licht erstrahlt!
Fazit:
Aktuell gehört Pietro Riparbelli für mich zu bewegendsten Sounddesigener überhaupt, das einmal mehr "Three Days Of Silence" unterstreicht – ein weiteres Meisterwerk im Backkatalog des Italieners, der mit seiner phänomenalen Tonkunst zu berauschen wie überzeugen weiß – meine absolute Topempfehlung! PS: Es besteht Kaufpflicht und nicht nur für ausgewiesene Pietro Riparbelli Jünger, sondern auch für alle Freunde von anspruchsvollem Dark Ambient/ Ritual Industrial!
Guillermo Escudero | Loop
This edition is part of the Soundscape Series of the German label Gruenrekorder and in this ocassion presents Pietro Riparbelli's work, who is a philosopher, composer and sound artist living in Livorno, Tuscany.
Riparbelli has released in several European and U.S. labels where he has also done performances and installations.
Riparbelli's work focuses on the phenomenon of spatial perception and the contrast between the visible and the invisible that is linked to the concept of soundscape.
The disc consists in field recordings made between May 3-5, 2011 at the Sanctuary of La Verna, built in the Thirteenth Century located in the top of a mountain called 'the mountain of the Stigmata' in Tuscany. There he lived with the monks, attending ceremonies and recording the sounds of the place, trying to capture the essence of contemplation.
The disc contains three long tracks, one for each day, and three interludes, where electrononic treatments merge with field recordings.
Indeed silence is an element present in each track and the background noise with people walking, bird songs, a choir and organ sound at the distance and bells. All this comes from the organic and acoustic world, as it is intervened by synthetic sounds such as drones, static noise.
This work accurately records the atmosphere of the Sanctuary, where the stillness, worship and silence are part of that 'perception of the phenomenon'.
maeror3 |  livejournal
В 1224 году на горе Ла Верна у Святого Франциска Ассизского проявились стигматы, сделав его еще ближе к переживанию всех страстей Христовых. В честь этого события на склоне горы (получившей название Гора Стигматов) была позднее организованна обитель, небольшой храм и монастырь, ставшие популярным местом паломничества у католиков всего мира. Паломничества, требующего некоторых усилий, ведь года находится в довольно изолированном месте, а высота ее составляет 1283 метра – зато, согласитесь, трудно найти более удобное место, чтобы, в тишине и спокойствии святых стен почувствовать себя ближе к Богу чем когда бы то ни было.
Итальянский звуковой артист Пьетро Рипарбелли (известен некоторыми сольными работами, в том числе грандиозной серией «Cathedrals», а также участием в индустриальном проекте «K11») пробыл в этой обители три дня, записывая звуки ритуалов и месс, повседневной жизни монахов, фоновые шумы местности  для того, чтобы потом воссоздать атмосферу этого места в шести электроакустических пьесах. Эти полевые записи, передающие в полной мере спокойную обстановку и располагающую, абсолютную тишину обители (которую не нарушают, а еще больше подчеркивают птичьи крики, блуждания по каменным коридорам и кельям, уборка залов и настройка органа) Пьетро дополнил пространственным, погружающим гулом и эмбиентыми эффектами вполне в духе итальянской постиндустриальной школы (на фоне которых возникает порой кажущийся неуместным навязчивый треск радиошумов), которые, вплетаясь в акустику помещений, пропитанных энергией молитв и ожиданиями прозрения, иногда вплотную приближают слушателя к катарсису, делая восприимчивыми к сакральным переживаниям даже не совсем верующих людей. Быт монахов – пение хоралов, чтение молитв, соблюдение строгих правил и выполнение работ по «благоустройству территории», но за этой повседневностью, представленной на этом альбоме, скрывается мощный пласт потустороннего, иррационального бытия, дающий возможность почувствовать присутствие высших сил в каждом отголоске эха, в каждом движении людей и предметов и в каждой капле дождя.
Frans de Waard | VITAL WEEKLY
When buried with a lot of releases to review for Vital Weekly, I sometimes wish to retreat to a monastery and not be interrupted by such mundane things as e-mail, telephone, shopping and just blend in with the tranquility of monastery life. Pietro Riparbelli did visit a sanctuary, Sanctuary of La Verna on top of a mountain in Tuscany, where Saint Francis of Assisi supposed to have gotten his stigmata and recorded life over there during three days. Here he has six pieces, three of them I believe are pure field recordings and three are compositions he created out of these basic sounds. Not that is easy to tell the difference, certainly if you don't play close attention to when the track ends and moves to the next. For the busy western man, non believer at that, perhaps the closest I can get to monstary life, I guess. Riparbelli captured the sounds and the atmospheres of the sanctuary pretty well – the overall idea of this release is 'silence' without being silent. The large empty spaces with a minimum of sound information, the garden and rain in it, the vaguely humming of what could be the church organ, its all there. Music that slowly unfolds and that could invoke a religious experience (government health warning not included here). In the 'Third Day' piece we have the most musical experience, with crackles and what seems to be some sort of stringed instrument, but for all I know it could be the repeated sound of the bucket in the well to get water. A very contemplative release altogether. Excellent soundscaping.
Ron Schepper | textura
Issued as part of Gruenrekorder's Soundscape Series, Pietro Riparbelli's Three Days of Silence – The Mountain of the Stigmata revisits the approach used on the 4 Churches recording the Livorno, Tuscany-based sound artist released in 2011 as part of Touch's Spire series. In both cases, Riparbelli attempts to capture the reverberant space within church and cathedral settings by coupling the expected sounds of organ playing and choir singing with the less typically documented sounds that arise naturally within the spaces themselves—the mundane and the transcendent rubbing shoulders, so to speak. Though both recordings center on the "phenomenological experience of listening," an approach that finds the sound artist absorbing the history of a site and its spatial, architectural, and aesthetic characteristics in order to reconfigure it as a sonic landscape, the new one differs from the earlier in documenting three days Riparbelli spent in May 2011 at the Sanctuary of La Verna on the top of Mount Penna situated in the centre of the Tuscan Apennines. During the stay, he lived with the monks, attended their ceremonies, and explored the space in an attempt to enter into a state of pure contemplation.
Structurally, the recording intersperses three long-form soundscapes, one for each day, with three interludes that feature electronic treatments largely absent in the longer settings. "First Day" begins with movements and sounds—footsteps, the chirp of birds and buzzing of flies—littering the audio space before organ chords emerge. But rather than have the organ supplant the environmental sounds, the instrument becomes only an occasional presence, with the larger concentration on other sounds—at one point the chanting of a distant choir competes with industrial hum of some unidentifiable kind. One might expect that the other day settings wouldn't differ radically from the first, given the repetitive nature of daily activity within the sanctuary, and, true enough, while there are contrasts of detail that differentiate the three, they're very much related. In "Second Day," shimmering organ chords and chanting are heard alongside thunderstorms and human activity (movements, rustlings, footsteps), while "Third Day" allows static noise to seep in alongside echoing droplets until, in a bold departure from the established template, the material grows increasingly abstract and more ambient drone-like in design.
In terms of the interludes, "Stillness" is an overtly electronic-styled exploration that excludes field recording content, in contrast to "Duration," which merges electronics with sounds of winds blowing and organ chords intoning. Interestingly, the album's closing piece, "Aletheia," uses as its title a Greek word that means unconcealedness or disclosure and is also one that received renewed attention through Heidegger's philosophy, which in Being and Time (Sein und Zeit) deals heavily with notions of concealedness and uncovering. In a sense, Riparbelli's goal is much the same as Heidegger's, even if the sound artist's focus is more site-specific. In truth, Three Days of Silence – The Mountain of the Stigmata isn't so different from 4 Churches that the owner of the Touch recording necessarily needs the newer one; regarding it as an entity unto itself, on the other hand, enhances its value. – May 2012
Brian Olewnick | Just outside
I admit to some degree of trepidation when Ripardelli, in the course of describing his work, derived from field recordings made at the Sanctuary of La Verna in Tuscany, says of the place that St. Francis of Assisi "is said to have received the stigmata here". Could've used a tablespoon of skepticism, I guess. But the results are not bad of their type. Three pieces, the first a composition worked form the recordings, the next a pure field recordings and the last a "diary of the experience", though I'm not sure exactly what that entailed.
So we have the physical sounds of the structure, the opening and closing doors, the footsteps, various clangs and bangs, though all with a muted air that does very much summon to one's mind an old room with thick walls used for arcane purposes. But the organ pervades the initial track, looped and extended into an endless chord. Birds abound, engines infiltrate; it's much less ethereal than I'd feared, even as echoes of a choir are heard in the rafters. Though between the increasingly spacey organ and voices, the second tracks crosses that boundary into something a bit to Eno/Budd-y. Still, it's ok, well done of its kind. Ultimately, not my cuppa, gets a little too woozy, but your mileage may vary.