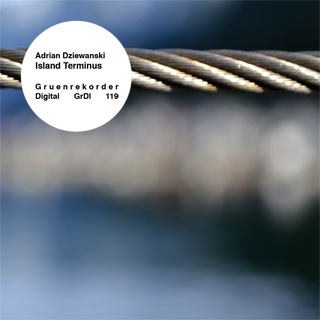 Island Terminus | Adrian Dziewanski
GrDl 119 | Gruen Digital > [order]
MP3 & FLAC
Those who can recall a rock concert's morning after – having foolishly forgotten their earplugs, or because they stood with their ears nearly pressed upon the speaker ­– will have experienced the fairly common condition known as Tinnitus. In the simplest of terms, tinnitus can be described as a ringing in the ears. What is less known, however (and even less understood), is that Tinnitus can also be experienced as a song.
I began experiencing Tinnitus as a song a number of years ago. The occurrence is that of listening to a stunted melody, repeating endlessly in the inner ear. It's a strange sensation, very unlike actually listening to music, but more akin to an extreme version of having a song stuck in one's head. When first experiencing this, I got out of bed to check the living room stereo, thinking I had left an album playing on loop.
Looking back, I've noticed that all the music I've produced over the last half decade, in one way or another, has embodied the spirit of the musical hallucination, as if, subconsciously, I'd been channeling the phenomenon through my practice. Consequently, Island Terminus became my first attempt to work with the musical hallucination on a cognizant level, as opposed to having it bleed in from the subconscious. The short, looped nature of the musical hallucination guided my construction of the sounds, while ultimately, the goal was to create a piece of music that could freely roam between the sentient and intuitive listener's mind.
1. 21:51
MP3
2. 22:41
2 Tracks (44′32″)
Island Terminus was completed over a span of six weeks in early 2012, during the CRES Media Arts Committee Residency in Vancouver, BC.
The audio was culled from recordings made of three separate ferry voyages through the coastal waters of British Columbia, which included a number of stops at port locations I had been interested in recording at for a while: Langdale, Victoria, Nanaimo, and Horseshoe Bay. I spent three days total traveling to these locales. Along the way, I recorded the creaks and bellows emanating from the ferries themselves, proving most enriching to the cyclic, mechanized nature of the final work.
My intensions to create a single, unified, piece were thwarted while in the studio, as the source material began to naturally diverge. Very quickly, I found myself with two distinct movements. The second of the two pieces, I believe, better captures the heart of the musical hallucination­, while the first is more contextualized, showcasing a kind of narrative of sea travel along the BC coast.
Despite the separate paths they eventually took, the two pieces remain intrinsically connected. One could not exist without the other, and their distinctive approaches to sound, framed in the context of port inhabitation and sea travel, lend to the necessitation of the work being experienced in succession. In a seasick sort of way, I like to think it all works.
For additional information and a day-to-day breakdown of the recording trips, please visit:
www.islandterminus.wordpress.com
www.soundcloud.com/susanlawly-1
Field Recording Series by Gruenrekorder
Gruenrekorder / Germany / 2013 / GrDl 119 / LC 09488
---
Caity Kerr | The Field Reporter
Adrian Dziewanski is a Vancouver based sound artist who, in his own words, 'believes in the potency and poetry of musical happenstance and advocates for the benefits of active listening'.
Island Terminus [44:32] (2012), released on Gruenrekorder's digital label, is a two-track album. Extensive sleeve notes can be had here. In offering some background to your listening experience I should mention that Dziewanski suffers from tinnitus, which he describes as a 'musical hallucination'. In Island Terminus he decided to work with this affliction on a conscious level, channelling the phenomenon through his practice. Secondly you might like to know that the audio was culled from recordings made of three separate ferry voyages through the coastal waters of British Columbia, which included a number of stops at various ports along the way.
Paraphrasing the sleeve notes the first track [21:51] is more contextualized, showcasing a narrative of sea travel along the British Columbia coast. Track two [22:41] better captures the heart of the musical hallucination.
Track 1 is a full and rich broadband soundscape in which no attempt is made to reduce the sonic power of the machine-made sounds. Importantly, the basic compositional techniques of this kind of work are well represented: transitions and crossfades with corresponding shifts of register, a relaxed pace, perhaps reflecting the fact that in ferry travel you can't exactly get off the boat in a hurry. I would point out also the effective juxtaposition of abstract(ed) sections with more straightforward 'realistic' representational passages. Having listened to dozens of works like this I often suffer from listening fatigue because of an over-abundance of broadband energy, flavoured and coloured of course by whatever microphones and devices are in use at the business end. Adrian Dziewanski overcomes this potential problem, only up to a point, by combining shorter sections of material, varying the spectrum and reducing the threat of full broadband sonic onslaught which, in addition to tiring out my ears, can often be timbrally or morphologically uninteresting and/or unmusical. The trick here, and Dziewanski is on to it, is to make the piece appealing by using basic and time-honoured musical techniques – obvious but often overlooked by composers who get too close to their material.
Another effective device is the use of the appearance of the ship's horn to punctuate the narrative. This struck me as emotionally evocative, similar in many ways to bells and carrying by extension the notion of people calling to each other over distances, mediated by technology. There are however no voices, though there are many hints at human agency.
The piece flags a tiny bit in the last third but the raw material would challenge most people. I'd say it's very well handled in the end. The last three minutes are classically acousmatic, offering us a distinctive banging sound, perhaps as the ferry draws into port.
Track 2 takes us into a long slow crescendo up to around 10', gathering energy across the full bandwidth, though with a perceptible high frequency peak which perhaps alludes to the 'musical hallucination'. There is no lack of detail in the middle of all this: watery sounds, machine drones, fluctuating clatters and bangs – the full works. And never too harsh as there's probably some kind of filtering at work to take off the rough edges, though again the full bandwidth is tiring over the course of the piece. Something I like do in listening to this kind of work is to stop and start playback at various points to test for the full-on whooshing sound which causes the ear fatigue. I'd add to this the habit of walking in and out of the listening room to figure out if I've missed anything or if anything has moved on.
An interesting project would be to consider how far these kinds of pieces resemble each other across a range of individual compositions, gathered under 'field recording' or 'phonography'. Furthermore, setting aside the composer's intentions for a moment, we might ask if this is a document of what could (by some) be construed as a fairly uninteresting sonic experience – the documentation being the interesting part. Or we might ask to what degree the composer has transformed and arranged the material to make it interesting.
Overall, if you like what is becoming a classic kind of soundscape experience, this is a good one in many respects, and represents the emerging idiom very well.
Album of the month / April @ Musique Machine
Hal Harmon | Musique Machine
"Island Terminus" is a 2 track album by Adrian Dziewanski. Recorded over the the span of 6 weeks, the album is Mr. Dziewanski's attempt at capturing Tinnitus as songs. Yes, Tinnitus, the equivalent of an aural hangover after a long night of live music. Working with the musical hallucination, as he put it, he wanted to achieve the sensation of having a song stuck in the listeners head to the extreme. Does he succeed? Maybe….maybe not. What he does deliver is over 40 minutes of well-crafted and engaging field recordings taken over a series of ferry rides.
The artwork presented with the release are all beautifully captured photos, no doubt from Mr. Dziewanski's nautical travels. The cover shot is a close up of thick metal rope, likely acting as railing to one of the ferries he rode. Photos of sunsets, mountain ranges, docks, all serve this release well.
A great work of fiction should be able to transport the reader to a different place and time. Likewise well done field recordings have the similar effect on me. Perhaps the audio medium even more so, since it's a wholly immersive experience for me. In the 2 tracks that make up "Island Terminus" we are met with crashing waves, gusting winds, and atmospheric soundscapes.
You're a lone traveler aboard your sailing vessel. The quiet sea air bristles along your ears as a portent to heavier weather ahead. The wind picks up and increasingly raps on the hull of your vessel like an uninvited guest. It's you versus the elements. Storm clouds build, tidal waves smack and crash, and in the distance a seagull struggles to stay airborne. The elements build, looking to capsize your now fragile vessel. You batten down the hatches determined to ride it out. There's nothing out there, just the faint glow of a lighthouse calling you back. Before you know it, the storm clouds recede and then it's back to a quiet respite.
I may not be experiencing Tinnitus right now, but it was an exhilarating ride. I look forward to more of Mr. Dziewanski's soundscapes down the road. Till then I'll give "Island Terminus" another spin and get lost at sea.
Guillermo Escudero | Loop
Adrian Dziewanski is a sound artist who lives in Vancouver, Canada and works under his own name besides side-projects and he has released in several imprints. In his production he uses analog tapes, small motors, found objects, and field recordings. This is also combined with poetry reading, highlighting its sound recording. On the other hand, Dziewanski write reviews for the American online Dusted Magazine and runs the Scrapyard Forecast blog in order to spreads minimalism, field recording, electroacoustics, noise, ambient, and/or musique-concrete, 'Island Terminus' became his first attempt to work with the musical hallucination on a conscious level, rather than in the subconscious one. The field recordings were made in three separate trips on ferry that Dziewanski did in the coastal waters of British Columbia, ocassion when he visited the ports of Langdale, Victoria, Nanaimo and Horseshoe Bay. Dziewanski recorded the creaks and bellows emanating from the ferries and the ceaseless noise of the engines, in addition to distant voices. This work shows the mechanical activity of this type of transport that Dziewanks transformed into a tapestry of drones.