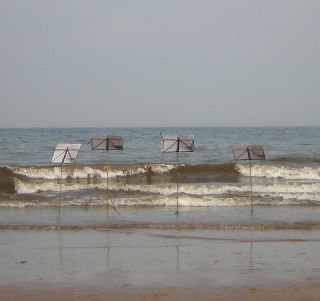 Iain Armstrong
is a composer and sound artist based in Birmingham, UK.
He is interested in the act of listening, phonography and finding musical ways to express these interests. Working almost exclusively with recordings of the sound environment, he aims to expose the inherent musicality of this material through reduced listening, digital manipulation, composition and performance. Iain creates works for fixed media that receive regular presentations in the UK and internationally. His work includes soundscape, acousmatic and radiophonic composition, sound design for theatre and visual media, multichannel sound installation and electroacoustic performance.
Iain performs under the moniker 'Anvil & Stirrup', a collaborative project with Antti Sakari Saario. He is also a director of SOUNDkitchen, a Birmingham based collective dedicated to the creation and presentation of experimental music and sound art.
http://iainarmstrong.net
http://soundkitchenuk.org
Gruenrekorder:
Iain Armstrong: "Sacred & Profane" (GrDl 123/13)