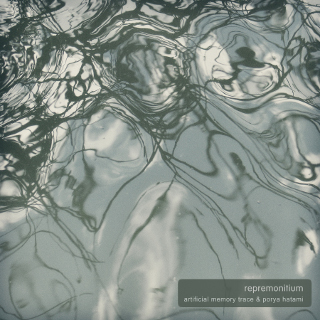 REPREMONITIUM | Artificial Memory Trace & Porya Hatami
GrDl 171 | Gruen Digital > [order]
MP3 & FLAC
Reviews
Following from their 2015 release "EVOLVA 5", Porya Hatami and Artificial Memory Trace continue their ongoing collaboration. Since 2014 the artists, based in Iran and Ireland respectively, have been exchanging field recordings from their local areas and processing them into otherworldly soundscapes.
This extensive project's latest chapter is "REPREMONITIUM", a single piece lasting nearly 70 minutes and covering a lot of ground in its duration. Soft bell-like chimes flicker across the stereo field, the resonances of which grow into longer shapes and forms, until overtaken by more abrasive sounds that resemble Shepard tones, rising and falling, undulating into infinity. Darker moods are conjured in the middle section, more submersed, aquatic and buried. Varying from dense and super-structural, to ultra-minimal, the final third ends with the faintest of harmonics and distant melody.
This is abstract sound art presented as a journey, where music isn't so much played but implied. The found sound of everyday caught by microphones, constructed and composed.
1 Track (78′46″)
Excerpts:
Sound Art Series by Gruenrekorder
Gruenrekorder / Germany / 2017 / GrDl 171 / LC 09488
---
Beach Sloth
Artificial Memory Trace & Porya Hatami hark back to early electronic music pioneers with the soothing bliss of "Repremonitium". Quiet and contemplative the piece unfolds in discrete ways. Subtle transitions are of the utmost importance for the music shifts with grace and taste. By incorporating lovely tender analog sounds alongside found sounds and manipulated field recordings, the sound feels alive. Layer upon layer of this work results in miniature movements and symphonies, all of which come together in a blissful serene state.
Nearly silent, the sparkling introduction begins the piece on a gentle note. With every sound fully realized the way that the piece unfurls feels gorgeous. Slowly but surely, they zoom out, incorporating a wider spectrum of sounds into the mix. Eventually the outside world is brought into the fray, letting the tactile sound further emphasizing the fragile nature of the piece. Akin to a classical style, the next movement has a nearly nostalgic, yellow-hued tone that drifts off into the infinite. The texture changes once more into something much more industrial as the romantic sheen wears off for a bit. Halfway through the piece everything gains a meditative, Zen-like quality to it. Various details are scrubbed clean resulting in a shimmering drone whose static qualities are calming. For the latter stretch of the piece Artificial Memory Trace & Porya Hatami create a mood like that of Vladimir Ussachevsky's cherished 50s and 60s works.
With "Repremonitium" Artificial Memory Trace & Porya Hatami deliver a spellbinding work, one whose temperament is trance-like in tone.
link