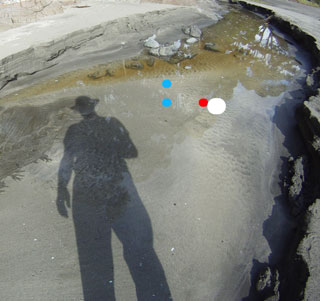 Slavek Kwi (Artificial Memory Trace)
is sound-artist, composer and researcher whose main interest lies in the phenomena of perception as the fundamental determinant of relations with Reality.
He has been fascinated by sound-environments for almost 30 years, focusing on electroacoustic sound-paintings. These complex audio-situations are created mainly from site specific recordings ñ last years especially fascinated by tropical rainforests, resulting in subjective reports for radio broadcast, cinema for ears performed on multiple speakers, sound-installations integrated into the environment and performances. Interested also in free-music research as part of social investigation and employing the space and any objects it contains as musical instrument. His works oscillates between purely sound based and multidisciplinary projects.
From the early nineties Slavek has operated under the name Artificial Memory Trace. He has published 12 CD/LP-albums and contributed to numerous international compilations. AMT works are performed, distributed and/or broadcasted across Europe, North America, Australia and Mexico.
Collaboration piece realised with Eric La Casa ìVibratility.Mozaikî received recently Prize of the Electroacoustic Sonic Art Category in the 29th International Competition of Electroacoustic Music and Sound Art, Bourges 2002 in France.
He facilitates experimental sound-workshops with autistic children and those with learning disabilities. The workshop technique places emphasis on extensive listening and the stimulation of creativity through observation and the support of natural tendencies. Currently he works in St.Brendanís Psychiatric Hospital and for The National Concert Hall in Dublin, Ireland.
Slavek Kwi was born in former_Czechoslovakia, has been living 14 years in Belgium and from 2000 he is based in Ireland.
Gruenrekorder:
Slavek Kwi (Artificial Memory Trace): "Collection 5" (Gr 080/11)
ARTIFICIAL MEMORY TRACE: "ULTREALITH" (Gruen 110/12)
Slavek Kwi (Artificial Memory Trace): "SURROUNDINGS" (GrDl 134/14)
David Michael & Slavek Kwi: "MMABOLELA" (Gruen 144/14)
ARTIFICIAL MEMORY TRACE: "ANOURAN LOVE SONGS" (Gruen 152/14)
Artificial Memory Trace & Porya Hatami: "REPREMONITIUM" (GrDl 171/17)