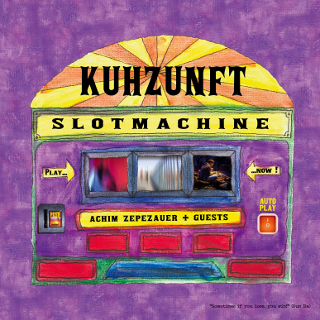 Slotmachine | Kuhzunft (Achim Zepezauer)
Gruen 186 | 10" Vinyl + Digital > [order]
Reviews

The "Kuhzunft-slotmachine" is a website-project, based on a picture of a crayon-painted slot machine. Clicking the start button activates the machine to randomly combine pre-produced recordings (of 45 seconds length) within three slots. Instead of typical fruits in the display, you would see photos attached to the specific sounds by the artists responsible for the content. Even the names of the "songs" are put together by the single names each artist had chosen for their recordings. The vinyl release on Gruenrekorder documents the project with a selection from 13 artists and 158 recordings, that offered a possibility of 3.944.312 tracks. The online-slotmachine has the ability to continuously grow and contains at the date of the vinyl release (February 1st, 2019) four more artists and a total of 225 recordings, providing some 11.390.625 possible titles. Visit slotmachine.kuhzunft.com to discover the project yourself. You can either simply press START and get surprised or deactivate AUTO PLAY to make a selection.
The vinyl features:
Jaap Blonk (NL) – Voice
John Chantler (AU) – Modular Synth
Serge Corteyn (DE) – Guitar
Rhodri Davies (GB) – Harp
Gailė Griciūtė (LT) – Prepared Piano
Richard Lerman (US) – Piezzo, Hydrophone
Seán Mac Erlaine (IE) – Woodwinds
Jérôme Noetinger (FR) – Tape Machine
Pablo Paredes (CL) – Keyboards
Michael Vatcher (US) – Drums
Simon Whetham (GB) – Field Recordings
Marta Zapparoli (IT) – Radio Waves
Achim Zepezauer (DE) – Drumcomputer, Electronics, Acoustics
The online slotmachine also features:
Émilie Girard-Charest (CN) – Cello
Florian Hartlieb (DE) – Computer
Bart Maris (BE) – Trumpet
Carolin Pook (DE/US) – Violin
Achim Zepezauer (DE) – Words
Pablo Paredes (CL) – Mastering
Guida Ribeiro (PT) – Website Developing
---
Excerpts:
Simon Whetham // Achim Zepezauer // Jérôme Noetinger
Cowshed Neck Rupture 00:48
MP3
John Chantler // Richard Lerman // Achim Zepezauer
High Tokyo-Bridge Road 00:47
MP3
Jaap Blonk // Seán Mac Erlaine // Gailė Griciūtė
Oh Melodica Come 00:47
MP3
Simon Whetham // Marta Zapparoli // Pablo Paredes
Rain Pipe Love-Story 00:45
MP3
Michael Vatcher // Rhodri Davies // Gailė Griciūtė
Raw Women Emerge 00:49
MP3
Achim Zepezauer // Serge Corteyn // Simon Whetham
Himmel Cushion Room 00:46
MP3
30 Tracks (24′00″)
10" Vinyl (500 copies)
---
The project "slotmachine" was kindly funded by:
Sound Art Series by Gruenrekorder
Germany / 2019 / Gruen 186 / LC 09488 / GEMA / EAN 193483182216
---
Jaap Blonk: "I just listened to it and I really like it. Good job!"
Richard Lerman: "Looks and Sounds Great….And I won 10,000€ !"
Seán Mac Erlaine: "I kept trying but couldn't find one combination that didn't work amazingly well!!!"
NM in ElectronicSound: "Visit slotmachine.kuhzunft.com for hours of fun."
— And now to something competely conceptual, a new way of interactive composition technique introduced by Achim Zepezauer and his Kuhzunft project which results in this 10″ to be released on the Gruenrekorder-imprint on February 1st, 2k19. All 30 – sic !!! – under one minute tracks on this one have been composed as a collage using a virtual slotmachine of sorts filled with 158 45 second recordings provided by a set of 13 different artists including the likes of Jaap Blonk, Jérôme Noetinger, John Chantler, Zepezauer himself and many more which are then randomly layered with the program to create a full blown collage of three simultaneously played tunes. The results are, despite way too short to be characterized as tracks, a kind of slightly chaotic set of miniatures, in parts fully experimental and hardly comprehensible, of seemingly electroacoustic nature, resembling bits that could've emerged from early experimental music labs like the BBC Radiophonic Workshop, getting into PostRock, Future DarkJazz or pure feedback driven areas or even touch Ambient and Lo(west)-Fi Electronics realms at times, providing a demanding, yet defo fascinating listening experience for die-hard fans of full-on experimentalism and conceptual novelty music. — Baze.DJunkiii for Nitestylez.de
— Achim Zepezauer collects 158 45-second recordings from artists as diverse as Rhodri Davies and Simon Whetham, and runs them through a Slotmachine. This is about as weird as it gets, a further expansion of Gruenrekorder, designed for the disorientation of Las Vegas' neon lights. — Richard Allen for A Closer Listen
Brian Morton | The Wire Magazine (The Wire 421)
Achim Zepezauer is a relatively recent member of German ensemble The Dorf, the most interesting big band in Europe. His electronics are always vividly detailed and atmospheric, but their most striking characteristic is how neatly and they fit into the band's sprawlingly exuberant aesthetic.
The is something different, a programme of 30 collaborative pieces, all of them approximately three quarters of a minute in length, programmed into an online 'slot machine' that allows the user to play simultaneous combinations of three. It's compelling stuff and could become a dangerous habit. Zepezauer has assembled a network of collaborators, including sound poet Jaap Blonk, woodwind master Seán Mac Erlaine, harpist Rhodri Davies and drummer Michael Vatcher (just the best known of the dozen participants) to create the basic sounds and textures. Track titles are derived from the musicians' own labelling: hence "Chicago Glysophat Cheeks" which sounds like the reviving of a dysfunctional garage band, "Raw Women Emerge" which is plinky strings and drum rolls, and "Wheezychords Instead Trioledad", a minxy backbeat over what sounds like cracklebox and organ.
The sound library effect is sometimes mitigated by something that sounds like it might be fighting its way towards a song, like "Hoppla Drum Schlepp", but it doesn't make more than fleeting sense to think of these tracks in isolation. It's when the barrels start to spin and they come together in ever more exotic combinations that the project begins to fly. Zepezauer has a great sense of humour. His various Knu! projects, including 2015's brilliant My Horse Doesn't Give A Shit (which is like a punk Brötzmann trio or Mats Gustafsson at his most unhinged) always leave a smile on the face, and not just because of the funny titles and covers. Zepezauer takes a palpable exuberance to his manipulations. They may not make a damned bit of musical sense, but they're endlessly – in this case literally endlessly – entertaining.
link
Robert Barry | The Wire Magazine (The Wire 420)
Article – Kuhzunft (Achim Zepezauer)
SLOTMACHINE special track bei the WIRE
Hear an exclusive mix from Achim Zepezauer's Slotmachine
Frans de Waard | VITAL WEEKLY
The word Kuhzunft doesn't exist in German; it is the word Zukunft ('future') pronounced in a silly way. This is the project of Achim Zepezauer, who gets credit for electronics, acoustics, drum computer, realization, drawing an idea. I'd say the idea is the most important thing here. "This 10″ vinyl record documents the website project of musician/artist Achim Zepezauer. It mixes up recordings of 45 seconds long in a slot machine. Online the user can combine three tracks by 13 different artists with different instrumentations, either hand sorted or completely randomized from the 158 recordings. Every artist provides at least ten tracks to generate from, which leads to the theoretical possibility of 1 billion different combinations. Even the names of the songs are put together by the single names the artists had chosen for their recordings." Yes, that idea is a great one; I mean such a website. I checked it out in Chrome but got no sound and in Safari it didn't load very well. I was going to write something along the lines whether it was really necessary to document such a thing (other than the hipness of doing it on vinyl), but it seems it is necessary. The record has quite some random approaches but it works out quite well. Seeing many familiar names from the world of improvisation this is of course nothing weird (Jaap Blonk, John Chantler, Jerome Noetinger, Michael Vatcher, Simon Whetham) and there is a nice anything goes (times a billion apparently) attitude in these pieces, but I remain a bit sceptical about the whole necessity of documenting website onto vinyl. If you like to be lazy and like a bit of free improvisation, noise, spoken word in short fragments of thirty/forty-five minutes than this surely is the thing you want.
link