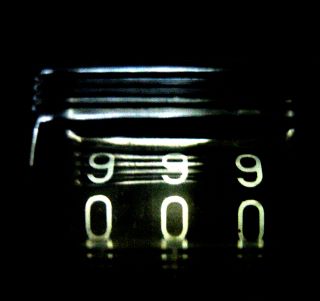 Indicator | Roland Etzin
Gr 042 | Gruen CD-R > [Sold Out]
MP3 & FLAC > [order]
Reviews
indicator follows a path of electronic hypnotic structure into a world of synthetic and glass fibers. artificial and original sound make for the atmosphere of this audio work.
one track, eight parts:
01 | 000
02 | 072
03 | 175
Excerpt:
04 | 276
05 | 338
06 | 441
07 | 531
Excerpt:
MP3
08 | 601
1 Track (48'00")
CD-R (50 copies)
Sound Art Series by Gruenrekorder
Roland Etzin, Frankfurt am Main / 2007
Gruenrekorder / Germany / 2007 / Gr 042 / LC 09488
---
01 Don Poe | EAR/Rational
One long track broken up into 8 internal parts. I dig the artwork on this – some sort of rolling counter display, as found on your odometer, adorns the cover and a nice red painted square is found inside. The disc starts out with a windy day with birds, very interesting and rich location sound that develops into an electric buzzing coming up and eating your feet. What is this – I have no clue, but it has a great bit of modulation and variation in tone. I am not sure if I am listening to found sound or something generated – I am fairly certain it is 'produced.' I like it! As time goes on, more electronic sounds come up, and I am into the world of circuits and chirps. This is timeless – it could be experimental music from the '40s or the latest rage. It is a real sound journey, no melodies, just sculptures and textures, more often in the lower frequencies but plenty to tickle the ears, as well!
02 Frans de Waard | VITAL WEEKLY
The name Roland Etzin we have heard before, mainly through compilations on Gruenrekorder, where he was noticed for the some more noisy end of field recording. On 'Indicator', which is one track in eight parts, the field recordings seem to merely serve as pieces in between the parts, when Etzin moves through various stages of highly processed electronic signals. Those might have found their origins also in field recordings, but then Etzin knows how to hide that. It's not music that moves me, but what I do like about it, is that it's something that you don't hear very often: the combination of field recordings with noise elements. It needs further shaping but it's quite nice. (FdW)