John Wynne
is a sound artist. He has a PhD from Goldsmiths College and is a Senior Lecturer in sound arts at the University of the Arts London. He was artist in residence for one year, along with photographer Tim Wainwright, at Harefield Hospital, one of the world's leading centres for heart and lung transplantation. The Transplant project includes a 24-channel installation in which the artists "pick their way across a minefield of colossal emotions, hallucinatory experiences and cutting edge medical technology with great tenderness and delicacy." (The Wire)
John's work with endangered click-languages in the Kalahari Desert resulted in an award-winning piece for BBC radio and an installation shown in Botswana, Namibia and London. He has created large-scale sound installations in public squares using alarm sounds of his own design: one was banned by the City of Copenhagen for allegedly "frightening and confusing the public" and another in Toronto described as "an ambient, ghost-like presence". He has created installations using hundreds of discarded but working hi-fi speakers: Fallender ton für 207 lautsprecher boxen in Berlin sounded "like Heaven …and Hell". Upcoming shows include Beaconsfield Gallery in London and the Museum of Anthropology in Vancouver.
The hospital residency was funded by Arts Council England and supported by Royal Brompton and Harefield Arts.
www.sensitivebrigade.com
www.thetransplantlog.com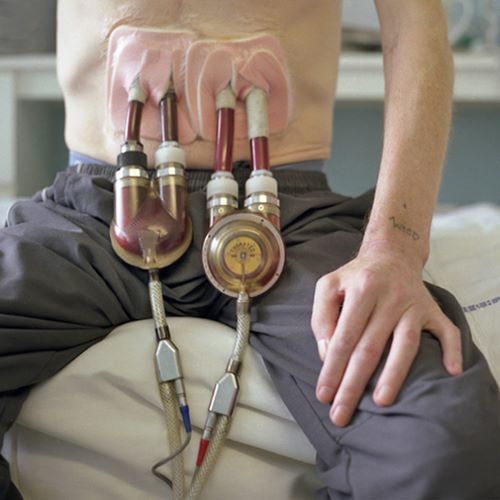 "Hearts, Lungs and Minds" (edit)
This is an excerpt from a half-hour 'composed documentary' commissioned by BBC Radio 3. Working closely with photographer Tim Wainwright, I recorded patients, the devices they were attached to or had implanted in them – and the hospital itself. All of the people whose voices you hear in this piece have had a heart and/or lung transplant or were waiting for one when I met them. Sadly, some have since died. Every sound you hear was recorded within the transplant centre, though some have been twisted and shaped afterwards, often in response to the comments or stories of patients. The piece hovers on the border between documentary and abstraction, exploring what anthropologist Tom Rice calls "the cacophony of disease". Hearts, Lungs and Minds won the Bronze award at the 2008 Third Coast International Audio Festival in Chicago.