Viv Corringham
is a British sound artist, vocalist and composer, currently based in Minneapolis, USA. She has given concerts and exhibited sound installations throughout Europe, USA, Brazil, Turkey, Russia, Mongolia and Australia.
Her work usually involves walking, as a method of investigating people's relationship with place and how that links to an interior landscape of memory and association. The experiences and materials gathered on these walks find their way into installations, recordings and concert pieces.
She has had many awards, including a McKnight Composer Fellowship for 2006 through the American Composers Forum. Articles about her work have appeared in Organised Sound (UK), Musicworks (Canada), Playing With Words (UK) and For Those Who Have Ears (Ireland).
Recent work appeared in New York, Toronto, Portugal, San Francisco, Istanbul and Minneapolis.
www.vivcorringham.org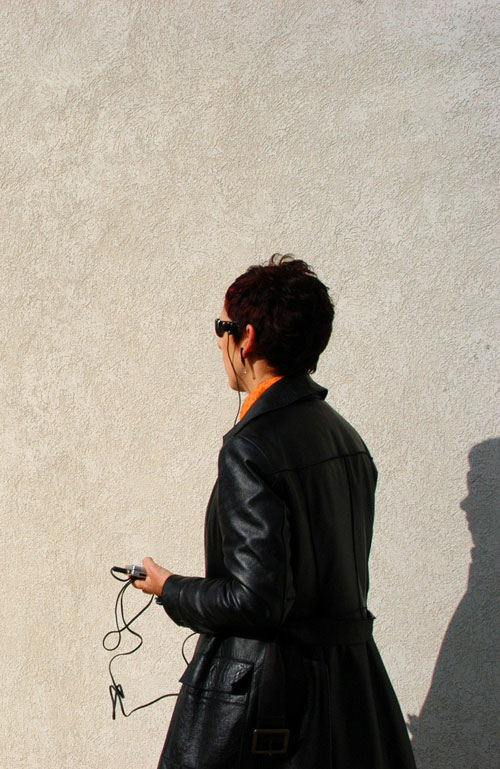 Skywalks
Skywalks is a composition based on my interest in the skyway system of Minneapolis, USA, and the people who walk within it. Eight miles of sealed bridges – climate-controlled and privately owned – transport pedestrians above street level to shops and workplaces, occasionally passing through indoor courtyards where trees and fountains recall the outside world.
My work as a sound artist is rooted in people's relationship with familiar places, and usually includes recording conversations as they take me on walks selected as special or meaningful to them. But for these recordings within the skyways I walked alone and listened to the words of people passing by. Narrow tunnels and large enclosed spaces created sharp reverberations and dense, swirling fogs of resonance. Certain partially heard utterances, often intriguing or poignant, rose to the surface, such as: "My past week hasn't gone good," or "We've lost our spirit. When we were young…"
Skywalks is a sonic portrait of the place, combining overheard words, environmental sounds and my own improvised singing.