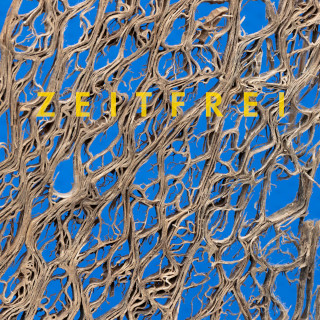 ZEITFREI | Matthias Engelke
Gruen 208 | Audio CD > [order]
Reviews

In the album ZEITFREI the mesmerizing timbre of the classical soprano voice of Maraile Lichdi interweaves with an acoustic and electronic world of sound. The songs are characterized by the concept of the ambivalence of the temporal in music. In the lyrical, sketch-like texts, always vague and associative, the topics of transience, vanity, disorientation, loss of control, alienation, farewell, sorrow and finally the invincibility of time but also the resilience of man, are reflected in polarising musical levels. These poles are represented in the unstoppable and directed passages of time, to be heard on the one hand in melodies and melodic fragments and on the other in repetitive and ecstatic sound fields. The inescapability of time is thereby confronted with the ancient desire of man, the utopian ideal of overcoming finiteness by overcoming time itself. The dream to be, and to stay, free of time.
Tracklist:
01 | Ariadne
MP3
02 | Eigenblind
03 | Die Farben der Leere
MP3
04 | Minotaur
05 | Fern zersilbert
06 | Unschärfe
07 | Zeit versetzt
08 | Sisyphos
MP3
09 | Sichtweiß
10 | Augfaden
MP3
11 | Sirene
12 | Das alte Boot
13 | Ruhe im Schatten
MP3
13 Tracks (79′21″)
CD (500 copies)
CD contains:
Music and lyrics by Matthias Engelke, Soprano sung by Maraile Lichdi
Foto series "Vision" 2021 by Gustav Franz
Essay "ZEITFREI" in German by Christian Lemmerich
Sound Art Series by Gruenrekorder
Germany / 2022 / Gruen 208 / LC 09488 / GEMA / EAN 4064832826166
---
Guillermo Escudero | Loop
Matthias Engelke is a German composer and sound artist who has been composing music for contemporary dance theater and theater productions since 2001. In 2021 he released his album "Resonant Dowland" and in 2022 "Zeitfrei", belonging to the series Sound Art of the German label Gruenrekorder.
Participating in this album is the German soprano Maraile Lichdi, who has been working as an independent opera, concert and lieder singer since 2009. Her repertoire includes almost 40 opera roles and more than 40 concert and oratorio works. Helmut Engelke plays violin and viola, Ulrike Mäding-Lemmerich, plays violin and Matthias Engelke is in charge of the music composition, lyrics, piano and electronics.
Matthias Engelke's work has been focused on the interaction between his composition and analog electronic instruments, as well as how the latter are positioned in the spatiality of a theater.
"Zeitfrei" (Free Time) of 13 compositions of electronic music and modern contemporary music, where Maraile Lichdi's high-pitched and solemn voice is intertwined, for example, between the heavy electro beats of "Ruhe im Schatten", the minimalist textures of "Zeit versetzt" and the classical string arrangements on "Die Farben der Leere". "Minotaur" astounds for its twisted electronic sounds and heavy beats. Whereas, "Sisyphos" shows how the notes of the violin and viola interaction with the subtle beats, giving way to Maraile Lichdi's voice to the top, creating a playful atmosphere that fits very well in the theatrical context.
Matthias Engelke explores the interaction of electronics with the theatrical field and the spatiality of the escenarios, allowing to take the listener to a playful world, with possible stories that are moved by their sorrow, as well as the capacity to overcome it.
link
Martin Hufner | HörBar der neue musikzeitung
Eine eigene musikalische Welt stoßen hier Matthias Engelke und Maraile Lichdi auf. Natürlich, wer macht das nicht oder hätte nicht diesen Anspruch. Die eigene Welt hier ist keine gänzlich unbekannte, aber doch nie Gehörte. Diese CD mit ihrem wunderbaren Artwork in Booklet und Cover ist gleichwohl speziell und von unerhörter Faszination. Die Kompositionen begeben sich in einer Mischung aus Original-Klängen (Musique concrète) und mittels weiterer technischer Verfahren verfremdeter Klänge auf Wanderschaft in subtilste Klangmischungen und rhythmische Muster.
Wie soll man das erklären. Die Musik tänzelt gewissermaßen auf Stiltechniken neuer Musik, improvisierter Wirkung und extremer Reduktion des Materials. Darin entschwebt die solistische oder vervielfachte Sopranstimme von Maraile Lichdi, die wie feinster Stahl die Klanglandschaft aus der Kompositionsdose wie ein heißes Messer in Butter teilt oder mal pikst oder eben darüber zu entfleuchen scheint.
Das ist modernste mittelalterliche Musik. Archaisch, klangfigurativ, repetitiv gemischte Muster darinnen halten das Klanggebäude zusammen. Kathedralös, wie Licht bunt gefächert im so dunklen wie reichhaltigen Raum – deutlich knapp auch mal am Kitschton vorbei. Unscharf und präzise in eins. Diesig und klar zugleich. Ein unendlicher Strom und doch gebändigt. Erstarrende Poesie. Erlösend und beklemmend. Trivial und komplex.
Nix für ganz Nebenbei, nix für verklemmtes analytisches Hören. Schön, dass die Garderobe der Avantgarde ein bisschen durchgeklopft wird. Wunderwerk!
link