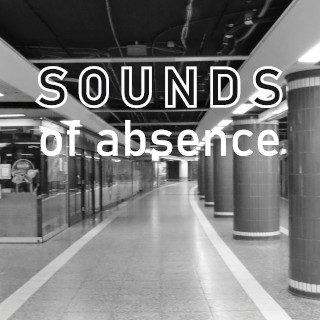 Sounds of Absence | Various artists
Gruen 209 | Audio CD > [order]
Reviews

Sounds of Absence collects artistic positions on the notion of absence, shaped by two years of pandemic lockdowns. The compilation is a cooperation project with the research group ARS – art research sound – at the Hochschule für Musik Mainz, led by Peter Kiefer, and curated by Wingel Mendoza and Joshua Weitzel.
In 2020, ARS initiated a website to collect sounds of public spaces during lockdown conditions, in order to capture the sound of this unique absence of everyday buzz.
In the second lockdown, as the regulations became increasingly complex, this idea developed into the compilation project. Instead of purely documenting the absence, artists from all over the world were approached and asked to contribute a piece that in some way deals with the absence and the conditions of the past two years.
Sounds of Absence hence brings together artistic positions from all continents and encompasses a wide variety of artistic approaches towards field recording and electro-acoustic composition.
---
Tracklist:
01 – Patrick Hartono: Lockdown (binaural for headphone)
02 – Emmanuelle Waeckerlé: What is left if we aren't the world
03 – Nicola L. Hein: New York Oh My Mind
04 – Danbi Jeung: Opacity Crowd
05 – Viola Yip: Silent Train | MP3
06 – Haco: Sho-Fuku Hill | MP3
07 – Lasse-Marc Riek: Ausgangssperre_01_01_2021_21Uhr_05_Steinheim_Hanau
08 – Cecilia Arditto: Anatomy of a Jar
09 – Juan David Bermúdez: Inner Voices (all we have left is noise) | MP3
10 – Raphael Kariuki: Defiance | MP3
11 – Dominykas Digimas: Flow Song
12 – Jim Igor Kallenberg/Joshua Weitzel/Michael Zwenzner: I am sitting in a z[u]m
13 – Wingel Mendoza: La distancia aclara una voz
14 – KMRU: Window Stills
15 – Roland Etzin: Electromagnetic Fields MTZ
16 – stefan g. fricke: K119
17 – Alvin Curran: Containment Etude 0.1
17 Tracks (71:42)
CD (500 copies)
---
What is the sound of absence? …
… was the question that Peter Kiefer, head of the group ARS: art-research-sound at the Mainz Music School asked when the first lockdown of the Covid-19-pandemic came into place. Subsequently, he initiated a platform for collecting field recordings from all over the world of landmark public spaces under lockdown conditions.
As the second lockdown phase hit, this idea developed into exceeding pure documentation, into the idea to ask artists from all over the world for contributions that artistically employ the idea of absence and the lockdown conditions. We are happy to have gathered a diverse array of artistic engagements on the subject from all over the world. Field recording is used in many of the pieces, such as in Lasse- Marc Riek's total silence recording of Hanau under curfew condition, or Roland Etzin's electro-magnetic explorations of Frankfurt's storefront windows that are still very much active despite closed stores, or in Danbi Jeung's atmospheres of Frankfurt Airport, or KMRU's Window Stills.
Other tracks follow entirely different concepts of absence: In Viola Yip's Silent Train we are confronted complex audio feedback reminiscent of a spooky empty train carriage. Juan Bermúdez instead uses empty recording devices for crisp recordings of actual emptiness. Cecilia Arditto uses utensils from her house for her composition. The retreat into the domestic refuge is present also in Alvin Curran's Containment Etude 0.1 which is part of six hours of recorded material that Curran made during lockdown in Berkeley, California using a collection of samples. In Emmanuelle Waeckerlé's composition, recordings from her home in London and one from stay-over trips to Saltdean are used, bringing the wind and her voice together in reference to Timothy Morton's Hyperobjects. Wingel Mendoza also addresses the voice in isolation, rendered unintelligible and drowned in electronic sounds. Electronic sounds are also the most prominent presence in the binaural piece of Patrick Hartono, which creates an intense acoustic impression of a lockdown.
In other cases, field recordings are treated differently, such as in Nicola L. Hein's AI-based processing of recordings of fireworks during the BLM-Protests in New York, field recordings of Kobe along with a gentle synthesizer in Haco's Sho-Fuku-Hill, or the merging of various recordings in the collaborative work of Jim Igor Kallenberg, Joshua Weitzel, and Michael Zwenzner, who blended recordings of a glitch in a sound-studies online conference with processed recordings from Wilhemshöhe Park in Kassel and a private home in Munich. Raphael Kariuki explores with his recordings a neighbourhood in Nairobi and walks along the sounds of illegal easter worship gatherings leaking out of houses and churches. Stefan g. Fricke, on the other hand, blends voice samples of Theodor Adorno together with the atmosphere recorded in front of Adorno's grave in Frankfurt, resulting in the words forming a sentence from Erich Kästner's poem 'Meyer IX. im Schnee'. Dominykas Digimas' work was based on the coincidence of the rare occasion of the river Neris in Vilnius being completely frozen while lockdown was keeping people in their homes. He used various techniques to record the river.
All the perspectives collected in this compilation are individual and mirror the different situations in the different countries. The situation in Bogota, Frankfurt, Kobe, New York, London, Nairobi and Vilnius were all different, as are the fates by those affected by the pandemic. But this pandemic is also something we all experience and in our different experiences we are united.
Joshua Weitzel, January 2022.
---
Mastered by Moritz Reinisch, Mainz Music School.
Cover Photography by Wingel Mendoza.
Design by Joshua Weitzel.
Sound Art Series by Gruenrekorder
Germany / 2022 / Gruen 209 / LC 09488 / GEMA / EAN 196626280428
---

---
Rigobert Dittmann | Bad Alchemy Magazin (115)
V/A Sounds of absence (Gruenrekorder, Gruen 209): Was da erklingt, ist Ausfluss des Projekts ARS Art – Research – Sound, über dem Professor Peter Kiefer waltet als Leiter des Studiengangs Klangkunst-Komposition an der HfM Mainz. Kuratorisch tätig waren allerdings Wingel Mendoza als einer, der dem Gott des Windes und der Gelehrsamkeit lauscht und bei "Fünf Wörter aus dem Main" Hölderlin und Hindemith. Und mit dem Kasseler Klangkünstler Joshua Weitzel ein zweiter, dem man ebenfalls auf hr2-kultur begegnet, wenn Stefan Fricke in der Reihe 'The Artist's Corner' Ars Acustica moderiert. Sie alle drei liefern auch Antworten auf Kiefers Frage, wie sich Lockdowns und Ausgangssperren akustisch auswirken. 14 weitere Rückmeldungen kamen aus dem totenstillen Hanau (Lasse-Marc Riek), aus Frankfurt (Roland Etzin, Danbi Jeung), London (Emmanuelle Waeckerlé), Kobe (Haco), Nairobi (Raphael Kariuki), Berkeley (Alvin Curran) oder dem eisigen Vilnius (Dominykas Digimas). Meist mit Fieldrecordings von Wind, von fahrenden Zügen, daneben auch mit Samples, Feedback, Synthie oder Electronics, die ein Fehlen suggerieren oder konterkarieren. Oder die eigene Stimme, die, statt Einspruch gegen das Verstummen zu erheben, bei Waeckerlé das eigene Überflüssigsein absegnet und bei Cecilia Ardittonoch bedenklichere Symptome zeigt. Patrick Hartono schiebt und schockt perkussiven, dröhnenden Lärm quer durchs Hirn. Nicola L. Hein zerfurzelt und verzwitschert Black-Lives-Matter-Protestlärm in New York. Viola Yip lässt einen leeren Zug spuken. Kariuki hört bei einem Spaziergang die eigenen Schritte, evangelikale Prediger und Vögel, KMRU hört bei offenem Fenster Spatzen und Tauben zu. Bei Digimas klackt, zischt, pfeift, gluckst die zugefrorene Neris. Weitzel & Friends verhackstücken Gelächter und Kollaboration mit verschnarchter Stille und einer Aasfliege. Mendoza lässt es zu rhythmischem Gezuckel und einer Lautsprecherdurchsage elegisch dröhnen, Etzin die Schaufenster geschlossener Läden elektromagnetisch beben. Fricke führt an Adornos bezwitschertes Grab und zitiert mit Müh' Erich Kästners Es ist so furchtbar still. Mir fehlt der Krach. Curran haut daher einen schnatternden Auktionator, eine kieksende Sopranistin und ein Saxofon in die Pfanne. [BA 115 rbd]
link