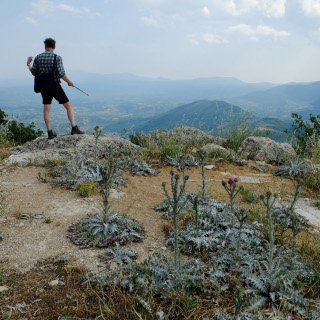 Μεσσήνη (Μαυρομμάτι) | BMB con.
GrDl 218 | Gruen Digital > [order]

In 2018 BMB con. was invited to the Tuned City festival in Μεσσήνη, Greece.
The festival took place in an archeological site, an ancient Greek city with amphitheatres set in a valley with the same bowl-like form. During 3 days, the collective made sonic and visual actions, starting far away in the surrounding mountains and coming gradually closer during the festival – over the city walls and into the centre. The last actions took place in the ruins of the city. They combined the natural environment, electronic and acoustic sound sources with visual signals such as smoke and flags. BMB con. worked together with noid and Raviv Ganchrow for two of the performances. Many thanks to Carsten Stabenow and Tuned City.
---
2 Tracks (43′44″)
---
Soundscape Series by Gruenrekorder
Germany / 2023 / GrDl 218 / LC 09488