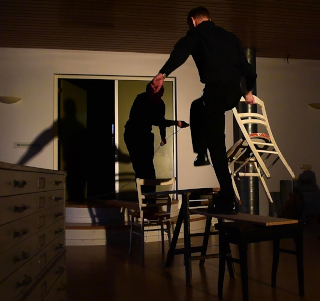 BMB con.
For the last 30-odd years, BMB con. have been performing a balancing act between music and noise, sound and vision, indoors and out, digital and analogue, performer and audience.
Founded by Roelf Toxopeus, Justin Bennett and Wikke 't Hooft in 1989.
Since 2006 BMB con. consists of a core duo working together with a changing group of invited artists / performers. They incorporate electronic and acoustic music, field recording, film, video and physical theatre in their performances and installations. As well as these fleeting, often unique actions, BMB con. make and publish audio CD's, cassettes, videos and photography.
From 2019-2023 BMB con. enjoyed support from the Mondriaan Fund.
For more information see:
bmbcon.org
vimeo.com/bmbcon
bmbcon.bandcamp.com
Gruenrekorder:
BMB con.: "Μεσσήνη (Μαυρομμάτι)" (GrDl 218/23)