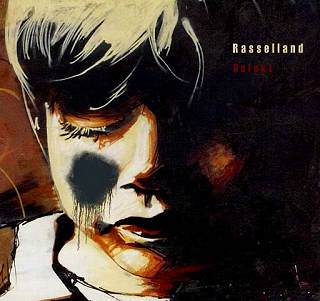 Defekt | Rasselland (Etzin/Riek)
Gr 012 | Gruen CD-R > [Sold Out]
7 soundscape-compositions of environmental sounds
The project "Rasselland" was brought into life in 2002. It is the search for the rhythm of things. Found in daily life we listen to them sounding and telling stories. "Rasselland" creates bizarre short stories out of the heard. The single pieces are like faint memories of fairy tales. If one lets himself into this journey of sound, hearing customs and the perception of harmony are put into question. The cold and the heat, the security and the fear, start dancing with each other. Acoustic images come and go. Imagine a world where the fridge is burning, a war rages in far distance and the puppets dance in the childrens rooms. Defect. While looking in the mirror, you listen to the music someone is playing on a chain saw. Gently you feel secure, woven into warm caterpillar-milk, drinking in rapture of the deep. The impregnate bridge sounds softly, the fatherly treasure of long forgotten times.
Sound recordings of animals, wind, water, fire, earth, people, architektur, acoustic instruments, electronic signals, melodies and frequencies, machines of transport and communication, household appliances, tools, toys.
01 Warme Kühlung
02 Schottisches Hochmoor
03 Kinderkammer
04 Rückendeckung
05 Organische Mechanik
06 Raupenklavier
07 Tiefenrausch
7 Tracks (70'57")
CD-R (50 copies)
Gruenrekorder / Germany / 2003 / Gr 012 / LC 09488
---
Review by Tobias Fischer | tokafi
[…] "Defekt", the first and only release by Rasselland, takes things one step further away from the realms of phonography. A project by the two label founders, this is in fact one of the earliest Gruenrekorder publications and a highly ecclectic and densely atmospheric piece of art. While both Etzin and Riek have since concentrated firmly on pure field recordings, this long and claustrophobic work sees them engage in almost every adjacent style imagineable:
Drifting textures, crackles and digital cuts, samples of coughing, dreamy and surreal organ recitals plucked from an empty church in the midst of night, vast eacho chambers and metallic rumblings, love songs by highvoltage lines as well as grating, gritting and quiet wind noises. Listened to as a whole, it is an almost suffocating experience, while individual chapters are always worked out enough to serve for shorter meditations.
At the level of processing, "Defekt" is, as the liner notes imply, more direct than "Tlayacapan", developping its impact from a refined collage-technique. But while the latter at least still had a concrete physical object it described, Rasselland dives deep into the depths of the human mind.
Perception as such is the object of the album, juxtaposing recordings which are recognisable but unheard-of in their mutual company. "Defekt" proves that context is equally important to our feeling of safety as the actual sound sources themselves. A drastic, but enlightningproject. […]