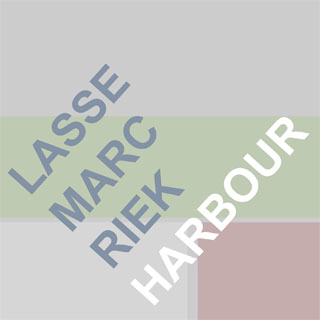 Harbour | Lasse-Marc Riek
Unprocessed Field Recordings 1999–2007, Germany and Finland.
GrD 18 | Audio CD > [Sold Out]
Imagine an incredibly large hall. Its walls are brick built and covered with some sort on lichen. Many of its stone have already started to crumble. The huge space might have witnessed a cotton mill. Anyway, the former industrial site has disappeared. Instead of an majestic void an empty space like this would usually create storage racks have been put into the hall almost touching the cover. Besides, every inch of the solid steel shelves is occupied by folders. Thick like those files from the law series. Compact as they wait on their shelves all of them are closed in storeys high as an apartment block. Impossible to look inside of them, though every single sheet of paper must be covered with signs and letters, symbols and tables from either side. Billions and billions of pages and of characters. What will you hear when you walk the aisles between the storage racks? Between the steel racks, bricks, folders, pages and a cover that lies so high above that it is impossible to figure out what it is made of. Will you hear how the bricks go on crumbling when time passes by? Would the steel groan under its heavy burden and when the draughty air sucked the humidity from the documents? Could you listen to what is inside the folders themselves? Their history, their sad and funny stories, the undoubted truth in and by them? Now, what do you hear when you walk on a dock?
1. Björköby, Finnland
2. Wismar, Germany
MP3
3. Hamburg, Germany
4. Hamburg, Germany
5. Hamburg, Germany
6. Hamburg, Germany
MP3
7. Hamburg, Germany
8. Österö, Finnland
Label: Herbal International, Malaysia
www.herbalinternational.tk
Artwork: Tobias Schmitt, Germany
Liner Notes: Stefan Militzer, Germany
Audio CD, 6 panels digipak, 32:12 Min.
Release date: July 2010
Gruenrekorder / Germany / 2011 / GrD 18 / LC 09488
---
1. Vital Weekly/Frans de Waard
2. The Watchful Ear/Richard Pannell
3. Just Outside/Brian Olewnick
4. Sonomu/Stephen Fruitman
5. Monsieur Delire/François Couture
6. Dan Warbourton/paristransatlantic
Cheryl Tipp | Wildlife Sounds Curator at the British Library
'Harbour' is an absorbing collection of unprocessed field recordings made over an eight-year period at various locations around Finland and Germany. Rather than provide the listener with standard harbour atmospheres, Lasse Marc Riek focuses on the almost microscopic detail of harbour acoustics. We're provided with a fascinating variety of sounds – the first track whet my aural appetite and I remained intrigued throughout. So many different sounds emerge over the course of the CD that the listener should never become bored. Metallic creaks, groans, squeaks, thuds and rattles dominate the foreground, while the background often provides a subtle layer of sound that gives the recordings additional depth.
We begin our sonic exploration of harbours in Björköby, Finland before heading south to the small German port of Wismar on the Baltic Sea. The next four recordings are dedicated to the historic port of Hamburg and my favourite, track 3, falls within this group. This recording is a delicate combination of the mechanical and the natural. The final track in the collection takes us back to the west coast of Finland. Set against a backdrop of calling seabirds and bubbling water, this is perhaps the most evocative or "harbour-like" recording in the set.
The eight recordings are all fairly short, the longest being seven minutes in length, but I feel Riek has selected just the right durations for this kind of collection. Aside from the title and location details, no supplementary information on content is provided. I personally would have liked some additional notes and maybe images, but I think that comes from me working in an archive where accompanying details are crucial. This lack of information does not take anything away from the recordings though. All are of the highest technical quality and possess a richness that makes the listening experience a real pleasure.
As with Ernst Karel's 2011 release 'Swiss Mountain Transport Systems', this collection of recordings is highly esoteric in nature, providing the listener with the gift of unembellished soundscapes that may one day fall into the category of 'lost sounds' as shipping methods evolve. This, together with the overall audio quality and variety of content, makes 'Harbour' the perfect publication for any lover of pure field recordings.