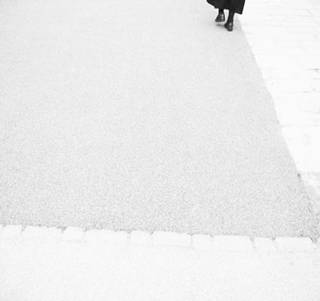 Sebastiane Hegarty
is an artist, writer and lecturer. His creative practice is interdisciplinary and time-based in nature, including sound, installation, drawing, photography, performance, and text. His research interests are concerned with the relationship between time, place and sensation. Most recently this has focused on acoustic ecology and the perceptual geographies of sound and audition, through field-recording and soundscape composition. His practice extends into an investigation of the sounding object, using process, repetition and obsolete media, such as wax cylinders, to explore the loss inherent in the act of recording.
Sebastiane has exhibited in a wide range of media from drawing and photography to film and installation. The extensive exploration of sound in recent work, has contributed to a shift in the site of exhibition toward mediums of communication more normally associated with music. In 2012, he was commissioned by BBC Radio 3 to produce an edition of the series, Between Our Ears. The programme, which explores memory, voice and recording, is scheduled for broadcast in May 2013. Recent radio work also includes the audio essay, The Sound Artist: Listening and walking (2011) for BBC Radio 3, and a weekly soundscape series for BBC Radio Solent, which resulted in a two-part documentary, Soundscapes of the South (2011).
Collaborative works include compositions for dance, such as Innervations; a Wellcome Trust funded project working with Hampshire Youth Dance and the neurobiologist Dr Matt Cuttle (2004). In 2009, Hampshire Wildlife Trust commissioned an extended soundwalk project, exploring, over a year, the sonic environment of the Winnall Moors Conservation Reserve. In 2010, the voice artist Yvon Bonenfant commissioned Sebastiane to produce a visual and tactile score, for the Masz project: this resulted in a sound/video work, which premiered at MIX 2011 (New York). His field-recordings and sound compositions have featured on international radio stations, Gallery transmissions and at festivals, these include: Radio Radeq (SoundFjord Gallery: London, 2012); Art Radio (The Cornerhouse: Manchester, 2007); Framework (Resonance FM, 2011) and Kinokophonography (The British Library, 2012).
Rooted in his PhD thesis and influenced by phenomenological philosophy and neuroscience, Sebastiane maintains an academic interest in the perceptual relationship of the senses. His essay, Lets hear what we can see, which discusses synaesthesia and sensory metaphor, accompanies the DVD release of Guy Sherwin's Optical Sound Films (Lux: London, 2008).
Sebastiane received his PhD from the Winchester School of Art at the University of Southampton in 2003. He lives and works in Winchester, England.
Website: sebastianehegarty.com
Blog: sebastianehegarty.wordpress.com
Project Blog: winnallmoorssoundwalk.wordpress.com
Gruenrekorder:
Sebastiane Hegarty: "Southerlies" (GrDl 118/12)
Sebastiane Hegarty: "Four walks around a year: spring" (GrDl 128/13)
Sebastiane Hegarty: "Four walks around a year: summer" (GrDl 130/13)
Sebastiane Hegarty: "Four walks around a year: autumn" (GrDl 140/13)
Sebastiane Hegarty: "Four walks around a year: winter" (GrDl 141/14)