Rhythm | Various Artists | Gr 050 | Audio CD (Digipack) > [order]
Split release with Cherry Music / Japan
quietnoise | Tobias Bolt
Diese schöne Split-Release zwischen Gruenrekorder und dem japanischen Label Cherry Music widmet sich anhand unbearbeiteter Field Recordings dem Aufspüren und Hörbarmachen von den vorliegenden Aufnahmen innewohnenden Rhythmen, Nebenprodukte also, die, sonst wenig oder gar nicht beachtet, hier sozusagen ,spontan entstehen'. Ein Widerspruch? Rhythmus ist üblicherweise ja eben nicht das chaotische, zufällige und so könnte es sich natürlich auch um Zuschreibungen des Hörers, oder, wenn eine platonische Sichtweise bevorzugt wird, um Entdeckungen des Musikers handeln. In diesem Sinne eröffnet Peter Cusack mit einem recht einfachen Auftakt, nämlich einer Aufnahme von Robotern eines Autowerks, während andere Arbeiten, wie beispielsweise jene von Lasse-Marc Riek, weit mysteriöser bleiben oder, wie bei Takahiro Kawaguchi, der Mensch selber zum (chaotischen) ,Rhythmuserzeuger' wird, wenn vor einer – vermutlich bewusst generischen – Außenaufnahme eine Frauenstimme das Wort ,one' wiederholt. Insgesamt zehn sehr unterschiedliche Zugänge zum Thema tragen so also zu einer zweifellos sehr gut gelungenen Zusammenstellung bei, wobei ich persönlich jene Stücke, denen es an Offensichtlichkeit wie auch an Vorherseh(hör?)barkeit mangelt, am reizvollsten finde.
—-
Into the Green | By Tobias Fischer | link
The Gruenrekorder label is presenting field recordings in full glory.
It is somehow bizarre that a lot of people still do not consider field recordings "music". On the other hand, photography has had to go down a similar road of acceptance. What once appeared to be a "mere" trade has by now surpassed painting as the most influential of the fine/visual arts. It makes sense, too: After all, a photographer not only decides on the right motive, but also on factors such as lighting, angle, distance and she (or he) has more than just a handful of post-shooting techniques at his disposal to transform the picture's qualitities even more. Gabi Schaffner hits the nail on the head with these comments in the introductory text to the second part of the AudioArt Compilation series, which, despite its shortness and thanks to its unacademic tone, is one of the best and clearest explanations of what this genre is about. "In the end", she writes, "it is you who decides whether music is a territory divided up among various dogmas or an open source of inspiration." And the Gruenrekorder label, who commissioned the tracks on this sampler, has always been on the inspirational side.
"We wanted to establish a platform for the great variety of individual projects in field recordings.", Roland Etzin and Lasse-Marc Riek explain right at the beginning of our conversation. "There are two aims: We want to enhance the possibilities for artists, to start or participate in shared projects. At the same time, we want to make it easier for interested listeners to "access" the sphere of fieldrecordings." And indeed, Gruenrekorder has not only served as a means to publish great albums from the various poles of field music, but acted as a catalyst, virtually building a scene where there was none and feeding it with creative input. As one of the first German labels in the field, it has managed to create awareness for its cause and a deeper understandings of its aesthetics. Together with Ahornfelder, which emerged from the vivid and bubbling Eastern German experimental community and has quickly risen to fame thanks to a couple of high-profile releases, it is leading the way for others to follow.
As always, things get off to an unspectacular start: "Gruenrekorder arose out of the shared soundscapes-project "Rasselland". We wanted to publish the album and decided to simply found our own label. That was 4 to 5 years ago. We started to also publish other artists' work straight away." The label grew quickly, thanks in part to the generous support of various institutions in its home base Frankfurt, mostly known for kicking techno tracks. But the largest part of the rapid evolution can be explained by the sheer incredible amount of work dedicated to the build-up by its founder, who openly admit being "regularly haunted by work-overloads.." 40 albums have now been released and these include CD-Rs, pressed CDs and some excuisite Vinyl offerings. But even though every single one of these is close to the label founders' hearts, they have got their priorities straight: "The most important series are the Audio Art Compilation and the Fieldrecording Series. These are projects that we want to keep running for the next years, too. The former presents different artists' work in soundscapes, electronica, and poetry. The latter contains raw fieldrecordings, again, works by various artists."
They are also the easiest passage into what Etzin and Riek have dubbed their "Reservoir for aural art". Especially the "AudioArt" collections offer exciting juxtapositions of unedited field recordings, treated material, combinations and totally "artificial" compositions. Even though these terms are to not to be taken without a grain of salt, as Schaffner points out: "Electronic music has ever since kept a fond memory of the "natural" world. (…) As a simple fact, no kind of musical composition can be exempted from nature, as the very principles of rhythm, pitch and phrasing are derived from man's early environment." Also, as a result of technical possibilities, as well as some surprising qualities of the world surrounding us, the ear can be tricked and fooled, causing the paradoxon, that some tunes will seem composed, while in truth being unedited: "The slightest impression of a regular beat, repititive structures or melody " and the recording is considered cut, looped, picthed, etc" However, Gabi feels obliged to warn the listener for too quick judgements and invites him for to check his intuition on what is "real" and what isn't on a couple of tracks. The result of this game in my particular case: 50% correct, 50% wrong. By now, I am intrigued and have to concur with her: "The distinction is difficult!"
For those with a keen interest on "true" phonography (or "audiography" as Schaffner calls it), the Fieldrecording series might be more appropriate. Here, only unmanipulated material is showcased, leading to a continous flow of changing sceneries. The first volume is especially interesting, as it captures an excellent overview of some of the most important characters in the " err " field: Aaron Ximm, Yannick Dauby, Etzin and Riek, as well as Marcus Obst, better known under his dronaement pseudonym. Hailing from seven countries, these artists present short snaphsots as well as lengthy pieces culled from ten different nations, positioning their field recordings as a different kind of travel log. When I talked to Marcus Obst about the issue, he was quick to share his personal vision with me: "If I listen to the recordings of the individual contestants, without knowing where and when they were made, then I'd have to admit that things in Russia, America, Japan or anywhere apparently sound just like from my own window. In that case, it would not be that attractive to listen to those contributions (unless one of them were striking in one way or the other). These recordings only start making sense to me, if I can see an accompanying photograph and possibly know where it was taken. In that case, my imagination is stimulated and that's what things are about for me." Subsequently, all of the contributions have more or less extensive descriptions in the brilliantly layouted booklet. These texts also draw an interesting picture of the typical Gruenrekorder artist as someone in constant search for the perfect moment. Obst, who runs the small Field Muzick outfit himself, has this to say about his track "Waterbeat": "This locality was a small underground pipe about 2 meters below the ground you could enter through a manhole. A stereo microphone was attached in the pipe close to the water. Unfortunately, I did not experience those rhythms again despite visiting the place several times."
The contact with their artists is one of the best things to the Gruenrekorder crew: "We just get into touch with so much interesting and exciting work by really nice and interesting people " it's just so much fun!" Still, despite being an open community, "there is a kind of nucleus of about 5 people, who really spur on projects and who are in permanent contact. With most of the artists on the roster, we shared a project, you can find some of them on more than just one CD." The openness of the concept has led to some releases far outside of the usual core territory, a move which has just been heavily criticised (or at least challenged) by Frans de Waard of the influential "Vital Weekly". But this probably has to do with a different understanding of what the label really is about " which has less to do with a defined style than with certain underlying parameters. The leading duo agrees: "The work has to fit our program. There needs to be a trace of individual, creative musical structure and the technical quality of the material must be high. We regularly receive demos, more and more. Of course, not all of them meet our criteria. But others do."
"More and more I wonder what the point of organizing sound into music is. Just walking down the street sounds so great. Everywhere you go, it's already there." Jason Kahn once remarked and his comment is mirrored by Gabi Schaffners passionate conclusion: "Listening to music does not mean 3 minute-emo-food-consumption. It is about paying attention and it is a participatory process. So, listening to music means listening to all noise, realizing that its appropriation and control is a reflection of special encoding." A few years will still have to pass until the world will be able to listen to field recordings they way it looks at photographs, but the goal at least now seems attainable. Maybe then a few people more will be able to share the enthusiasm of Roland and Lasse-Mark, whenever a new project is finished: "It's an awful lot of work " administrative, legal, paperwork, all that stuff which is so far from artistic. But it is an even greater feeling then, after you have finished all that nasty administrative work, to finally hold the finished CD in your hands!! It's worth the trouble.
—-
Neuklang Kirchenlied | Various Artists | Gruen 051 | Audio CD > [order]
The contemporary interpretation of hymns is brought into focus by the project Neuklang Kirchenlied.
01 Dietrich Kreller in: Nordelbische Kirchenzeitung 39
Kirchenlieder – aufgebürstet
Sie sind vertraut, sie klingen je nach Lebensituation unterschiedlich, mal tröstlich, mal aufregend. Sie verwandeln sich unter der Begleitung eines inspirierten Kantors zu mitreißenden Schlagern – oft werden sie auch nur abgesungen, unverstanden, fremd geworden in Melodie, Rhytmus und Bedeutung. Als Kirchenlieder wie "Befiehl du deine Wege" oder "O Heiland reiß die Himmel auf" entstanden, waren ihre Schöpfer sprachlich und musikalisch auf der Höhe ihrer Zeit, ihnen gelang die Transformation des Alltagslebens in die kirchliche Kultur. Constantin Gröhn, Theologe und Musiker aus Hamburg, ist mit seinem Projekt "Neuklang Kirchenlied" den umgekehrten Weg gegangen. Gröhn hat zehn Musikgruppen und Solokünstler aufgefordert, Kirchenlieder wieder in die gegenwärtige Musikkultur zu übertragen. Jetzt nageln elektronische Hammerschläge den Christus noch einmal akustisch ans Kreuz bei "O Haupt voll Blut und Wunden" – mit harmlos-lockeren Reggae-Rhytmen wird der Mond des Matthias Claudius besungen, doch der Gottesbezug entfällt kurzerhand mal: Im Namen aller sollen sich die Brüder jetzt niederlegen – eine sympathische Utopie – Grund, das in vielen andächtigen Momenten glänzend gewordene Verständnis des alten Schlagers gedanklich aufzubürsten. Die alten wahren Lieder kommen in ihren neuen Klangkostümen ganz unverbraucht, manchmal irritierend (schön), mal mit Humor und spielerischer Freiheit daher. Humor – Freiheit: gute Idee: gekauft – für 14,90 Euro bei www.gruenrekorder.de oder www.chrismon-shop.de.

02 Constanze Alpen in: SZENE Hamburg
Alles ist erlaubt
Deutsche Kirchenlieder rufen bei jungen Leuten nicht gerade Begeisterungsstürme hervor. Constantin Gröhn hat es sich zur Aufgabe gemacht, diesen Zustand ein für allemal zu ändern. Legte er früher selbst experimentelle Elektrosounds in bekannten Hamburger Locations wie der Astra-Stube oder Schilleroper auf, so versuchte er sich nun mit Hilfe verschiedener Künstler und Bands an der Übersetzung deutscher Kirchenlieder in zeitgenössischer Musik. Die Genres sind breit gefächert – das Ergebnis auch. Sehr überzeugend ist die Umsetzung der alten Stücke in Rock und Metal, bei denen die leicht verstaubten Texte den Kompositionen sogar noch einen eigenen Charme verleihen. Doch bei einigen Stücken zeigt sich auch, dass zu viel Experimentierfreude dem Sound nicht unbedingt gut tut. Aber Reinhören ist in jedem Fall ein Versuch wert.
www.neuklang-kirchenlied.de
03 DE:BUG. Magazin für elektronische Lebensaspekte 116
Ich bin normalerweise ein großer Fan konzeptioneller Alben, aber diese leicht industrielle Neubearbeitung von Kirchenliedern ist mir vom ersten Moment an zu gothic. Und aus einer CD nur herauszuziehen, was für ein brutales Schlachtfeld eine Religion ist, ist mir dann doch einfach zu wenig.
bleed **
04 Kundenrezension Amazon, 1_Advokat
Dieser Sampler ist ein absoluter Geheimtipp! Die zehn auf ihm versammelten (mir vorher eher unbekannten) Bands bieten äußerst gelungene Neuvertonungen traditioneller Kirchenlieder. Dass die Stilrichtungen dabei von Reggae ("Der Mond ist aufgegangen" von >Die Praktikanten<) über eher poppig/folkig ("Es kommt ein Schiff geladen" >Lüül< oder "So nimm meine Hände" von >Joni & Joni<) bis hin zu Alternative ("Es ist ein Schnitter, heißt der Tod" von >Der Bote< oder "Befiehl du deine Wege" von >Snubnose<) reichen, ist ein besonders großes Plus. Einige Stücke sind etwas experimenteller, aber nichtsdestoweniger absolut hörenswert (so besonders "O Haupt voll Blut und Wunden" der Gruppe >arbeit<). Da in allen Interpretationen die traditonellen Weisen beibehalten wurden, passen die Lieder trotz der verschiedenen Stile sehr gut zusammen und lassen sich hintereinanderweg hören; die CD ist daher eine schöne, reiche Inspirationsquelle für ruhige und nachdenkliche Momente und absolut empfehlenswert.
05 Der Medienkonverter
Als Kind habe ich mich beim sonntäglichen Kirchgang immer wieder gefragt, ob der liebe Gott über die stets gleiche musikalische Darbietung einer stimmlich meist wenig gesegneten Gemeinde wirklich erfreut ist oder sich nicht eher entnervt die Ohren zuhält. Vielleicht hat sich Constantin Gröhn, Vikar und Elektronikmusiker aus Hamburg, irgendwann die gleiche Frage gestellt und deshalb 10 Künstler um eine Neuinterpretation altbekannter Kirchenlieder gebeten – ich weiß es nicht. Wie dem auch sei, das Ergebnis "Neuklang Kirchenlied" liegt nun in schlichter Aufmachung vor mir und ich bin gespannt, was den Beteiligten, die mir im übrigen allesamt unbekannt sind, zum Thema geistliche Musik eingefallen ist.
Und – wow – der Opener "Oh Haupt voll Blut und Wunden" des Frankfurter Projekts arbeit reißt mich buchstäblich hinein in die CD und in ein düsteres Hinrichtungsszenario. Die fast nur auf den Gesang reduzierte Fassung des an sich schon bedrückenden Textes wird von brutalen Schlägen unterbrochen, die schon vor 2000 Jahren die Kreuzigung Jesu begleitet haben könnten. Ein wahrhaft beeindruckendes Werk. Leider wird man schon beim nächsten Titel wieder in's Hier und Heute zurückgeholt. Lüül bewegt sich mit dem gitarrenbegleiteten "Es kommt ein Schiff geladen" gesanglich auf dem Niveau engagierter aber untalentierter Straßenmusikanten, die zur Weihnachtszeit um milde Gaben bitten. Eigentlich unglaublich, daß Lutz Ulbrich, der Mann hinter Lüül, anno 2004 den deutschen Schallplattenpreis für sein letztes Album bekommen hat, aber gut, das steht hier nicht zur Debatte. Ebenfalls nicht überzeugen können mich Joni und Joni mit dem braven, 60er-Jahre-Flower-Power geschwängerten "So nimm meine Hände", wenn auch die Gesangsleistung in Ordnung geht. Extravagant gehen dagegen Workshop die Sache an. Fast schon industrialmäßig kommt "Herr, gib mir Mut zum Brücken bauen" daher. Die piepsende, verzerrte Stimme ist zwar Geschmackssache, aber Kai Althoff und Stephan Abry beweisen damit immerhin Mut zum Experiment. Dagegen verbreiten Die Praktikanten mit Akkordeon und Akustikgitarre bei "Der Mond ist aufgegangen" biedere Lagerfeuer-Weltjugendtagsromantik. Ganz leise mit den klassischen Instrumenten Kontrabass, Saxophon und Flöten in Verbindung mit einem harmonischen Duett erklingt danach "Wach auf, mein Herz, und singe" des Trios A.R.S., bevor Der Bote mahnt "Es ist ein Schnitter, heißt der Tod". Man merkt diesem Song deutlich an, daß mit Boris Delic ein Mann am Werk ist, der sonst in einer Rammstein-Coverband (Feuerengel) am Mikro steht. Harte Riffs schneiden abrupt, jedoch gekonnt melodiöse Passagen ab. Eine sehr passende Interpretation des Liedes aus dem Jahre 1638. Ebenfalls gitarrenlastig, aber mehr in die alternative Ecke gehend, rocken sich Snubnose durch das alterwürdige "Befiehl du deiner Wege". Anschließend folgt das genaue Gegenteil, Zeitblom's elektronische, auf jegliche Perussions verzichtende Fassung von "Oh Heiland, reiß die Himmel auf", zart eingesungen von der Japanerin Hitomi Makino. Die wohl außergewöhnlichste Arbeit steuert Nicolas Weiser zum Schluß bei. Text und Melodie von "Die ganze Welt, Herr Jesu Christ" werden beinahe bis zur Unkenntlichkeit verfremdet und sparsam mit künstlichen Geräuschen unterlegt.
Ich kann natürlich nicht sagen, welche Songs der CD beim lieben Gott auf Wohlwollen stoßen, meine Favoriten sind jedoch ganz klar die Beiträge von arbeit, Der Bote und Zeitblom feat. Hitomi Makino. Die restlichen Tracks bewegen sich in dem weiten Feld zwischen interessant und banal, was eine Bewertung nicht ganz einfach macht. Angesichts der Tatsache, daß nur die obengenannten 3 Songs wirklich hervorstechen, scheint mir eine Punktezahl leicht oberhalb des Durchschnitts angebracht.
P.S. Zu beziehen ist die CD übrigens neben dem Label auch über den Buchhandel bzw. das evangelische Magazin chrismon, welches das Projekt unterstützt hat. www.chrismon-shop.de
P.P.S. Da es in unserem Genreverzeichnis die Kategorie "Kirchenmusik" nicht gibt, habe ich mich für das am ehesten passende Genre Experimental entschieden.
06 Tokafi | By Tobias Fischer
CD Feature/ V.A.: "Neuklang Kirchenlied"
On a purely musical level, this combination would never work: A project to get people singing again.
The basic idea of "Neuklang Kirchenlied" (which translates to something like "The new sound of parochial chant") is simple: Take a couple of bands from the field of Pop. Rock, Folk and slightly more experimental genres and ask them to cover popular German hymns. Constantin Gröhn is, however, not a man of one-dimensional messages, as his location-specific sound project "Der Michel und der Dom" previously proved. And there is certainly a deeper aim behind this sampler than just transferring the good old classics to the 21st century.
It can not be denied: The religious (or church-related) aspect of Gröhn's work has been a red thread throughout, regardless of the fact that his music neither turns meaningless without it, nor becomes missionary – which is a welcome sign of reservation for a Vicar. And thus, an outwardly purely sound-oriented project like "Der Michel und der Dom" was a casestudy in placing the noises of a Hamburg-based church next to those of an adjacent fun park.
"Neuklang Kirchenlied" is different in that it has been mainly enabled by the support of the protestant magazine "Chrismon" and gets more concrete in both its concept and realisation. After all, chant is an essential part of the surmon and acts as a connecting element between the members of the parochial. In the act of singing, personal differences loose their significance and the word takes on a living meaning. This is what Gröhn is after for this CD as well.
He has invited ten acts from extreme points of the artistic spectrum for their version of some of the eternal and essential issues of human life. On a purely musical level, this combination would never work, but thanks to the common conceptual ground, an undisturbed flow establishes itself, which seemlessly integrates the robust riffs of "Der Bote", the ethereal vocal harmonies of "Joni & Joni" or "Die Praktikanten" as well as the combustible and supercharged punk energy of now disbanded "Snubnose". Thanks to the freshness of the arrangements, be they lush or sparse, one can appreciate the lyrics with open ears again – and discover the purity, timelessness and contemporary relevance of texts sometimes dating back 400 years.
One should not forget that some of these songs are actually common knowledge in Germany and part of the cultural canon. Twenty years ago, you could've asked just about anybody on the street for the lyrics to "Der Mond ist aufgegangen". Today this knowledge has dwindled. In the booklet, Gröhn asks for ways to become active again in this regard, asking "whether we should sing or merely listen". It is quite clear that he opts for the formerr. More than anything else, "Neuklang Kirchenlied" is a project to get people performing these classics again, With the care that has gone into it, there's a good chance for it to succeed.
By Tobias Fischer
link
—-

a private shade of green | Various Artists | Gr 047 | CD-R > [order]
Split release with privatelektro / Leipzig
01 VITAL WEEKLY | Frans de Waard
A PRIVATE SHADE OF GREEN (CDR compilation by Gruenrekorder/Privatelektro) On a similar course is the compilation by Gruenrekorder which they released with Privatelektro (well, or vice versa of course). Here too we find relative short pieces, but the usual Gruenrekorder posse, but the total is much more balanced. I am not sure if which way it had to be a split release, but perhaps Privatelektro brought in some of the names I never heard of, and perhaps (guessing again) they count for some of the more electronic pieces on this compilation. We find some very nice, pure field recording pieces, such as by Yannick Dauby and Adriano Zanni, and some minimalist drone related works by people by Reverend Benn Schipper. This mixture of interests could be a total miss, but here on 'A Private Shade Of Green' it works quite well. Also included are Igor Hax, Daniel Knef, Costa Grün, Nicolas Weisser, Triphaze, Roland Etzin, c:, Lasse-Marc Riek and others. Quite a nice compilation. (FdW)
Address:
02 tokafi | Tobias Fischer
CD Feature/ V.A.: "A Private Shade of Green"
An optima optimorum: Weightless field recordings as contrasts to intense aural hallucinations.
While collaborations among two or more artists have become day-to-day business in the world of experimental music, they are still anything but commonplace when it comes to labels. Maybe this has to do with the fact that in times when record companies are increasingly turning into the focal point of certain scenes with stronger "images" than the musicians they publish, the "diva-ism" amongst them has grown – as well as the fear of loosing their identity by selecting the wrong partner. What great chances might well be missed by this behaviour is signalled by "A Private Shade of Green", a joint venture between Frankfurt-based Gruenrekorder and Leipzig's Privatelektro outfit.
And please note: This is not the usual seemless mix of similar acts or even a dry genre-compilation curated by like-minded label owners. Rather, the way this album penetrates your mind with a unique melange of field recordings and electronic tracks ranging from the concrete to the abstract, the pleasantly academic to the powerfully intuitive as well as from the futuristically progressive to the majestically retro, seems to suggest that the idea was born before any concepts of marketability. From an outward perspective, this marriage is certainly not obvious in any way – if only because the scenes behind the labels hardly have any musical or social intersections. Maybe one can explain the coherence and absolutely gorgeous interaction between the artists represented here by the fact that a large part of the interest of Gruenrekorder has been directed towards nature, the city and their mutual interconnectedness, while Privatelektro releases are often marked by a curiosity of reconciling the organic with the technological. In any case, one can do without rational explanations. The weightless field recordings by artists such as Yannick Dauby, Costa Gröhn as well as label owners Lasse-Marc Riek and Roland Etzin are heavenly contrasts to the intense aural hallucinations of Parachute or Reverend Benn Schipper without even once being reduced to the status of interludes. Somehow, both worlds cross-fertilise each other as each track seagues into the next, opening up new spaces of reception. And quite possibly, pieces like "Gletscher" (inspired by a mountain hike) by triPhaze or the algorithm-based "Platines" by Shintaro Miyazaki are field recordings in their own right – if only from a different point of view – just as much as the Gruenrekorder cosmos points to a musicality inside everything around us.
"A Private Shade of Green" is an optima optimorum in the sense that it works both as a showcase of the artists involved as well as creating something bigger than the sum of its components: Despite the radical breaks in its texture, this is a dreamy voyage that you can take to the park for a night of listening and watching the stars. It is also a great example for how label collaborations could make a real difference by sharpening perception and creating unprecedented experiences. In any case, a second volume of this would be greatly appreciated.
By Tobias Fischer
Homepage: Gruenrekorder Records
Homepage: Privatelektro Records
03 textura | Ron Shepper
I wish I could get more excited about this 70-minute split compilation from Privatelektro and Gruenrekorder (150 copies produced). The disc arrives in an attractively silk-screened, transparent case, and it includes field recordings and electronic pieces by fourteen artists, seven from each label. But many of these field recordings try my patience by recycling sounds heard too many times before (crashing waves, automobile noises, and bird chatter). By now, a more novel and varied sonic palette is needed than what's emphasized here. We hear, then, the scratchy caw of birds (Yannick Dauby's "Rana limnocharis"), car noises as if someone placed a microphone next to the highway (Daniel Knef's "At the Stairway by Afternoon"), water sounds (Lasse-Marc Riek's "Blässhuhn" (Fulica atra)), loud rumbling and banging (Tobias Bolt's "Dilatationsfuge"), and children laughing at the beach amidst crashing waves (Adriano Zanni's "Summer Life on the Shorelines"). Gruenrekorder co-founder Roland Etzin's "Abseits der Straßen" presents more bird, dog, and automobile sounds while UK producer Igor Hax's repetitive mix of static, muffled beats ("Yellow Room in Sefton Drive") lacks development.
A few moments stand out, specifically Parachute's "06 v 1.1," a meditation of glistening tinkles and blurry tones, and Reverend Benn Schipper's "Thun (RMX 053)," a flickering whirligig of rough-edged electronics. Also decent is the fourteen-minute closer "Absentee Debate" by c: (Christiane Doederlein) which begins as a mutating electronic drone and then slowly turns it into a spacey Tangerine Dream clone powered by synthesizer rhythms 'borrowed' from Phaedra. A Private Shade of Green clearly was assembled and produced with care; a shame that the field recording content isn't more arresting and original.
04 de:bug | Sandra Bettin
Vierzehn internationale Tonfanatiker treffen aufeinander und präsentieren auf einem Album ihre Interpretation der Umweltfarbe Grün. Der Overkill an urbanen sowie natürlichen Geräuschen aus dem Spielkasten der Ursprünglichkeit der Natur hat interessante Ansätze sprich Interpretationsversuche. Nimmt sich Parachute zurück und forciert "You are the music, we are just the band" so erklärt Tobias Bolt seinen Track No. 7 folgendermaßen: "Das Stück ist eine binaurale Aufnahme, für die zwei Mikrophone in einen Hohlraum unter die Dilatationsfuge einer Autobahnbrücke gehängt wurden. Fahrräder im Hintergrund durchkreuzen und kontrastieren dabei die Präsenz der Verkehrsgeräusche."
05 neural | Aurelio Cianciotta
Various Artists – A Private Shade Of Green
CDR – Gruenrekorder / Privatelektro
A CD-R compilation in limited edition (only 150 copies), the result of the collaboration of two experimental labels, Gruenrekorder of Frankfurt and Privatelektro of Leipzig. Fourteen tracks, starting with the electro-acoustic recordings of 'Rana Limnocharis', made by Yannick Dauby, and ending with 'Absentee Debate', by c:, an enigmatic and lapidary musician ("There are three words I will say: 'I don't care'"), among dilated drones and minimal melodies. The other tracks are both interesting and well polished, from the field recordings by Adriano Zanni and the bare electronic tangles by Reverend Benn Schipper, the crystal-like elaborations by Parachute and the hallucinated algorithms by Shintaro Miyazaki. All of the artists are very radical in their expressive forms and would have no problems releasing entirely personal productions.
Aurelio Cianciotta
06 Heathen Harvest | Michael Thomas Jackson
Here we have a limited-edition (150 copies) international compilation from two German labels that can more or less be split into two categories : field recordings and experimental electronics. The way the disc is sequenced, the labels alternate contributions with all the tracks segued. Gruenrekorder seems to be responsible for the concrete stuff while the Privatelektro tracks provide some digital interludes. I'm going to break the review down by label beginning with the Gruenrekorder material.
French field-recordist Yannick Dauby gets thing started off nicely with a sparse piece that is highlighted by some bizarre animalistic sonorities. It tends to go on a tad too long as these sounds become abrasive after a few minutes. Costa Grohn's contribution pits some bird-song against a backdrop of pedestrian ambience to no significant effect. 'At The Stirway By Afternoon' by Daniel Knef may be exactly that : sounds filtering into a stairwell through an open window exploiting the natural reverb of the space. Happy accident or not, the piece has a great dynamic flow and compositional sensibility. Although I can't exactly translate his German notes, I believe that Tobias Holt's recording has something to do with being underneath the Autobahn in some capacity. It's definitely got a subterranean character and I suppose those recurring sounds could very well be cars speeding overhead. Lasse-Marc Riek's track features some squeaks, pops and water sounds that are captured brilliantly in stereo. It quickly begins to take on a rhythmic quality and is a pleasantly jaunty piece. Adriano Zanni's 'Summer Life On The Seashore' is a well-recorded audio snapshot of children playing, presumably on the banks of the Mediterranean Sea given the Italian speech snippets. The rise and fall of the tide provides a backdrop for what must have been a beautiful day; wish I were there. The last of the field recordings comes from Gruenrekorder co-founder Roland Etzin. A dense population of birds are busy as various motor vehicles traverse the microphone's panorama. The high-quality stereo recording really makes this piece work. I love the way that good field recordings force the mind to create a visual facsimile of the environment represented.
The Privatelektro label's contributions to this compilation contrast nicely with the recordings discussed above, although there is some overlap. Parachute turns in a glistening ambient soundscape with all the beauty of a clod-studded sunset. That may sound corny, but this is really gorgeous stuff. UK film and installation artist Igor Hax combines field recordings with his own brand of minimal electro on 'Yellow Room In Sefton Drive' where, presumably everything was recorded. The piece is static to the point of near tedium, but moves on to the next track just in time. In the notes for 'Platines' Shintaro Miyazaki declares 're-entry of disturbance !' Perhaps so, but this glitchy laptop-damaged disturbance is quite welcome in this context and really serves the release well as a sort of nexus. Bassy flutters and high-frequency whines dart in and out of audibility throughout this all too brief track. Theologist, painter and reverend of the Electronic Church (?) Nicolas Weiser turns in an interesting work of voice, electronic and concrete sounds.
In a sense, it combines all the best elements of every other artist on this compilation and compresses it into a three minute composition. This is excellent music ! Berlin's triPhaze deliver some granular synthesis on 'Gletscher.' There are some wonderful little microtonal turns here that really got my ears perky. Yet another reverend makes an appearance on track twelve. Reverend Benn Schipper's 'Thun' is a pleasant enough dissonant drone piece that features some tasty phase shifting to keep thing moving even though it never goes anywhere. 'A Private Shade Of Green' concludes with 'Absentee Debate' by c:. This is by far the longest piece on the disc and an appropriate closer at that. It otherwise wouldn't really have fit in anywhere else. It has the beauty of Parachute's track, some old school sequencing and a certain gritty charm that I can't resist. The notes say simply 'I don't care.' That's too bad, because I certainly do!
All in all there is some great music on this compilation. If the purpose of such a collection is to generate interest in the individual artists then it only succeeds marginally. I prefer it as a single work due to the brilliant editing by its producer(s) bringing some rather disparate musical elements together so logically. In that regard, it flows more like a radio broadcast. My only complaint is that the disc wasn't properly mastered and has a few nasty digital peaks. That and the fact that the notes are not very informative (no contact info regarding the artists) and seem indiscriminately in either German or English. otherwise a beautiful package and some rewarding listening.
07 Forum RollingStone | sinuswelle
privatelektro hat eine neue cd mit gruenrekorder aus frankfurt rausgebracht…
"A private shade of green"
die idee der Split Releases ein wenig zu erweitern ist nicht neu aber da gab es diese Idee und rausgekommen sind 14 Tracks von jeweils 7 Künstlern der beiden Labels. Gruenrekorder ist ein Label, das sich den Feldaufnahmen und der Phonographie verschrieben hat, so ist diese Cd gemischt, angefangen mit Feldaufnahmen und danach gibt es Soundscapes, Ambientartiges und sogar modifizierte Gitarrendrones, die von den Privatelektro Künstlern kommen. Die durchmischung funktioniert ganz gut, viele der Tracks gehen ineinander über und die CD kann als ganzes Album gut durchgehört werden. […]
—-

Listen | Lasse-Marc Riek | Gr 009 | CD-R > [order]
42 field recordings 1999-2003
Vital Weekly/Frans de Waard
LASSE-MARC RIEK – HÖREN (CDR by Gruenrekorder) The likewise new name Lasse-Marc Riek presents 'Hören', meaning: 'listening'. He has forty-one small field recordings from 1999 up to 2003. He presents them as they are: a skateboard, a plane, the metro, the car etc. He does not add anything such as processing or anything else. It's a likewise fascinating journey. The recordings are quite nice to listen too, even when it's not always clear: in the piece 'Das Flugzeug 01', there is indeed a plane, but the birds sound much clearer through. And, although I'm not sure if you would run into trouble with the composer, these raw, unprocessed sounds could easily serve for the more adventurous remixers..
—-

Der Michel und der DOM | Gruen 002 | Audio CD > [order]
Articles:
Die experimentelle Hamburger Musikszene und ihre Labels von Nina Polaschegg
Bad Alchemy
01 Staalplaat.com (FdW) :: VITAL WEEKLY number 470 week 15
DER MICHEL UND DER DOM (CD compilation by Gruenrekorder) This compilation deals with field recordings made in Hamburg, Germany and connects a church (the St. Michaelis) and a funfair, the 'Hamburger Dom'. These field recordings were handed out to ten different artists with the question to 'rework and remix' these recordings into something new. From the ten artists I only recognized a few, like Philip Samartzis (whom is the only non-German, I think), Asmus Tietchens, Stefan Funk, Gregory Büttner and Suspicion Breeds Confidence. As can be imagined there are a lot of church bells and treated church organ sounds on this recordings, and it seems to me that the funfair sounds are treated beyond recognition. In Hans Schüttler's piece there is a straight cut back and forth between the two places: people chanting anprocessing'sd voices from the funfair. Martin Moritz makes ultra short loops from the material, and presents an almost gabber piece. Most other pieces are gentle processing's of the offered field recordings, which are all nice but there is no standout piece either. The nice thing is that the original field recordings are also on this disc, so anyone with some spare time can do their own remix. (FdW)
02 Tobias Bolt
2005-11-30 – Review – »Der Michel und der Dom« Various Artists – »Der Michel und der Dom« (Gruenrekorder)
Ohne das hilfreiche Booklet hätte ich vermutlich (ziemlich sicher) das eine für das andere gehalten, aber es ist so: der Michel ist die St. Michaelis – Kirche in Hamburg, die Hauptkirche der Stadt, und der DOM ist der größte Jahrmarkt Norddeutschlands und dort würde man dann auch sagen: Kirmes. Dieser Begriff wiederum leitet sich etymologisch von der Kirchmess' ab und damit besteht mehr als nur eine geographische Nähe zwischen diesen beiden Orten, die etwa 300 Meter entfernt im bekanntesten Hamburger Stadtteil St. Pauli liegen. Dort hat der Drahtzieher hinter dieser Release, Costa Gröhn, eine Zeitlang Field Recordings gesammelt und sie dann zehn Musikern, die bis auf Philip Samartzis alle in Deutschland tätig sind, zur Verfügung gestellt – mit der Bitte um Bearbeitung. Die Ergebnisse sollten maximal sieben Minuten lang sein und Aufnahmen von beiden Locations beinhalten.
Ergebnisseitig sieht das Ganze so aus, dass naturgemäß viel geschnipselt, verfremdet und geloopt wurde, unkenntlich gemacht und übersteuert und das Verhältnis von konkreten, unveränderten Klängen und nicht mehr wieder zu erkennendem Material in den einzelnen Stücken ein ganz unterschiedliches ist – als Extrembeispiele seien die Beiträge von Hans Schüttler und Asmus Tietchens genannt. Ganz grundsätzlich würde ich jedoch beim Hören dieser Tracks, ohne Kenntnis über die ursprünglichen Aufnahmeorte zu besitzen, eigentlich nicht konkret an diese erinnert werden. Der Punkt ist aber: ich – und auch jeder andere Hörer, sofern eine minimale Auseinandersetzung mit dem Album erfolgt ist – weiß darüber Bescheid (zehn der unbearbeiteten Field Recordings sind, quasi als ,Bonus-Tracks', auf der CD zu finden) und des weiteren, das nehme ich jetzt mal an, wussten auch die beteiligten Künstler über die Herkunft und Art des Ausgangsmaterials Bescheid – vier von ihnen leben auch in Hamburg, sind also höchstwahrscheinlich sogar mit den beiden Plätzen vertraut. Ich höre in diesen Arbeiten daher weniger eine rein der Erzeugung von ,Rohmaterial' dienende Entkontextualisierung der Soundscapes in Richtung bloßer Geräusche, sondern viel mehr künstlerische Aneignungen von sehr persönlichen (Klang-)Eindrücken – was diese wiederum vor Beliebigkeit bewahrt und vorliegendes Album zu einer hörenswerten Angelegenheit macht.
03 de:bug
V.a. – Der Michel Und Der Dom (Gruenrekorder) Tja, wenn ein Info schon so Anfängt: Der Michel und der Dom ist ein (Klang-)Kunstprojekt. Umpf. Und dann klingen die Remixe der Feldaufnahmen (warum heissen die eigentlich so) auch noch so nach Feldaufnahmen. Hm. Zuviel Kunst zuwenig Musik. bleed °°
04 Gabi Schaffner :: Knarrende Gebete, derbe Genrekante 22.04.05 06:22
Zwei stadtbekannte Orte, zehn Remixe, einer davon aus Downunder, "Displacement" genannt. In der Tat, Displacement: Schluss mit Linearität, Schluss mit dem dualen System und willkommen in der akustischen Heterotopie.
Costa Gröhn: Der Michel und der DOM
300 Meter liegen zwischen dem Hamburger DOM und dem Michel, semibarockes Wahrzeichen der Hafenstadt; akustische Kulissen des Profanen wie Sakralen, die Costa Gröhn mit einem Mikrofon eingefangen und an zehn Musiker verschiedenster Provenienz zur Bearbeitung ausgeteilt hat. Die Verwendung von jeweils mindestens einer Aufnahme Michel/DOM und ein Zeitlimit von sieben Minuten wurden dabei als Bedingung gesetzt. Ein quasi situationistisches Konzeptalbum also, dem zehn Auszüge der Originalfeldaufnahmen angefügt sind.
Die Geister, die ich rief
Wer sich in überhaupt einer Weise mit den Möglichkeiten Neuer Musik beschäftigt, nimmt die Fragmentierung von Wahrnehmung und Wirklichkeit als selbstverständlich hin. Die zehn Musiker und Komponisten des Albums haben sich des Materials unabhängig voneinander angenommen und machen dabei aus ihrer Profession keinen Hehl. Sämtlich forschen sie seit Jahren in den Bereichen elektronische und experimentelle Musik, Klangkunst, Soundscapes und generell in den mental-musikalischen Feldern zwischen Alltag und Artifiziellem. Jetzt also der Michel und der DOM, zwei, will man meinen, inhaltlich und akustisch vollkommen verschiedene Klangräume, die auf der CD als "Klangkunstprojekt" zusammengeführt werden sollen. Einsichtig auch dem Laien scheint die Tatsache, dass "Kirmes" und "Kirchmess" trotz ihrer etymologischen Ähnlichkeit zwei in Akustik und Klangfarben vollkommen unterschiedliche Welten darstellen. Umso mehr überrascht beim ersten Hören die inhaltliche und modale Ähnlichkeit der einzelnen Stücke. Beim Großteil der Stücke haben sich die sinnlichen Eigenschaften der Feldaufnahmen verloren und verwandelt in eine fragmentierte Audiolandschaft, über der der Nimbus des Mysteriösen, zuweilen des Unheimlichen schwebt. Ungern möchte man mit dieser CD allein in einem dunklem Keller zurückgelassen werden. Andererseits lohnt es sich, genauer hinzuhören:
Ererbte Gedanken
Was passiert eigentlich, wenn Originalaufnahmen aus konkreten Situationen zu einer neuen Komposition verschmolzen werden? Wird ein Ton, ein Klang seinem Umfeld entführt, ist er nahezu automatisch defunktionalisiert. Er verliert seinen Zeit-Sinn und obendrein seine Identität. Der Ton wird Geräusch. Seit den Anfängen des 19. Jahrhunderts wird der Integration von Alltagsgeräuschen in der Musik kräftig Vorschub geleistet: Luigi Russolo (Die Geräuschkunst, 1913) und sowieso vornweg mit atonalen Kompositionen Arnold Schönberg im Jahre 1909. (Reiner) Ton und (unreines) Geräusch wurden als Gegensatzpaar begriffen, die göttliche und die weltliche Seite des Klangs. Knapp ein Jahrhundert ist Klassik im öffentlichen Raum sowieso nur noch was für/gegen Junkies und man geht in Supermärkten einkaufen, die "Velvet Underground" im Hintergrund spielen. Es hat sich also viel getan. Und in dem Punkt, in dem sich weltliche und überweltliche Ordnungen am Beispiel zweier Orte spiegeln können, kann man die Thematik einer Klangkunst-CD eigentlich nicht besser platzieren. Welchen Sinn hat das aber, wenn die Original-Tonspuren allzu sehr fragmentiert werden? Man würde sich nicht halb so viel Gedanken darüber machen, hätte die CD ihre Ursache nicht in diesem verflixten Zwillingsort Micheldom. Das hat viel mit Sinn zu tun, also Sinn in Form einer möglichen Neuordnung, dazu soll Musik ja gut sein, und vor allem die Neue Musik. Sinn hat wiederum etwas mit Ordnung zu tun und Ordnung wiederum mit Welt. Manchmal hat Ordnung allerdings auch etwas mit Schönheit zu tun oder dem, was man dafür hält, also Ästhetik, und dann noch eigene Ästhetik mit oder ohne Welt oder eben mit eigener Welt. In Bezug auf das akustische Zweigespann Michel/DOM heißt das: Beliebigkeit droht. Würden sich solcherart mikro-makroskopisch überarbeitete Feldaufnahmen aus einer Schulkantine und einer Keramikfabrik wesentlich anders anhören? Und: Leise aufsteigender Verdacht, manche Künstler beschäftigten sich am liebsten mit ihrer eigenen Tonkunst, weshalb das Material einiger Tracks unkenntlich im Unendlichen sein Eigenleben führt. Selbst dort, wo die deutliche Klangspur einer Situation aufscheint, dient sie zunächst einmal einzig der Komposition. Choral und Gebet sind ihrer Inhalte und Absichten entledigt, flottierende Platzhalter für Dramatik und Emotion. L'art pour l'art? Oder ist das die Welt, in der man hier so lebt? Schwer zu sagen.
Bedenkenträger – Kerben geändert
Deshalb wird jetzt auch die Kirche im Dorf und der Musiker bei seiner Maschine gelassen, denn es gibt weitere Dinge zu bemerken. Interessant sind da zum Beispiel gerade die weiter oben bekrittelten Übereinstimmungen, ja Stimmungen, die, mechanisch oder nicht, dem Großteil der Remixe eingesampelt sind. Die entstofflichten Gruselkabinette des DOMs sind atmosphärisch eingedrungen in Fahrstuhlszenarios und anderen Kirchenzauber. So lassen sich grob drei charakteristische Konstanten ausmachen: eine Allgegenwart brausender und rauschender Sounds, Stimmverfremdungen und Verzerrungen sowie eine Unzahl fragmentierter, metallisch anmutender Geräusche. Je weiter man hineinhorcht, umso näher scheint die Hölle. Das klingt zunächst vielleicht seltsam, aber nicht wirklich überraschend, denn die Topoi, die sich dergestalt materialisieren, sind den Modi der elektronischen Komposition bereits zum Teil eingeschrieben. So dienten Verzerrung, Deformation, Verkehrung seit jeher auch als Stilmittel zur Darstellung des Dämonischen. In konventionellen Zusammenhängen gilt sogar heute noch das Automatenhafte, Mechanische als unbeseelt und verstörend. Da lachen die Avantgardisten der Maschinenmusik natürlich drüber und geraten doch zuweilen unter die Räder ihrer persönlichen Geisterbahn. Die Mehrzahl der Komponisten zieht das Erhabene dem Trivialen und das Rätsel dem Augenschein vor. Folglich sind deren neuen Michel-DOM-Welten von unerschütterlichem Ernst durchdrungen, und das ist ein wenig störend. Audioscapes und Audioescapimus liegen sich auch so schon in der elektronischen Musikszene genug in den Armen. Doch die Krux der so genannten Neuen Musik bestand immer in dem Missverhältnis zwischen dem Anspruch auf Öffnung des musikalischen Kanons bei gleichzeitiger Einforderung von Exklusivität eben dieser besonderen Form der Offenheit. Es wäre seltsam, wenn auch hier nicht der Humor die Rettung bringen würde. Costa Gröhns wundersamem Klangkunst-Projekt entsprießen auch einige echte Micheldom-Hybriden, denen die vergnügliche Trivialität des Daseins nicht herausexperimentiert worden ist. Tja, und das Verblüffende an diesen ist, dass hier die Musiker eben mal nicht vorgeben, etwas Neues zu erschaffen, sondern sich der gegebenen Muster bedienen, um sie gegeneinander auszuspielen.
Erkennt Gebärde
Mit einmal Drüberhören ist es bei dem Projekt "Der Michel und der DOM" also nicht getan. Akustische Landstriche bringen ihre eigene, spezielle Einwohnerschaft hervor. Ein Weidegrund für Kopffüßer und Kopffüßler in jedem Sinne. Eine Menge partikulärer Feinsinn ist vonnöten, möchte man den einzelnen Stücken Gerechtigkeit erweisen. Also, ist das nun eine CD fürs Volk, so wie der Michel und der DOM "fürs Volk" sind? Praktischerweise, und zum Glück der Hörer wesentlich beitragend, hat Gröhn den zehn Mixes eine Auswahl der Originalaufnahmen angehängt. Es sind diese Aufnahmen, die die eigentliche Öffnung des Albums in Richtung Michel und DOM ermöglichen. Feuerwerk plus startendem Auto plus Orgelintro. Unentschlossenes Murmeln vor dem Fahrstuhl. Basslastige Dröhnbox zum Gruseln, "Hinz-und-Kunz(t)"-Verkäufer … alles da. Der Weg hin und zurück wird plötzlich um vieles interessanter, ohne dass man sich Tentakeln wachsen lassen muss: Wer neugierig ist, lässt es sich nicht nehmen, in den Tracks nach den ursprünglichen Realitätsschnipseln zu forschen. Oder selbst zu experimentieren. Denn auch dies ist von den kongenialen Machern der CD vorgesehen. Wirklich reizend, diese zehn kleinen Zeitkapseln, die nacheinander im Gehör des Lauschenden erknallen und ihm unverrätselte Micheldom-Originale in die Gehirnlandschaft streuen. Try and combine. Der Michel und der DOM, Hamburg 2005, Ein Klangkunstprojekt von Costa Gröhn, Musiker: Philip Samartzis (Melbourne), Roland Etzin (Frankfurt), Stefan Funck (Hamburg), Asmus Tietchens (Hamburg), Suspicion Breeds Confidence (Neu-Isenburg), Gregory Büttner (Hamburg), Hans Schüttler (Stade), Martin Moritz (Hamburg), Christoph Korn (Frankfurt), Lasse-Marc Riek (Frankfurt), Costa Gröhn (Hamburg)
05 Tokafi
CD Feature/ "Der Michel und der DOM"
May well save the reputation of the remix in smaller circles.
Remixprojects have been around for ages and their reputation has gone from bad to worse. Initially a pure techno-related phenomenon, the idea spread to the mainstream and quickly became known as an easy way for record companies to make money. "Der Michel und der DOM", however, is of an entirely different nature – a collection of pieces that stay true to the original material yet move in wonderfully strange ways.
A quick explanation for non-Hamburg residents for starters: The "Michel" mentioned in this album's title refers to the St Michaelis church, the "DOM" stands for the city's traditional fun fair, attracting millions of visitors each year. These institutions, seemingly worlds apart, find themselves at close distance, with only a few minutes of walking time seperating the two. Sound artist Costa Gröhn, one of the active members of the artist roster of the Frankfurt-based Gruenrekorder label, quickly saw the potential for an exciting cultural encounter, especially since the Dom, despite it's character as a place of leasure and entertainment has its true roots in a clerical celebration. He therefore captured the essence of these attractions in a series of field recordings, which were in turn sent to ten different musicians from the field of eperimental music. The rules of the game were simple: Use these snippets of organ performances, bells chiming, people laughing and screaming and bumper cars bumping into something entirely new – with the only limitation being that each composition had to include at least one excerpts of either the DOM- or the Michel-files. The results are as colourful as the line-up already suggests: While Philip Samartzis' "DISPLACEMENT" (which leaves most of the initial recordings seemingly intact) makes for a great introduction, others go for a more radical approach: The grand old father of German noise, Asmus Tietchens, presents a tenderly futuristic fantasy of mechanically resounding voices and floating beat constructs, while Suspicion breeds Confidence distort everything into a robotoid dream of quirky sounds. Other artists stress the field recording aspect more than others, but the flow of the record profits from the fact that bits of the source material appear in almost every track. Apart from that, the moods are as eclectic as could be: Martin Moritz' "Jesusscooter" is a harsh industrial attack, Christoph Korn relies mainly on monumental reverb to emphasize the magnitude and the impossibility of fulfilling his task with a "lousy little microphone".
"Der Michel und der Dom" therefore presents the best of both worlds – both in the sense of its original intention of featuring different views on its two protagonists as well as in offering a CD which consists of a collection of extremely varied versions of "the same song" connected by a red thread. While the decidedly uncommercial nature of the music will prevent this from reaching the mainstream, this may well save the reputation of the remix in smaller circles. By Tobias Fischer
06 e/i magazine/Marc Weidenbaum
Gruenrekorder is, simply put, one of the foremost record labels today in the realm of using field recordings as a source of musical composition. Based out of Frankfurt, Germany, the label has quietly pressed almost three dozen albums constructed from bats sounds to dog barks to aural snapshots of the Scottish landscape, not to mention discs of sound poetry and noisy electronica. […]
Der Michel und Der DOM stays in one place – well, two places, both in Hamburg. Eleven musicians, including longtime sonic-tician Asmus Tietchens and Gruenrekorder regular Lasse-Marc Riek, were given the same two sets of samples and left to their editing (and theoretical) devices. One set is from the church of St. Michaelis (the "Michel" of the title), the other from an outdoor amusement park, the Hamburger DOM (hence the "DOM"). Though the pairing suggests a bit of "sacred and profane" juxtaposing, the results are much more mangled, more thorough, than that. Stefan Funck leaves the bells as a distant memory amid eerie effects, Tietchens focuses on moments of intense quietude and Christoph Korn blends it all into ominous swells. Costa Gröhn completed the assignment, but split his submission into 10 constituent parts, which close out the album in sequence: the shortest at 13 seconds, the longest at just over two minutes. In one he slows the bells to a drowsy pace; in another he represents choral voices with a documentary filmmaker's hands-off approach. He seems particularly interested in the chunka chunka music playing at the fair. One wonders what the fairgoers would think of Der Michel und Der DOM.
07 Brainwashed | Written by John Kealy
"Der Michel und Der DOM"
The artists featured on this compilation aim to merge Costa Gröhn's field recordings of a church and of a funfair to create a unique document representing Hamburg. The majority of the artists featured here struggle to create much worth listening to as they are limited by a poor selection of starting materials. It's a nice idea but it doesn't quite come together.
As a concept, this album is great. Gröhn made a number of field recordings of Hamburg's St. Michaelis church and the Hamburger DOM funfair. These raw recordings provided material for ten other artists to make new sound compositions with an aim to merge the sonic atmosphere of the two locations. Unfortunately the sleeve notes are mostly in German and my rudimentary skills in that language prevent me from learning the finer points behind the concept.
As a collection of field recordings and music, this album isn't all that interesting. Gröhn's original field recordings don't provide much entertainment on their own: most of the short snippets do not allow for any insight to the environments nor do they work as stand alone pieces of sound. There are a couple from St. Michaelis that are very beautiful but they are both recordings of music as opposed to recordings of general atmosphere. The funfair tracks remind me that I don't like going to funfairs so alas I'm biased against them from the start.
Many of the artists make a good stab at making something worthwhile out of these recordings but most of them fail to make much of them. The first eight pieces are quite dull. Hans Schüttler's "Obnoxious" doesn't quite live up to its title but it is lacklustre at best, the slight delay effect on the church recordings sounds like it was knocked up in about five minutes. The rest of the piece sees Schüttler crudely juxtaposing fairground announcements with choral work from church. This doesn't work for me but perhaps there is something more to the piece that I'm missing because of my lack of German (as far as I can tell the fairground voice is prattling on about hell, I've a feeling it doesn't get much deeper than the simple contrast between this and the choir's hymns). Thankfully the last two reworkings of Gröhn's recordings are a breath of fresh air. Christoph Korn's "III. 5/04" is the spacious and pleasant sound of reverberations. This is followed by "Heiliggeist" by Lasse-Marc Riek which takes the pious beauty of the church and forms a wonderful piece that wouldn't sound out of place as intro music at a Current 93 gig.
Imaginative use of found sounds is one thing I adore but I found Der Michel und Der Dom a let-down. This album is good for one or two listens but after that it is exhausted of most of its value: the couple good tracks don't make up for the many mediocre ones. The concept works well on paper but not so much when transferred to the stereo.
samples:
* Hans Schüttler
* Christoph Korn
* Costa Gröhn
Feldaufnahmen von Michel und DOM 3
—-

In the Woods | Costa Gröhn | Gr 008 | CD-R > [order]
15 fieldrecordings, soundscape- and soundcompositions
01 Vital Weekly/Frans de Waard
COSTA GRÖHN – IM GEHÖLZ (CDR by Gruenrekorder) Costa Gröhn's treats the field recordings inside the computer in twenty-one short compositions, which display a great sense for detail and dynamics. His music bounces back and forth between the inaudible and the more present, louder parts. It's hard to view this as a work with so many compositions as it runs very nicely as a whole. This could easily be one composition. The field recordings are pretty much well-transformed beyond the original, but of and on, children voices and bird calls sound through. A captivating work throughout.
02 Tobias Bolt – Quietnoise – 2006-02-09
Field Recordings – oder Feldaufnahmen wie sie Costa Gröhn nennt – und die Arbeiten mit beziehungsweise Bearbeitungen von selbigen führen unvermeidlich zu Fragen über die Soundsignatur des verwendeten Ausgangsmaterials und über dessen Erhaltungswert im Sinne einer (Wieder)Erkennbarkeit. Daher gilt es im Umgang mit solcherart von Musik nicht nur über eine etwaige Kennzeichnung der Aufnahmen nachzudenken sondern ebenso, besser: vor allem sowohl den Verlockungen billiger Effekthascherei zu entsagen, wie auch der allgegenwärtigen Gefahr des Abdriftens in eine illustrierende Beliebigkeit zu entgehen. Entsprechende Ausstattung in Punkto Technik vermag – wie bei der Fotografie – etwaige Unzulänglichkeiten, zumindest oberflächlich, zu kaschieren. Costa Gröhn wählt auf »Im Gehölz« einen recht sympathischen Zugang, welcher sich vorrangig durch eine störrische, sehr subjektiv gefärbte Präsentation auszeichnet. So bewegt er sich weit entfernt von jeglichem Perfektionismus, was den Aufnahmen viel von ihrer Objektivität – eigentlich ein Kennzeichen unbearbeiteter Field Recordings – nimmt und ihnen aber in ihrer Gesamtheit als dilettantisch anmutende Erinnerungscollage, deren Stimmungen sich allein durch das unmittelbare Hörerlebnis einfangen lassen, eine Art Tagebuchcharakter verleiht. Sieht man daher von kleinexperimentellen Vorkommnissen wie beispielsweise 'Ast am PC' oder 'Schlachthof' – die ich übrigens weniger verlockend finde – ab, machen die vielen kräftigen, direkten Momente das Album insgesamt zu einer durchaus intensiven und lohnenswerten Erfahrung.
—-

Weiß | Giesela | Gr 031 | CD-R > [order]
Field recordings and melodicas
01 e/i magazine/Marc Weidenbaum The fidelity and ease of compact discs (and, subsequently, of digital audio, as embodied, or at least epitomized, by MP3s) has taken John Cage's famous realizations about the nature of silence and turned them outward. Now that the absurdity of the concept of pure silence is commonly appreciated, we use field recordings to explore the sounds that are actually there, however remote they may be. Giesela's Weiß doesn't even try to make good on its enticing subtitle ("Field recordings and melodicas"), but it more than makes up for that image of a Caribbean sound art by taking raw audio and transforming it into casual soundscapes without ever fully losing the sense of the original material. The opening track, "Holzbock", is at first so near-silent you'd think we might have to wait for a subsequent recordist to wander along and make something of it, but then the creaks of an old house start up and you might find yourself pining for the calmness that had come before. "Überfahrt" uses scraps of cello to develop a lilting backdrop amid percussive punctuations. Tellingly, several of Giesela's sources involve children. "Baracken", quietly, employs a child's voice, before vaporizing into a suite of white noise figments, and two others, "Adlerstraße" and "Azuma", contain "textures" from a "T. Siefert Children-Soundensemble." The last of these is a delightful mix of wooden wind chimes and tertiary space tones that's like the encapsulation of the perfect weekend morning. Together they promote a sense of wonder that's captivating and, occasionally, more than a little scary.
02 Vital Weekly/Frans de Waard
Luckily things fall on good ground with the last release, by Giesela, whom we met before, in Vital Weekly 523, as Giesela Rot, aka Marc Riek, the man behind the label. His release is subtitled 'Field Recordings And Melodicas', by which he doesn't mean literally melodicas, but more 'the other sounds also used and given to me by my friends', which means sounds of a cello and children, which pop up in various tracks. Riek himself is responsible for the field recordings used here. In the six pieces these sounds are put together in a kind of microsounding way. Silent, careful, inaudible but also warm and digital. Its a release to keep your full attention with, other you'd miss out on something. Throughout the music is quite intense, even when it's not always finding new paths to walk along. It certainly stands out from the previous two. (FdW)
—-

Finnish Snow Walks and Dances | Various Artists | Raw Audio | Gruen 032 | Raw Audio | LP > [order]
01 | tokafi | Tobias Fischer
CD Feature/ "Finnish Snow-Walks and Dances"
Captures the "poetic universe of snow".
I bet you didn't know that there is a Finish tradition called "Snow Walking", intended to calm the mind. It harks all the way back to the national epos, the Kalevala, which speaks explicitely of "scooping rhe songs out of the frost" and of "unlocking the box of tales". But don't worry – not many other people have heard of it, either. The very informative text, which accompanies this release, which can either be bought as a regular CD or a luxuriously packaged, truly beautiful LP (have I made amply clear, which one I prefer?), therefore serves to outline the aims of the project: To present the entire spectrum of snow music, from its folk roots to its present forms, to capture the "poetic universe of snow" and to "mark its entry into the 21st Century".
Based on the field recordings made by the famous Sisukas Poronainen from the renowned "Kansanmusiikin Instituutti"(which, I am sure, I need not explain any further), Gabi Schaffner (who has already held publich lectures on the subject) has taken on the task of sifting through the material, selecting the most representative cuts and of researching the scene for assorted genres, such as "Lumi Core" (Snow Core) and acts from the experimental scene, who are carrying on the traditions. She has found some wonderful music and a fair amount of equally fascinating stories. Take the tale of the "Tytönhamepilvet" for example, tiny clouds, which come into existence closely to the ground, which is why they are referred to as "Maiden's Skirt Clouds". Local boys will anxiously await the day of their arrival and then run around the field, trying to stick their heads into them. The eponymosuly titled piece on the record captures the ambiance in one of these clouds, a tinkling and chiming mid-winter dream. While this track was later edited in the studio, other titles were left in their original state, such as the "Circular Snow Walk, a hypnotic melange of repetetive balalaika-patterns and the foot steps of the walkers circling a tree. The "Sleigh Ride" features a plucked motive on the ancient Finnish Kantelele, an instrument with five to fifteen strings and a carved wooden body. While the first side of the album concentrates on similar, unprocessed material, the second site investigates the current exponents of the scene, including the bizarre noise experiments of the Snow-Core bands (who ardously collect samples from snow excursions, in order to fulfill the 50% snow-quota in their music) and the dark, eleven-minute long dronescape "Joen Ylitys", which builds from a richly harmonic opening, seemingly filled with the sound of an orchestra tuning, into a dark and threatening barrier of deep bass pads.
All of this may seem like a foreign and unexplored world to you. And it seems, as though some are doing all they can to leave things this way. When we tried to find information about the contributinmg Finnish artists, we couldn't find any and when we called the Kansanmusiikin Instituutti, they claimed to never have heard of Sisukas Poronainen. We assume this is an intended effort to stop thinking too much about the historical background and to just enjoy the music. It should be noted, however, that Gabi Schaffner's public speech was entitled "Snow Music – Fake or truth?". And that the "Acknowledgments"-section mentions a lot of acts which have no relation whatever to Finland, but a very close one with the German Gruenrekorder label. In any case, they have remained almost entirely true to the Kalevas creed: The songs may not have been scooped exclusively from the frost, but the box of tales has certainly been unlocked.
—-

Raumstudien # 01 | Frank Rowenta | Gr 044 | Double CD-R > [order]
01 FRANK ROWENTA – RAUMSTUDIEN #1 (2CDR by Gruenrekorder)
Somehow somewhere the name Frank Rowenta is associated here with HNAS, but I believe he was not a member. Together with Dr. P. Li Khan he produced various records for Dom, the HNAS label, but somehow somewhere I can't say they really stuck in my mind. I was quite surprised to see this double CDR release on Gruenrekorder. It's a recording of a highly conceptual nature. In a room there are 'two automatic working rhythm devices' which 'modify themselves in a period of hours' – otherwise there is no action going on in the room. Recorded to a c120 basf cassette (the orange ones for those who remember), so guaranteed also present is tape hiss. And that's it. It's music that one can stick on and leave it as such. It doesn't require much concentration from the listener. It's a study for your own space. As such it's quite nice, but the full two hours is a bit much. Or perhaps not enough. Why not a MP3 CD with six hours of this? Quite 'nice', perhaps. (FdW)
link
02 Album of the month
CD Feature/ Frank Rowenta: "Raumstudien # 01"
Recording Rooms: Experimental music of the most extreme kind that works on more than just a cerebral level.
link
I could well imagine that if a public speaker were looking for a good example of what constitutes "l'art pour l'art" (art for art's sake) he would treat his audience to a couple of minutes of "Raumstudien # 01". Even in the "enlightened" times we live in one can already see listeners from all generations and social backgrounds looking down on this album as the typical excrescences of the experimental music scene, as one of those elitist records that critics will praise without understanding their meaning. And yet, my feelings towards it are simple and void of any intellectual mindgames: I love it and highly recommend it as a work which may go to extremes but only does so to achieve something special: In a world flooded with artists trying to sound like someone else, this record sticks out.
Extremely minimal: The setup
The basic setting already points at the radical nature of Rowenta's concept: An old analogue tape recorder is placed inside an empty room, containing a vintage orange BASF cassette. Two rhythm devices of no further specification are placed in relative proximity of the tape recorder, their subtle impulses subject to delicate modifications in a multi-hour cycle. The noise emited by the devices can be described as a mixture of a feeble child clapping his hands and the sounds of a metronome on valium. Sometimes, they will be slightly louder, sometimes somewhat more quiet than usual, but they keep clicking from the very beginning until the end. Other than this, nothing happens inside the room, even though traces of adjacent appartments (such as, slightly humorously, the flushing of a toilet) can be heard in intermittend intervals. Against all accomplishments of modern technology, the "natural" hissing of the recorder is left in place, remaining in the background as a stable ambiance, yet always morphing. And that is all there is: The rhythm devices click and the hissing quietly swooshes away for sixtytwo minutes, until the first side of the tape ends. Then Rowenta flips it (and the listener changes to the second disc of this set) and another session of the same length ensues. Can you believe this is something worth listening to? I'll readily admit I had my doubts at first. But they were quickly erradicated.
Phase One: Sensitisation
Recording rooms is hardly an idea which came out of the blue. Only shortly ago, Mathias Delplanque published "Ma chambre quand je n'y suis pas" on Angle Records, its title (it means "My room, when I'm not in it").an almost exact description of what is happening on "Raumstudien". Even thinking about this is something of a Schrödinger's cat for music, but these questions will always keep their fascination: What happens once you deduct yourself from the equation? Is there something at all inside a mechanical universe? Can you tape the voide? The difference with Delplanque and Rowenta is that while the former used the sounds his highly sensible microphones picked up as source material for a piece of his own, the latter allows the room to play itself and focus on the spacial dimensions. Instead of zooming in on the microscopic details, he eschews clinical precision in favour of wider, but also warmer qualities. One of the results is what the Gruenrekorder label correctly describes as a sensitisation to the room and the space it takes up. After a while, your mind creates a feeling for the outmost corners of this place and you have a strong feeling that you know where the different and even the faintest of environmental sounds come from and what they are. This adjustment process is a gentle and comforting one, the more the place surrounding you morphes into Rowenta's, the more you feel secure and strangely "at home".
Phase two: Calmness
The second effect was maybe not quite planned, but it is the one which lifts this album to greater heights. The metronomic pulsations are so utterly equanimous that your entire body slows down and you enter a zone of extreme calmness and inner silence. Because the information you receive is so scant and reduced, your brain interprets this as a positive sign: There is no danger here, so it can let go. It is the same effect the cracklings of a vinyl groove produce when listened to ad infinitum and the very reason some of the old classical recordings have such a familiar and positive feeling to them: Everything is sized down to the most essential basics and you can can either concentrate on the hardly noticeable changes in places you never regarded as interesting before (such as the hissing, which suddenly takes on plentiful meanings) or drift off and use the room as a space for new and different thoughts.
The limited time of the experiment clearly classifies it as a composition, not just a random installation, which is why it was a good choice to leave things at two hours instead of extending them to six or more, as has been suggested. Far from being art for art's sake, this is a great example of how experimental music of the most extreme kind can work on more than just a cerebral level. And it sounds like nothing out there.
By Tobias Fischer
Homepage: Frank Rowenta
Homepage: Frank Rowenta at MySpace
Homepage: Gruenrekorder Records
Created by Tobias Fischer
—-
Talk Slalom | Carsten Klook & Tasche | Gr 039 | CD-R > [order]
01 Gregor Kessler in der "Szene Hamburg" 12/06
Rubrik: Hörspiel ­ Indie
Carsten Klook & Tasche
Talk Slalom | Gruenrekorder
Musiker und Autor? Geht nicht zusammen, wenn man nicht gerade Robert Zimmermann heißt. 98% aller Songtexte scheinen das zu bestätigen. Carsten Klook, der sich schon ein paar Jahrzehnte durchs Hamburger Musik- und Schreiberleben schlägt, hat sich dennoch an der Vereinigung versucht. Herausgekommen ist etwas, das zwischen Hörspiel, Hippie- und Indierock baumelt. Text und Musik laufen parallel, auf der einen Seite jammed die Band sich durch Acid-Rock-Improvisationen, die auch mal lärmen dürfen, auf der anderen Seite spricht Klook seine alltagsbeobachtenden Texte ein. Eine sehr biografische Platte für jemand, der gleichermaßen von Jefferson Airplane, Sonic Youth und Arno Schmidt geprägt wurde.
—-

AudioArt Compilation 02 | Various Artists | Gruen 030 | Audio CD > [order]
01 vital weekly/frans de waard
More than the previous 'Der Michel Und Der Dom' (see Vital Weekly 470), this new compilation serves as a mission statement of the label. The booklet has seven texts (out of 81) which describes what Gruenrekorder Music is all about, which field recordings, musical structures, nature but also sound poetry and listening. Which is what we get on this lengthy compilation.
Nineteen pieces of experimental music (Suspicion Breeds Confidence, Waldlust), field recordings (Costa Gröhn, Lasse-Marc Riek, Etzin), improvisation (by Gran Ou Lee, Thomas Siefert) and sound poetry (by Dirk Hüls Trunk). A pretty varied bunch of musical directions here, but it somehow makes sense all together. As a mission statement it works quite well, without any real high-flyers here.
02 de:bug/bleed
"Vage umschrieben würde ich jetzt mal sagen, diese CD ist so eine Art Ambient-Kreuzfahrt aufs Land. Die Tracks können auch schon mal – aber eher als Ausnahme – Melodien im klassischen Sinne haben, aber lieber untersuchen sie Geräusche von Dingen und wie sich daraus ein Klangraum basteln lässt, in dem man eine Stimmung – das ist das Schöne an dieser Platte – sehr präzise einfangen kann. Ziemlich kurze Tracks zumeist, die voller Effekte sind, aber immer auch etwas anderes in den Geräuschen durchblitzen lassen.
03 fieldmuzick/marcus obst
very fine compilation of the -gruenrecorder- label with pure field recordings, electronic processed sounds, voice experiments. I like Lasse Marc Riek's track very much. He recorded the "pinging" of the flagholder on a flagstaff.
04 Contributed by John Kealy
This compilation of German experimental music from the last five years is a nice sketch of what is going on outside of Berlin these days. The material covers field recordings, atmospheric electronics and bits of noise. The material also covers the good, the mediocre and the bad.
Gruenrekorder | Thankfully like in all good stories, the good prevails. The field recordings sound a little clichéd but etzin's "Voegal- Verteidgung der Nester" is a wonderful piece, four minutes inside of a murder of crows is exactly what does it for me as regards field recordings. On the other hand, the album's opener "Zwergohreulen in der Vikos-Schlucht" by Costa Groehn documenting insect life in Greece is a bit tedious. Groehn wins me back with "Baustelle" later on: a far more interesting recording of percussive rhythms from what sounds like a canteen or a factory.
In more traditional music areas on AudioArt Compilation 02, Ohrginal are the highlight. Their "Kombinationen 04" is the least experimental thing on the album: it is straightforward and simple with a drummer playing a lazy beat in front of mainly synth-produced rhythms and melodies. It is one of those musical nuggets that is worth keeping a compilation for. What is not worth keeping a compilation for is the work of Dirk HuelsTrunk and three tracks are given up to this man. "Forward" and "Fall Out" are two of the most boring things I've heard in a long time, both consist of chopped up vocals, whereas "Nie" is just annoying. All of his work on AudioArt Compilation 02 sounds pretentious and amateurish. I've no problem with being pretentious once you have the material to back it up. HuelsTrunk does not have said material.
Apart from these tracks mentioned the rest of the CD is a mixture of noise and electronic music that vary in quality from pieces that provide good ambience in your chosen listening space to some pretty decent recordings. AudioArt Compilation 02 is a mixed bag, the majority of pieces will cry out for repeated playings and others I wish would apologise for wasting my valuable listening time. Such is the nature of compilations.
05 KindaMuzik | Vincent Romain
AudioArt Compilation 02 | Diverse Artiesten
Manipulatie van omgevingsgeluiden levert boeiende compilatie op.
CD, Gruenrekorder
tekst: Vincent Romain
Deze boeiende compilatie van het Duitse Gruenrekorder staat in het teken van field recordings, oftewel musique concrète. De artiesten trokken er dus op uit om omgevings- en natuurgeluiden (je herkent onder andere krekels, wolven en allerlei soorten vogels en insecten) vast te leggen, die dan daarna in de studio gearrangeerd, geremixt of op nog andersoortige manieren gemanipuleerd werden. Op die manier hopen ze meer te weten te komen over de relatie tussen maatschappij en geluidsesthetiek. Dat klinkt overdreven intellectueel en het concept is natuurlijk ook allesbehalve origineel. Het levert wel interessante muziek – of moet ik zeggen geluid? – op.
De bovengenoemde manipulatie kan alle kanten uitgaan. Er zijn artiesten die de omgevingsgeluiden haast volledig intact laten, anderen voegen schaarse elektronische ritmes toe, nog anderen laten een hele batterij effecten en machines op de geluiden los. Het resultaat is dan ook elke keer weer anders. Soms zijn het niet meer dan wat spookachtige drones, andere keren klinkt het als een occult ritueel. Op bepaalde momenten lijkt het ook gewoon alsof je in de buurt van een bewegend stuk metaal, hout of ander materiaal staat te luisteren. Niet alles is even pakkend, dat kan ook niet met negentien composities die allerlei richtingen uitgaan, maar deze compilatie toont nog maar eens aan hoe oneindig de mogelijkheden zijn als je de studio even laat voor wat hij is en je oor te luisteren legt in de buitenwereld zelf. Voor de nieuwsgierigen en andere geluidsfreaks onder ons zeker een aanrader.
06 GIAG | Merje Lõhmus (a.k.a. Mad Sister)
Most of this disc is experimental and often downright odd. The tracks that are good are really good, but some of this is just a minimalistic ambience, drifting somewhere inbetween camp humour and complete seriousness. The overall soundscaping is very lo-fi and analogue, the arrangements on the other hand are a bit too strange for my test, but professional stuff this is.
07 GIAG | Oleg Manson
?????? ??????????? ?????? ?????????????? ???????????, ???????????, ??????? (????? ????? ?????? ?? ?????? ???????? ?????) ? ???????????????? ??????? (????????? ? 2000 ?? 2005 ???) ?? ????????, ???????? ?? Gruenrekorder – ???????? ????????, ?????????????????? ?? ????? ? ?????????? ?????????????. ?????? ??????????? ?????? ?????? ?? ??????????? – ? ??????? ?????, ? ???????, ????? ?. ?????? (Thomas M. Siefert) ?????? ??????? ????? ??????????? ??? ??????? ?????????????, ???? ??????? ??????????????? ???????????? ? ????. ?? ???? ?? ?????? ?????? ??????: ????? ????? ???????? ???? ?????? – ??? ??? ??????????? ????????? (???, ???, ?????, ??? ????? ??????????????? ? ?? ???? ????? ?? ??? ???? ???????????? ? ????????????) ???? ???? ??????????? ????????? ??????, ???????????? ???????????? ? ???????????, ? ??? ??? ???????? ? ?????????. …? ??? ????? ???????? ? ?????????? – ??????????? ???? Ohrginal "Kombinationen 04", ?????????? ???? ????? ?? ????????????? ? ???????????? ??????????, ? ??? ?? ?????????? ??????? "Kombinationen 07", ??????????? ???????.
* ?????? ?????: ????-??? ? ????????????? ??????? "Let It Flow" ?? Gran Ou Lee (???? ?????, ??? ?????? ????? ?????? ?? ???????) ? ?????????? ????? ??????, ?????????????? ???????? ? ??????????? ?????? "Canis Lupus" ?? Riek/ Etzin.
08 auralpressure | RJS
Clearly inhabiting the more academic end of experimental music, this compilation is primarily concerned with music theories relating to field recordings. The liner notes contain a lengthy text showcasing a solid grounding in compositional theory, evidenced by the following quote: "Gruenrekorder examines the possibilities of musical perception in the fields of sound, aesthetics and society. This compilation combines raw uncut and cut field recordings with electronic, instrumental and material arrangements. Two modes of composition seem to oppose each other: clippings from reality verses organised sound. What difference does it make?". The cover continues with a lengthy analysis of the overall theme, which taken holistically is as important and interesting as the music itself.
19 tracks spanning 70 minutes are presented on the CD, featuring 11 artists of whom none I am familiar with (the greater majority seem to be from Germany though). As with some academic sound experimentation releases, the end result is sometimes not entirely engaging, however this compilation suffers no such fate, maintaining focus and interest throughout. In giving a broad impression of this compilation, the subtleties of the various field recordings are evocative and taken in context of the albums ethos, part of the experience is attempting to decipher if the tracks are raw and uncut or have been tweaked in the studio. On the other hand, the remaining tracks are clearly the product of experimental composition and of these there are quite a number of gems for the discovery (hint: the tracks from Martin Moritz, Suspicion Breeds Confidence and Ohrginal get my vote!).
Without simply listing all contributing artists (you can always point your browser in the direction of the label's site if your sufficiently intrigued!), this is solidly grounded compilation that commendably merges experimental theory with overall focus & of greatest importance – listenability.
09 e/i magazine/Marc Weidenbaum
Gruenrekorder is, simply put, one of the foremost record labels today in the realm of using field recordings as a source of musical composition. Based out of Frankfurt, Germany, the label has quietly pressed almost three dozen albums constructed from bats sounds to dog barks to aural snapshots of the Scottish landscape, not to mention discs of sound poetry and noisy electronica. […]
AudioArt ranges in its sources from detuned piano echoed until it's all-encompassing, to birdsong that would be unrecognizable in the forests whence it came, to brief spoken phrases broken and reconstructed with Lewis Carroll's brand of playful malevolence. Thomas M. Siefert's gong experiments find an undulating peacefulness, while Gran Ou Lee is more concerned with beats and fissures. The sound poems are particularly minimalistic. "Fall Out", by Dirk HuelsTrunk, takes simple sentences and clauses involving falling (both "down" and "in love") and chops 'em into a cut'n'paste that suggests the rigor of early experiments with audio tape and razors. (A live HuelsTrunk recording, three minutes built from just two words, shows that he doesn't need much technology to achieve his ends.) The album also features insightful liner notes by Gabi Schaffner, who makes a fine tour guide.
10 Quietnoise | Tobias Bolt
[…] Solche oder ähnliche Fragen zur Wahrnehmung von Klang stellt sie selber im Booklet zur zweiten Compilation, die hier vorgestellt werden soll. »AudioArt Compilation 02« ist dabei aber eher ein Labelsampler im klassischen Sinn und deckt daher ein breiteres Spektrum ab, das sich über elektroakustische Komposition, Sound Poetry, Ambient, Improvisation und, natürlich unvermeidlich, Field Recordings erstreckt. Das Album ist insgesamt abwechslungsreich und gut zusammengestellt, ein Track jedoch, nämlich »Fahnenstange« von Lasse-Marc Riek, sticht besonders heraus, weil hier alles uneindeutig ist. Dabei ist es vordergründig nur eine Aufnahme einer im Wind flackernden Fahnenstange, aus der jedoch fast schon freejazzige Rhythmen zu entspringen scheinen. Nun kann man sich fragen, ob hier die Natur (der Wind) musiziert beziehungsweise improvisiert und ob der Rhythmus immanent oder eine Projektion des Hörers ist. Oder ob unbearbeitete Field Recordings eigentlich Musik sind. Releases auf Gruenrekorder helfen jedenfalls. Nicht unbedingt beim Beantworten – aber sicher beim Stellen solcher Fragen. Hört selbst.
—-

AudioArt Compilation 03 | Various Artists | Gruen 041 | Audio CD > [order]
01 Vital Weekly
GRUENREKORDER AUDIOART COMPILATION 03 (compilation CD by Gruenrekorder)
Germany's Gruenrekorder label releases many CDRs, all dealing with 'experimental' music in it's wide variety of forms. Field recordings play an important role, but also electronics, improvisation and sound poetry. Every once in a while they release 'real' CDs, usually compilations, filled with their roster. As such 'Audioart Compilation 03' is nothing new under the sun. Costa Grühn, Lasse-Marc Riek, Stefan Funck, Gran Ou Lee, Etzin, Suspicion Breeds Confidence: they are all names we heard before, on 'Audioart Compilation 02' and the variety works well here again: from the engine of a car to a techno like song, and more adventurous forms of electronica: they are all there. It's almost like a nice experimental radio show, except that there is no talking in between. But perhaps after the introduction from before, you could wonder why they need to be introduced again? Most remarkable, and perhaps one of the few non-German contributions is the one by Anthea Caddy and Thembi Soddell. (FdW)
02 textura | Ron Schepper
VA: Audio Art Compilation 03 – Gruenrekorder
Gruenrekorder's compilation features soundscapes from India, Australia, Spain, the UK, and primarily Germany. Inhabiting one end of the spectrum are relatively 'pure' field recordings (Budhaditya Chattopadhyay, Lasse-Marc Riek) which build arrangements from 'real' sounds (water ripples, birds, chanting voices, boat creaks, wind), the extreme case etzin/riek's "under the bonnet," four minutes of engine car noise recorded at the Autobahnraststätte; at the other end are more conventionally musical pieces which stand out all the more for being fewer in number. The prettiest is music for one's live electric guitar setting, "Beginnings With No Ends," where simple motifs and swooping arcs turn hypnotic as they grow in number. Compelling too is UK cellist Bela Emerson's "Subaqua" whose loops and effects generate swirling, kinetic rhythms that at times verge on country-techno. Ranging further beyond are Suspicion Breeds Confidence's "Meriten der Begeisterungsresistenz," a slow-moving exercise in psychedelic post-rock, and Martin Moritz's "Mitsubishi," an anomalous sampling of bleepy techno sputter. More representative of the collection are pieces that straddle multiple realms: Stefan Funck's eerie, multi-layered dreamscape "NachtLKw," Brandstifter's "Rauschgiftengelloops," which drowns blurry choral voices in ambient noise, and "plait" by Australian sound artists Anthea Caddy and Thembi Soddell which layers violent cello scrapes over a nearly inaudible base. AudioArt Compilation 03 offers a good representation, then, of soundscape-related activity dedicated to exploring the 'musicality of natural sound' though now might be as good a time as any to suggest a moratorium on bird and water sounds. January 2007
03 Quietnoise | Tobias Bolt 2007-01-24
Review – »Audio Art Compilation 03« Various Artists – »Audio Art Compilation 03« (Gruenrekorder)
Auch mit dem dritten Teil dieser Sampler-Reihe ermöglicht Gruenrekorder einen schönen Blick auf zumeist recht aktuelle Arbeiten der beteiligten Künstler, wobei gleich mal auffällt, dass im direkten Vergleich zum Vorgänger einige neue Namen im Booklet auftauchen. Inhaltlich geraten die fünfzehn Tracks dann erneut zu einer erfreulich widerborstigen Ansammlung von quer über den hier schwammig zu denkenden Begriff Soundscape gefächerten Beiträgen, die von gewitzter Sound Poetry – Carsten Klook mit dem fantastischen Rausschmeißer »In der Discothek« – über spröde Klangskulpturen, wie beispielsweise »Subaque« von Bela Emerson, bis hin zum klassischen Aufgabengebiet Field Recordings reichen. Diese stellen auch den Großteil der Arbeiten, dabei entweder gänzlich im Urzustand belassen oder auch mittels lediglich sanften Treatments zu atmosphärischen Soundcollagen verstrichen. Ein besonders schönes Beispiel für die zuletzt genannte Kategorie ist »NachtLKW« von Stefan Funck, der auf Tausendfuessler bereits eine kopfkinolastige Kurzstudie aus Eis und Schnee entworfen hat, und hier elegant Feldaufnahmen zu schwerelosen Drones übereinander schichtet. Brandstifter liefern mit »Rauschgiftengelloops« einen ebenso gelungenen Live-Mitschnitt aus der St. Bonifaz Kirche in Mainz, in dem Schallplatten-Loops von Chorgesängen zu ruppig waberndem, vielschichtigem Ambient verklebt werden. Unbearbeitete Field Recordings steuern unter anderem Budhaditya Chattopadhyay (Indien), Costa Gröhn (Barcelona), Patrick Franke (Cospudener See, Markleeberg) und Lasse-Marc Riek (Nord-Ostdeutschland) bei, wogegen man bei »Meriten der Begeisterungsresistenz« von Suspicion Breeds Confidence einer sehr entspannten Übung im Einzugsgebiet von elektronisch generiertem Ambient beiwohnen kann und music for one auf »Beginnins With No Ends« einfache Gitarrenfiguren hypnotisch geloopt um sich selbst kreisen lassen. Und auch die weiteren Beiträge befördern den positiven weil ausgesprochen eigenwilligen Gesamteindruck eines Projekts, das sich als kraftvoller und hörenswerter Entwurf weit abseits von herkömmlichen Ansprüchen und zugeknöpften Hörgewohnheiten präsentiert.
4 DE:BUG | link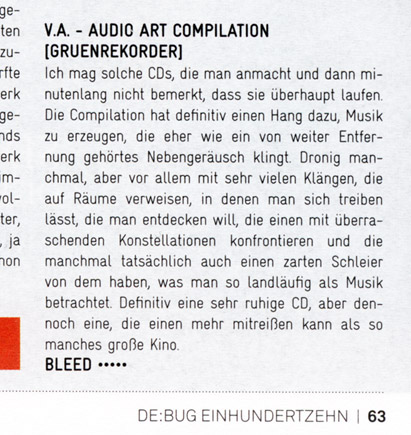 05 Heathen Harvest
Gruenrekorder's Audio Art Compilation 03, a collection of soundscapes from across the world, provides an excellent accompaniment to a windowed early morning train ride to work. There's just enough hushed noise of the birds and water variety to create a seamless blend between the cloud-filled, blue sky of the world outside and the interior space of one's headphones. At first. Then comes the rush of industrial organization, wheels grinding into place, and bells ringing. Throughout the album the artists circulate wildly between these poles, intruding on pacifying moments with bowed screeches and electronic whirs. And, since, hopefully one's commute to work isn't as long as this record, the last few tracks provide a pick-me-up, a few danceable beats even, to carry one home after work and over a new threshold entirely.
Every so often a song interrupts the nature and klaxon mix to introduce a daydreamy concept, a few stolen moments of fading away from one's fellow commuters. Standing out among these stand outs is Music for One (Canadian guitarist Sherry Ostapovitch)'s charming "Beginnings With No Ends", which sounds like an outtake from Lee Ranaldo's recent guitarwork at its most lucid, chiming moments. The guitar beats slowly step over the frets, pausing between notes, as if the guitarist is casting her eyes over the surrounding scenery, adding the slow motion time of a visualscape to the soundscape. Whereas Music for One's guitar drifts oscillates wildly, Bela Emerson's "Subaqua" renders the cello unrecognizable, looping it rapidly, as wider themes circumscribe vicious scrapes of and sawings at the instrument. The density of these two pieces adds a welcome degree of interruption to an album that can occasionally drift into the mesmerizing calm of soundscape beachcombing. Among the tracks that wring unease from soundfields and quiet are Suspicion Breeds Contempt's "Meriten der Begeisterungsresistenz" and Lasse-Marc Riek's "Nord-Ostdeutshland 2006," both pieces that distend the more ambient forays found elsewhere on the album.
Gruenrekorder has embarked on a difficult task, collecting soundscapes without sidestepping too far into bird squawks and wind tunnels, and for the most part, they've succeeded in a creating an album of sparkly sequencing.
06 skug – Journal für Musik | Alfred Pranzl

Dem Ausloten von Klang gibt die »Audio Art Compilation 03« (Gruenrekorder) Raum. »NachtLKW« von Stefan Funck etwa hat ein böses Bassfrequenzwummern, während »Benares« von Budhaditya Chattopadhyay ein stimmiges Field Recording aus der indischen Pilgerstadt am Ganges ist. Music For One trägt ein wahres Juwel mit postrockigen Gitarren bei, oder Bela Emerson wundersame repetitive Geigenloopverschränkungen. Eine Vogelstimmencollage von Suspicious Breeds Confidence und ein originelles Mopedsample von Klippenkeks sind weitere Glanzpunkte aus der spannenden Compilation.
link
—-
Recorded in the field by… | Various Artists | Gruen 033 | Audio CD > [order]
Field Recording Series 01
01 Vital Weekly/Frans de Waard
RECORDED IN THE FIELD BY… (CD compilation by Gruenrekorder)
On 'Recorded In The Field By…' there are nineteen tracks by well-known people such as Chris Watson and Yannick Dauby, to lesser known ones as Derek Holzer, Dronaement, [sic] to the majority of people I never heard of as Aaron Ximm, Dallas Simpson, Gabi Schaffner, Maksim Shentelev and people behind the label such as Lasse-Marc Riek and Costa Gröhn. Each of the pieces is described in the booklet, which is probably the nicest thing about it. It gives the listener the idea that it's not just a random set of recordings, but actually a part of a bigger whole, cut out and made into a composition. Which is nice, since I believe all of these pieces have no electronic treatment afterwards. Besides the usual wind and water recordings, there is also a short piece of children singing or the tunnel sounds behind the Niagara Waterfalls. All in all quite a nice compilation.
02 Brainwashed | "Recorded in the Field by…"
Written by John Kealy
Friday, 16 June 2006
Field recording isn't just pointing a microphone at your scene of choice and hitting record. There is a skill in capturing the atmosphere and life of the moment and allowing a listener to recreate the scene in their mind in vivid Technicolor. All of the artists featured on Recorded in the Field by… have this skill in spades.
The variety of recordings included on this album is a treat for the ears. The 19 vignettes document a wide array of environmental, natural and human situations. Of course there's the token recording of crows too. I'm convinced to become an official field recording artist you have to make at least one recording of a murder of crows. Dallas Simpson's "The Valley of the Crows" is a better than expected variation on this theme. There's only so much that can be done with crow calls but some recordings have more ambience than others and this is one such case. Far more interesting is "Küstenvögel in Dünen" by Lasse -Marc Riek, a recording of many different species of coastal birds. It is a beautifully clear recording and evokes pleasant memories for me of going birdwatching on the beach.
Most of the recordings make great use of space. Some give the feeling of being right there in the middle of what is being recorded. The best piece is undoubtedly Dronaement's "Waterbeat" which is the sound of gurgling water in a pipe recorded very closely. It is claustrophobic but intensely pleasurable. On the other hand, "Niagara Falls" by [sic] reduces the mammoth intensity of the mighty waterfall to a tinny rumble. It is a nice touch to reduce something so big and earthly to a sound so thin and otherworldly. As expected, Chris Watson's contribution, "By Kelso Dunes," is a masterclass in creative recording. His is the only track without any notes accompanying it so I don't know what exactly it is but it sounds hot and dusty.
The wealth of wonderful recordings on Recorded in the Field by… made me want to listen to the album dozens of times. I could spend hours getting lost in the individual tracks. A lot of traditional ideas such as the humming of bees are turned on their head or at the very least shaken up a little, in the case of the bees the sound of a helicopter in the distance acts as a comment to man's engineering versus nature's engineering. I find that the more straightforward a field recording is, the duller it is. Little twists like this adds a spark of excitement to the piece.
This is one of the most enjoyable and fascinating collections of field recordings I've heard in a while. There is no piece that approaches even the remotest outposts of boring. It's rare to find a compilation of any type of music without a dud track but I feel that Recorded in the Field by… is a damn fine assembly of sounds.
samples:
* Chris Watson
* Lasse-Marc Riek
* Dronaement
03 Quietnoise | Tobias Bolt
Field Recordings, und um diese geht es dem in Frankfurt stationierten Gruenrekorder Label vornehmlich, sind Ausschnitte aus der Wirklichkeit, aus dem Kontext getrennte Realitätsfragmente. Diese können nun weiter ver- und bearbeitet werden oder, quasi unberührt, ohne weitere Verfremdung für sich alleine stehen – und so also als Sample im engeren bzw. Musikinstrument im weiteren Sinn verwendet und gehört werden. Auf dem Sampler »Recorded in the field by …« finden sich nun ausschließlich unbearbeitete Field Recordings, treffender vermutlich unter dem Begriff Phonographien subsumiert. Zu jeden Track gibt es Hintergrundinformationen zumindest im Bezug auf die Aufnahmelocation sowie fakultativ eine kurze erklärende Beschreibung zum Zustandekommen des Stücks. Die Zusammenstellung birgt dabei klassische Soundscapes, wie beispielsweise Chris Watsons Aufnahme aus der Mojave Wüste, alltägliches von Costa Gröhn, der sich in Deutschlands Provinz auf Hügel und Parkplätze setzt oder auch Soundwalks durch dichte Wälder und Kanufahrten am Amazonas. Ebenso ins abstrakte Detail wird gezoomt, ein fast schon klassisches Beispiel sind die Schlammpots in der Nähe des Myvatn-Sees in Island, aufgenommen von Gabi Schaffner, die auch einen sehr gelungenen Ausschnitt aus einem Singing Contest beisteuert – und bei mir die Frage aufwirft, ob Bootlegs eigentlich eine Subspezies von Field Recordings darstellen.
04 testcard | Martin Büsser
Field Recordings haben Einzug in zahlreiche Formen der zeitgenössischen Pop-Produktion gefunden, die konkreten Klänge werden dort jedoch meist nur als dekorative Beigabe eingeflochten. Selten jedoch belassen es Künstler dabei, ihre Field Recordings unbearbeitet zu veröffentlichen. Genau das war allerdings das Anliegen dieses Samplers, für den die einzelnen Teilnehmer (u.a. Chris Watson, Derek Holzer, Gabi Schaffner, Robert Curgenven und Yannick Dauby) Aufnahmen einreichen sollten, bei denen bereits die Feldaufnahme an sich klanglich überzeugt. Und das ist in vielen Fällen sogar gelungen, gleichgültig ob man das Ergebnis nun als Musik oder einfach nur als Geräuschkulisse bezeichnen mag. Wir hören unter anderem – sehr atmosphärisch – weit entfernte Kirchenglocken, eine klappernde Laufplanke am Deutschen Eck in Koblenz, ein isländisches Kind, die bei einem Gesangswettbewerb vorsingt, das monoton lärmende Geräusch der Niagara-Fälle, aufgenommen aus einem nahe gelegenen Tunnel und immer wieder: Insekten, Wasser- und Naturgeräusche. Manchmal kann es von Vorteil sein, wenn die Musik verstummt und andere Geräusche den Raum erfüllen. Ein ambitioniertes Projekt, das an keiner Stelle in Esoterik abdriftet.