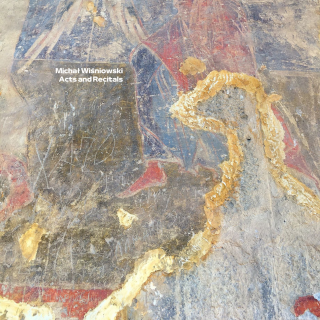 Acts and Recitals | Michał Wiśniowski
GrDl 212 | Gruen Digital > [order]
Reviews
The album 'Acts and Recitals' consists of nine unique stories of the Georgian audiosphere, which all together create diverse composition. In that journey which starts with the ringing bells, we wander through the beautiful areas full of other great performances and at the end we reach the final destination to listen to the minimalistic solo with the simple accompaniment. It is an experience in which liquids, solids, animate and inanimate matter play an important role.
The sounds I gathered during my one month travel in Georgia. In my recordings, I focused on performative phenomena, searching for the diversity of sounds, and finding musical genres in the space of the audiosphere. The entire album is the culmination of a whole spectacle of acts and recitals presented by the Caucasian soundscape. I don't reveal the locations of the recordings because, I don't want the images of the places to influence the perception of the areas in which they are located.
Thanks to Agata Miloch for the photo.
MP3
1. Overture
MP3
2. Symphonic Poem
3. Wind Tickets
MP3
4. Block 99, House 7, Floor 7
5. String Quartet – Nectar
6. Voice sticks in the memory
7. Serenada 11
MP3
8. A risky kiss
9. Aria
9 Tracks (43′45″)
Field Recording Series by Gruenrekorder
Germany / 2022 / GrDl 212 / LC 09488
---
Guillermo Escudero | Loop
Michał Wiśniowski is a Polish sound artist who lives in Krakow and is an inveterate explorer of sounds through field recordings and the ambient as a sound environment. For the latter, Wiśniowski organizes expeditions inside and outside the city of Krakow.
In 2021, he released an EP "Zima nad Bałtykiem (Winter on the Baltic Sea)" consisting of field recordings that focus on the winter sounds of water. In 2022, he released "Organism," an album that features apartment blocks as a living organism. He is also the presenter in a radio program that deals with ambience.
The album in question belongs to Gruenrekorder's "Field Recording" series, a German label that brings together an important roster of sound artists from around the world. "Acts and Recitals" consists of nine pieces recorded during his month-long stay in Georgia (it is located at the intersection of Eastern Europe and Western Asia, and is today generally regarded as part of Europe). 
"Overture" that opens the album begins with the recording of metallic objects that twinkle like bells. Apparently, this occurs in the field, as well as the water sounds on "Symphonic Poem". It is perceived that they are recordings made at close range which is quite different in "Wind Tickets" that captures the wind in an open space. On "Block 99, House 7, Floor 7" an industrial sound looms, including metal and screeching. In "Voice sticks in the memory" the performative aspects that Wiśniowski points out in the press release appear, which includes percussion that sounds in the distance and conversations between adults and children. Apparently all this occurs in a festive atmosphere. The sound artist now goes into the forest and the bird chirps and voices in the distance are heard in "Serenada 11" and in "A risky Kiss", although the latter includes a journey further into the forest. Rounding off the album with "Aria", the sounds of birds are almost imperceptible as if the sound space were completely in silence.
Michał Wiśniowski proposes a journey in which we can imagine the soundscapes and also the audiosphere of that part of the world.
link
Karl Grümpe | Musique Machine
Michał Wiśniowski is a Polish sound artist hailing from Krakow, with his interests revolving around field recordings and ambience. Acts And Recitals, his latest album, is literally a sonic deposit of nine field recordings (or stories as the artist refers to them), captured in a one-month-long journey to Georgia. Wiśniowski created an audio log of found sounds, characterized by the spontaneous truth of the material, which is presented raw and organic. This is a fine and pure example of phonography. 
The sounds are from various performative objects and machinery, natural and human-produced elements, voices, music and sounds from speakers, urban sounds and so on, which are formed in a series of unified pieces. The perfection of these recordings is so powerful that it transcends far beyond strict field recording definition, venturing into the realms of musique concrète. The musicality of these sounds are both evident and uplifting, creating several different moods and atmospheres.
Moreover, Wiśniowski's process is a documentation of the various sonic incidents as well, put together in that manner, a sum of ephemeral details of a sonic landscape. There are no cut-ups or a sound collage manifestation, or doesn't seem so, giving headroom and leaving the sounds to breathe in their natural habitat, with zero processing. In reality, this is a conceptual documentary in sound, without any info on the visited places, just a single dot on a map, signifying Georgia. That information is more than enough. 
With Acts And Recitals Wiśniowski invites us to a spectacular sonic narration, where the honesty of the material is intense enough to drag you on a voyage of wonders. I really hope that this album will find its way to a physical release too. To check out this digital album fly in here.
link