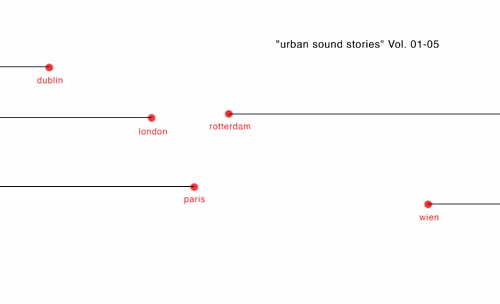 "urban sound stories" Vol. 01-05
GrDl 115 | MP3
Sounds and photographs as soundscapes of European cities
Five broadcasts for Kunstradio, within the bounds of "curated by …" a series of on air-on line exhibitions of international radio-art.
ORF / Austria – Gruenrekorder / Germany
online: www.kunstradio.at
on air: Ö1 Kunstradio, Sundays 11.03-11.45pm (CET)
Broadcasts archive: click here

Listen > Vol. 01 — 08.11.2009 — London / England – Simon Whetham
Listen > Vol. 02 — 15.11.2009 — Vienna / Austria – Tobias Bolt
Listen > Vol. 03 — 22.11.2009 — Paris / France – Eric Cordier
Listen > Vol. 04 — 13.12.2009 — Rotterdam / The Netherlands – Lasse-Marc Riek
Listen > Vol. 05 — 27.12.2009 — Dublin / Ireland – Roland Etzin
"Curated by" is a series of international radio-art exhibitions, taking place both online and on air in the weekly Kunstradio broadcast. Radio-artists and organisations with differing artistic and theoretical backgrounds are commissioned to develop the concept and design of each of these exhibitions. In their projects, each of the curators, together with the chosen artists, attempts to highlight aspects of contemporary radio-art, which they deem important and interesting.
Kunstradio thus delegates its own curatorial functions – with the calculated risk of definitions of radio-art entering which may be foreign to the producer/editors as well as to some of the artists, who have been over lengthy periods of time instrumental in defining some of Kunstradio's own definitions of radio-art. All exhibitions are part of Kunstradio on line's archive, each of them containing the original works and a small catalogue.
With this project, Kunstradio hopes to contribute to an on-going debate on the role the institutions of public radio and those of the art-system have played and still play in the definition of radio-art.
For the 15th edition of "Curated by", Kunstradio has invited Gruenrekorder to propose a project – the result is "urban sound stories", including new sound works by Simon Whetham, Tobias Bolt, Eric Cordier, Lasse-Marc Riek and Roland Etzin.
Five sound artists explore eight places each, in five different cities – using the means of phonography and photography. The exploration of artificial and natural space within the city takes place within the same space of time.
The field recordings are presented as a narrative. The photographs will be transformed into audible signals, with the help of digital processes. The whole composition presents the listener with a concrete soundscape opposed to one artificially produced from the photographs, transferred in the space of radio.
Each digital image carries acoustic information. We see the image, yet we hear nothing – is it possible to make these data audible? A photo shows a place, frozen in time and memory. There are many ways of looking at it and listening into it. The audio material recorded by the five artists is translated into music signals, using a special software. The compositions based on field recordings and photographs present the listener with a transformation of aesthetic states, whilst all the original information is maintained.
The soundmaps to the broadcasts are available on the internet. They provide a visual and spatial idea of the recorded places.
---
www.urbansoundstories.gruenrekorder.de
"curated by …" a series of on air-on line exhibitions of international radio-art.
Gruenrekorder / Germany / 2009 / GrDl 115 / LC 09488