---
EAR ROOM | re-sounding dialogues across the globe
online now :: Andrea Polli
Ear Room, an ONLINE publication for developing critical DISCOURSE and debate on the creative, and EXPLORATIVE use of SOUND in artistic PRACTICE.
---
New Release:
Phonography
6 Tracks (38′49″)
Gruen CD-R (50 copies)
---
SONIC VIGIL 4 / CD LAUNCH AND FREE CONCERT / 7 PM – 9 PM FRI 18 DEC 09
Sonic Vigil 4 Box Set | Various Artists
The launch of Sonic Vigil 4 Box Set containing 4 CDs and artists cards takes place in Triskel Arts Centre, ESB Substation,  Cork, on the 18th December at 7pm. After the launch there will be a free concert featuring Roland Etzin, Mersk, John Godfrey, Harry Moore, SAFE, and The Quiet Club. Video by Irene Murphy. All welcome to come along!
This limited edition box set (only 150 numbered copies) comes in a specially designed box by Mick O'Shea. It features live recordings of the artists made at Sonic Vigil 4 in St. Fin Barres Cathedral, Cork, July 2009 as part of the AVANT Festival. Artists include Francis Heery, Roland Etzin, Angus Caryle, Anthony Kelly & David Stalling, Jaap Blonk, The Quiet Club and John Godfrey, SAFE and many others. The box set also contains a set artists cards and an introduction by Paul Hegarty, author of Noise/Music A History.
Sonic Vigil began in St Fin Barre's Cathedral in 2005. Over the years it has established a place for sound to happen in Ireland that is unique in its duration and its persistence. Sonic Vigil is presented by the Cork Artists Collective, the core organiser and assembler has been Mick O'Shea, who with Danny Mc Carthy, has co-curated many of the vigils. Sonic Vigil 4 was curated by the Quiet Club, Gruenrekorder and Soundeye. All those involved in Sonic Vigil would like to thank the staff of the Cathedral and the Deans for welcoming this unusual event.
The Sonic Vigil 4 box set is published by Anear Productions and is released by Farpoint Recordings (Ireland) and Gruenrekorder (Germany)
—
Click here for more information about this release
—
---
Review | By MASSIMO RICCI / TEMPORARY FAULT
Heike Vester | Marine mammals and fisch of Lofoten and Vesterålen
One has to feel affection for characters such as Heike Vester, a "biologist, coordinator and founder of Ocean Sounds, specialized in bio-acoustics of marine animals", whose "main interest is to preserve life on this planet by trying to minimize human destruction". As naïve as this aspiration may look in this hopeless age, I often think that with a few additional millions of Vesters around the world there would still be a measure of hope for humanity. Oh, well. This CD – published by Gruenrekorder – is essentially a collection of calls and signals from the inhabitant of the seas from the Norwegian regions quoted by the title, two among the geographic areas in which Heike is active today as she studies the vocal behaviour of killer and pilot whales – the real protagonists, together with dolphins, of the whole project. […]
---
Article: Grünes grün aufnehmen
Im Zeichen des Umweltschutzgedankens
Radio: Gruenrekorder | Ö1 – ORF.at Programm Do, 19.11.2009 | 23:03 | Zeit-Ton
---
Review | By Frans de Waard / VITAL WEEKLY
d'incise | Sécheresse Plantée En Plein Ciel
Back in Vital Weekly 686 we first lent an ear to D'Incise, a project from Geneva, Switzerland. Here he returns with an album for Gruenrekorder, and for the label, its that much needed change: to incorporate field recordings – in this case made in the Czech Republic and Poland – with music. D'Incise, it is noted before, is the man armed with a sampler. Rhythms play a role in his work, and stretched out flows of sound – ambient in other words – are also important. To this he adds his field recordings – children playing, ventilation, means of transport. […]
---
New Release:

d'incise: "Sécheresse Plantée En Plein Ciel" (Gr 071/09)
Electronica
10 Tracks (67′00″)
Gruen CD-R (50 copies)
---
Verein zur Förderung von Phonographie und experimenteller Musik e.V.
Konzertreihe "Phonophon" | www.phonographie.org
Evapori (D) & Gregory Büttner (D)
12.11.2009 | 20:00 | 5 Euro
Daimlerstraße 32
60314 Frankfurt / Main, Germany
---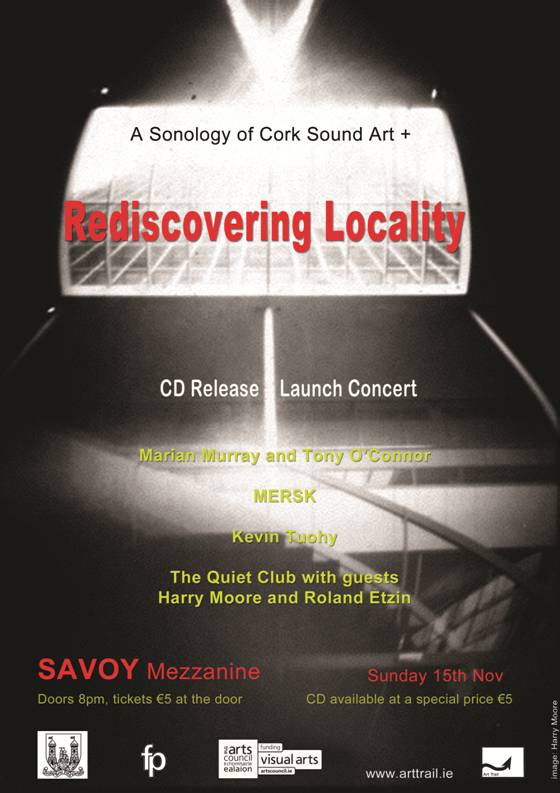 A Sonology of Cork Sound Art +
Rediscovering Locality
CD Release
Launch Concert
A new CD entitled "Rediscovering Locality" A Sonology Of Cork Sound Art + (curated by Danny Mc Carthy) will be launched by Art Trail and Farpoint Recording with a special concert in Savoy Theatre Cork on Sunday 15 TH Nov @8 pm Everyone is invited. Featured in the concert are The Quiet Club (Danny Mc Carthy & Mick O'Shea with guests Harry Moore and Roland Etzin, Mersk, Tony O'Connor & Marian Murray, Kevin Tuohy. The CD will be available at the launch for a special offer price of 5Euro. The artists on the CD are The Quiet Club (with Mathias Forge), Harry Moore, Han-earl Park, Murray Campbell & Marian Murray, Kevin Tuohy, Tony Langlois, Quiet Music Ensemble, Mersk, John Godfrey, Thammasak Wongkumad(Juza), SAFE, FranciS Heery, Christian Carley, Barry John Maher, Wölflinge, Jesse Ronneau, Not Abel, Andrea Bonino, Liam Ó Muirthile versus Concerned Parasites ubh Körka Gweena
Further information www.arttrail.ie or www.farpointrecordings.com
Savoy Theatre Cork
Sunday 15th Nov
Doors 8pm, tickets €5 at the door
---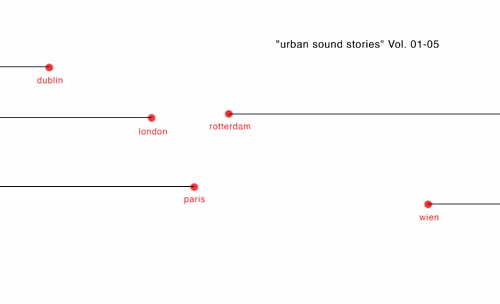 "urban sound stories" Vol. 01-05
Sounds and photographs as soundscapes of European cities
Five broadcasts for Kunstradio, within the bounds of "curated by …" a series of on air-on line exhibitions of international radio-art.
ORF / Austria – Gruenrekorder / Germany
online: www.kunstradio.at
on air: Ö1 Kunstradio, Sundays 11.03-11.45pm (CET)
Listen > Vol. 01 — 08.11.2009 — London / England – Simon Whetham
Listen > Vol. 02 — 15.11.2009 — Vienna / Austria – Tobias Bolt
Listen > Vol. 03 — 22.11.2009 — Paris / France – Eric Cordier
Listen > Vol. 04 — 13.12.2009 — Rotterdam / The Netherlands – Lasse-Marc Riek
Listen > Vol. 05 — 27.12.2009 — Dublin / Ireland – Roland Etzin
---
New Release: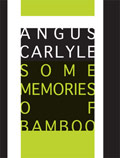 Angus Carlyle: "Some Memories of Bamboo" (Gruen 053/09)
Phonography
10 Tracks (65′34″)
CD (500 copies)
---
Album of the month – Review | By Tobias Fischer / Tokafi
Angus Carlyle | Some Memories of Bamboo
Silent stories from Japan: Subtle sounds embedded into a sonic scenery of peace and tranquility.
What is it that defines a field recorder? What turns a man walking around with a microphone into a phonographer? When does the acoustic world around us become a piece of art? It is questions like these that have occupied Angus Carlyle for the better part of the past decade. His work has accompanied, analysed, interpreted and inspired the development of field recordings from a vague term to a fully-fledged genre fanning out into anything from sound art to philosophy. Throughout, he has sought to reconcile the documentary nature of the trade with the freedom to just listen: His approach has been scientific, yet passionate. It has been minutely detailed yet offered far-reaching implications. It is grounded in academic insight but never looses sight of the senses. […]
Review | By Frans de Waard / VITAL WEEKLY
Angus Carlyle | Some Memories of Bamboo
Germany's Gruenrekorder label sometimes has money to burn – well sometimes. Maybe the artist chips in some money too? I never heard of Angus Carlyle, but apparently he visited the Kami-Katsura, a small suburban district of Kyoto, Japan and recorded there this work, in thirteen scenes. Each of them comes with a description of the specific site, which is nice to read, but of course doesn't compare with seeing the real thing. Its not an area I visited, I think, when I was in Kyoto. Like so many of the Gruenrekorder releases, this one too deals with pure, unprocessed field recordings. Very tranquil, this particular neighborhood, I assume, as most of these pieces consist of very few sounds. […]
---
Review | By textura
Angus Carlyle | Some Memories of Bamboo
Having initially come to Kami-Katsura, a small suburban district in North West Kyoto, Japan, by accident, Angus Carlyle found himself so seduced by the tranquility of its acoustic atmospheres that he subsequently returned to compile three weeks of recordings of a land area 500 metres long and 100 metres wide. Some Memories of Bamboo is the first solo CD from Carlyle, a writer and sound recordist who works at the University of the Arts, London and co-curated the Sound Escapes exhibition at Space in London. The sixty-five-minute release effectively documents his interest in merging anthropology and sound art into an "arresting geography of the ear," a conceptual field where the visual gives way to the auditory. […]
---
11/11/2009
the foundry (london, uk)
alzira/aidan mark/tobias schmitt
10/11/2009
the klinker (london, uk)
chris cook/aidan mark/tobias schmitt
08/11/2009
pangea project (london, uk)
alzira/aidan mark/tobias schmitt
---
---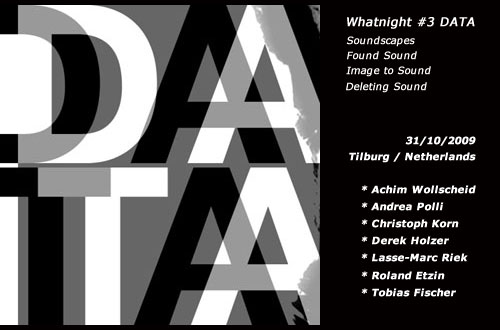 ---
Review | By Zipo / aufabwegen
Andrea Polli | Sonic Antarctica
Sonic Antarctica ist die Sonifikation natürlicher Phänomene und die Dokumentation der wissenschaftlichen Auseinandersetzungen mit diesen Erscheinungen, montiert zu einer Art Radio Play von der US-amerikanischen Soundwissenschaftlerin Andrea Polli (Polli ist Ass. Professor am Hunter College in NYC). In letzter Zeit erleben wir eine regelrechten Trend der "sonification", also der Bemühung, auch eher entlegene Wetter- und Naturgeräusche klingend zu machen; von Kalle Laars Gletschertelefon über Chris Watsons Tiergeräusche bis eben zu Sonic Antarctica. […]
---
Review | By Tobias Fischer / Tokafi
Bukarest | Bucure?ti – fragmente | Greta Hoheisel & Norbert Lang
Beauty #3: "Bukarest | Bucure?ti – fragmente"
The way you present yourself visually as an artist is becoming ever more important. As Steven Wilson of Bass Communion and Porcupine Tree put it in a recent interview with us: "When you're an artist, then your creativity does not stop at the point you've created the music. It continues through to the way you present your website, to the way you present your live shows and professional photographs." In this continuous series, we are taking a look at how labels and musicians around the world are accepting this challenge to come up with stimulating, provoking, endearing or simply stunningly beautiful designs. Part three: Norbert Lang and Greta Hoheisel's Book/CD/Exhibition Catalogue for their "Bukarest | Bucure?ti – fragmente" presentation. […]
---
Gruenrekorder | Ö1 – ORF.at Programm Do, 19.11.2009 | 23:03 | Zeit-Ton
Raumklang Klangraum. Gruenrekorder.
Ein Label für Phonography und Sound Art im Zeichen des Umweltschutzgedankens.
Gestaltung: Susanna Niedermayr
---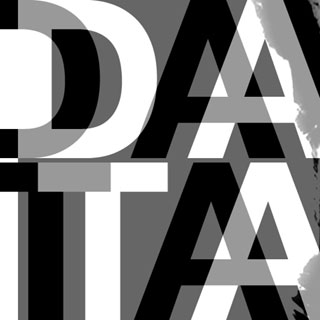 Whatnight #3 DATA: Soundscapes, Found Sound, Image to Sound, Deleting Sound
Festival at different places in Tilburg / Netherlands
DATA takes place on Saturday October 31TH
De Pont museum of contemporary art
Achim Wollscheid / Germany ::. info
Andrea Polli / USA / New Mexico ::. info
Christoph Korn / Germany ::. info
Derek Holzer / Germany / USA ::. info
Lasse-Marc Riek / Germany ::. info
Roland Etzin / Germany ::. info
Tobias Fischer / Germany ::. Moderation
Presented and curated by Whatspace / Netherlands and Gruenrekorder / Germany
---
---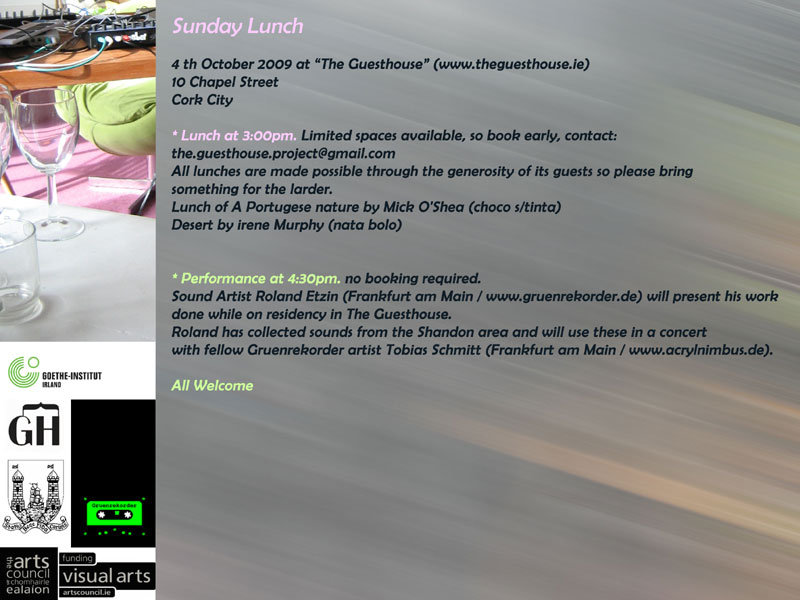 Sunday Lunch – 4 th October 2009 at "The Guesthouse"
10 Chapel Street
Cork City
Ireland
* Lunch at 3:00pm. Limited spaces available, so book early, contact:
the.guesthouse.project [at] gmail.com
All lunches are made possible through the generosity of its guests so please bring
something for the larder.
Lunch of A Portugese nature by Mick O'Shea (choco s/tinta)
Desert by irene Murphy (nata bolo)
* Performance at 4:30pm. no booking required.
Sound Artist Roland Etzin (Frankfurt am Main www.gruenrekorder.de) will present his work done while on residency in The Guesthouse.
Roland has collected sounds from the Shandon area and will use these in a concert
with fellow Gruenrekorder artist Tobias Schmitt (Frankfurt am Main www.acrylnimbus.de).
All Welcome
---
Reviews | By Jez riley French / 'IN PLACE'
Thomas André | Recorded in China
Let me begin by saying that track 8 – 'night in Beijing' makes this a worthwhile purchase on it's own. In fact for me it's probably a track that is best heard in isolation from the others as it's the only one that really goes beyond the audio postcard approach of this release. Now, I have been known to be critical of field recordings that are more or less 'travelogue' & my reasons ae simply to do with having listened to a lot of field recordings for a very long time. I don't think it's possible to capture anything emotive of a place by simply pointing a microphone at it and bunging the results onto a cd. That said, it's usually always interesting to listen to location recordings. […]
Eisuke Yanagisawa | Scenery of Water
Over the course of these 11 short tracks we are simply presented with a selection of recordings made by the artist that feature water in various ways. We hear dripping taps, rivers, waves & rain. Only tracks 6 & 9 appear to have other elements that dominate the recordings. It's a hard cd to review to be honest. For the most part I'm left wnating to hear longer takes of just a few of the tracks & I can only assume that this is all that was recorded at the time. If you can get past that then you'll be ok listening to this disc. The tracks featuring rain are the most interesting for me as they do capture a sense of place – the humidity and the wet, bright green and mud coloured landscape comes into ones mind. That & the open doors of houses and buildings in countries where sweat and rain are constants. […]
---
04/09. – 27/09/2009
sounds versus visuals
Jörg Eibelshäuser
Lasse-Marc Riek
---
Review | By Tina Manske / titel magazin
Thomas André | Recorded in China
Keine Mittel mehr? Noch nicht mal fürs Mittelmeer? Wie wär's mit einer imaginären Reise in das Reich der Mitte, bequem daheim auf dem Sofa? In der Feldaufnahmen-Reihe des Gruenrekorder-Labels erscheint nun das Reiseporträt von Thomas André aus dem Jahr 2007. Ein Chor am Himmelstempel, erschöpfte Fußgänger auf der Chinesischen Mauer, zwei Männer singend im Park. André hat die Zustände, in denen diese zehn Tracks entstanden, ausführlich im begleitenden Text beschrieben. Ganz leicht kann man sich fallen lassen in diese akustischen Ausflüge, die seltsam minimalistisch anmuten und keinerlei Gefühl oder gar message vorgeben. Einfach mal hinhören, wenn ein Vogel singt oder ein Mönch vorbeischlappt, während im Hintergrund die Großstadt im Verkehrsrauschen versinkt.
---
Reviews | By Frans de Waard / VITAL WEEKLY
Thomas André | Recorded in China
Today might be the hottest day of summer in The Netherlands. I can barely move between arm chair and computer, or perhaps even think about reviewing music. Listening to music is hardly a problem, switching a CD is a bit more dramatic. So its easier to press 'play' again and listen to it again. I imagine China to be hot this time of the year too, but Thomas André made his recordings in spring 2007. Maybe the weather is better then? […]
Jeremy Bible & Jason Henry | Magnet
Apparently Gruenrekorder is happy with Jeremy Bible and Jason Henry. Following their 'Marker' release (see Vital Weekly 646), here is 'Magnet'. The two have had their releases on their own Experimedia label, and all of the releases deal with instruments being processed, found sound and mucho effects. Especially the delay pedals are pushed through the floor. It seems to me that the rhythmic aspect of 'Marker' is left behind, and that they are now more or less improvising their way through a given set of sound. […]
---
New Release:

Thomas André: "Recorded in China" (Gr 069/09)
Phonography
10 Tracks (49′17″)
Gruen CD-R (50 copies)
---
Review | By Aurelio Cianciotta / neural
Various Artists | Rhythm
A series of wonderful artists follow one another in Cherry Music (Japan) and Gruenrekorder (Germany) split release. It consists of field recordings with an underlying 'intrinsic' rhythm, hence the title. This is an idea that in different ways permeates all ten selected tracks. Among the experimenters with their clicking, drilling and various interferences we find Peter Cusack, struggling with a car-assembly laboratory, before hearing from Eric La Casa who presents sounds without direct reference points, but which generate a gloomy atmosphere, nervously iterated and screaming. Roland Etzin is also quite strict in placing his microphones, leading to the same dark atmospheres, while Jez Riley French, after several seconds of silence, brings the listener back to a dull clashing of buoys, lapping and whatever may be registered in a remote lake in Yorkshire. […]
---
Review | By Stephen Fruitman / sonomu.net
Bukarest | Bucure?ti – fragmente | Greta Hoheisel & Norbert Lang
A three-pronged guided tour – music, text, image – of Bucharest, a "metropolis in constant flux", according to the introduction. Bucharest has indeed historically been one of the important capitals of central Europe, but long fell under the shadow of the dictator Ceaucescu, who vampirian effect on the people, culture, and even architecture remains felt today.
The photographs by Greta Hoheisel are superbly lit and framed, and all take as their subject abandoned places of activity – playgrounds, subway stations, railroad cars, staircases, bridges, soccer fields, fairground midways, blocks of apartment buildings.
If by chance you think you just saw someone, it turns out to be a model on a billboard or a clutch of tailor´s dummies in wedding gowns. And aside from some murky shots from inside a church, everything is more than a little run-down, scuffed up, cracked, overgrown, rusty. […]
---
New Release:

Jeremy Bible & Jason Henry: "Magnet" (Gr 067/09)
Soundscapes
5 Tracks (60′03″)
Gruen CD-R (50 copies)
---
New Distribution:

Yannick Dauby: "Songs of the Frogs of Taiwan" (GrD 11/09)
Phonography
16 Tracks (68′00″)
CD

V.A.: "Autumn Leaves" (GrD 12/09)
Various Styles
0 Tracks (0′00″)
Book
---
Review | By David Leveille / PRI's The World
Heike Vester | Marine mammals and fisch of Lofoten and Vesterålen
The rocky islands of the archipelago in the Norwegian Sea called Lofoten rise dramatically up out of the Norwegian Sea.
On them are scattered small fishing villages with names like Henningsvaer, a village of 450 residents, mostly fishermen, whalers and one marine biologist named Heike Vester.
Her research focuses on bio-acoustic communication among marine mammals…seals, killer whales, and other fish found in the waters of the Vestfjord. On most days, Vester packs her lunch, a G-PS, and a hydrophone (that's an underwater microphone) and heads for open water on her zodiac:
"…and you scan the horizon for anything that doesn't look like water. Sometimes when you see a white splash and you see it again and again and maybe you see a black fin that's when you have found a whale… Once we're with the whales, we hope that they're not disturbed by us so that we can approach them slowly, stop the boat and record." […]
---
Review | By textura
Heike Vester | Marine mammals and fisch of Lofoten and Vesterålen
[…] If track ten sounds more tumultuous, it should as it documents a feeding frenzy involving sixty killer whales and a herring net that broke free from a seiner (a large vessel that catches fish using a seine, a large, vertically-hanging fishing net). Not only is the "compilation" compelling on listening grounds, it's educational too. We learn, for example, that killer whales (Orcinus orca) feed on herring using a method called "carousel feeding" whereby the whales herd the herring together, chase it to the surface, and then hit it with their tails to kill or stun it. Here and in the other ten pieces, such detail renders the creatures' whistles, clicks, calls, and squeals more meaningful in enabling the lay listener to visualize the scene.
---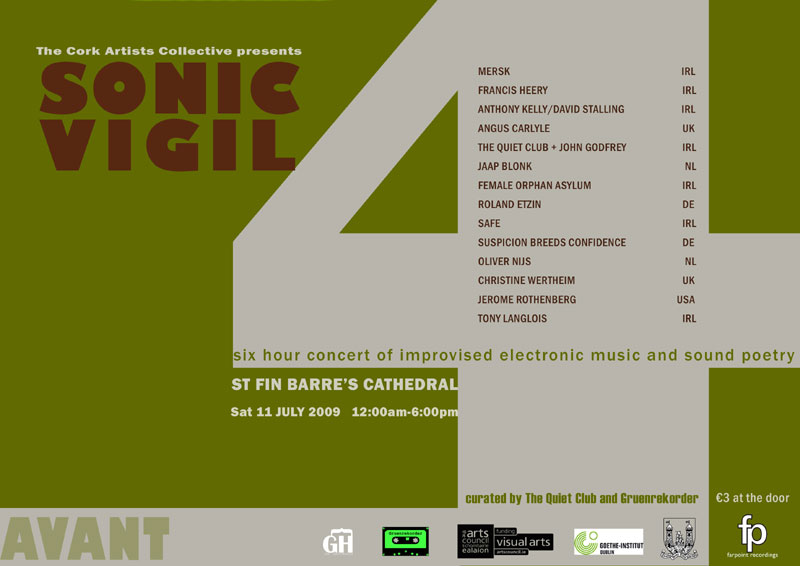 Sonic Vigil 4
Suspicion Breeds Confidence, Jaap Blonk, Safe, Olivier Nijs, Angus Carlyle, Jerome Rothenberg, Roland Etzin, Francis Heery, Mersk, Female Orphan Asylum, The Quiet Club + John Godfrey, Christine Wertheim, Tony Langlois, Anthony Kelly/David Stalling
Sat 11 July 2009
St. Fin Barre's Cathedral | Cork City | Ireland
12:00 pm – 6:00 pm | Admission 3 €
Curated by the Quiet Club and Gruenrekorder
Sonic Vigil 4 takes place on Saturday July 11TH. Presented by the Cork Artists Collective and curated by Mick O'Shea and assisted by Danny Mc Carthy. This sound and visual art event sees its return to St Fin Barre's Cathedral for a six hour nonstop event.
It will host sound art and improvised music both acoustic and electronic as well as In Tandem a collaboration project initiated by the Yo-Yo club.
Cork Independent News | Thursday, 09 July 2009
Sonic Vigil goes international this year. Curated by the Quiet Club and Gruenrekorder, this highly unique event is again being held in St Finn Barrs Cathedral on Saturday, July 11 between 12pm and 6pm. It has over its three years in existence established itself as one on the many highlights in Corks experimental musical calendar. Continuing with its innovative approach to programming events this year it will include Ireland's first Field Recording Festival with some of the world's leading exponents.
Artists include Angus Carlyle (UK), Olivier Nijs (NL), Suspicion Breeds Confidence / Tobias Schmitt (DE), Roland Etzin (DE), The Quiet Club (IRL), SAFE (IRL) and Female Orphan Asylum (IRL) among others. Field Recording is quickly establishing itself as a major section in the area of sound art and Gruenrekorder are one of the major labels for this work in the world.
A special highlight of the event will be performances by sound poets from the Sound Eye Festival. These will include Japp Blonk (Nl) who is one of the leading sound poets in the world with numerous CDs to his credit including the now infamous Five Men Singing. He will be joined by leading sound poets Christine Wertheim and Jerome Rotherberg.
CDs records from both the Gruenrekorder Label and Far Point Recordings will be available for sale at the concert.
---
Heike Vester on radioeins / rbb | Die Sprache der Wale
Knurren, Brummen, Zirpen, Pfeifen, Zischen, Gurgeln – Nein es handelt sich nicht um die Geräusche ihres albernen Kaffeeautomaten, auch nicht um die Anweisungen eines Fußballtrainers am Spielfeldrand, so reden Wale miteinander. Auf den nordnorwegischen Lofoten im Fischerdorf Henningsfoer werden ihre Gespräche belauscht. Die Verhaltensbiologin Heike Vester erforscht die Kommunikation der Meeressäuger.
CD:
Marine mammals and fisch of Lofoten and Vesterålen
---
Review | By Frans de Waard | VITAL WEEKLY
Eisuke Yanagisawa | Scenery of Water
Germany's Gruenrekorder is a label which releases all kinds of experimental sound art, but field recordings have the main interest. In some cases, such as here in 'Scenery Of Water', it deals with pure and unprocessed sounds. Eisuke Yanagisawa hails from Kyoto, and works as a field recordist since 2004. On this CD he has eleven pieces from Vietnam, Myanmar and Japan. Somehow 'water' runs as a theme through all of these pieces. What is there to say about these recordings? Not much, I guess. There seems to an absence of any human activity. Just outdoor sounds (well, and indoor, such as in 'Bathroom'), and they are recorded well, if not a bit soft, volume wise. It works well with headphones. Nice enough, perhaps most engaging to those which places has visited. And where as six pieces have been recorded in Kyoto – the only place I have visited of the various locations here – I can't say I 'recognize' anything. Might not be the necessary anyway. I guess for those who love Chris Watson and want to seek out more alike.
---
Review | By  Henry Lauer / Heathen Harvest
Andrea Polli | Sonic Antarctica
[…] This CD humanises these folk quite beautifully and I really enjoyed the contrast between the warmth of the interviewees and the frigid realm in which they work. But the real power comes toward the end of the CD, when researchers talk about politics and the science of climate change. They express their dismay that all their hard work, their determination, sincerity and rigour, can be attacked, trivialised and dismissed in the political arena so easily and with so little concern for truth or consequence. This is the telling point of this release: that here, in perhaps the coldest place on earth, researchers still feel the political heat for revealing the inconvenient truth of global warming. It is really powerful to hear their personal perspectives on this issue because these are perhaps the only people on the planet who have a full appreciation of the problem. I rather wish that every myopic legislator in the world were forced to listen to this release – it might just convince them to follow their conscience and the overwhelming evidence for once and not just obey the money of similarly short-sighted vested interests. I am not sure who this album would appeal to and you certainly cannot treat it like almost any other release I've ever heard. However I feel much richer for having listened to it and I encourage you to check it out if my review at all piques your curiosity.
---
New Release:

Eisuke Yanagisawa: "Scenery of Water" (Gr 060/09)
Phonography
11 Tracks (34′19″)
Gruen CD-R (50 copies)
---
Review | By Tobias Fischer /  tokafi
Heike Vester | Marine mammals and fisch of Lofoten and Vesterålen
Subaquatic explorations: Even the most accomplished and proficient Sound Artists will be amazed.
In terms of building suspense, Herman Melville might have been able to learn a thing or two from Heike Vester's blog. Giving up her native Germany and moving to an uncertain future in Norway was the easiest part. Since then, however, marine-biologist Vester founded her own organisation ("Ocean Sounds") dedicated to the the rescue of the earth's marine environement right in the heartland of one of the few countries left to still allow commercial whaling. Fearlessly, she confronts hunters, moving her boat in between harpunes and mink whales to try and prevent unnecessary killings. With a tear in her eye, she notices the absence of Orcas in the Vestfjord only to embark on a new project and head for Chile instead. And when her warnings are ignored and a colony of cormorants is scared away by curious spectators and "uncontrolled tourism", her writings are filled with sadness and cropped-up anger. You wouldn't think this woman could ever have a boring day in her whole life. […]
---
Verein zur Förderung von Phonographie und experimenteller Musik e.V.
Konzertreihe "Phonophon" | www.phonographie.org
Heribert Friedl (A) & Olivier Nijs (NL)
05.06.2009 | 20:00
Institut für neue Medien (INM) | www.inm.de
Schmickstraße 18
60314 Frankfurt / Main
Germany
---
Review | By Innerversitysound / Cyclic Defrost Magazine
Heike Vester | Marine mammals and fisch of Lofoten and Vesterålen
Nature attunement in acoustic fields is not new and there are many varied takes on the subject field. Often a good deal of window dressing accompanies the arena to appeal to the listener, presenting the 'drama' of nature, where often it is merely the imposition of narrative upon the subject that is the area of study. However this is quite another matter.
It was recorded by Heike Vester, a biologist, whose field is bioacoustics of marine animals. She has studied Killer whales in Northern Norway and is in the process of completing a doctorate on the vocal behavior of killer whales. She is also the founder of Oceansounds, a private research, education and conservation group focused on marine environments. […]
---
Review | By Ed Pinsent / The Sound Projector
Heike Vester | Marine mammals and fisch of Lofoten and Vesterålen
Ocean Sounds is Heike Vester, whose Marine Mammals and Fish of Lofoten and Vesteralen (GRUENREKORDER GRUEN 066) is a beautiful collection of recent field recordings of whales, dolphins, sharks and seals in their marine habitat. Vester is a marine biologist and she's also committed to preserving life on this planet "by trying to minimize human destruction". The CD, partly supported with money from the World Wildlife Fund, comes with a full-colour booklet packed with photos and contextual information about the mammals and their behaviour. An extremely moving and wonderful record which is great to listen to. […]
---
New Release:
Heike Vester: "Marine Mammals and Fish of Lofoten and Vesteralen" (Gruen 066/09)
Phonography
11 Tracks (54′48″)
CD (500 copies)
---
Review | By normanrecords
Heike Vester | Marine mammals and fisch of Lofoten and Vesterålen
[…] This is a serious CD featuring various different types of whales, dolphins, seals and err…. Mackerel all recorded in varying states around the coast of Norway for your evening maritime enjoyment. This is very much for fans of Chris Watson and if you're into wildlife sounds then this has your name embroidered on it. There's no music on this record…. Unless you call the sounds/songs of these animals music which you may or may not do. It's really interesting though and some of the sounds dug up by mother nature herself are way more interesting than what a lot of folks can come up with with their computers and latest plugins. It looks like some of the royalties go to the WWF (not the wrestling dudes) so it's all for a jolly good cause. Comes in a nice digipack with a booklet inside explaining everything in the correct amout of detail. Nice!
---
Review | By Frans de Waard / VITAL WEEKLY
Heike Vester | Marine mammals and fisch of Lofoten and Vesterålen
Behind Oceansounds we find biologist Heike I. Vester, who is specialized in 'bio-acoustics of marine animals', following various studies in that direction. In the winter months 2003-2008 she studied Killer Whales in the northern Norway, and currently vocal behavior of killer whales. This is what is captured on this CD: the plain sounds of killer whales during post feeding, 'echolocating male sperm whale', the 'harbour seal pup calling for its mother', 'basking shark and mackerels feeding on plankton', 'pilot whales resting in Vestfjord' and such like. […]
---
Review | By Dan Warburton / Paris Transatlantic Magazine
Christoph Korn & Lasse-Marc Riek | Series Invisible
I rip the envelope open, pull out the booklet and assume there must be some mistake – where's the CD? They forgot to stick it in the booklet! But then I read the first page: "Specific locations and their sounds are recorded on MD or DAT. Later on these recordings were deleted. This process of finding a location, recording and deleting it is then captured textually. The result is an audio-event noted and transformed into script." Well, I suppose it had to happen sooner or later. The past few years have seen a slew of ultraminimal albums come this way, including several that make old reductionist chestnuts like Malfatti / Durrant / Lehn's beinhaltung sound positively garrulous – one features no actual playing at all, just recordings of empty rooms (Noid's You're Not Here on Hibari), and then of course there's Reynols' infamous "dematerialised CD", Gordura Vegetal Hidrogenada (an empty CD box!) – so perhaps I shouldn't be surprised to find no disc at all, just a booklet that describes where and when these thirty tracks were recorded. […]
---
Review | By Dan Warburton / Paris Transatlantic Magazine
Falter Bramnk | Three field recording compositions
The second track on Frank Lambert's disc, entitled "The City of the Doges", is a delightful montage of soundscapes ancient (the extraordinary acoustic of the Venetian lagoon) and modern – it makes for an interesting comparison with Philip Samartzis's Unheard Spaces, sourced in the same city. But despite the album title not everything on Mnemosine Per Venezia comes from Venice. "Buona Notte" heads further south to Sicily, and features some hilariously cheesy and presumably drunken karaoke that could have come straight out of a Fellini movie, while "Even The Birds Left Us" was recorded in Kazimierz, the old Jewish quarter in Cracow, Poland – and, just a few miles east of the city, Auschwitz. […]
---
Gruenrekorder on FOLIO, Radio 6
"STRANGE BIRDS – TRUE"
---
Bucharest – fragments in a box / A wandering exhibition
Greta Hoheisel & Norbert Lang | Bukarest | Bucure?ti – fragmente
Four wooden boxes, so called »peep boxes«, provided with headphones and loupe-like lenses are the media for the pictures, the field- and the soundrecordings, that they captured during this time. Thus, they take up the idea of an old media from the 18th and 19th Century: Boxes, that were wandering from fun fair to fun fair, to show the curious viewers pictures of near and foreign countries or mythological scenes. And like the demonstrators in the past used to comment on what was being shown, »Bucharest – fragments in a box« is provided with headphones, to listen to the every day soundscape of the city. Thus, sound and picture comment on each other and generate a sketchy Portrait of Bucharest, perceived with the ears and the eyes of two strangers.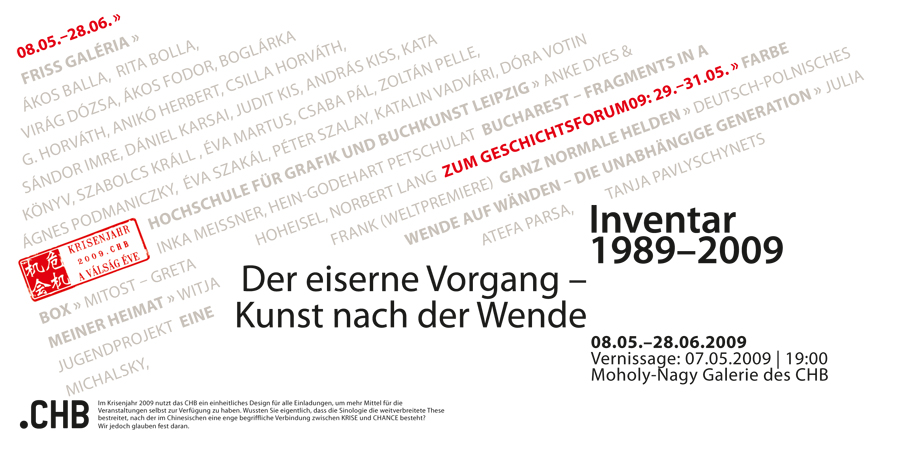 Germany, Berlin-Mitte | 08.05.–28.06.2009
07.05.2009 Vernissage 19h
---
Review | By Martin Büsser / Testcard #19
Andrea Polli | Sonic Antarctica
Die New Yorker Künstlerin Andrea Polli verarbeitet Daten zur  Erderwärmung und Luftverschmutzung in Klang- und Videoinstalltionen, ein Prozess, den sie "Sonification" nennt: die Hörbarmachung von Umweltgeräuschen und deren Folgen für das Leben auf diesem Planeten. In Zusammenarbeit mit Wissenschaftlern und Stadtplanern – die in ihren Kollagen zum Teil auf zu Wort kommen – wertet sie Daten aus und wandelt diese in Sound um,  jeweils leicht modifizierte Brumm- und Zischgeräusche. Sonic Antarctica thematisiert die Erderwährmung und das Schmelzen der Eisberge, hierzu sind Field Recordings aus dem Süden Neuseelandes und vom Südpol in die Arbeit eingeflossen. […]
---
Lasse-Marc Riek | Coming Events
14.-16.05.09
"Soundscapes & Listening"
Symposium "Soundscapes & Listening" of the European Forum Klanglandschaft (FKL) at the University of Applied Sciences, St. Pölten
Fachhochschule St. Pölten GmbH
Matthias Corvinus
Straße 15
3100 St. Pölten
Österreich
21.05.09
"Playing with Words"
Internationales KlangKunst-Festival
Lautpoesie und Weltmusik – Stimme und Elektronik – Wort und Klang
Jaap Blonk (NL) | Jörg Piringer (A) | Ansuman Biswas (GB)
Nye Parry (GB) | Sianed Jones (GB) | Dirk Hülstrunk (D)
DJ: Lasse-Marc Riek (Gruenrekorder) – Fieldrecording und Soundscapes
Kleyerstr.15
60326 Frankfurt
06.06.09
"Feld und Flur"
Eine akustische Performance für Umweltgeräusche und Zuspiel von Lasse-Marc Riek.
… vom Fallen des Schnees, dem Knirschen der Bäume …
Schaukastenausstellung – Brandstifter (Installation)
Mainzer Kunstverein
Neubrunnenstraße 8
55116 Mainz am Rhein
08.-14.06.09
Gehen-Hören-Aufnehmen
08.-12.06. Workshop in der Muthesius Kunshochschule Kiel
12.-14.06. Symposium in der Kunsthalle Kiel
Eine theoretische und praktische Einführung in die Bereiche Soundwalking, Soundscapes, Field Recording, Phonography.
Zu Gast bei Prof. Dr. Ines Lindner/Intendantin des Forums
Lorentzendamm 6-8
D-24103 Kiel
---
EXHIBITION | Sonic Antarctica | Andrea Polli
April 17-May 17, 2009
EXHIBITION: Sonic Antarctica in Deep Green at Den Frie Udstillingsbygning, Copenhagen Denmark curated by Sebastian Schioerring and Camilla Berner
May 13-16, 2009
FESTIVAL AND EXHIBITION: Several works by Polli in the Futuresonic Urban Festival of Art, Music and Ideas featuring world premiers of artworks, a city-wide music programme, and visionary thinkers from around the world. An urban festival experience, it is anticipated that over 50,000 festival visitors will engage with 300 artists and 100 events across 30 venues. CUBE Gallery, Manchester UK.
---
Reviews | By Tina Manske / Titel – Kulturmagazin
Andrea Polli | Sonic Antarctica
Das Label Gruenrekorder widmet sich ungewöhnlichen Feldaufnahmen und der Aufzeichnung von Sounds aller Art. "Sonic Antarctica" von Andrea Polli dokumentiert deren Aufenthalt auf einer Wetterstation in der Antarktis, man bekommt Gespräche mit den Wissenschaftlern zu hören, Schritte im Schnee, Geräusche der Luft und der Menschen, die in ihr atmen – ein interessanter Weg, die Veränderungen, die an diesem besonderen Ort stattfinden und die das Leben von uns allen beeinflussen, hörbar zu machen. Wissenschaft, so lernt man auch hier, bringt uns nur weiter, wenn Menschen zusammenarbeiten, auch wenn Wissenschaftler damit manchmal Probleme haben. Im Moment arbeitet Polli an einem Projekt namens Sonifikation, bei dem sie, die Klangforscherin, zusammen mit anderen Forschern Stürme und Klimainformationen durch Sounds zum Sprechen bringen will.
Budhaditya Chattopadhyay | landscape in metamorphoses
Auch Budhaditya Chattopadhyay dokumentiert in seinem Beitrag "Landscape In Metamorphoses" Veränderung, nämlich die Veränderung, die sein Heimatland Indien und darin die Provinz Tumbani an der Grenze zu Bengalen gerade durchmacht. Von der traditionellen Landwirtschaft entwickelt man sich hier rasant zu einem schnell wachsenden Industriegürtel. Zu Beginn hören wir einen typischen Bauernhof: Hähne krähen, Kinder lachen, Schweine grunzen. Nach und nach mischen sich Motorengeräusche unter die Gespräche der Menschen (die man gerne verstehen würde, worum mag es wohl gehen?), Metall durchschneidet das Vogelgezwitscher. Chattopadhyay arbeitet mit Echos und sampelt auch gerne, billige Gut/Schlecht-Antagonismen findet man bei ihm allerdings nicht, auch die Arbeiter, die das Dorf umgraben und zubauen sollen, haben ihren Spaß dabei. Allerdings wird einem schnell klar, dass es Geräusche gibt, die wir bald nur noch in Archiven hören werden – wie zum Beispiel das Knarzen eines Seils, an dem ein Wassereimer hochgezogen wird.
Beide CDs sollte man unbedingt über Kopfhörer hören – ein faszinierendes Erlebnis.
---
Review | By Aurelio Cianciotta / neural
Andrea Polli | Sonic Antarctica
[…] Artists, too, have found the Antarctic a charming place, often being inspired by the 'iciness' and the 'downgrading', which implies similar geographical conditions. Andrea Polli goes far beyond: her tracks are not only field recordings of natural areas, but also sonifications of scientific data, extrapolated from weather station reports. These tracks are assemblies that include interviews with those involved (basically climatologists). The work gives space to purely aesthetic notions and to environmental concerns. Polli alludes to the radio-broadcast format but develops a new audio-based art with a genuinely scientific basis and an aesthetically dense style.
---
Review | By Jez riley French / Jez riley French ….'in place'
Michael Peters | Field Recordings from Barbados
Micheal Peters brings us two lengthy recordings made in Barbados:
track one, clocking in at just over 25 minutes, captures whistling tree frogs in Bathsheba on the east coast of Barbados. Recordings of 'nature' very often end up falling into either the scientific camp or the tree-hugger idea of what the natural world is – you know, it's all very warm and the animals are our friends etc etc. Michael's recordings escape those traps by their sheer visceral quality. The length of this audible onslaught (25.21) takes the listener into an experience that renders the environment a puzzling and strange place, which is after all the truth of the matter. […]
---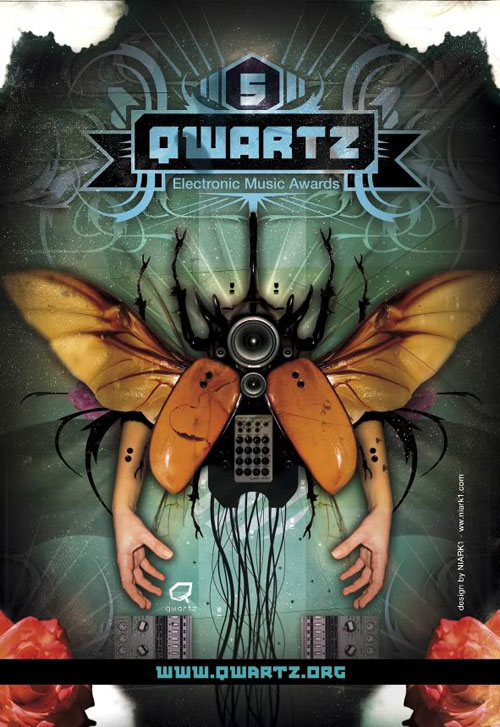 The Gruenrekorder compilation "Autumn Leaves" has won the Qwartz Electronic Music Award in the category "Compilation".
Thanks to everyone who supported Gruenrekorder.
Autumn Leaves is an audio compilation that emerges out of a collaboration between Gruenrekorder and Angus Carlyle. The inspiration for the compilation derived from the book "Autumn Leaves:  Sound and the Environment in Artistic Practice" – published by Double Entendre – which Angus Carlyle edited and Gruenrekorder contributed to. The compilation presents an extremely wide-ranging exploration of the theme of sound and environment. You can hear everything from carefully crafted spoken word pieces, through compelling electro-acoustic compositions, to the purest forms of unedited and unsequenced phonography. To immerse yourself in this compilation is to hear how others have heard the world and is a chance, perhaps, for you to hear your world in different ways.
High Quality Compilation for free download in various formats:
Stream all tracks (M3U)
Format: MP3 (320 Kbps)
Format: FLAC (Lossless)
Printable Artwork for 3 CDS
Autumn Leaves:
www.autumn-leaves.gruenrekorder.de
Compilation curated by Angus Carlyle and Gruenrekorder 2007
Artwork by Tobias Schmitt – www.acrylnimbus.de
London (UK) | Frankfurt am Main (GER) | Gruen 053 | LC 09488
This work is licensed under a Creative Commons Licence.
---
Verein zur Förderung von Phonographie und experimenteller Musik e.V.
Konzertreihe "Phonophon" | www.phonographie.org
Chris Cook (UK)
Electronica – Experimentelle Musik – IDM
Patrick Franke (D)
Phonography – Field Recording – Bioakustik
12.04.2009 | 20:00
Institut für neue Medien (INM) | www.inm.de
Schmickstraße 18
60314 Frankfurt / Main
---
SINGWARTE – Bioakustik, Biophonie und Biosemiotik
Ein Veranstaltungs- und Radioprojekt zu Tierlauten und Feldaufnahmen
09. – 13. April 2009, Nürnberg
präsentiert von Radio Z und Singwarte Media
Radio Z | Livestream: www.radio-z.net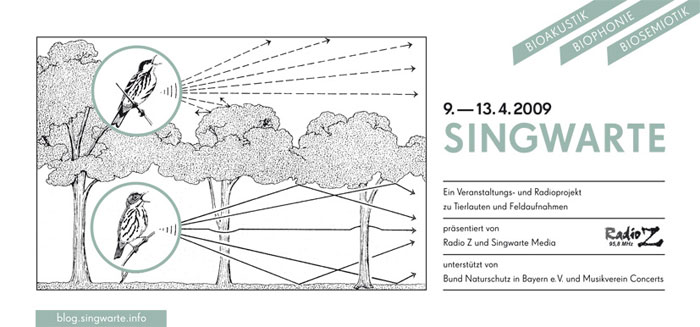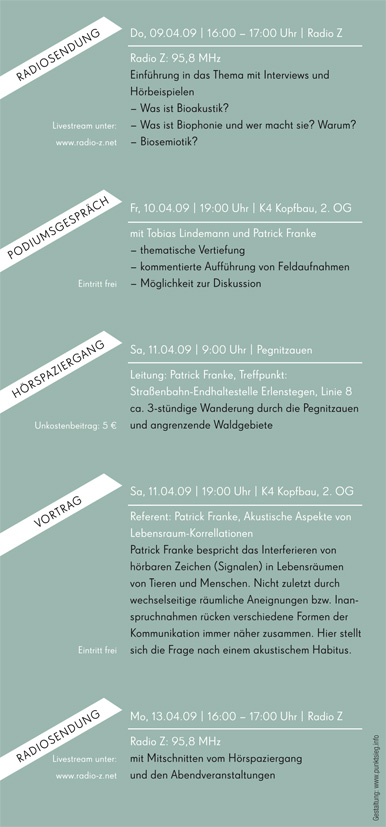 ---
Gruenrekorder on PRI's The World
Finally today, the dictionary defines music — in part — as "the art of arranging tones in an orderly sequence." You don't always need instruments to do that. Sometimes nature does the job — without human intervention. And Michael Peters likes to record the result. Peters is a musician living in Cologne, Germany. He recently went on vacation to Barbados — in the Caribbean — and took along his microphone.
www.theworld.org
Michael Peters: "Field Recordings from Barbados"
---
Gruenrekorder on radio framework /03/09
phonography/field recording; contextual and decontextualized sound activity
presented by patrick mcginley
www.resonancefm.com
---
Gruenrekorder on radio KBCS 91.3 FM
Heard every Sunday from 10 pm to midnight on KBCS 91.3 FM, Flotation Device explores the far-flung frontiers of adventurous music: phonography, electronic and acousmatic music, lowercase sound, post-classical composition, sound art, free improvisation, out-jazz, radiophonic work, noise, and other unclassifiable musics…
KBCS 91.3 FM blankets much of the greater Seattle area and also streams live onto the net at www.kbcs.fm
---
AWARD WINNERS PHONURGIA NOVA
* Andreas BICK (Germany), win the first radio and sound art prize with  Fire Pattern – Frost Pattern. Produced by Deutschlandradio Kultur  2007 (Coming soon on Gruenrekorder).
* Bernadette JOHNSON (Switzerland), win the second radio and sound art  prize with Summer Fragments.
No prize awarded in the "New media/ interdisciplinary media" category, but the jury was unanimous in awarding 2 distinctions:
* Christoph KORN and Lasse-Marc RIEK (Germany) for their album of chosen silences… (on Gruenrekorder)
* Laura MALACART (UK/Italy), for her film, Voicings.
More info: www.phonurgia.org
---
Review | By Frans de Waard / VITAL WEEKLY
Falter Bramnk | Three field recording compositions
[….] In the first piece I heard a train passing but throughout it seems to be rural life. Churchbells. Doves. Italian voices. That's all later on. Bramnk likes 'quiet, rural' life it seems, but then I started investigating what he was doing, and it seems that he recorded two pieces in Italy – Venice (the church bells, doves) and Sicily (rural life) and on the first piece he uses sounds recorded in Krakow, Auschwitz and Birkenau, which gives the train sound an entirely different dimension. I am not sure what the narrative sequenced plot is here, in these three pieces, but I must admit it all sounds wonderfully recorded, and especially the longer 'Buona Notte', recorded in Sicily is a nice piece, depicting quiet life and ancient history. For the 'Auschwitz' piece 'Even The Birds Left Us #0', I hear there will also be a version with texts by Primo Levi and Jean-Claude Pressac – which seems to me a good thing.
---
Gruenrekorder on radio Audiosfera / Program #70: Field'n'free
---
New Release:

Falter Bramnk: "Three Field Recording Compositions" (Gr 059/09)
Soundscapes
3 Tracks (57′03″)
Gruen CD-R (50 copies)
---
New Distribution:
Patrick Franke: "für Georg Hartmann" (GrD 09/09)
Soundscapes
3 Tracks (25′20″)

orange dot: "Canadian Drive" (GrD 10/09)
Soundscapes
1 Track (37′09″)

für diesen Abend + Katrin Bethge: "untitled" (GrD 08/09)
Soundscapes
1 Track (33′22″)
---
Gruenrekorder in Tilburg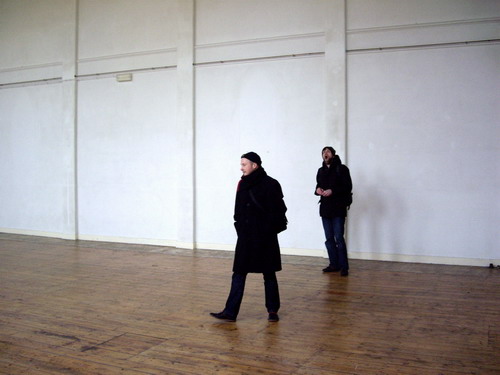 ---
Lasse-Marc Riek: Islands of Acoustic Victims / Article by Tobias Fischer
Published 17/02/09
---
Review | By textura
Andrea Polli | Sonic Antarctica
Another in a long line of fascinating field recordings-based releases from Gruenrekorder, Sonic Antarctica by New York City-based digital media artist Andrea Polli (also an Associate Professor of Film and Media at Hunter College) presents an encompassing, seventy-minute audio portrait of the Antarctic frontier. Among the areas covered in the recording are the "Dry Valleys" on the shore of McMurdo Sound (3500 km due south of New Zealand) which, being completely devoid of terrestrial vegetation, is the driest and, relatively speaking, largest ice-free area on the continent, and the geographic South Pole, whose central white expanse includes ice that's nearly nine miles thick. Antarctica, larger in size than the US and an extreme environment where navigation can become a matter of life and death, makes for a suitably captivating site upon which to ground a "sound art" recording. […]
---
Review | By Frans de Waard / VITAL WEEKLY
Michael Peters | Field Recordings from Barbados
[….] Both pieces are self-explanatory. In 'Giant Bamboo' he recorded a bamboo tree, along with some green monkeys having lunch, whereas in the opening piece 'Whistling Tree Frogs', he recorded a chorus of 'a million tiny whistling tree frogs', singing in palm trees, along with wind sounds and sea waves of the Atlantic Ocean. As simple and clear as that. Both pieces have the exact same length, which I thought was quite odd, and are at their best ambient music pieces – sound that surrounds you in your environment. A very fine CD […]
---
The Wire 300: Will Montgomery On The Changing Uses Of Field Recordings
Issue #300 | Published 13/02/09
---
---
New Release:

Michael Peters: "Field Recordings from Barbados" (Gr 063/09)
Phonography
2 Tracks (50′44″)
CD-R (50 copies)
---
New Distribution:

Domenico Sciajno & Kim Cascone: "A Book of Standard Equinoxes" (GrD 06/09)
Electronica
1 Track (62′00″)

M. Bullock, J. Coleman, D. Gross & S. Roden: "untitled, or not yet" (GrD 07/09)
Electronica
5 Tracks (38′52″)
---
Review | By Tobias Bolt / quietnoise
Andrea Polli | Sonic Antarctica
Der Einstieg ist perfekt gewählt, erzeugt enorme Wirkung: ein fünfminütiger Mitschnitt aus lokalem Helikopterfunkverkehr vermittelt auf ganz eigene Art Entlegenheit und Unwirklichkeit dieser Gegend, transportiert einen, zumindest klanglich, ans Ende der Welt. Für sieben Wochen war die Soundkünstlerin Andrea Polli im Zuge des 90 degrees south – Projekts in der Antarktis stationiert, daraus hervorgegangen ist eine Sound- und Videoinstallation sowie vorliegendes Album. Dieses ist ein recht ungewöhnlicher Mix, neben klassischen Field Recordings stehen vor allem so genannte Sonifications im Mittelpunkt. Dabei werden, vereinfacht ausgedrückt, wissenschaftliche Daten hörbar gemacht. Das geschieht mittels spezieller Algorithmen und Prozesse, als Ausgangsmaterial dienen Polli hier vor allem Wetterdaten. Dazwischen montiert sie Ausschnitte aus Interviews, die mit den vor Ort anwesenden Wissenschaftern geführt wurden. […]
---
New Distribution:
Christoph Korn & Lasse-Marc Riek: "Series Invisible" (GrD 05/07)
Phonography
30 Tracks (0′00″)
Book
---
Andrea Polli: "Sonic Antarctica" (Gruen 064/09)
Soundscapes
10 Tracks (69′05″)
CD (500 copies)
Reviews
Frans de Waard | VITAL WEEKLY
Ed Pinsent | The Sound Projector
Alyssa Perez | The Colgate Maroon News
---
Please vote:
The Gruenrekorder compilation "Autumn Leaves" is nominated for the Qwartz Electronic Music Award in the category "Compilation". You can support "Autumn Leaves" by voting online between December and March 16th 2009. Please vote here.
After a blindfold listening by:
The Official Jury:
Enki Bilal
Chloé Delaume
Christophe
Katya Legendre
The Professional Jury:
Denis Boyer
Steve Daude
Alexis Hamon
Didier Longuet
Bérangère Maximin
David Simon
& Electronic Music Commission of the Parisian Libraries' Network/ Commission Electro des Médiathèques de Paris [Mairie de Paris]:
Marc Boutin, Nadia Fakrikian, Pascal Geay, Isabelle Grospellier, Mikael Prignot, Laurent Saiet, Stéphane Tillie, Thierry Tricard
Download the nominations (pdf)
---
Archives
* 2018
* 2017
* 2016
* 2015
* 2014
* 2013
* 2012
* 2011
* 2010
* 2009
* 2008
* 2007
* 2006
* 2005
* 2004
* 2003